Shade Sails vs Retractable Awnings
Shade sails and retractable awnings are two ways to provide protection from the sun in your outdoor area. While both options block sunlight and heat, they each have unique characteristics. Shade sails use canvas or other fabric materials to shade a large area at once.
Retractable awnings offer easy operation and the convenience of being able to adjust the coverage when desired. They come in more variety, with automated operation options available as well. Shade sails and retractable awnings are reliable options for relief from the sun and outdoor heat.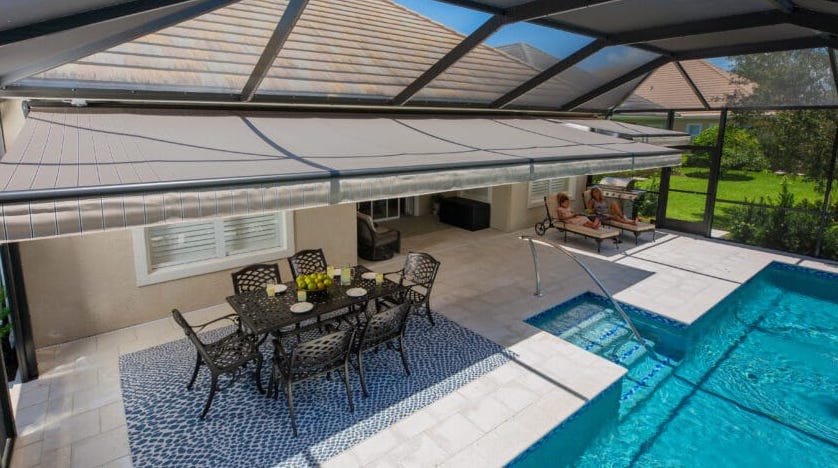 Shade Sails
Shade sails can provide a simple solution for those seeking shade in their outdoor space. These features protect you from sun and UV rays and create a modern look in your yard.
What are Shade Sails?
Shade sails are lightweight and versatile covers that provide shade from direct sunlight in various settings. Fabric panels and overhead tension protect your outdoor living space and create comfortable areas for family gatherings or relaxation.
Outdoor shade sails are installed by stretching the fabric, then securing each corner of the shade to a mounting point. These points can include any source, such as a pergola, post, tree, or wall.
UV absorption varies slightly depending on the materials used. For maximum sun protection, heavier fabric and tighter weave are most effective in blocking UV rays.
Advantages of Shade Sails
Adding shade sails to your entertaining outdoor space is a great way to provide shelter and protection from the hot sun. These canvas sails come in many different shapes, sizes, and colors to be customized to any style.
Doesn't Need to Attach to Your Home
A positive that homeowners enjoy about a shade sail is that it's a relatively simple addition to their patio and doesn't need to be installed on the house's exterior. It allows them to offer shade and protection from the sun and remove the canvas roof if they want to change the style or color or replace it because of wear and tear.
It is essential to remember that shade sails require ample clearance to be effective, which is necessary for the fabric to be stretched adequately.
May Be Less Expensive
An outdoor shade sail is typically inexpensive because it has less material and does not require much installation labor. The price range will vary depending on size, material, and brand, and you can purchase them online or in person.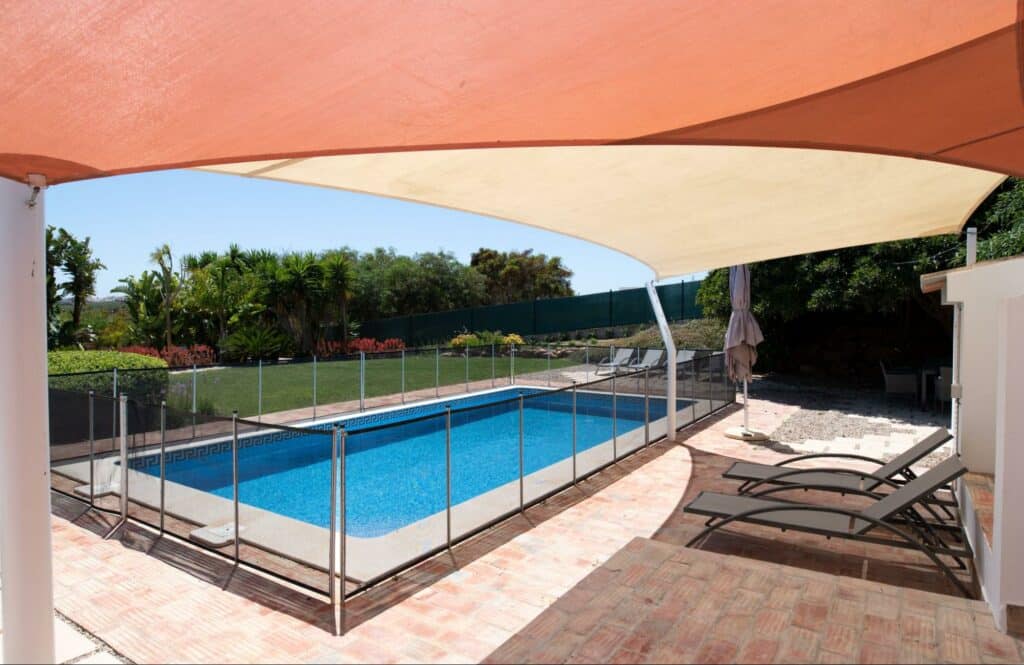 Disadvantages of Shade Sails
Shade sails can be a great addition to your outdoor space, but there are some drawbacks that you should consider.
Outdoor shade sails are less reliable than permanent structures. Since they utilize tension to remain in place and often use stainless steel fasteners, shade sails can come loose or fail if not installed correctly.
Secondly, shade sails don't completely protect from the sun's rays. While they can provide an excellent definition of areas within an outdoor space, they aren't effective against direct sunlight and may leave some areas exposed to harsh UV rays throughout the day.
Sails Don't Retract
Shade sails are designed to be stationary, and retraction is not an option. This is because when the tension and strength of the shade sail are increased, it reduces its ability to move. Because of this, you don't have the option to easily remove it if you want more sun on a given day.
Installation Can Be Difficult
Installing a shade sail can be difficult for several reasons. First, proper placement and anchoring of the shade sail require mounting on both sides to provide stability. Additionally, fabric sails require tensioning to correctly hold their form, often achieved through poles on each end with ropes or tethers between them. Without proper installation, the sail can become loose or even collapse under high winds, which could cause potential harm or damage to property. Lastly, shade sails require periodic maintenance, such as cleaning and repair, to keep them in good condition.
Placement is Permanent
Once the shade sail is installed, adjusting it to block the moving sun temporarily is not an option. The semi-permanent structure is fixed until you remove and reinstall, which is quite cumbersome.
Not Weather Resistant
Shade sails are water resistant but usually not waterproof. If you wish to have your sail block rainwater, installing it at an angle so light sprinkles can roll-off is crucial. The breathable woven fabric of the shade allows air to pass through and keeps the shaded area cool. However, water will still drip through in heavy downpours.
Retractable Awnings
Retractable patio awnings make outdoor living much more comfortable. By simply pressing one button, they offer instant shade and efficiently cover the area. Plus, they are user-friendly, require little maintenance and add a sense of luxury to any outdoor space. Enjoy cooler temperatures and better air quality while entertaining friends and family in style. For optimal comfort at home, retractable patio awnings are the ideal choice.
What are Motorized Retractable Awnings?
Retractable Awnings comprise a sturdy frame and a motorized mechanism that allows you to adjust the angle and coverage area to suit your needs. You can protect yourself, your furniture, and your guests from the blazing summer sun, heavy rains, or wind gusts at the touch of a button.
Motorized retractable awnings are ideal for creating an enjoyable outdoor living space regardless of the weather. They also protect from the sun's rays and shelter furniture against elemental damage.
Advantages of Retractable Awnings
Motorized retractable awnings allow homeowners to enjoy their outdoor living space without worrying about sun exposure. With a retractable roof, you can easily benefit from direct sun in winter and protect outdoor furniture from UV damage due to overexposure during summer. In addition, its waterproof fabric also provides outstanding protection against wind and rain.
Automatic and Easy to Use
The convenience of an automated system with remote control allows for easy adjustment and implementation of shade at any time. It also eliminates the hassle of manually opening, closing, or adjusting awnings throughout the day.
Don't Take Up Space When Retracted
Retractable awnings can be easily retracted with the press of one button and fit into a beautiful aluminum casing that does not obstruct your view. The out-of-sight hood will blend seamlessly into the exterior of your home.
Easy to Match to Your Home
Depending on the design of your landscape, patio, and home, you will want to choose an awning fabric that pairs well with these factors. There is a range of color options to ensure seamless integration with the aesthetics of your home.
Disadvantages of Retractable Awnings
The downside of a retractable awnings is that they are normally more of an upfront investment, and need a power source.
Requires Professional Installation
Retractable awnings require installation technicians because they must be securely and adequately anchored to walls, ceilings, or on a concrete slab to support their entire weight safely. Motorized awnings must also be installed per manufacturers' instructions to ensure maximum safety and durability. Professional installers are experienced in performing these crucial steps, making it necessary for the installation to be completed by experts.
Requires a Power Source
A retractable awning needs a power source to operate the motor. The motor is responsible for extending and retracting the awning, so it needs to be near a power source to work.
How Shade Sails Compare to Retractable Awnings
Shade sails and motorized retractable awnings offer homeowners the ability to create a more inviting and usable outdoor space. Both options have different pros and cons, but they can provide much-needed shade in sunny areas during the summer months.
Shade sails are often cheaper than retractable awnings. They come in various shapes and sizes, so you can use them to block sunlight from multiple angles. But they don't provide as much protection from rain or other elements as an awning does.
Retractable awnings offer more coverage than shade sails because of their larger size. Their retractable features allow you to easily adjust the amount of coverage based on the weather conditions outside. However, this usually makes them more expensive than shade sails, and installation can be more complex.
What's the Best Choice for You?
Homeowners should consider shade sail and retractable awning options to find the best option to suit their needs. When seeking patio covering solutions, assessing your needs and the place you want coverage is essential. Consider price, quality, long-term functionality, and custom style when deciding between an awning or shade sail.
How to Choose a Retractable Awning with SPF Screens & Awnings
SPF Screens & Awnings is dedicated to providing a positive shopping experience to homeowners interested in retractable awnings. Our products offer many features and benefits, making it easy to find the right one. To ensure that you have a pleasant experience, we have streamlined the process for you.
Estimate
Our sales team is happy to provide you with personalized consultation services. They will come to your home, take measurements, advise on the best product type for your needs, and provide a tailored estimate.
Design
Choosing the right retractable patio awning for your outdoor space requires careful consideration of design and color. Our specialists can help you select a suitable fabric among various styles and colors that suit your needs and aesthetic preferences.
Installation
Our qualified team will install and demonstrate how to use a retractable awning on your scheduled installation day. We do not employ contractors, so someone from the SPF installation team will be present to complete the process.