Style Options for South Florida Awnings
South Florida pool and patio awnings come in various styles to match any home's needs. Awnings can be custom designed to fit any outdoor oasis, and they can be installed on numerous types of homes, including stucco, wood, and brick. Motorized awnings are a great way to add instant style and curb appeal to any South Florida home.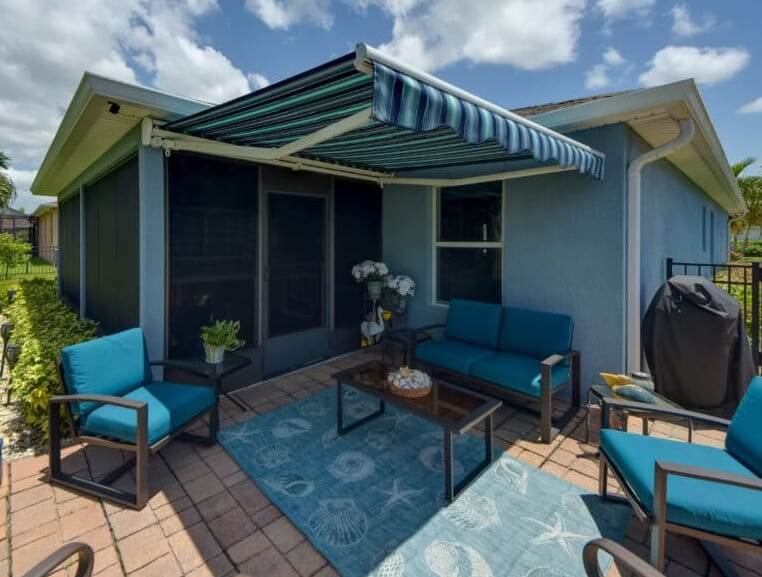 What Are the Different Types of Awnings Available in South Florida?
Awnings are a great way to enjoy the outdoors while avoiding harmful UV rays and excessive heat. There are two primary types of awnings available: manual and motorized. When choosing an awning, it is important to consider features that best suit your needs.
Motorized
A motorized retractable patio awning is a powerful way to shade your outdoor living space. Remote-controlled and easy to use, electric awnings provide relief from the sun's rays in seconds. And because they're made with high-quality materials, they can last for years. So whether you're looking to create a comfortable outdoor seating area or you want to protect your deck or patio from the sun's damaging UV rays, a motorized retractable awning is a great choice.
Manual
A manual awning opens and closes by hand. There are a few disadvantages to using a manual shade system. First, they are harder to retract than their electronic counterparts, and this means that it can be more challenging to close the awning when bad weather hits.
Additionally, they require the user to stand up to open or close them, which can be inconvenient, especially if the person is elderly or has limited mobility. Finally, manual awnings tend to wear out more quickly than electronic ones. This is because they are constantly being opened and closed by hand, which can strain the fabric and the frame.
Materials Used in Retracting Awnings
A retractable awning roof can be made from various materials, each with its advantages. Canvas is a natural fabric that is durable and fade-resistant. Acrylic-coated and acrylic synthetic fabrics are also durable and fade resistant, and they offer good resistance to mildew and UV rays. Metal awnings are very durable but can be susceptible to corrosion. Wood awnings are beautiful but require more maintenance than other types of shelters. Ultimately, the best material depends on the specific needs and preferences of the user.
Colors and Patterns That are Popular in Motorized Retractable Awnings
Motorized awnings are a great way to add style and personality to your home while protecting you from the sun and elements. There are many factors to consider when choosing an awning, including size, fabric, and color.
For those who want to make a bold statement, brightly colored awnings are a popular choice. Striped awnings are also popular, as they can add a touch of nautical flair to any home. If you're looking for something more understated, neutral colors like tan or white are always in style.
How to Choose the Right Awning for Your South Florida Home
If you're shopping for a motorized awning for your South Florida home, there are a few things you need to consider before making your purchase.
Weather
When choosing an awning, it is vital to consider the weather conditions in your area. For example, if you live in a hot, sunny climate, you want an awning that blocks harmful UV rays. If you live in an area with high winds, choose one designed to resist strong wind gusts and has wind sensors to automatically retract the electric roof if the winds become too strong.
If you live where there are frequent rainstorms, you will want a motorized awning that can keep your patio dry. By taking the time to consider the weather conditions in your area, you can make the right choice that will provide years of enjoyment.
Location
There are multiple locations around your home where a motorized awning can be beneficial. If you have a large patio or pool, it can be placed over the area to protect your loved ones from the sun and rain.
An electric roof system can also be installed over a doorway to provide shade and shelter when entering or leaving your home. If you have any areas of your yard that receive direct sunlight, a retractable awning can create a shady oasis.
Get a Quote
When you are in the market for a new outdoor motorized retractable awning, comparing pricing on similar products is essential. This will help you get the best value for your money (we offer price matching!). You should also choose a local company to get service and support if you need it. By doing your research, you will be able to find the best retractable awning for your needs.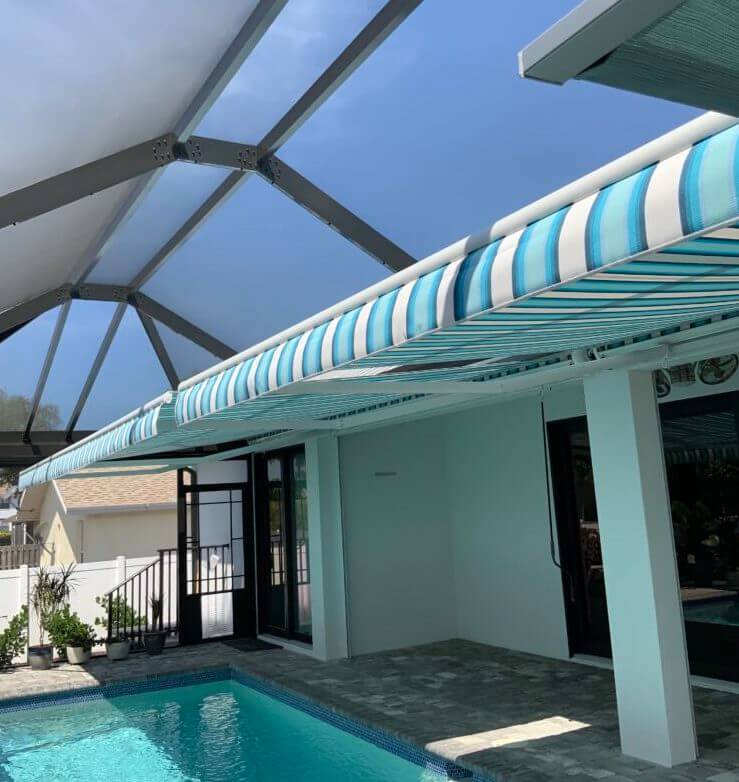 Maintenance Tips for Motorized Awnings in South Florida
Retracting patio awnings are a great way to protect your patio furniture from the harsh Florida sun, but they can require a bit of upkeep to keep them looking their best. Fortunately, you can follow a few easy tips to take care of your investment.
Remove Loose Debris
One of the best ways to maintain a retractable roof is to regularly remove loose debris such as leaves, twigs, and other debris. A soft broom can be used to gently sweep the roof's surface, being careful not to tear the fabric. By taking these simple steps, you can help extend the life of your fabric roof and keep it looking its best.
Clean with Soap and Water
Cleaning the fabric is one of the essential tasks; mild soap and water will remove most dirt and stains. You can use a soft cloth or brush can to gently scrub the fabric, taking care to clean both the top and underside. In addition, check the awning for tears or other damage periodically.
Rinse
Be sure to rinse the soap off thoroughly, as any residue can attract dirt and cause mildew. Use a garden hose or a bucket of clean water to gently rinse away any soap or dirt from the fabric's surface. Avoid using a power washer, as this can damage the material.
Commonly Asked Questions About South Florida Retractable Awnings
How Long Will the Motorized Awning Last?
A motorized retractable deck awning can provide years of enjoyment if proper care and maintenance are performed. It is important to retract the canvas roof during storms and cooler months to prevent damage. A few times a year, clean the material and check the frame for corrosion. In addition, it is essential to keep the motorized mechanism well-lubricated to ensure smooth operation.
Will the Canvas Fabric Fade?
Canvas is a durable fabric that can last for 8-10 years when maintained properly. On the other hand, Vinyl has shorter lifespans at about 5 or 7 seasons before it needs replacing with new material due to wear and tear from sun exposure.
It's important to consider all these factors, including windy weather or harsh climate conditions, affecting its performance. A reputable company with experience manufacturing quality awnings should have reliable service so that their product lasts as long as possible!
Will My Patio Furniture and Decor Stay Dry Under the Awning?
A retractable awning is a great way to keep your patio furniture and decor dry, even in the heaviest rain. Water-resistant fabric blocks out water, and the awning's design helps to deflect heavy raindrops. The motorized awning can retract to the protective housing so you can enjoy the outdoors as you please. Whether you're looking to protect your investment in patio furniture or want to be able to use your outdoor space year-round, a retractable deck awning is a great solution.
Why Should I Purchase my South Florida Awning from SPF?
When you purchase an awning from SPF Screens & Awnings, you support a family-owned business invested in your satisfaction. All of our motorized awnings are manufactured locally in our state-of-the-art facility, allowing us to offer competitive pricing.
We use only the highest quality materials, and our team of skilled professionals stands behind their craft. In addition, we offer a wide range of styles and colors to choose from, so you can find the perfect awning to complement your home. When you purchase from SPF, you can be confident that you get the best possible value for your money.