Where Can You Install a Retractable Awning?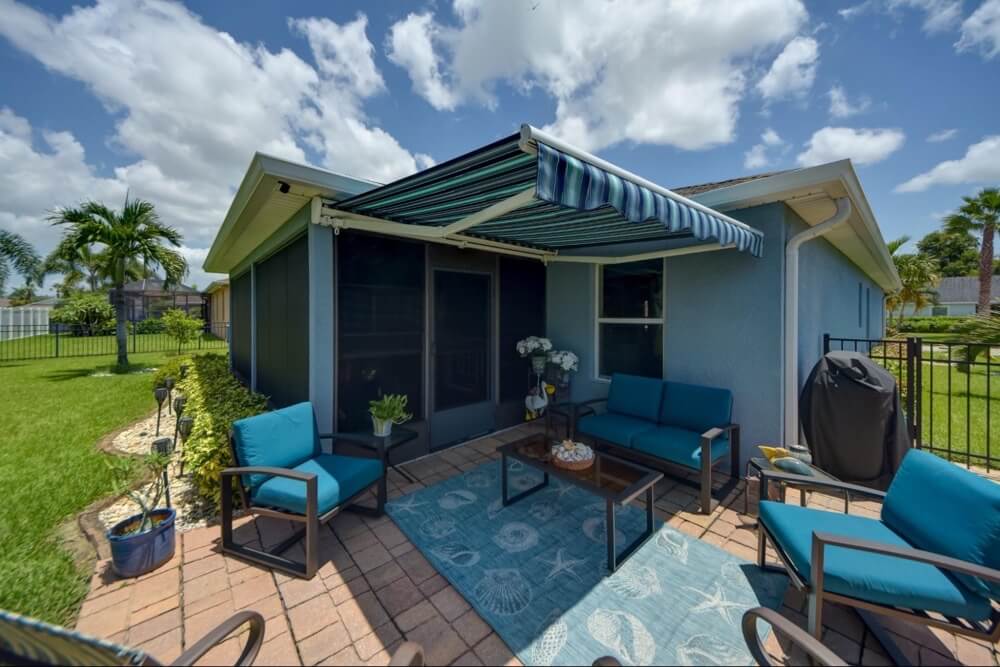 Retractable awnings are an excellent addition to any home, and they can be used almost anywhere around your house and yard. Every home offers many opportunities for placement.
So where can you install a retractable awning?
You can install a retractable awning anywhere from porches to patios to pool areas. You just need to have 8 feet of clearance over the ground and 10 -12 inches of clearance over a door or window.
Our retractable awnings are easy to use. All you need to do is click the remote control to extend your awning or retract it into the awning hood.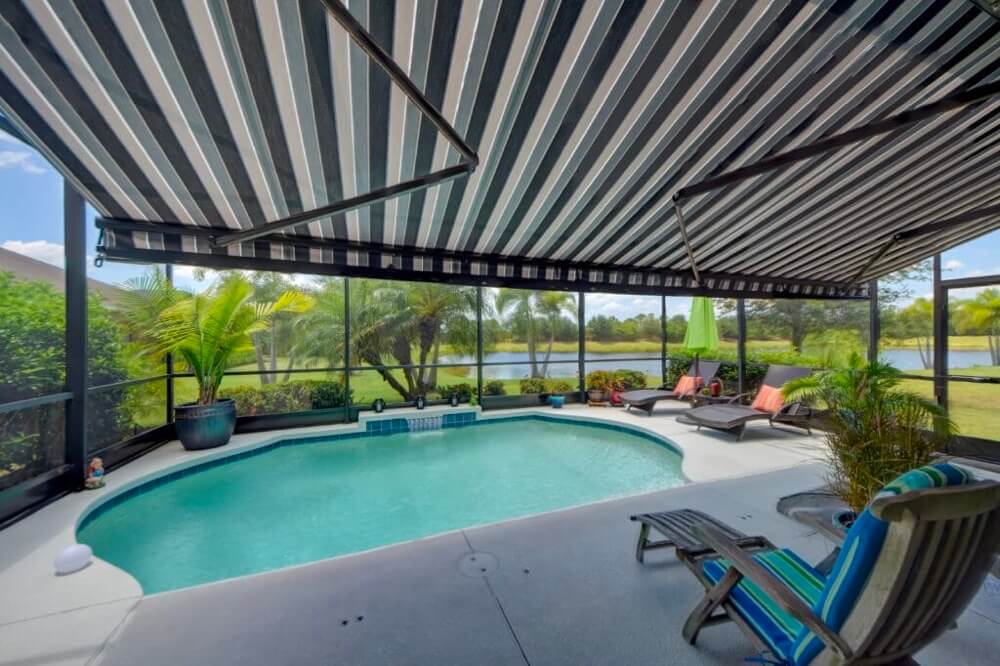 Some of Our Favorite Locations for Retractable Awnings
Every house is different, and people have different preferences for where they would like their awning. Here are some of our favorite locations to install retractable awnings:
Porch or Deck
Do you enjoy being outside on your porch or deck but find it unbearably hot during the summer months? The sun's rays can make these spaces completely unusable, but an awning will decrease the temperature and allow you to use your outdoor spaces every month out of the year.
Patio
Patios can get extremely hot, especially when they're made of concrete or stone. Placing an awning over your patio will create a shaded oasis where you can relax and enjoy time with your family and friends. You can set up a picnic table or outdoor seating and move family gatherings outside for the summer.
Doors and Windows
Awnings installed over windows and doors provide an extra layer of protection against the sun's harmful rays. This can help keep your home cooler in the summer and prevent fading of your furniture, drapes, and carpet. As a bonus, you'll save on AC costs.
Outdoor Kitchen
Do you love to entertain? Grilling out and preparing food outside is a great way to spend time with your family and friends, but it can get extremely hot standing over a hot grill. An awning placed over your outdoor kitchen will provide some much-needed shade and allow you to enjoy cooking outdoors all summer long.
Swimming Pools
Swimming pools are a great addition to any backyard and make the hot Florida summers more bearable. If they're in direct sun, however, the water can quickly warm up. Swimming without sun protection also drastically increases your risk of getting sunburnt.
An awning will provide much-needed shade for you and your guests. You'll be able to swim knowing you're shaded from the sun's harmful UV rays.
You can also use your retractable pool awning to shade your hot tub so you can enjoy it no matter the weather.
Garden
Do you take pride in your yard and garden? Is growing flowers or vegetables one of your favorite hobbies? Maintaining a garden can be difficult in the hot Florida summers, but an awning will provide the perfect amount of shade for you as you weed and water. You'll be able to work on your garden without worrying about the sun's harmful rays.
Play Areas for Kids
Chances are, your grandchildren love to play outside! And even if they don't, you likely encourage outdoor play instead of letting them sit in front of the TV all day. But what about when it's too hot for them to be outside?
An awning can create a shaded play area for kids of all ages. They'll be able to stay cool while they run around and play. Sandboxes, playhouses, and equipment like slides can become extremely hot in the direct sun, but an awning will keep them shaded and cooler.
There are endless possibilities for where you can install a retractable awning. These are just a few of our favorites. No matter where you decide to put yours, you're sure to enjoy the increased comfort and protection from the sun an awning provides.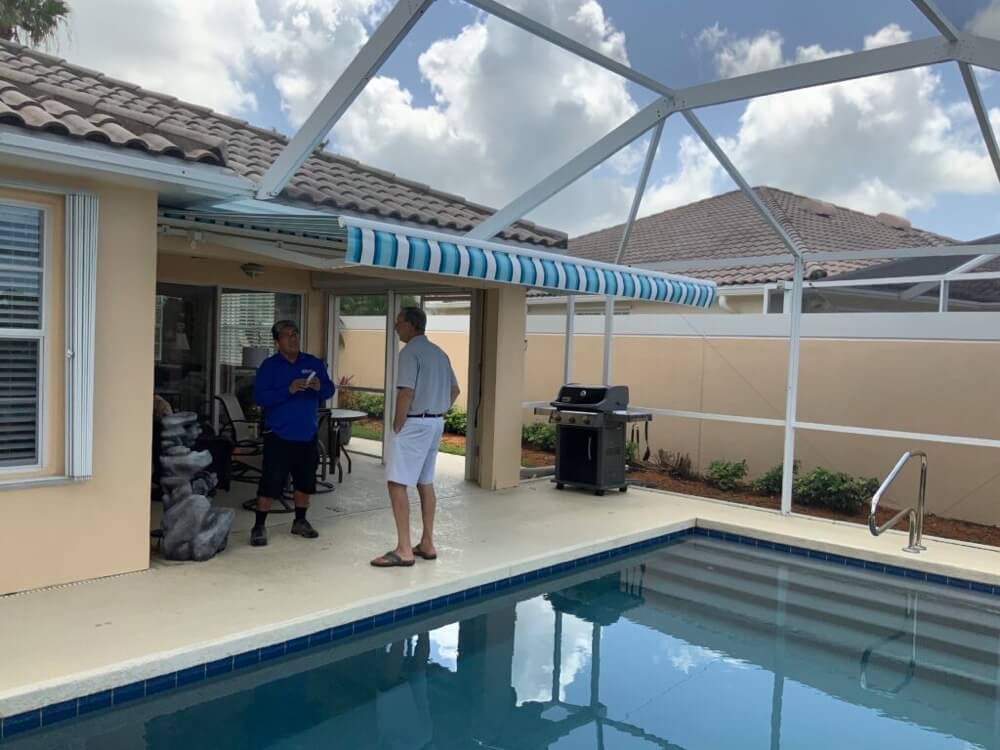 How to Purchase a Retractable Awning for Yourself
Ready to turn your yard, patio, or deck into the oasis of your dreams? We love partnering with homeowners to bring them some additional shade.
You can find our service areas here.
Step One: Contact Us
The first thing you need to do is reach out through phone or the contact form on our website. A member of our team will get in touch with you to learn more about you, the location for your awning, and any other important details. You'll then receive a free quote.
Step Two: Choose Your Awning
Next up is the fun part: choosing your awning! We have a wide variety of patterns and colored fabric to choose from so you can pick out what's right for your home. We'll also work with you to pick the right size, since this will vary based on whether you want window awnings or an awning to protect your patio.
Step Three: We Handle Installation for You
With SPF Screens & Awnings, you don't have to take a DIY approach! We handle the entire retractable awning installation process for you from start to finish. We can mount your motorized awning anywhere you have the right amount of space above windows and doors. You just need to have the right type of surface where we can attach brackets or other mounting hardware.
Our team will work with you to pick the right time for your schedule and come to you to install your motorized awnings. This way you won't have to worry about the hardware and tools. Installation is always included in the cost of the projects.
If you have any questions or would like more information, please contact us today. We'll be happy to help you choose the perfect awning for your home.