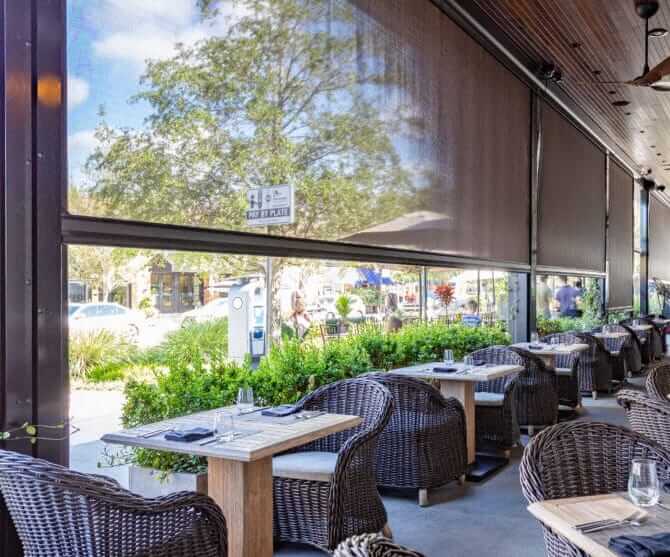 Overview of Commercial Solar Screens
SPF Screens & Awnings offers a variety of commercial retracting shade systems to block the sun, mosquitoes, and light rain. Contact us for more information on our various products - we are happy to help you decide which one is best for your business.
Benefits of a Commercial Shade Screen
Retractable recessed screens are an excellent investment for your business property. They will give you an instant boost in value with their ability to enhance curb appeal while also protecting you from the elements. Clients and customers will appreciate the time and attention you give to offer them comfort and protection.
The heavy-duty motor will release the mesh screen and lower it to your desired length with a straightforward button push. With the remote-controlled operation, you can control the retractable screen from the comfort of your seat.
Our screens are made with a durable and sun-resistant fabric that blocks out the hot sun and harmful UV rays. Keep your interiors cool and comfortable for anyone walking through the doors. These retracting screens also keep the annoying sun glare off computer screens so you can work efficiently.
SPF has an innovative product that provides excellent protection for your furniture, carpets, and décor. If you have any outdoor areas, a motorized solar screen will keep the patio and furnishings dry and in excellent condition. This product is perfect for any business that wants to protect their investment and have peace of mind.
Do you have a business where customers come to dine? Then you know how important it is to keep the bugs and mosquitoes out! Not only is it a health hazard for your customers, but it can also drive them away. Our commercial insect screen is the perfect solution. Give your patrons the peace of mind they deserve, and check out how SPF can help you today!
Benefits of a Commercial Shade Screen
Commercial shade screens are ideal for creating a custom outdoor living space that provides both style and function. These screens are made from high-quality materials that can withstand the elements, and they are fully customizable to fit any space. Shade screens can create a patio cover and help create a privacy screen or windbreak. In addition, commercial shade screens can help reduce energy costs by protecting the inside of your business from the sun's heat and glare. As a result, they are an ideal solution for companies that want to create an inviting outdoor space that is also functional and efficient.
Custom solar screens are just one way that we can help you create a commercial property with style and function. We're excited to work alongside your team as they decide on the best-motorized privacy screen for their needs while fully customizing it according to what's most suitable in terms of design aesthetics or functionality!
Insects are pesky, especially mosquitos and bugs. We designed our retention zippers to provide complete protection from those pests with a seal that delivers bug-free relaxation areas for you!
We custom manufacture commercial screens with only the best materials, and our motor manufacturing partners have created a heavy-duty yet ultra-quiet engine that will last. With us using quality parts sourced locally, you can be confident of getting high-quality service for years!
Steps for Purchasing a Commercial Screen
We are excited to work with you and look forward to showing off our many products that protect from the sun's harmful rays. SPF has just what you need to get your business set up for ultimate comfort and relaxation, from protective screens and shade systems for indoor or outdoor use.
Protect your property from the sun with a free consultation and customized quote. Our sales team will come to you, see where protection is needed most in terms of exposure patterns and size/cost ratio, then provide an accurate assessment of what it would cost overall.
Our designers are proficient at bringing life to your outdoor and indoor space and adding instant style. We will partner with you for the design process to ensure complete satisfaction.
The installation process is quick and easy. We never use contractors, so you can rest assured that one of our install teams will do all the work for your new motorized recessed screen setup
You can keep your motorized commercial screen looking new with a few simple steps. Use a broom to brush away any loose dirt and debris on the mesh. Sometimes bugs will get stuck and die in the screen while rolling into the casing. You can use a broom to brush those off as well. Use a soft brush with soapy water to remove stains. Rinse with a garden hose or a bucket of clean water. Try using an organic stain remover on a damp cloth for stubborn stains.
Frequently Asked Questions About Commercial Screens