Are you looking to add some shade and comfort to your outdoor living space? Residential awnings offer year-round protection from harsh, damaging sunlight so you can enjoy spending time outside without having to worry about uncomfortable heat or sunburns.
At Sun Protection of Florida, we offer a wide selection of residential awnings in various styles, sizes, and colors. Our motorized retractable residential awnings are the perfect solution for providing shade and protection to your Florida home.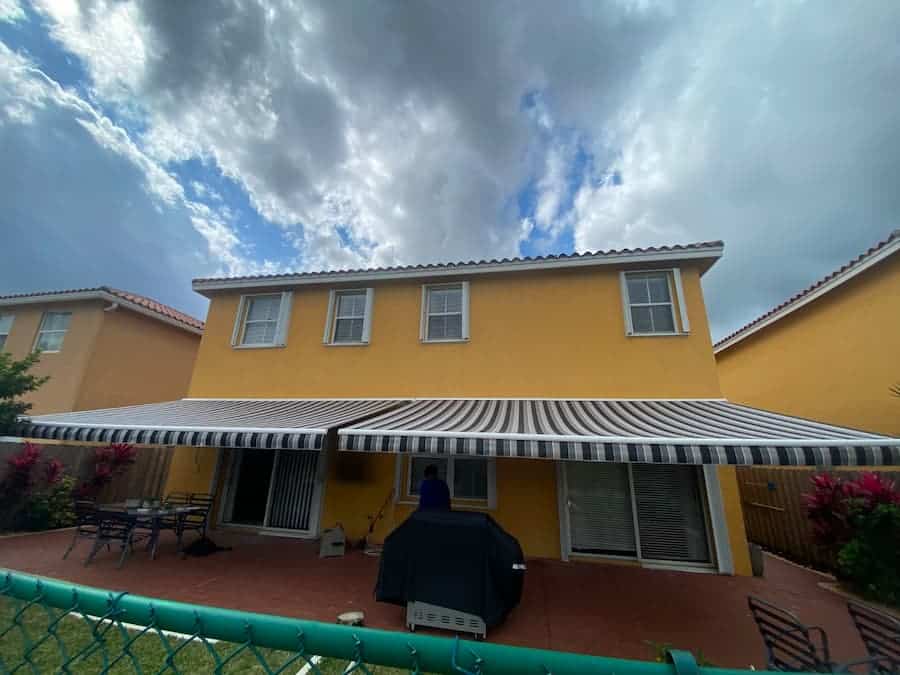 What Qualifies As A Residential Awning?
A residential awning is an outdoor covering that is positioned over a home's door, window, porch, deck, or patio to provide protection from sunlight and elements. Compared to a commercial awning, residential awnings are often (but not always!) smaller in size and designed to complement the aesthetic and design of your home.
Benefits of Residential Awnings
Residential awnings are an excellent way to protect your home and your loved ones from the elements, while still allowing you to enjoy your outdoor space. By installing residential awnings, you can gain the following benefits:
With residential awnings, you can extend the living space of your home by making your outdoor areas more comfortable. Awnings provide a great place for entertaining and relaxing outdoors, even when the summer sun is beating down.
Stay Protected From UV Rays
Awnings offer excellent protection from the sun's harmful UV rays. By keeping your family and guests in the shade, you can reduce the risk of sunburns and other skin-related issues. This can be particularly beneficial for families with young children or elderly members.
Prevent Furniture From Fading
Awnings can help reduce glare from the sun whether you're enjoying the outdoors or staying cool inside, allowing you to make the most of your living space even on the brightest days.
In some cases, you could even see your air conditioning costs go down; with less direct sunlight entering your home, you'll be cooler and more comfortable.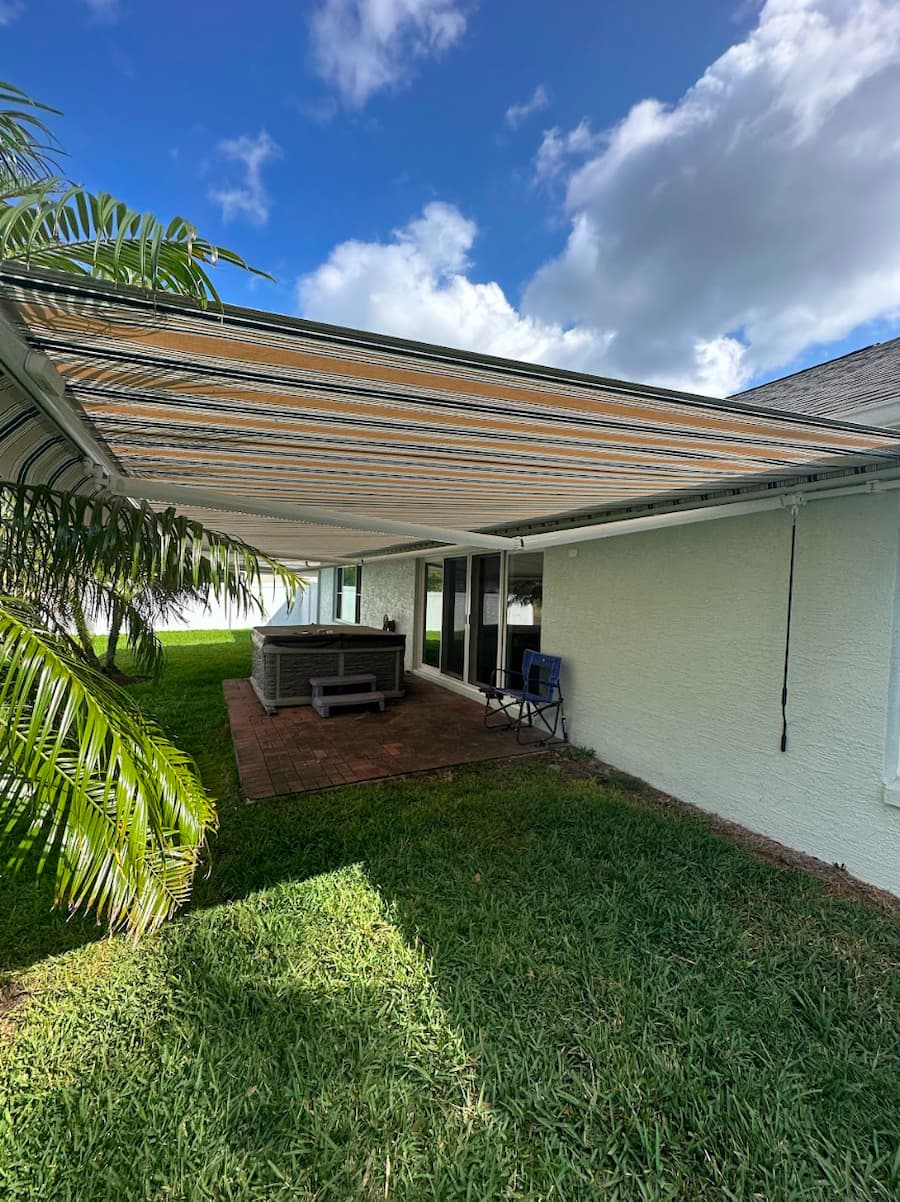 Choosing the Best Residential Awnings for Your Home
Are you looking for a way to protect your home and loved ones from the sun? Residential awnings are an effective and stylish solution that can add value to any home. To get the most value out of your new home awning, consider these tips:
Select Awnings in Complementary Styles and Colors
Awnings come in many different styles and colors, making them an excellent choice for adding depth and sophistication to any home. When selecting awnings, consider the design of your home and choose ones that will complement it.
Consider the size and shape of your windows, doors or patios and select awning shapes that suit the style of your home. Colors are also important. Choose lighter, muted tones to create a serene atmosphere or bolder hues for a more energetic ambiance.
Pair Your Awning With Retractable Screens for Additional Shade
Retractable screens are a great way to add an extra layer of protection from the sun and other elements. Pair your residential awning with retractable screens on doors, windows, or lanai to increase shade and create privacy while still allowing you to enjoy natural light or take in the views outside your home.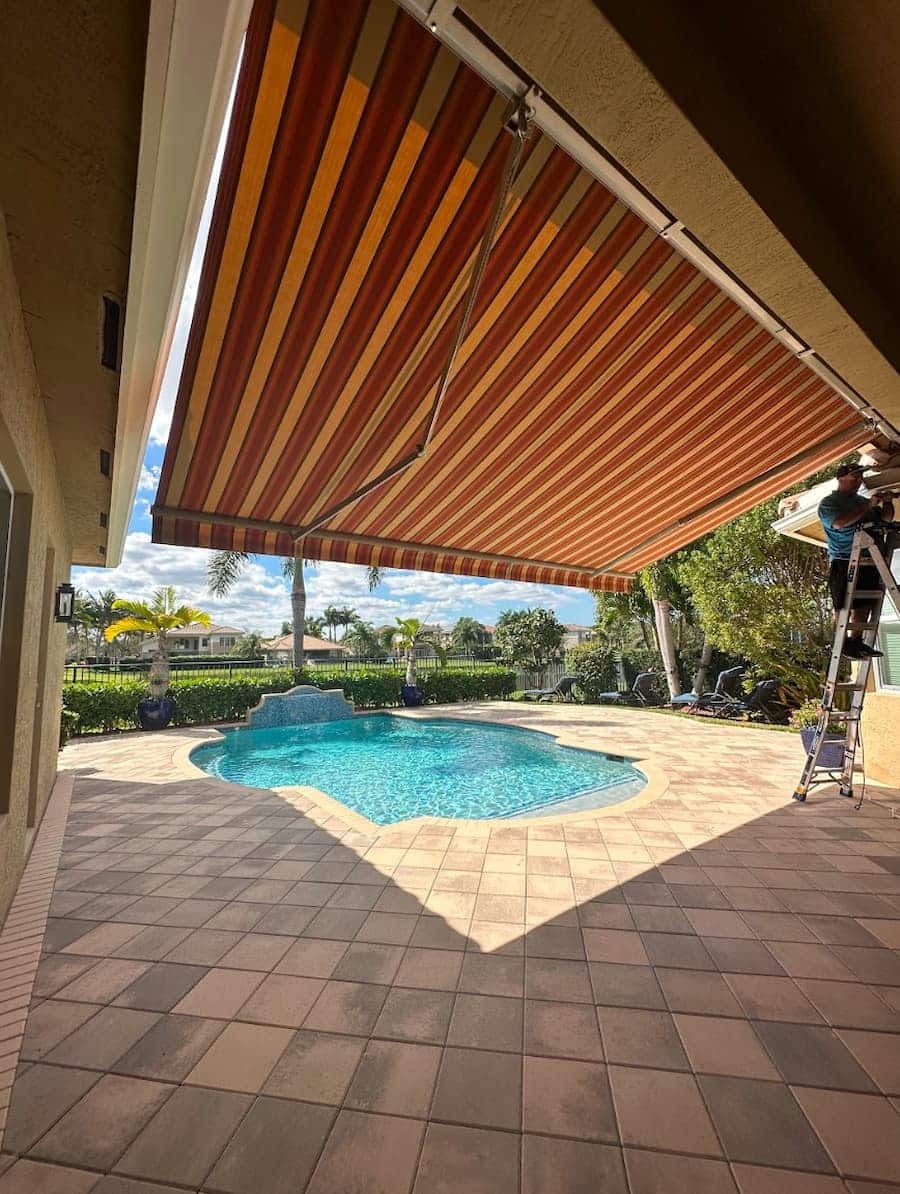 Advantages of Choosing Residential Awnings From Sun Protection of Florida
Sun Protection of Florida is a leading provider of high-quality residential awnings across the state of Florida, offering durable and stylish awnings that meet all codes and regulations. We guarantee you'll get the best value for your investment, with awnings that provide the following benefits:
Superior Shade and Sun Protection
Our awnings provide unparalleled shade and sun protection, allowing you to enjoy the outdoors without worrying about overexposure. We use Sunbrella fabrics, which are approved by the Skin Cancer Foundation for 99% UV protection, in all of our awnings, providing you with a valuable tool to protect you from the sun.
Locally Designed and Manufactured
We are a proudly local, family-owned business. We manufacture all of our awnings in our Florida factory to provide you with quality insurance and fast installation.
Mold and Mildew Resistance
The Sunbrella fabrics used in our awnings have incredible fade resistance, with strong color performance built into the fibers for long-term durability.
With state of the art electric motors, our retractable awnings are easy to use and maintain. With the push of a button, you can extend or retract your awning with ease.
Our awnings are equipped with wind sensors for added safety and convenience. These sensors will detect when the wind is too strong and automatically retract your awning to prevent damage.
Add ambiance to your outdoor space with beautiful dimmable LED lights. These lights are integrated into all of our awning models and can be controlled through your awning remote.
Types of Residential Awnings for Your Florida Home
Sun Protection of Florida offers a variety of residential awnings to fit every need. Create a private, shaded space to enjoy the outdoors with one of our awnings!
Residential Patio Awnings
Our patio awnings are perfect for creating a shaded outdoor living space. Make your home more inviting with a patio awning and invite your loved ones over to enjoy the outdoors in comfort.
Residential Poolside Awnings
Spend hours by the pool without worrying about sunburns by adding a poolside awning. A pool awning will provide ample shade so you can enjoy more time outdoors.
Residential Lanai Awnings
Add a lanai awning to your home and create an extra living space for entertaining and relaxing. Our lanai awnings provide optimal protection from the sun and other elements so you can enjoy your outdoor space in comfort and style.