Retractable Patio Awnings
Retractable patio awnings are a great way to enjoy the outdoors without being exposed to the outdoor heat. They provide a cool, shaded area where you can relax and escape the heat when fully extended. They also allow you to entertain family and friends in comfort. Best of all, retractable awnings are easy to use and require very little maintenance. With just the push of a button, you can create a relaxing oasis that will help you stay cool all summer.
Contact us to get started today!
What Are Patio Awnings and What Do They Do?
A retractable patio awning is a canvas roof that can be rolled out over an outdoor space to provide instant protection from the sun or rain. A heavy-duty motor operates these awnings, which can be retracted when not used. Motorized patio awnings are a great way to create an outdoor living space that can be enjoyed all year round, regardless of the weather. Additionally, these awnings can provide much-needed shade on hot summer days and protect furniture from being damaged by the elements. Whether you want to create a cozy outdoor oasis or extend the life of your patio furniture, a patio awning is a great option. Check out our gallery here!
If you're looking for an easy-to-operate retractable awning for the patio, you'll want to find one with a remote-controlled motor. With just the push of a button, you can extend or retract the electric awning. And, since the heavy-duty motor does all the work, there's no need to worry about struggling with manual operation. Plus, you'll appreciate the quiet operation - perfect for a relaxing day or night.
SPF has partnered with Sunbrella fabric, well-known in the industry for being fade-resistant. This top-quality awning fabric comes in many different colors and patterns, so you're sure to find one that compliments your taste. The material is also mold and mildew-resistant, making it an excellent choice for those who live in humid climates. In addition, the motorized patio awning is durable and easy to clean, so you can enjoy your shelter for years to come.
A retractable patio awning from SPF is made with top-notch parts and materials. The fact that it is locally manufactured guarantees the quality. The motorized awning is durable and will provide many years of use.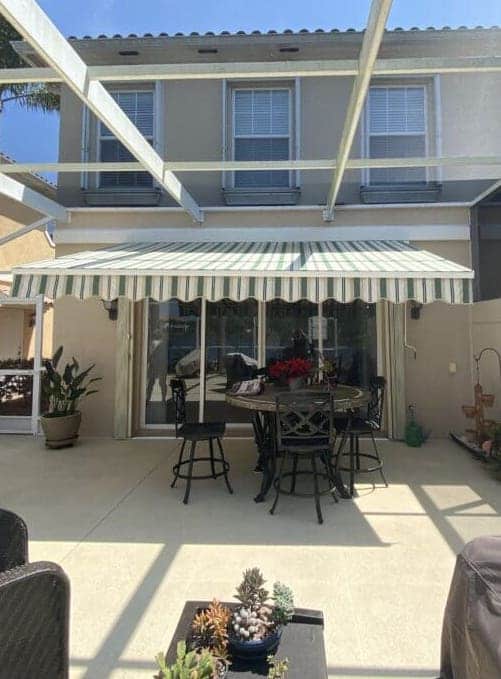 Benefits of a Motorized Retractable Awning
If you're not careful, the sun can be too much and cause health problems! A retractable motorized patio awning will provide shade while protecting from the hottest rays with just one push-of button - making your patio comfortable again without sacrificing any relaxation time.
It's easy to forget how quickly the weather can change. A motorized retractable deck awning is perfect for keeping you and your furniture dry when those pop-up storms roll through!
Motorized awnings are a great way to keep your patio cool and comfortable during the hot summer. Blocking 97% of UV rays can help protect your furniture from fading and prevent sunburns. In addition, motorized awnings can be easily retracted into a protective housing when not in use, so you don't have to worry about them taking up space. Whether you're looking to entertain guests or enjoy a quiet moment outdoors, retractable patio awnings are an ideal solution for keeping your patio comfortable all season long.
Retracting awnings for the patio is a great way to boost curb appeal and attract future buyers. When it comes time to sell, your investment can add value to your home and help you stand out from the competition. As a result, patio awnings offer homeowners an attractive and functional solution for enjoying the scenic view.
Adding a motorized retractable awning to your home is an instant upgrade. They add functionality and provide a burst of color, and they also complement your landscape. Patio awnings are available in various colors and styles, so you can find the perfect one to match your home's exterior.
Retractable patio awnings essentially provide another room that can be used for various purposes year-round. By installing a motorized roof to your existing patio, you can extend your living space and enjoy outdoor scenic views without worrying about the elements. In addition, patio awnings create a more comfortable environment for entertaining guests or relaxing with family. Retracting motorized awnings is an excellent solution whether you want to add value to your home or enjoy the outdoors more.
Which Type of Retractable Motorized Patio Awning is Best for You?
There are two main types of awnings that you can choose from - motorized or manual. Both have their pros and cons, so it's essential to decide which one is best for you. Motorized awnings require more investment, but they're also much easier to use. Press a button, and the top will open or close. Manual roofs require a bit more effort to open and close. Our qualified team at SPF Screens & Awnings is ready to assist you with any questions you may have.
Get Started in 3 Easy Steps
SPF Screens & Awnings wants to make the shopping experience a positive one for homeowners interested in retractable awnings. With so many features and benefits, we're confident you'll want one! We have simplified the process for you to make your experience as positive as possible.
One of our friendly and knowledgeable sales team members will be happy to come out for a consultation. They'll take measurements, offer advice on what type best suits your needs based on these findings, and provide you with an estimate tailored just for YOU!
The design and color of your outdoor space are essential when choosing a retractable patio awning. Our talented team will work with you in selecting from the various Sunbrella fabric colors and styles available so that it suits both function and aesthetically!
On the day of your scheduled installation, our qualified team will set up and show you how to operate a retractable awning. We never use contractors, and someone from our installation team will be there to complete the job!
Maintenance Tips for Retracting Patio Awnings
To keep your motorized awning in pristine condition, we recommend cleaning it about four times yearly. You invested money into buying an elegant addition to the home, and you should be able to enjoy the patio awning for many more years! Here are some simple steps that will help maintain its new look:
Remove Debris from Your Awning
Clear away small twigs and debris that have collected on the top of the retracting patio awning. This step can be done anytime to prevent sticks from causing damage to the material.
Use mild soap and a soft cloth or brush to clean the blemishes on the canvas fabric gently. For stubborn stains, try an organic stain remover. Spray the marking and wipe with a damp cloth. Repeat as needed.
Using a garden hose or a bucket of clean water, rinse the patio awning until the soap is gone. Please do not use a power washer. The pressure can cause damage to the material.
FAQs About Motorized Patio Awnings