Awning Maintenance: What You Need to Know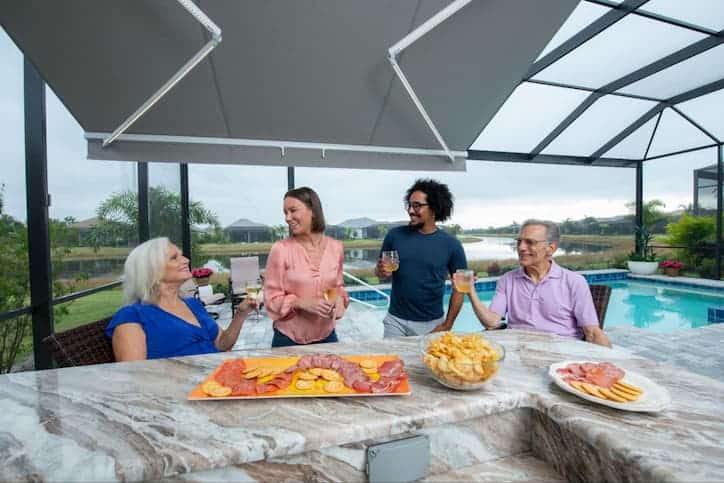 How often should I clean my awnings? How do I tell if something is wrong? How do I care for my awning?
If you're asking these questions, you're not alone! Your awning is probably one of the most important parts of your patio or lanai, and you want to protect your investment. Your awning protects you from rain, sun, wind, and other weather elements If you don't take proper care of your awning, it can become damaged and less effective.
Here is a helpful guide to help you keep your awning in great shape.
Awning Maintenance Guide
From cleaning your awning to properly adjusting the pitch, there are a number of crucial steps to keeping your motorized awning running smoothly so you can enjoy the shade in your home or yard.
How to Adjust the Awning's Pitch
Depending on the weather, you may need to adjust the pitch of your awning, which is the slope or angle of your awning. Before making the adjustment, retract your awning to reduce the tension. You can then use a manual crank handle to change the pitch. You'll rotate the crank until your pitch is where you want it. Be careful to avoid adjusting it too much, as you could put unnecessary stress on your awning.
Being able to adjust the pitch of your awning can help you adapt to the weather – a steeper pitch during a light rain storm, for instance, can ensure the water runs down the awning rather than pooling on the fabric, promoting a longer-lasting structure.
How to Clean Your Awning
To clean your awning, follow these steps:
Remove any debris from under the awning. This includes leaves, grass clippings, dirt, sand, and more. It's best to remove as much debris as possible before starting the cleaning process.
Use a soft brush or sponge to wipe down the outside of your awning with water. Make sure you get into the corners and crevices, as well as the top edge. You can use a gentle dish soap, laundry detergent, or fabric cleaner. When using soap or detergent, you'll find that it's easier to clean and rinse if you mix them into a solution with lukewarm water.
Rinse with a gentle stream of water, ideally from a hose. You don't want to use too much force – while our awnings are made from the highest quality materials, they are still made of fabric, and a very heavy flow of water could damage the material.
Let the awning air out by opening it up. If you roll up it while it is damp, your awning could get moldy.
How to Winterize Your Awning
Winter can be tough on your retractable awning, so you may need to take steps to winterize it. If you find frost on your awning, don't extend it until it has thawed. You should also clean your awning using the above steps while it's still warm enough to do so.
Before winter arrives, we recommend removing the valence (if your awning has one) to prevent wind or ice damage. Be sure to keep the motor and awning cover clear throughout the winter; if you have snow or ice buildup, clear it off these features as soon as you're able to prevent water damage as it melts.
Apply Lubrication
Your awning may need to be lubricated to prevent friction and wear. If you hear any squeaking, that's a good sign you should take action. Lubricating your awning helps to maintain its performance and extend its life.
A dry silicone spray lubricant is often the best choice to help things move smoothly and quietly. Make sure not to spray the fabric on your awning during the process!
Check Hardware
If you find any broken hardware on your awning, repairs or replacements will be critical to ensure proper operation. Broken hardware can cause your awning to sag or buckle, and if the damage is severe, you may not be able to use it at all.
If you have issues with your awning's hardware, reach out to us so we can help! We'll be able to ensure you get the necessary hardware for your specific needs.
Troubleshooting Retractable Awning Problems
There are many reasons why your awning might stop working correctly. Here are some common problems:
Retraction Issues
Some people experience retraction issues when trying to open or close their awning. They may notice that the awning doesn't completely open or close. Or, if it does work, it takes longer than normal to retract or deploy. In many cases, these issues arise when something isn't aligned properly. Heavy storms and tree branches can cause misalignment, among other things. If you are experiencing these issues, contact us so we can help!
Wind Damage
During periods of high winds, your awning can incur damages, including torn fabric, ripped seams, and bent hardware. We can work with you to get your awning repaired. Try to prevent these damages by retracting your awning when high speed winds are expected.
Awning Squeaks
Squeaky awnings are often caused by worn-out parts or a lack of lubrication. You can try to lubricate your awning's tracks, or contact us for more information about replacing worn out parts.
Tips for Caring for Your Awning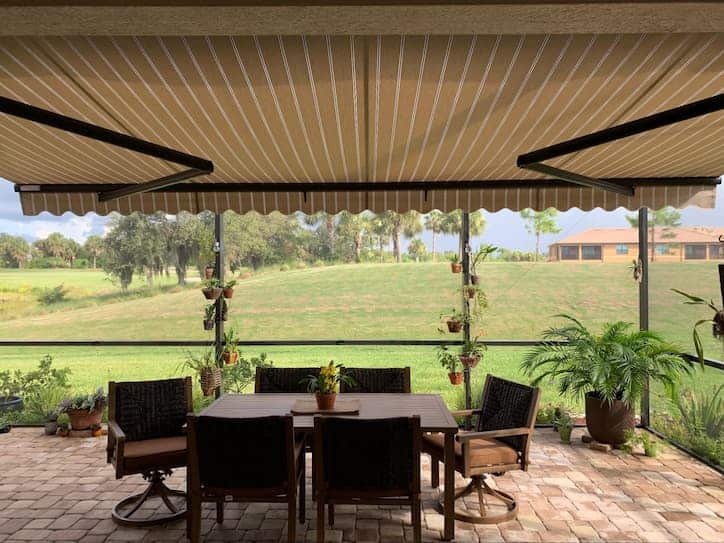 When it comes to keeping your retractable awning in top condition, here are a few best practices.
Wash Your Awning
Don't use a pressure washer when you're cleaning your awning, as this will damage the fabric. Instead, use a gentle dish soap and a sponge or rag. If you have stubborn stains, use a scrub brush to remove them. Make sure your awning is completely dry before you roll it up again.
Keep It Rolled Up When Not In Use
When you're not using your awning, roll it up. This will keep it safe, especially if you have bad weather. Strong winds could rip your awning if you leave it unfurled.
Inspect Your Awning on a Regular Basis
One of the most important things you can do is inspect your awning regularly. Small issues can add up and severely damage your awning! Check for signs of wear and tear, leaks, and rust.
If you find any issues, let us know. We'll be happy to help you find the best way to fix them.