Add Value and Comfort to Your Outdoor Space With a Retractable Sun Shade
If you're considering adding solar screens to your house, you're making a great decision. Not only do they provide extra protection from the sun's heat and glare, but they can also add value to your home. So if you're looking for a way to keep your home cooler and more comfortable all summer long, motorized sun shades are the way to go. Plus, they're an easy way to improve your curb appeal – so why not try them?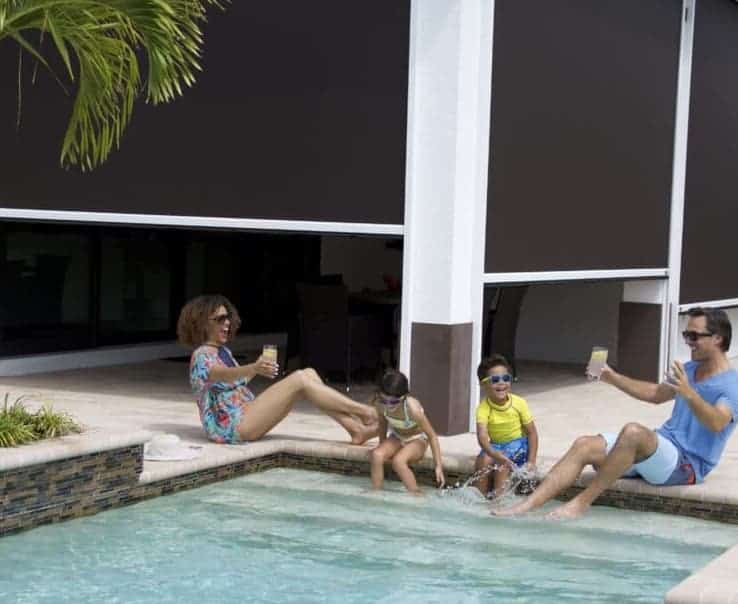 Added Benefits of a Motorized Solar Screen
If you're looking to improve your patio, you can do a few things to make it more comfortable and inviting. Adding a solar screen is one of them – and it has several benefits beyond just making your lanai look nicer.
Retractable outdoor shade screens can help keep your patio cooler in the summer, which means you'll be able to enjoy spending time out there even when the temperature is on the rise. The motorized screens can also help protect you from the sun's UV rays, and add some extra privacy if needed. So if you're considering upgrading your outdoor entertaining space this year, don't forget about motorized solar screens!
Blocks Sun
The sun is a powerful source of energy that can damage your skin and cause diseases with prolonged exposure. With our motorized retractable shade screens, you'll have peace of mind knowing 97% of the sun's harmful UV rays are blocked. A bonus is you will likely notice a decrease in your energy bill.
Keeps Bugs Out
Rolling shade screens are the perfect way to keep pesky insects out while providing fresh air, circulation, and visibility. The retention zippers provide a secure seal for maximum protection.
Furniture Protection
Installing a motorized screen on your patio is a great way to protect your furniture from fading and rain damage. Not only will it extend the life of your furnishings, but it can also give you some extra peace of mind knowing that your investment is well protected.
Curb Appeal
If you're looking for a way to improve your home's curb appeal and value, a retractable solar screen is a wise choice. Solar shade screens can help protect your deck from the sun's harmful rays and keep your home cooler in the summer months. They're a great way to add extra privacy to your home without breaking the bank.
Additional Room
Individuals seeking to add more living space to their home may want to consider retractable shades for their patio. These motorized shade screens will provide them additional space for entertaining guests or simply enjoying the outdoors.
Privacy Provided
Design your ideal outdoor space and enjoy a solar screen's privacy and protection. Whether you're looking to create a serene oasis or a lively gathering spot, retracting solar screens can help you achieve your vision.
Value-Added Features of a Retractable Sun Shade
SPF understands the importance of providing people with reliable shelter and protection against the elements. You know too well that one minute you're enjoying a hot, sunny day only for it to become cloudy and rainy seconds later! What sets our company apart is not just what we offer but how much care goes into every detail of your customized order. 
Simple to Use
The convenience of remote-controlled technology that allows you to stay seated and push a button is something we can all appreciate.
Quality Craftsmanship
We proudly use USA-made parts in the assembly of our motorized products. The heavy-duty, powerful motor will quietly release and quickly retract the screen. Our talented manufacturing team prides itself on top-notch craftsmanship.
Custom Designed
We have partnered with Sunbrella fabrics to bring you a vast selection of materials that will best suit your style and complement the exterior of your home and landscape.
Retention Zippers
SPF motorized shade screens have retention zippers that offer a protective seal against pesky mosquitoes and bugs.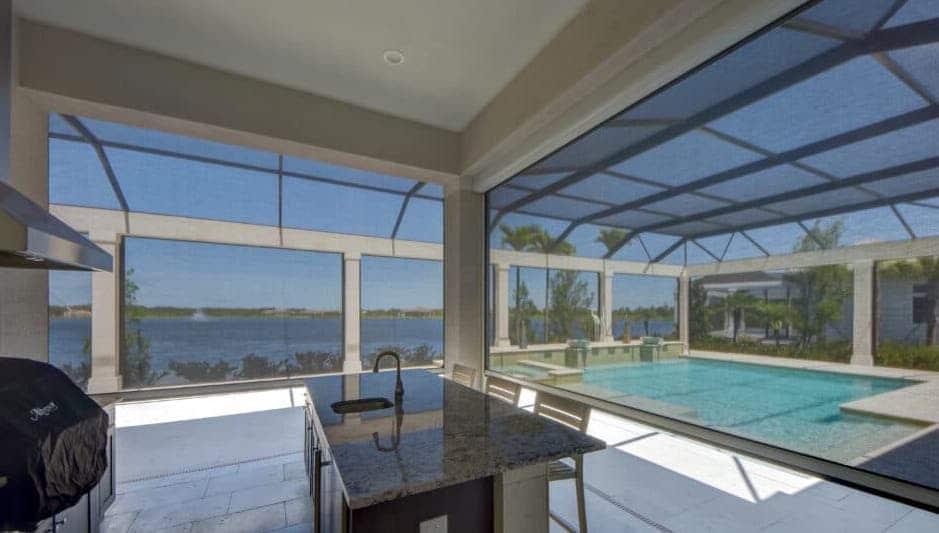 How to Purchase a Retracting Solar Shade from SPF Screens & Awnings
Why work with a local team that will give you the best service possible? You deserve an experience tailored just for your needs. Our competent staff is ready to assist in ensuring everything goes off without any hiccups or issues, so don't hesitate to contact us! Our skilled group wants what's best for each client, no matter how big or small the project.
Get a Quote
The first step is to have someone from our qualified sales team visit your home and see your patio, deck, porch, or lanai. During this time, they will measure the area you would like to have a motorized sun shade installed and help you determine additional shade needs around your home. The information gathered will generate a free customized estimate based on your specific needs and wants.
Design Time
When it comes to motorized solar shades, bring your design ideas to life by planning the color and style. Consider what shade will best complement your home's exterior and provide the level of sun protection you desire. If you want a bold look, choose a bright color or pattern, and for a more subtle approach, select a neutral hue. Once you've decided on the perfect shade, installing it is easy, so you can enjoy your new sun screen for years to come.
We Install
One of the perks of working with our family-owned business is we hire and train our entire staff and never use contractors to install our motorized products. Our professional installation team will treat you and your home with respect.
Relax and Enjoy
The final step in our streamlined process is to sit back, relax, and enjoy your new outdoor space. After installation, you can arrange your furniture and decorate your patio to your satisfaction.
SPF of Mind Purchasing & Warranty
When you partner with SPF, a provider of retractable shade protection products, you are supporting a team of professionals dedicated to serving their communities. We are committed to your satisfaction and provide a five-year warranty on the mechanics and a ten-year warranty on the fabric. Also, because we are family-owned, we are more than happy to price match.
Maintenance and Care Tips for a Motorized Retractable Sun Screen
If you want your motorized solar screen to stay looking good, you need to care for it properly. That means taking the time to clean it and making sure that it's free of dirt, dust, and other debris. In addition, you should inspect the mesh screen regularly for any signs of wear or damage. If you take good care of your screen, it will last many years.
Remove
Using a soft-bristled broom, remove loose debris such as cobwebs, leaves, and dead bugs.
Clean
Fill a bucket with water and soap (mild like Dawn or Ajax) and use a cloth to clean dirt and other residue that has collected on the mesh screen. If there's a stain, try using an organic stain remover spray and blot with a damp cloth. Repeat this process until the blemish is gone.
Rinse
Use a garden hose or bucket of clean water to rinse the motorized sun shade. We do not recommend using a power washer as the pressure can damage the screen.
Frequently Asked Questions About Retractable Sun Shades
How Durable Are the Retractable Patio Screens?
Our local manufacturing facility uses the finest parts to assemble all our motorized products. We take pride that our motorized sun shades are built to last for many years when you properly care for them.
Do You Offer Other Products?
Absolutely! We have a variety of products that will give your home a boost in style and functionality. Motorized Garage Bug Screens, Balcony Shades, Retractable Awnings, and we also offer commercial solar screens.