Retractable Patio Screens
Like most homeowners, you want to take advantage of the summer weather by spending time outdoors on your patio. But bugs and the hot sun can be a major annoyance if you don't have a screened-in terrace. That's where motorized retractable patio screens come in. They quickly and easily create a screened-in space so you can enjoy your lanai or porch without worrying about bugs. Plus, they can be retracted into protective housing when not in use so that you still fully use your outdoor space. If you're interested in adding retractable patio screens to your home, contact us today!
What Are Motorized Retractable Patio Screens?
Retractable motorized deck screens are a great way to enjoy the outdoors without being bothered by bugs. But how do they work? Most retractable screens are made with mesh fabric that rolls down from an aluminum housing. The housing is designed to be discreet, so it doesn't detract from your patio or porch look. Some screens are manual, meaning you must pull them down yourself, but most are motorized. That means you can open and close them with a button. So whether you're entertaining guests or just enjoying a quiet evening at home, retractable screens are a great way to keep the bugs at bay.
How Your Home Benefits From Retracting Screens for the Patio
If you're looking for a simple way to improve your outdoor living area, motorized patio screens are an excellent choice. These retractable privacy shades block sunlight while retaining light rain; they also add sophistication with their sleek design that will match any home decor style!
Keeps Out Unwanted Insects
When the days are long and warm, mosquitoes can be a bother. A retracting insect screen will keep these pesky bugs out, so you don't have to worry about being bitten while relaxing on your lanai.
The sun is powerful, and it can cause damage to your skin if you don't take precautions. SPF's retractable solar shades protect against 97% of the harmful rays.
Outdoor Furniture Is Protected
Enjoy your patio even during a light rain. The retractable screen will block the moisture from getting outdoor furniture wet and protect the fabrics from fading when the sun is shining at its brightest.
A motorized patio screen gives you the ability to enjoy your lanai year-round. Relax in your private oasis, protected from the sun, wind, and bugs.
A retractable patio screen can give your home an instant style upgrade while boosting curb appeal. You can enjoy the outdoors without being bothered by insects or excessive sun exposure by installing a screen. Plus, many screens are designed to complement your home's existing architecture for a cohesive look.
Features You Can Appreciate About a Motorized Patio Shade Screen
Aside from the many benefits of a motorized retracting screen for your patio or lanai, some features are designed with your comfort in mind. SPF designed our retractable shade products to give instant protection.
Remote-Controlled Operation
Stay protected from harmful UV rays with our remote-controlled solar screens. With just the press of a button, the quiet yet powerful Somfy motor will lower these energy-saving devices to keep things cool in hot weather!
With our commitment to quality and safety, we have constructed durable pieces of equipment that will last for many years. Our heavy-duty parts are made with the best materials to ensure your machine operates efficiently while also being safe, allowing you peace of mind when using it daily!
Customized Fabric Options
When choosing a motorized patio screen, there are many colors and styles to pick from. You can go for something classic and elegant or something bright and bold that makes a statement. There are options to suit any taste, so you're sure to find the perfect one for your home.
The hood and housing store the retractable patio screen and are available in color options to match the exterior of your home, so your motorized porch screen is discreetly stored when not in use.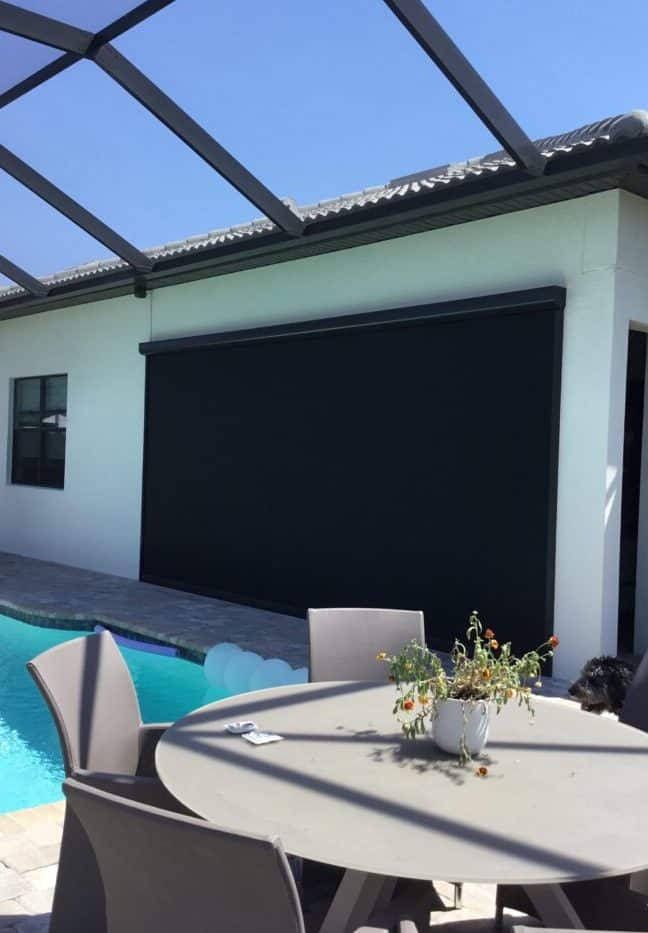 Things To Consider Before Purchasing a Retractable Motorized Screen for Your Patio
When shopping for a motorized retractable lanai screen in Pasco, it's essential to consider size and style! Our sales team looks forward to discussing these additional details with you.
The weather is unpredictable, so make sure you invest in a durable and high-quality retractable motorized solar screen. SPF screens provide instant coverage for your patio when it's most needed with their ability to withstand hot sun or light rain without compromising comfort!
To maximize the privacy and protection of your home, consider installing motorized screens on all sides of the patio. This way, you can keep harmful UV rays or harsh glare away while still enjoying a sunny day on the lanai!
Types of Retracting Patio Screens for Your Patio
SPF Screens & Awnings offers a variety of retractable shade systems that provide instant protection from the elements. Whether you need help with your balcony or garage, we can offer rolling screens for both inside plus out! Our team is happy to assist in designing custom solutions, so contact us today.
Recessed Retractable Screens
What's the best way to protect your patio from rain and sun? A motorized retractable screen! These are great because they protect against harsh weather conditions and create an enjoyable space for entertaining friends.
If you're looking for a stylish and functional way to expand your home's living space, then look no further than our selection of retractable lanai screens. These motorized shades can be opened anytime to protect against the sun's glare.
The poolside party will be a success with the motorized outdoor privacy screen. Pushing just one button provides ultimate concealment to enjoy your day in comfort and seclusion.
How to Purchase a Retractable Patio Screen
SPF is committed to providing you with a safe space for your family and friends. We have the perfect solution, whether it be motorized retractable patio screens or other types of protection from harmful UV rays! Schedule your consultation today!
Our qualified sales team is ready to visit your home and check out your backyard oasis. They will measure your lanai or patio and provide you with a free customized quote.
When our guys come on installation day, you can be sure that they'll get your new motorized solar screen set up and ready for use. We never hire contractors to do this job; SPF's qualified team of installers completes all work.
Care and Maintenance Tips for Keeping Your Motorized Screen Looking New
A retractable patio screen is a great way to keep insects out of your home while allowing fresh air flow. However, like all screens, it requires some basic maintenance to keep it functioning at its best. Fortunately, cleaning a retractable screen is easy and only takes a few minutes a few times a year.
Use a soft broom, such as the one you use in the kitchen, and sweep away dirt, dead bugs, and cobwebs.
Use a soft cloth, mild soap, and water to clean the mesh screen. For stubborn stains, use an organic stain spray.
Use a hose or bucket of clean water to rinse away the soapy water. We do not recommend using a power washer on any of our motorized products.
Frequently Asked Questions About Retractable Patio Screens