Tips for Taking Care of Your Motorized Solar Screen in Sarasota
Cleaning and caring for your motorized roll screen is not time-consuming, and when you take time to maintain your investment, your screen will have a longer life and save you from expensive repairs. This means you'll be able to enjoy the shade from your screens for a long time!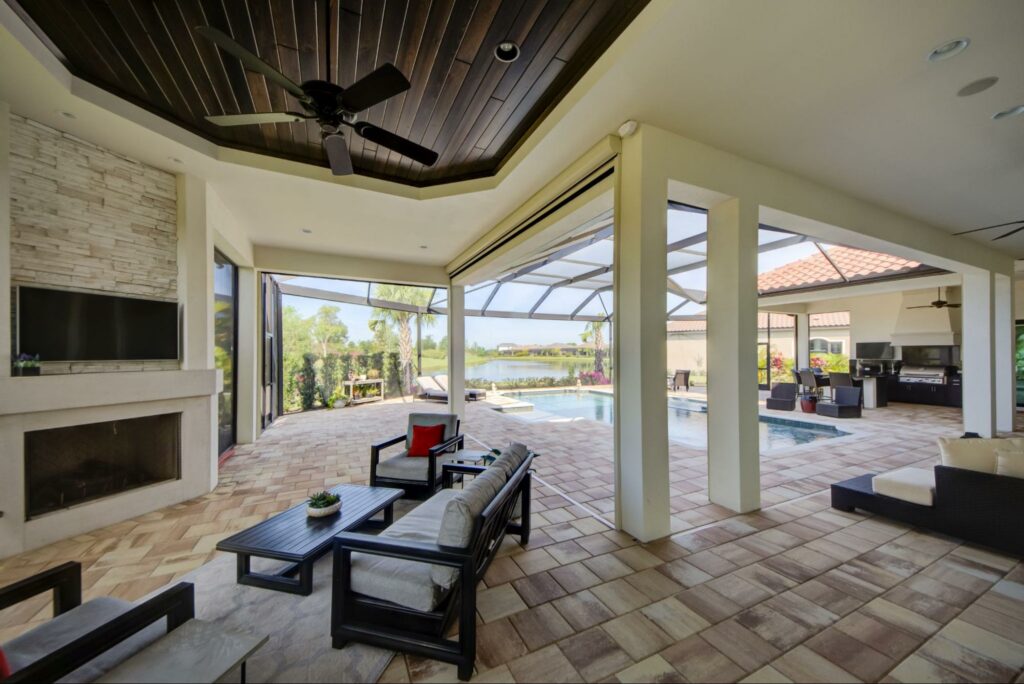 An Overview of Retractable Roll Screens Sarasota
The weather in Sarasota can be pretty unpredictable. One moment it can be raining cats and dogs, then minutes later the sun can be shining. If you enjoy utilizing your lanai or porch screen, the outdoor elements can sometimes impede the use of these recreational spaces. A motorized retractable solar screen is an excellent addition to your home that will allow you to remain outdoors regardless of the weather conditions. The rolling screen can retract at just the push of a button and stay out of sight.
The Advantages of Sarasota Motorized Porch Screens
There are many positive features to a retractable bug screen. The value of your home will increase. You can enjoy your outdoor space no matter the weather and protect your porch furniture from fading due to harmful UV rays.SPF Screens & Awnings SPF Screens & Awnings is happy to help you choose the best rolling screen for your home.
Block UV Rays
Our motorized solar screens will block 97% of the sun's harmful UV rays. You can sit on your porch or lanai without worrying about your porch furniture fading from the sunlight. You and your loved ones will be protected by a thick barrier screen that keeps the bright light out.
Protection From Bugs Like Mosquitos
Pesky bugs and insects make it quite challenging to remain outdoors for long periods. Our garage roll-down screens allow you to enjoy your garage or patio space without mosquitos interfering with your hobbies.
Provide More Privacy
Your family can have time together without prying eyes with a motorized privacy screen. At the right moment, you need some shade, push the button, and your solar screen will roll down at the exact height you need to feel comfortable.
Caring for Your Sarasota Retractable Roll Screen
The care and upkeep of your motorized solar screen are essential if you want to have it for many years to come. Simple tasks will keep you from a costly repair down the road.
Check Your Motorized Sun Screen's Operation
When you retract or roll down your insect screen, listen to the motors. You should not hear any loud noises as the motor is designed to be whisper-quiet. If you hear a concerning noise, contact SPF and one of our technicians will be happy to help.
Clean the Frame of Your Roll Screen
About 4 times a year (once per quarter), you will want to clean your motorized solar screen. The more you are intentional about the upkeep of your screen, you can stay on top of issues as they arise.
Remove Any Debris From the Track
You can wipe away loose dirt from the track with a cloth or even your vacuum. Keeping the track clean will help your mosquito screen to move up and down easily.
Wipe Down the Frame
Use a damp cloth to wipe down the outside of the sun screen. As you wipe down the outside of the frame, check for any dents or cracks in the frame that would cause the rolling screen to not work properly.
Avoid Using WD-40
Do not use a silicone spray or WD-40 on the tracks of your motorized roll screen Sarasota. These sprays only attract more dirt and dust and interfere with the movement of the tracks.
Clean the Mesh
To clean the rolling shade mesh, use a damp cloth to gently wipe away debris or dust. Allow the screen to dry before retracting into its protective casing.
Brush Off Any Debris
Between washing with soap and water, you can use a soft-bristled brush to remove unwanted dirt and debris that have collected on the surface of the rolling screen.
Use Warm Water and Mild Soap
Avoid using harsh chemicals when you clean your motorized retractable screen. A mild soap such as Dawn or Ajax will work just fine.
Do Not Use a Power Sprayer
A power washer is too vigorous for your retractable rolling screen. A garden hose has just the right amount of pressure to rinse off soap and debris from the mesh screen.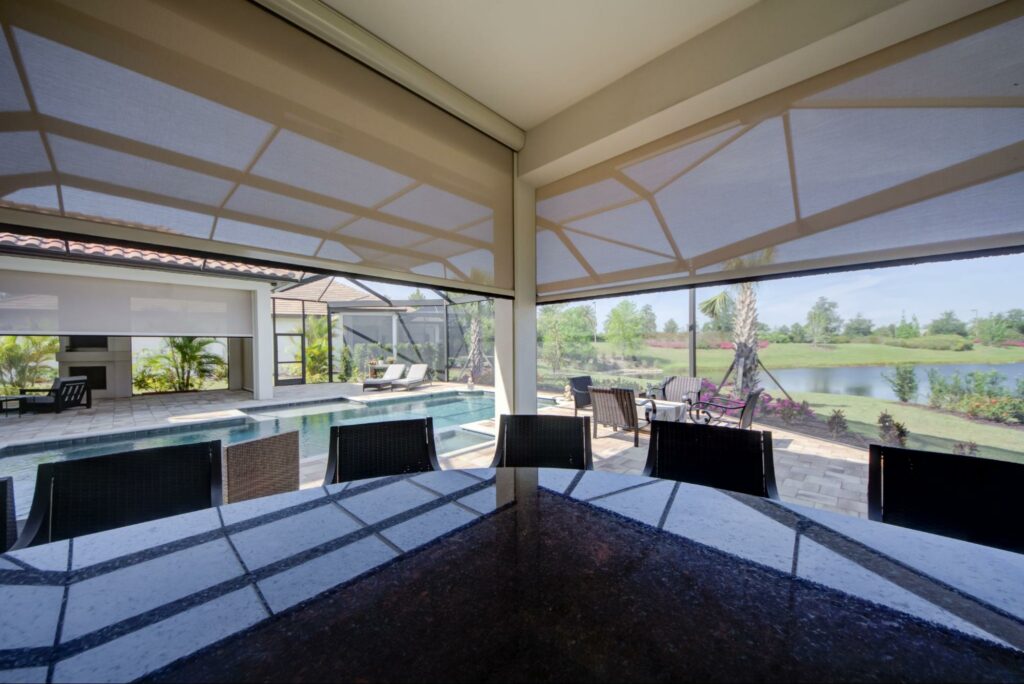 Common Sarasota Motorized Bug Screen Problems (and How to Solve Them)
There are a few setbacks that come along with owning a motorized insect screen. While they do a wonderful job of keeping out the mosquitos and sun you should be aware of some potential downfalls. There are ways to avoid these if you are intentional about checking for these components below.
Bugs Caught in Roll Screen
As you retract your motorized solar screen, some bugs may get caught in the roll and die inside the casing. Before you roll up your screen, check the mesh for any bugs and gently wipe them off with a broom.
Bird Droppings on Mesh Fabric
Bird droppings can leave unwanted blemishes on your motorized rolling screen. To remove the bird excrement, use a plastic spoon to gently remove and dispose. To tackle the stain, use a mild detergent and blot the stain with a damp cloth.
Frequently Asked Questions About Roll Screen Care
How do I fix my retractable screen if the screen material is completely off the roller?
If your mesh screen should come off the roller it is best to contact SPF Screens & Awnings so one of our technicians can take a look at it and make the repair.
What should I do if I accidentally get paint on my retractable screen?
If you should happen to get paint on your rolling retractable screen you can moisten a cloth with paint thinner, nail polish remover, or alcohol. Gently rub the cloth over the area until the paint softens and comes off. Keep in mind that this may damage your screen. It may be better to leave the paint on the screen.
How do I remove mildew from a motorized retractable screen?
To remove mildew from a rolling screen, mix a 50/50 ratio of white vinegar and water. Spray the mixture on the screen and scrub with a brush.
How do I repair my motorized rolling sun screen?
If your motorized solar shade should need any repairs, it's best to contact us at SPF. We have a team of trained technicians who will be happy to repair or replace your mesh insect screen.