Putnam County Motorized Solar Screens
Nothing ruins a pleasant afternoon like sun glare, unbearable heat, pesky insects, and prying eyes. With motorized retractable screens and shades from SPF Screens & Awnings, it's easy to control the temperature in your home while filtering out UV radiation, reducing sun glare, and keeping bugs at bay.
Our Putnam County motorized sun screens are available in a wide variety of colors and styles, perfect for any home or business. With simple installation and maintenance-free operation, you can enjoy the convenience of these energy efficient solutions all year round! Plus, our products are backed by a warranty to ensure long-lasting performance.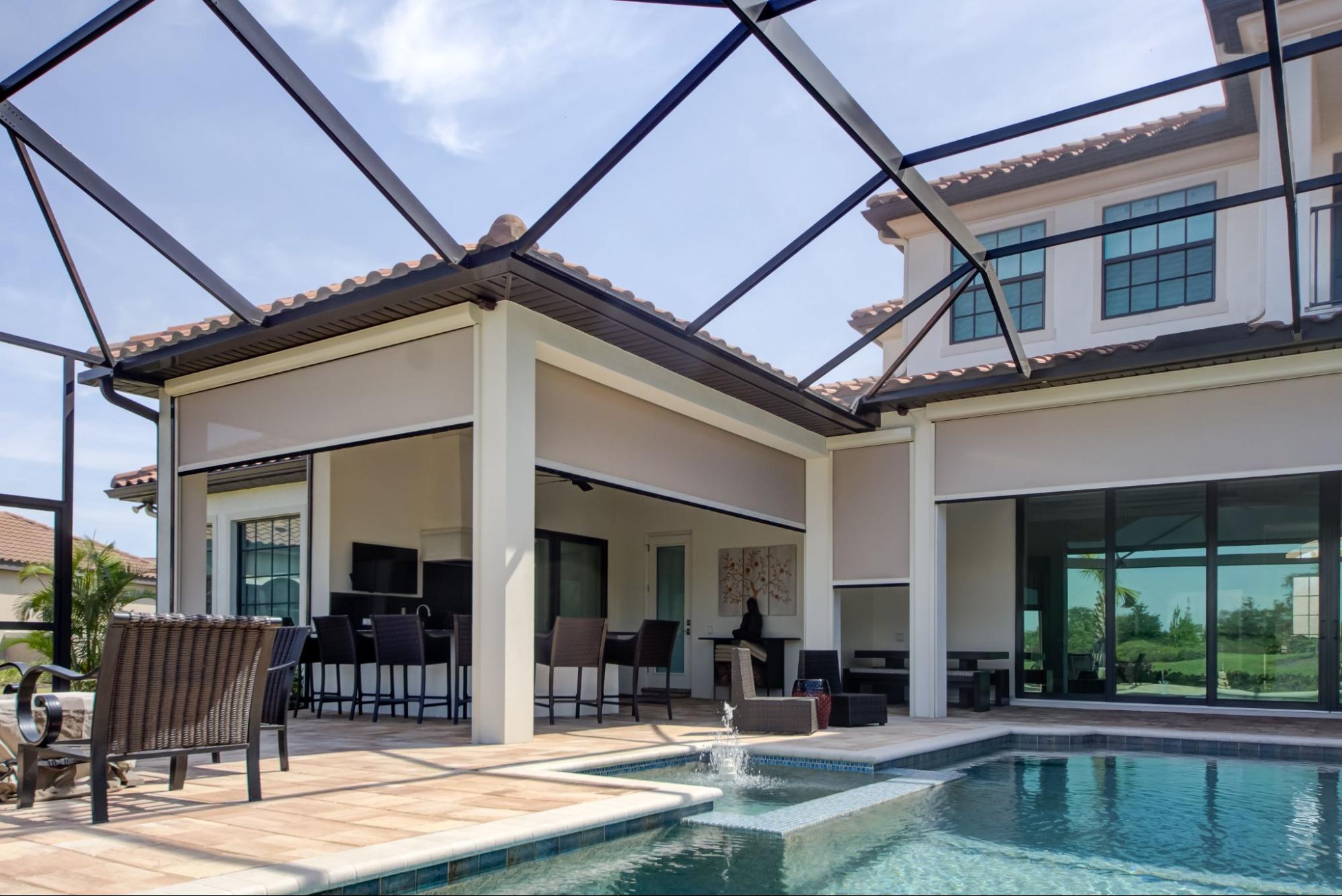 What is a Retractable Roll Screen?
Retractable roll screens are the perfect solution for controlling light, temperature, and privacy in your home or business. A motorized screen makes this solution even more convenient and effective.
This innovative product is designed to provide instant shade with a simple push of a button. The screen quickly unrolls from its housing when opened and rolls back up when closed, making it easy to adjust the amount of sunlight entering any room.
How a Motorized Sun Screen Can Improve Your Home in Putnam County
Installing a motorized sun screen in your home is a great way to maximize comfort and reduce energy costs. SPF Screens & Awnings offers professional installation services for any kind of retractable roll screen, with years of experience providing Putnam County residents with the perfect solution to their light control needs.
Florida's heat and humidity can attract a wide range of insects, including mosquitoes, wasps, and spiders. Motorized sun screens are designed to keep out these pests so you can enjoy your outdoor living space without worry.
UV rays can cause furniture to fade and deteriorate over time. With motorized sun screens for decks and lanais, you can protect your outdoor furniture from damaging UV radiation while ensuring maximum comfort. Installing sun shades can also protect indoor furniture from exposure to this harsh light, ensuring your home continues looking its best.
Our screens are designed to keep out the sun's heat and glare, while still allowing you to enjoy natural light and the view from your windows. Motorized retractable screens are a great way to reduce your energy costs without compromising on comfort.
Motorized sun screens can also come with privacy features like blackout fabric, allowing you to maintain complete control over your home's level of privacy. Plus, the sleek and modern design is sure to fit in perfectly with any existing décor.
The convenience of a motorized sun screen can also increase your home's value. Buyers are often looking for energy efficiency and low maintenance solutions without sacrificing on style, making our retractable roll screens the perfect choice.
Types of Motorized Retractable Screens Available to You in Putnam County
SPF Screens & Awnings offers a variety of motorized retractable screens, allowing you to choose the perfect solution for your home depending on your needs and desires.
Enjoy your balcony with protection from the sun's UV rays and insects with motorized balcony shades. We can custom-fit shades over most balconies to ensure total cover and maximum comfort.
For garages, we offer motorized screens that are designed to keep out insects and maximize air flow. These screens will also provide protection from UV radiation for any items stored in your garage that may be exposed while the door is open.
Motorized lanai shades are perfect for outdoor living spaces and provide a convenient way to control light levels and privacy. You can enjoy the convenience of these energy efficient solutions all year round!
Window screens are designed to keep out insects and help reduce energy costs by blocking the sun's heat from entering your home. Our window screens can be customized to fit any size or shape window for your convenience.
Recessed shades are designed to fit into wall cavities and provide a sleek and modern look. They are perfect for providing shade without compromising space in the room, making them an ideal solution for any home.
Our privacy screens are designed to provide complete coverage from the sun and insects, while also providing maximum privacy. The blackout fabric option is perfect for those who want to ensure their home stays private even in direct sunlight.
Why Work With SPF Screens & Awnings for Your New Roll Screen
At SPF Screens & Awnings, we specialize in providing Putnam County residents with the perfect light control solution. Our experienced team of professionals will work with you to find a roll screen that fits your needs and budget. We offer free estimates and can even come to your home or business for customized measurements to ensure a perfect fit!
Our team is dedicated to providing you with a stress-free and hands-free installation experience. We will handle all of the tedious work so that you can enjoy your new roll screens in no time!
Motorized sun screens are designed to make your life easier. With the press of a button, you can open or close your shades with ease. Plus, our team is always available to provide assistance if needed.
Family-Owned & Locally-Operated
At SPF Screens & Awnings, we are proud to be a family-owned and locally-operated business. We understand the importance of providing quality customer service and always strive to make sure you are 100% satisfied with our products.
We stand by our products and offer a variety of warranties to give you peace of mind. We also offer 12 months of interest-free financing to help you get the quality products you want without worrying about how to cover the cost upfront.
Ready to Get Started? Here's How to Order Your Custom Retractable Screen From SPF
When you're ready to order your custom retractable screen, the process is simple.
Get in Touch for a Free Quote

Contact us to schedule a free in-home consultation and estimate. We want you to feel confident working with us, so we'll be your guide and offer our best recommendations for products to ensure they meet your needs.

Select Your Customizations

Our motorized screens are custom-made with high quality materials and provide unbeatable protection against the elements. Choose from a range of colors and sizes to design the perfect retractable sun screen for you.

Select a Date for Convenient Installation

Once you decide on a roll screen, we'll schedule an installation date that works best for you. Our team of professionals will install your sun screen quickly and efficiently so that you can start enjoying it right away!

Sit Back and Enjoy

Our team will make sure you are satisfied with the results and provide you with helpful tips on how to operate your new retractable screen. Now all you have to do is sit back, relax, and enjoy the added comfort and style of your new sun screen!
Frequently Asked Questions About Motorized Sun Screens in Putnam County