How to Keep Mosquitoes Off Your Porch
Summer is the time for cookouts, swimming, and spending time outside. But if there's one thing that can put a damper on outdoor activities, it's mosquitoes. These pesky bugs can make summer nights unbearable. Luckily, there are some steps you can take to keep them off your porch and out of your backyard.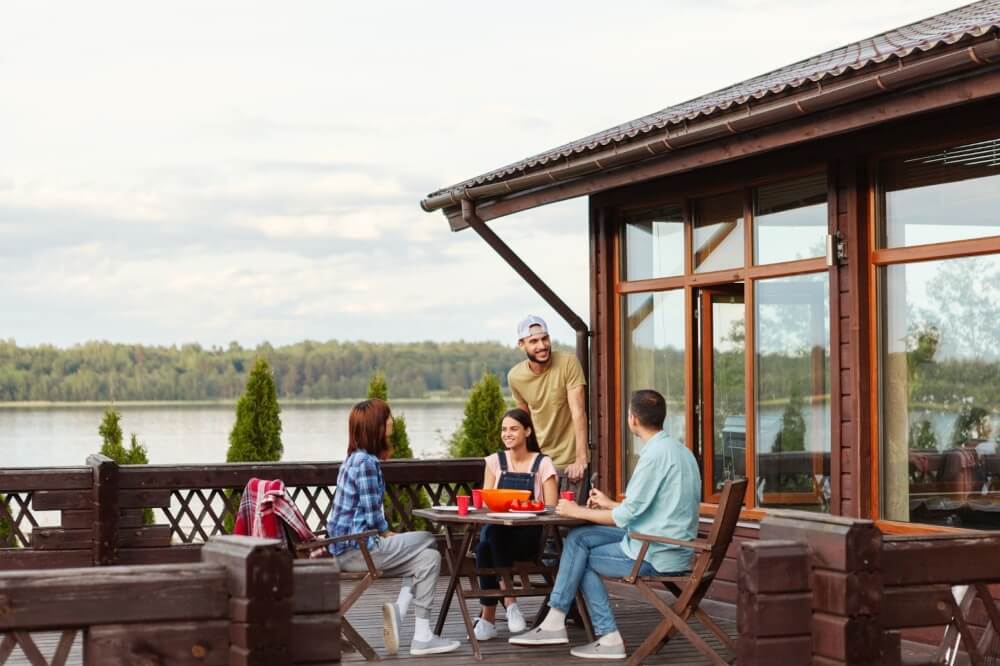 Ways to Keep Mosquitos At Bay
There's nothing worse than being eaten alive by mosquitoes, especially when trying to enjoy a lovely summer evening outdoors on your porch or patio. Here are some easy tips to help keep those pesky bugs away.
Hire a Professional
Hiring a pest control company is one of the most effective options if you want to create a mosquito-free zone around your porch or deck. Many companies specialize in this area to keep these annoying pests away so you can enjoy the outdoors without being bitten.
Keep Your Lawn Short
Mowing the lawn is more than keeping your grass tidy and can also help prevent mosquitoes from hiding since they prefer tall grass and bushes. If your home is along the woods, this is important to keep the insects away from the lawn.
Install a Ceiling Fan
Mosquitoes prefer still air. When they fly, the wind has to be under two mph. Install a fan, or two, to keep the air moving. Plus, you will stay cool on those hot summer days.
Clean Out the Gutters
Your gutters are one of the most overlooked areas on your property. They can hold water, which will only increase the chances of pests and damage. Clean your gutters often to prevent standing water, which attracts mosquitoes.
Remove Standing Water
Mosquitoes need standing water to lay their eggs. The larvae live in this type of wet environment; without it, they cannot reproduce, which means fewer mosquitoes around. The presence of standing water is an invitation for baby mosquitoes and provides adult mosquitoes a perfect environment to lay eggs.
Look around your yard, deck, or porch for containers and kids' toys that may be collecting water. When you are done with these items, turn them upside down, so rainwater does not accumulate.
Attract Bats and Birds
To keep pesky mosquitoes away, attract birds and bats to your home. Birds are natural predators of these bugs and will help keep the population low. A simple way to attract birds and bats is to place feeders around the patio or porch and bird and bat houses. You will want to ensure these feeders and houses are not collecting water, or your intentions will be counterproductive.
Treat Standing Water Features
A bird bath or a water feature is another option if you have standing water on your deck and can't drain it. You can either get the water moving with a fountain (moving water keeps mosquitoes at bay) or treat it with mosquito dunks (floating disks designed to dissolve in water and kill mosquito larvae).
Burn Some Incense
Burning scented incense allows the mosquitoes to rely on their sense of smell, and the smoke is said to keep them away. You can research different retailers selling scented incense to keep out the pests.
Light a Citronella Candle
One way to keep unwanted insects away is to light a citronella candle or torches near where you are sitting or dining. This tactic does not reduce the number of mosquitoes on your porch, but it will keep them at bay while you're trying to relax.
Repair Drainage Issues
A common area homeowners tend to overlook is the ground beneath their porch or deck. If you notice standing puddles, you can do a simple treatment of adding sand to absorb the water. If the water is more significant and adding sand won't work, you can install a French drain to move the water away.
Keep Pool Water Clean
Perhaps you have a pool in your backyard, the biggest water container! Keep the water circulating and treated to keep mosquitoes away.
Install Screens
Another effective way to block mosquitoes and insects is to install screens around your deck, porch, or patio. If your outdoor area has wooden slats, enclose the underside of the decking for a secure seal.
Motorized Mosquito Screens for Your Porch Offer Best Protection
There are many reasons why motorized retractable screens are the best way to protect yourself against mosquitos. For one, screens provide a physical barrier between you and the bugs, keeping them from being able to bite you. In addition, screens allow air to circulate freely, which helps keep you cool and insects away. Finally, motorized retractable screens are easy to use and can be installed quickly and easily.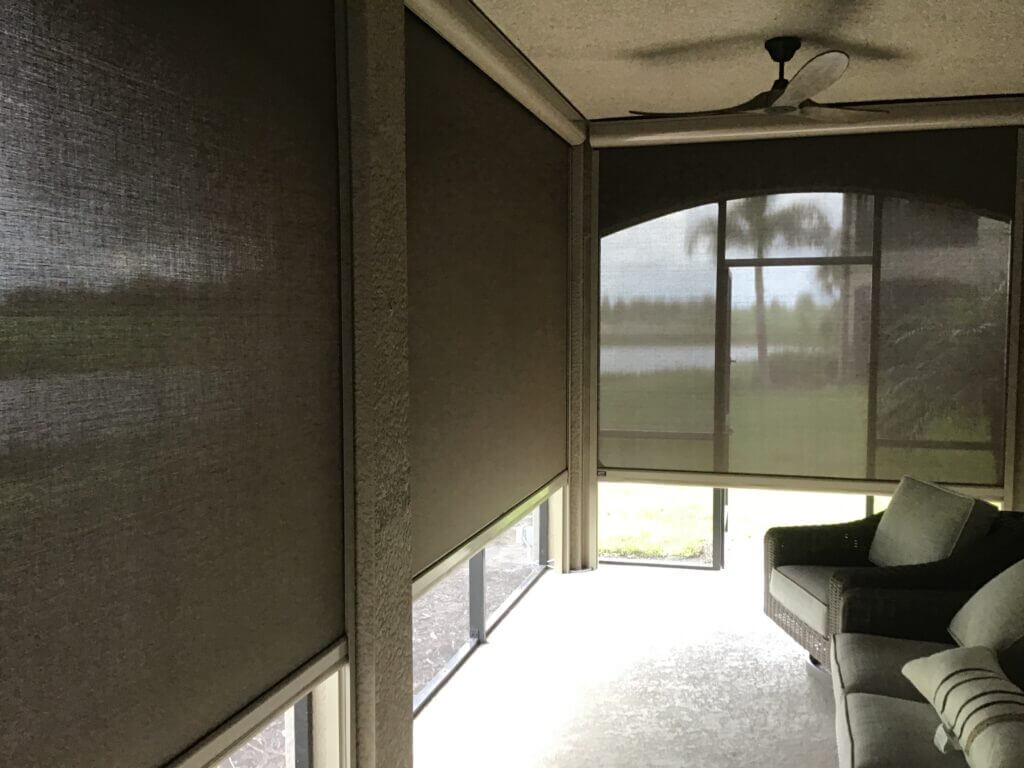 How Retractable Bug Screens Work
A quiet yet powerful motor will release the retracting mesh screen from its housing. The mosquito screen will lower to the height you desire, keeping in mind that it should go all the way to the floor for ultimate blockage of insects. When retractable screens are paired with retention zippers, the motorized screen offers maximum protection against bugs.
Additional Benefits of a Motorized Retractable Mosquito Screen
Mosquitoes are not only a nuisance, but they can also be dangerous. A retractable mosquito screen can help keep them out of your porch or patio so you can enjoy your outdoor space without worrying about being bitten. Additionally, a retractable screen offers many other positive benefits.
Protection from Sun
The retractable mesh screen blocks out 97% of the sun's harmful rays, which protects you from sunburn and your patio furniture from fading.
Keeps Porch Dry
Since the motorized mosquito screen also blocks moisture, you will not need to worry about covering your outdoor furniture during a light rain.
Gives Privacy
Enjoy your porch, deck, or patio in seclusion with a motorized retractable insect screen. Customize the mesh fabric to offer as little or as much privacy as you desire.
Curb Appeal
Achieve an instant boost in curb appeal with a retracting mesh screen, and future potential buyers will appreciate your investment in having a motorized bug screen installed.
Value-Added Features of a Retracting Screen to Block Mosquitos
Motorized mosquito screens add convenience and comfort to your porch. The features listed below are just a few of the bonuses you will come to appreciate.
Convenience
Control the motorized screen with a button, so you can easily open and close it without getting out of your seat.
Flexibility
The screen can be customized to fit any patio or porch, and you are in control throughout the entire design process.
Encased Hood
The aluminum housing is installed horizontally and blends in beautifully with the exterior color of your home.
Quality Craftsmanship
Locally manufactured and using only USA-made parts, you are sure to be satisfied with the craftsmanship that went into making your custom mosquito screen.
Mosquitos can be a big annoyance, but there are plenty of ways to keep them from ruining your summer. Have you tried any of the methods we've listed? If not, give them a try and let us know how they work for you.