How to Use a Retractable Garage Door Screen
A motorized garage door screen is a simple and convenient way to keep your garage cool and comfortable. Here are some tips on how to operate the retracting solar screen:
Remote-Controlled Operation
With the remote control technology, you can quickly retract and roll down the motorized screen from your seat. The mechanized insect shield will take care of everything else for you.
To open the screen, press the button on the remote control.
To close the screen, press the button again.
You can also adjust the amount of fresh air coming into your garage by how far down the screen rolls down.
Yes, it really is that easy!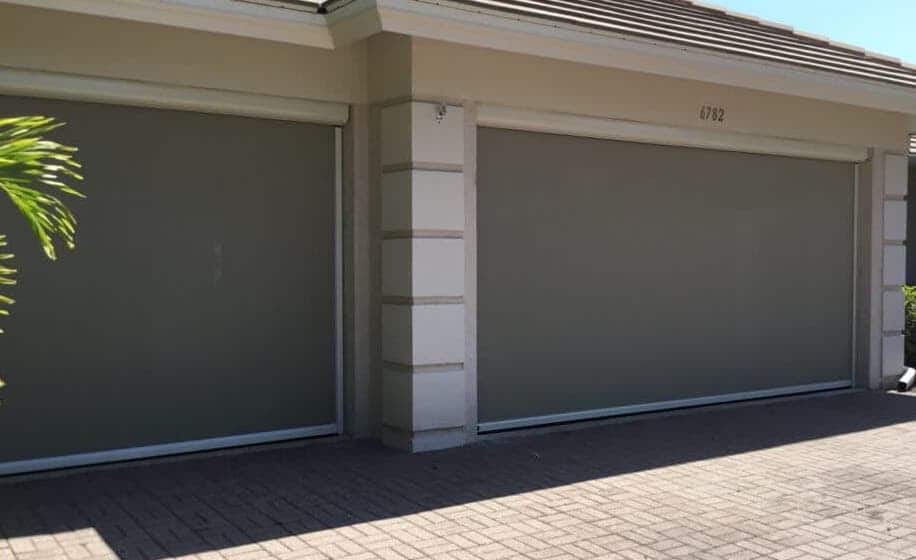 Quiet Motor
The engine is a heavy-duty and quality motor that can easily roll down or retract your screen. It's ultra-quiet but has enough power for any task you throw at it!
Retention Zippers
We have the perfect solution for you if bugs are driving you crazy. Our retractable garage screens come equipped with retention zippers that close quickly and keep out any unwanted visitors!
Benefits of a Motorized Garage Door Screen
A retractable garage screen is a great way to keep your garage cool in the summer and free of bugs and pests. The screen is a durable mesh that will keep out most insects while still allowing air to flow through. The screen can be easily retracted when not in use and is excellent for keeping your car clean and dust-free. In addition, the motorized shade can help reduce noise levels in your garage, making it more comfortable to work in. Overall, a motorized retractable garage screen is versatile and convenient to keep your garage space cool and comfortable.
Stay Dry
We all know the feeling of being trapped inside during a rainstorm. A motorized garage door screen can keep you dry and safe to enjoy whatever you are working on.
Insects Stay Out
The bugs are kept out with a retracting bug screen, which means you can enjoy the space. Our rolling screens come equipped with retention zippers for an airtight seal!
The electric retractable mosquito garage screen is an excellent addition to any home. It will increase the property value and amenities for future buyers while also providing you with some peace of mind knowing that pesky mosquitoes won't be able to get through.
Blocks Sun
The glare from the sun during certain times can be annoying and make you feel hot. An electric retractable garage screen blocks 97% UV rays, so it's cool inside your space.
Uses for a Retractable Garage Solar Screen
Garages have many uses. For some, it's a place to store the car. For others, it's a workshop. No matter how you use your garage, there's one thing that everyone can agree on: a garage screen is a great way to keep unwanted critters and the hot sun.
There are several different garage screens on the market, but retractable screens are the most popular. They're easy to install and use, and they don't take up a lot of space when not in use. Retractable screens also come in various colors and styles, so you can find one that complements your garage's existing décor.
So whether you're looking to keep your garage cooler in the summer or want to keep bugs and other pests out, a retractable garage screen is a great option.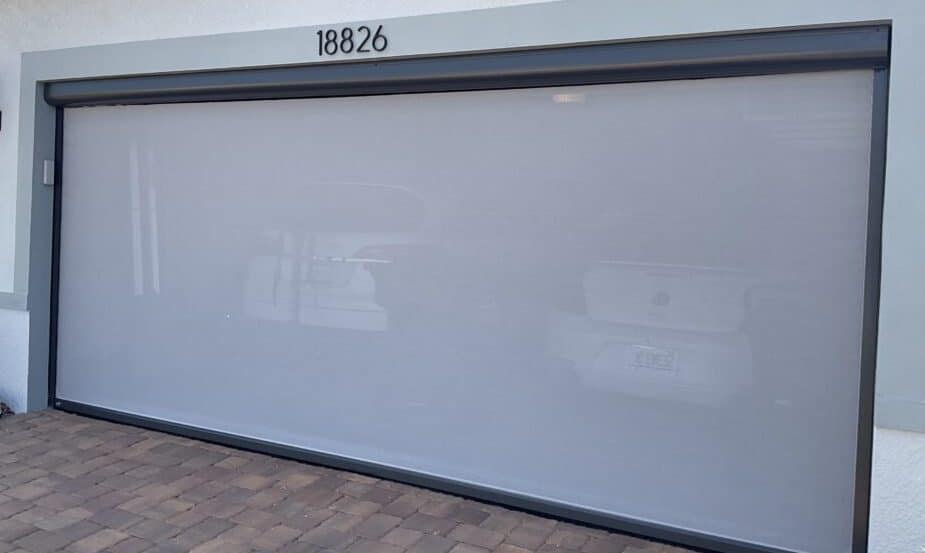 Home Gym
The garage is the perfect place to set up a home gym for many people. Motorized screens can keep the garage cool, and insects are less likely to be a problem with retention zippers providing a tight seal. Additionally, people cannot see into your workout area, providing a degree of privacy that may be important to some individuals.
Storage
The garage is more than just a place to park the car. And it's also a convenient storage space for belongings that don't necessarily belong inside the house. Quickly sort through your boxes while bugs and light rain stay out with a retracting privacy screen.
Car and Equipment Repairs
A garage is essential for keeping your vehicle, as any car owner knows. It protects your car from the elements, but it also provides a space for you to work on repairs and maintenance. However, not all garages are created equal. If you live in a hot climate, choosing a garage that will stay cool, dry, and comfortable while you work is essential. A motorized screen can help to keep the sun and heat out. A retractable garage bug screen will do the trick if you're also looking to keep annoying mosquitos out.
Hobbies
Many people enjoy working on woodworking projects in their garages. It is a great way to stay out of the hot sun or inclement weather, but it also provides a space to work on hobbies without taking up room in the house. In addition, a garage can be a great place to store tools and materials that would otherwise be taking up valuable space in the house. A garage can be the perfect place to set up a workbench and keep all necessary tools and materials close for those who enjoy woodworking. In addition, many people use their garage as a workshop for other hobbies, such as model building or electronics. Whatever your interests, a garage can be a great place to pursue them.
Entertaining
For many men, the garage is the ultimate man cave. It's a place where they can work on cars, tinker with tools, and hang out with their buddies. And on game day, it's the perfect place to watch the big game. But what if your garage could do more than store your car and house your man cave? What if it could also be a place for entertaining? Turning your garage into an entertainment space is a great way to use this extra space in your home. With the addition of motorized retractable garage screens, you can enjoy this space without interruption of privacy.
Commonly Asked Questions About Retractable Garage Door Screens
How Do I Clean the Motorized Garage Screen?
It is pretty easy to maintain your retracting garage privacy screen. Use a soft cloth or broom to wipe away loose dirt and debris. Next, use mild soap, water, and a soft-bristled brush, to clean all remaining blemishes. Rinse the solar screen with a garden hose or bucket of clean water.
Can I Customize the Color and Opacity of the Retractable Screen?
Absolutely! At SPF, we have a design team ready to assist you with the design process. We offer many styles and colors, and you can choose how see-through your motorized screen will be.
What if My Motorized Garage Door Screen Makes a Strange Noise?
If you believe your retracting garage solar screen is not correctly working, please contact us, and someone from our team will be happy to help diagnose the issue and offer recommendations.