How a Bug Screen for Your Balcony Can Improve Your Safety and Satisfaction
Summertime is a great time to get outdoors and enjoy the weather, but there are some drawbacks. Pesky bugs can make it difficult to enjoy being outside. Balcony bug screens provide an easy solution to keeping insects out while enjoying the fresh air. They are an affordable addition to your home that can make a big difference in your quality of life. Not only do they keep mosquitos at bay, but they also act as another room in your house to enjoy during the warmer months. Retractable bug screens for your balcony are a great way to improve your summer experience.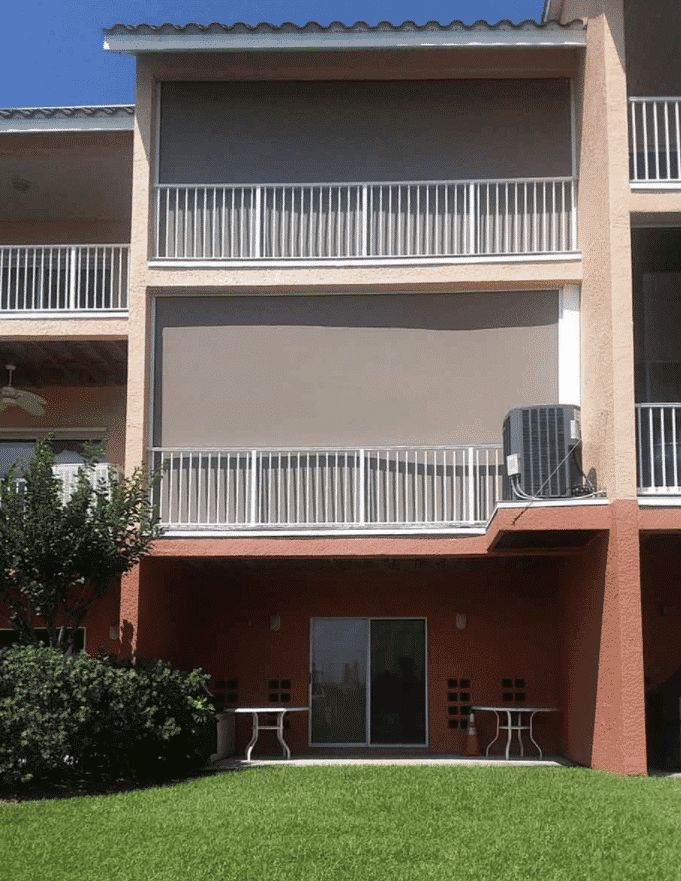 Benefits of a Motorized Insect Screen for Your Balcony
There's no denying that a retractable insect screen will effectively keep out any unwanted pests. However, many people don't realize they can provide several other benefits. For instance, they can help reduce the dust and dirt in your home. The retracting screens can also make it easier to keep your windows clean since you won't have to brush away insects constantly. And in some cases, they can even provide an additional layer of security for your home.
This simple addition to your balcony can easily be operated with a remote, making it convenient to open and close as needed. In addition to providing functional benefits, a retractable bug screen also transforms the look of a balcony, making it an inviting space to relax and enjoy the outdoors. Thanks to its sleek design, an insect screen can be easily installed, providing an effective barrier against bugs without sacrificing style.
Allows Air Flow
If you want to enjoy the morning breeze, installing an insect screen on your balcony will help. A motorized bug screen allows fresh air through the mesh fabric while blocking unwanted insects and the hot sun.
Saves Energy
Reduce your energy costs this summer by installing a retractable bug screen! By blocking the hot sun, you can keep your home cool and comfortable without running the air conditioner as much. Plus, you'll be able to enjoy the fresh air and insect-free evenings on your balcony.
Maintains View
Relax on your balcony and enjoy the scenic views without worrying about pesky bugs. With a motorized mosquito screen, you can keep out annoying mosquitoes while you sit back and enjoy the view.
Gives Privacy
If you're looking for a little extra privacy on your balcony, a retracting insect screen is a great option. Whether you're planning an intimate dinner for two or just want to enjoy some time outside without being on display, a motorized screen can give you the privacy you crave.
Adds Value
A motorized insect screen is a great way to add curb appeal and value to your property, and it's a quick and easy way to make your home stand out.
Features of a Retractable Balcony Bug Screen
When considering summertime activities, spending time outdoors is usually at the top of the list. Whether dining on the patio or relaxing in the backyard, enjoying nature is a pastime many people love. However, one aspect of outdoor living that can take away from experience – annoying bugs.
As the name suggests, retracting bug screens are made with mesh material that hangs over an entrance or opening to keep bugs out. They come in various sizes and are constructed from durable materials.
Easy Operation
The retracting insect screen is easy to use. Just push a button, and it will roll down from its encased housing. Enjoy this simple operation from the comfort of your chair.
Quiet Motor
Relax and let the quiet yet powerful motor do all the work. USA-made quality parts ensure smooth operation and years of trouble-free use.
Retention Zippers
To offer superior protection and insect blockage, we provide retention zippers. The zippered mesh screens offer peace of mind as you relax on the balcony.
Quality Fabric
With our help, you can pick the perfect screen for your home. We have a variety of colors and opacities (openness), so it's easy to find something just right!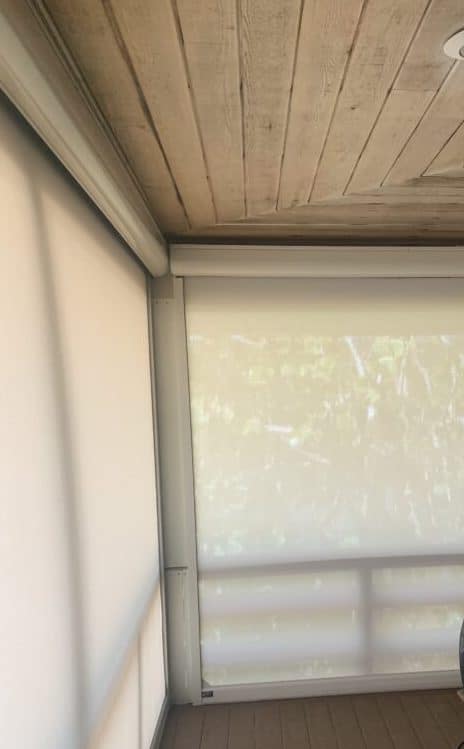 Maintenance Tips for Your Balcony Motorized Retracting Insect Screen
To ensure the longevity of your investment, you will want to take the time to clean and maintain your retractable bug screen properly. Following these steps a few times a year will keep the mesh fabric looking brand new.
Remove Loose Debris
Use a soft-bristled broom to sweep away loose debris and dead bugs gently. You can also use a dry cloth; however, the broom helps get at the hard-to-reach parts.
Clean with Soap and Water
Use a soft brush or cloth, a bucket of water, and mild soap to clean any remaining dirt. For hard-to-remove stains, try an organic stain remover spray.
Rinse with Hose
Use a garden hose or clean water to rinse the soapy water off the mesh screen. We do not recommend using a power washer as it can damage the material.
Purchase with SPF for Peace of Mind
SPF Screens & Awnings is confident that we offer the best-motorized insect screen. Our family-owned company is ready to serve you, and our local manufacturing team stands behind their work with a five-year warranty on mechanical parts and a ten-year warranty on the fabric. We offer competitive pricing and will gladly price-match. 
Get Started with 3 Easy Steps
SPF has made shopping for a recessed retractable mechanical screen easy and fun when you follow our three simple steps. You can read about what people had to say after buying their new SPF bug screens here!
Quote
We can't wait to get started on your project! The sales team will be happy to provide a free quote to give you an idea of our pricing. They'll walk through all options available for customization and pricing, so there are no surprises come installation time.
Design
Let us help you create a space that's as unique and personal for your home. Our talented design team will work with each client to find the perfect color, style, layout – everything!
Install
We know you want to be treated respectfully, so we never use contractors for our installations. Our team is made up of the most courteous and professional individuals around and they will treat you and your home with the utmost respect!
Commonly Asked Questions about Balcony Bug Screens
Does the Motorized Insect Screen Also Block the Sun?
In addition to keeping out pesky bugs, our retractable balcony screens will block 97% of the sun's harmful UV rays—dual protection for your entertaining outdoor space.
What Should I Do if My Retracting Balcony Screen Makes a Strange Noise?
Please contact us if you have any concerns regarding your motorized insect screen. One of our technicians will be happy to help determine the cause and recommend repair.
Do You Offer Commercial Products?
We are proud to partner with many businesses. We have worked with restaurants, bars, cafes, offices, hotels, and retail stores. Check out some of our commercial products.