How to Choose a Color for Your Orlando Awning
A motorized retractable awning is a necessity for anyone living in sunny, hot, and humid Florida. This retracting roof offer's instant shade and protection from the elements so you can enjoy the outdoors longer. Choosing the right color and pattern is essential to ensuring the awning complements your home.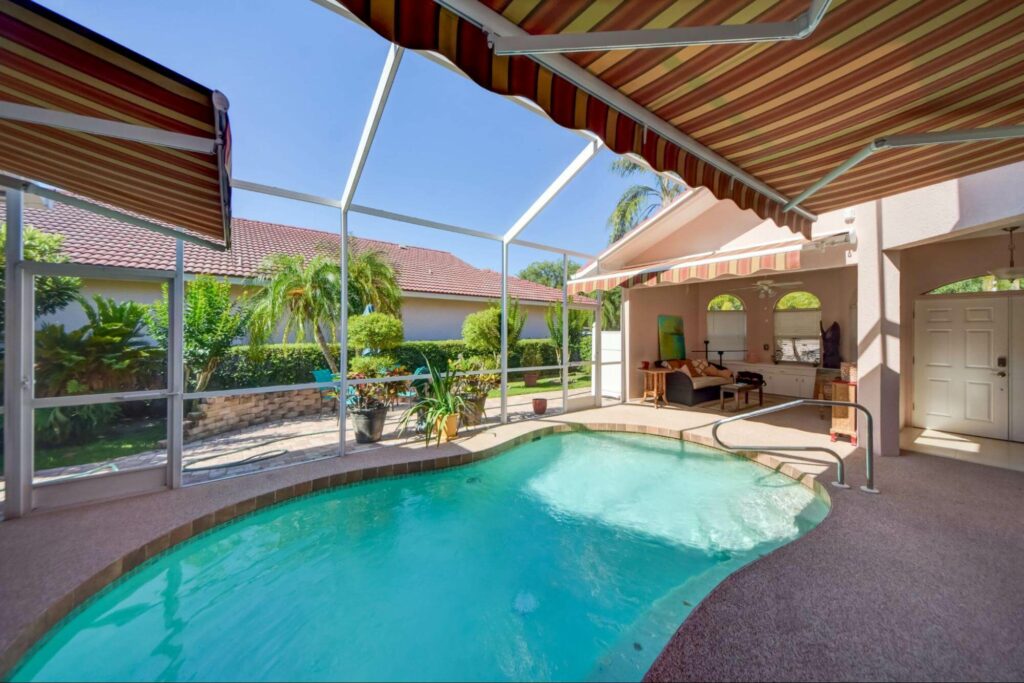 A Guide to Choosing a Retractable Awning Color
When you shop with SPF Screens & Awnings, our talented staff is ready to assist you with making the buying process simple. Before you make a final decision on a color, we encourage you to consider the following points as you shop and choose. 
The Orlando Weather
The weather in Florida can go from hot and sunny one moment, then clouds and rain rolling in minutes later. Do you live near water, or is your area prone to high winds? Choosing the best fabric that will hold up to these elements is essential.
Color & Style of Home
Examine the exterior color and style of your home. A motorized awning should complement these two elements and provide a bonus "room" for your friends and family.
Pool, Patio, Landscape
Do you have a lanai with a pool? Do you desire to have protection from the sun so you can better enjoy this area of your home? What about your landscaping around the patio, are there trees and shrubbery that could potentially cause damage to your retractable awning?
Hood & Housing
The protective hood and housing encase the retracted awning when not using it. Consider adding one that matches the exterior of your home for a beautiful and out of sight feature.
Benefits to Having an Orlando Motorized Awning
There are many positives for homes equipped with a retractable deck awning. You gain an additional space to enjoy the outdoors, protect your patio furniture, and add value to your home.
Blocks Harmful UV Rays
The retractable patio awning will block 97% of the sun's dangerous ultraviolet rays, keeping you, your family, and the outdoor area cooler. Relax with confidence and comfort.
Keeps Patio Dry
With light rain always a possibility in Orlando, your deck and patio will remain dry under cover of a motorized awning.
Protects Furniture
Keep your patio furniture and porch decor looking new longer by adding a retracting porch awning to your home. The sun fades fabrics quickly, and no one wants to sit on damp chair cushions. An eclectic roof keeps all furnishings dry and helps resist fading.
More Time Outdoors
Spend more time on your patio or deck without the threat of light rain chasing the party inside. Relax under the comfort of shade and shelter with your motorized canvas roof providing hours of usable living space.
Added Function & Style
When you purchase a retractable awning, you essentially provide an additional room to your home. The shelter can be customized with various colors, textures, and styles that best suit your style.
Instant Curb Appeal
Future potential homebuyers will appreciate the effort you took in purchasing your motorized awning. You will have an instant curb appeal boost that your neighbors will enjoy.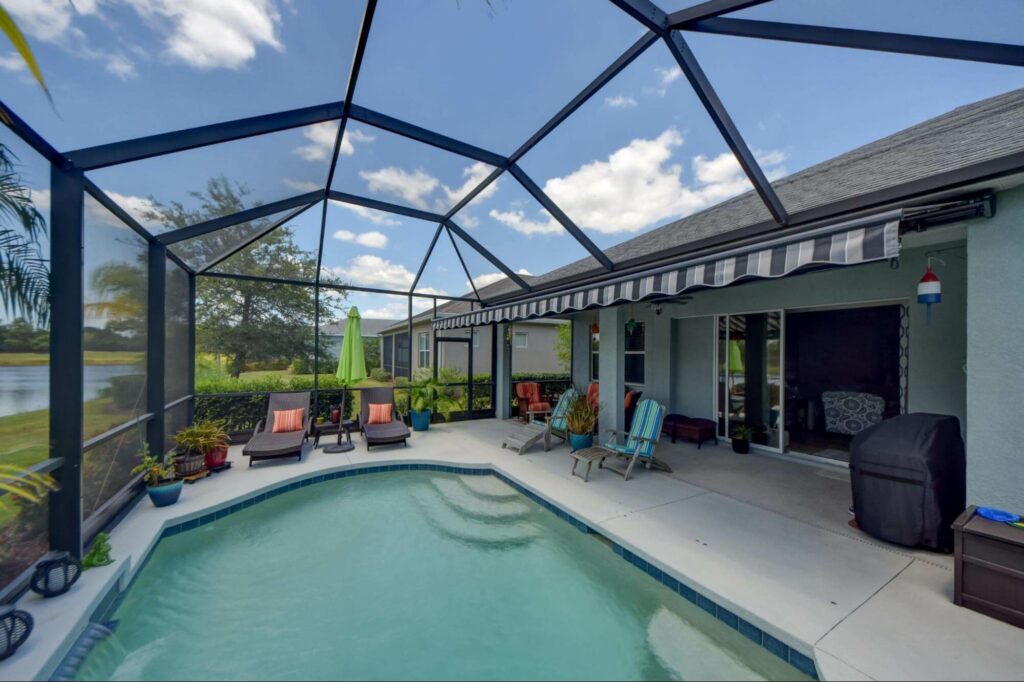 How to Care for a Motorized Retractable Awning in Orlando
Depending on the type of fabric you choose for your retractable roll awning will determine the amount and type of care needed to maintain your awning fabric. Consider the maintenance required as you decide.
Mild Soap and Soft-Bristled Brush
When it's time to clean the fabric roof of your retractable awning, use a mild soap such as Dawn or Ajax along with a soft-bristled brush to wipe the dirt away gently. Rinse the soapy water off with a garden hose. Do not use a power washer. The pressure is too powerful for the fabric and can cause damage.
Retract When Not in Use
When you are not using the motorized awning, it's a good idea to retract it into the casing. Retracting your awning will keep debris and animals off the roof. Consider opting for our mechanized wind sensors that automatically roll in the top if winds become too high.
Keep Debris Off the Fabric Roof
If you have tall trees near the location of your retractable canopy, you should expect to find debris like twigs and leaves on the top of the material. Use a soft-bristled broom to gently remove sticks and leaves as they accumulate. It would be best to do this regularly to protect your motorized roll awning.
Inspect Your Retractable Awning Fabric
Routinely inspecting the motorized awning is an excellent way to stay ahead of costly repairs down the road. Look for tears or holes and reach out to us for advice on fixing those.
Frequently Asked Questions about Orlando Motorized Awnings
How do I replace the fabric on my awning?
If you are concerned that the retracting material needs to be replaced, please get in touch with us to give you options for fabric replacement.
Who will install my awning?
SPF Screens & Awnings will send our team of installers on the day of your motorized awning installation. We never hire contractors to do our work, so you can rest assured that someone from our team will be there to get the job done.
Can I use a power washer to clean the fabric?
We do not recommend using a power washer on the awning material, and the amount of pressure coming out of the hose is too powerful and can cause damage to the fabric. We suggest using a garden hose or a bucket of clean water.
Do you have a warranty?
We stand behind our products and proudly offer a 5-year warranty on the mechanics and a 10-year warranty on the fabrics. We use only USA-made heavy-duty parts for your made-to-order motorized awning.
Can heavy winds tear the canopy from the frame?
It's best to retract your awning during windy days to reduce the risk of damage to your retracting shelter. However, our automatic wind sensors will roll in the motorized awning when it senses the wind is too high.