The Advantages of Pairing a Retractable Awning with a Drop Screen
If you're looking for ways to increase your outdoor living space and enjoy your backyard more, pairing a drop screen with a retractable awning is a great solution. A drop screen can be added to any size or style of a retractable awning and is especially useful for those who live in areas with long, hot summers. The motorized screen blocks the sun's rays, making it possible to enjoy the outdoors even on the hottest days. They can also be used to increase privacy or create a more intimate outdoor setting. Retractable awnings are a great way to add shade to any outdoor space, and they can be used independently or in conjunction with drop screens. When not in use, the screen can be rolled up and out of the way, making it easy to take advantage of all the outdoors offers.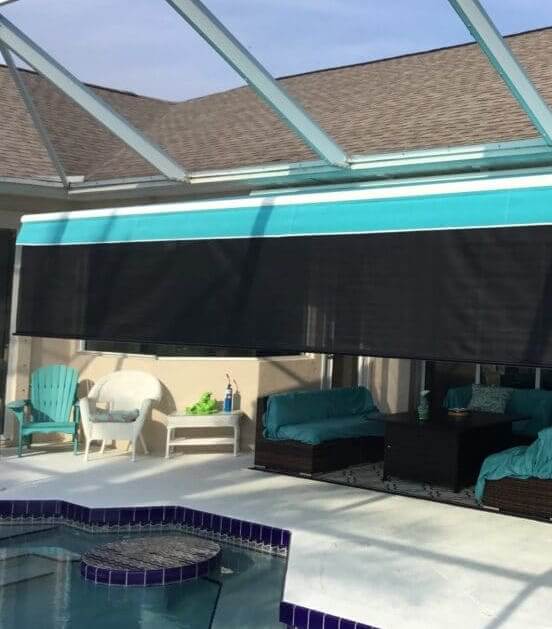 How Does a Motorized Retracting Awning Work?
Motorized awnings are great because they can be operated with just one button, making them very easy and convenient. There is no need to worry about any screws or bolts being tightened before use since everything locks into place automatically when you push your button!
In addition, these automated systems also have 'telescopic' arms that expand or contract quickly from the encased housing.
How Does the Drop Screen Attach to the Retractable Awning?
The drop shade screen attaches to the existing frame of the motorized awning and is designed to retract and roll down from the comfort of your seat with just the press of a button.
Benefits of a Drop Screen Paired with a Motorized Patio Awning
Homeowners are finding more ways to utilize their outdoor patio these days. Many are looking for ways to make the space not only more functional but also more comfortable. Installing a drop screen is a great way to get more enjoyment out of your outdoor patio. Retracting drop screens can be paired with your existing retractable awning to provide even more protection from the sun and wind. They can also provide privacy when you want to relax on your patio. With a drop screen, you can enjoy your outdoor patio more without being bothered by harmful UV rays. And when you're not using it, the motorized screen can be easily retracted out of the way. So if you're looking for a way to get more enjoyment out of your outdoor patio, consider the addition of a drop screen with your motorized awning.
Blocks Sun
You can now enjoy your outdoor patio without fear of the sun burning. The canvas awning fabric and mesh screen block 97% of dangerous UV rays, so you and those around will be protected from any harmful effects on skin cells due to excessive exposure outdoors during hot summer days!
Protects Patio Furniture
Your patio furniture and decor risk fading away due to exposure. A retractable awning paired with a drop shade screen will help protect them from the harsh sun, ensuring they stay vibrant longer!
Additional Living Space
Motorized awnings are an excellent way to provide additional living space. They can also extend your outdoor area by keeping the sun and rain off you while relaxing on the porch or patio. When paired with a solar screen, maximum protection against the elements is provided.
Increased Property Value
Electric awnings with a mesh screen are an affordable and stylish way to add curb appeal to your home. They come in different colors, patterns, or styles, so you can find one that suits your taste!
Enjoy Scenic Views
There's nothing like enjoying the view from your porch or patio while you relax, but sometimes it can be too hot to handle. That is where an automatic motorized awning comes into play! You will have instant access to shade and protection to enjoy those scenic views by simply pushing a button.
Unique Features of A Retractable Awning with a Drop Screen
SPF Screens & Awnings is revolutionizing how you protect your home with motorized deck awnings that make it simple to retract from anywhere. Our rolling canvas roofs and drop screens are outfitted only using top-quality parts, so they can withstand anything mother nature throws at them while providing optimal sun protection!
The best part? We offer unique perks such as price matching, and we proudly stand behind our products with a five-year warranty on the mechanics and a ten-year warranty on the fabric.
Easy to Operate
With the press of a button, your motorized retractable awning is released and ready for use. The quiet yet powerful motor works while you enjoy some much-needed shade!
Wind Sensors
You can rest easy knowing that the automatic wind sensors will retract the canvas roof when winds become too high. This is handy when you're not home when that pop-up storm comes rolling through.
Encased Housing
When you're not using your retractable awning, just push one button, and it will roll into an attractive casing that hangs vertically. We offer colors that blend beautifully with the exterior of any home!
Quality Fabrics
SPF is the best way to protect your home from sun damage. We have partnered with Sunbrella fabrics that are fade-resistant and will keep up with any style change you want!
Before Purchasing Motorized Sun Blocking Products, Consider These Factors
SPF Screens & Awnings ensures every customer and client feels delighted with their purchase. We want you as our valued customer for life–the person who will continue returning time after time! The first step towards this? Think through these points during your shopping process to ensure complete satisfaction.
Weather
As you know, it can be hot and sunny one moment, and minutes later, rain arrives. Be prepared for both types of weather with a retractable awning paired with the addition of a drop screen. 
Design Style & Size
You can't go wrong with a custom-made retractable awning from SPF! We have various styles and sizes to suit any need. If you want something that complements your home, then look no further. Check out some of our work here.
Multiple Products
Combine a motorized awning with other shading products when you need the best protection from bugs and sun. We offer garage door insect screens; rolling privacy shades for patios or balconies to block out pesky insects while giving an elegant appearance.
Commonly Asked Questions About Retractable Awnings with a Drop Screen
Can I Use the Motorized Patio Awning Without the Drop Screen?
We have designed the retractable drop screens to work with or without the motorized awning. So you can decide when you want to use them together or if you only need to utilize the electric roof.
How Do I Clean and Maintain My Retractable Sun-Blocking Products?
We recommend cleaning your motorized awning and drop screen a few times a year. Here are a few simple steps to keeping your investment looking new.
Sweep debris and dirt with a soft-bristled broom.
Use mild soap and water to wash stuck-on dirt.
Rinse with a garden hose
Please do not use a power washer; it can damage the canvas fabric.
How Do I Get Started with the Shopping Process?
We offer free customized quotes to anyone who is interested. Schedule your estimate here or call or text us (947) 740-5899. Our team is ready to help you throughout your entire shopping experience.