Care and Maintenance of Your Tampa Retractable Awning
You have invested in a quality motorized retractable awning. Caring and maintaining your investment is essential for its longevity. Our simple-to-use retractable awnings don't require a ton of upkeep. However, there are some steps you can take to keep your awning looking new.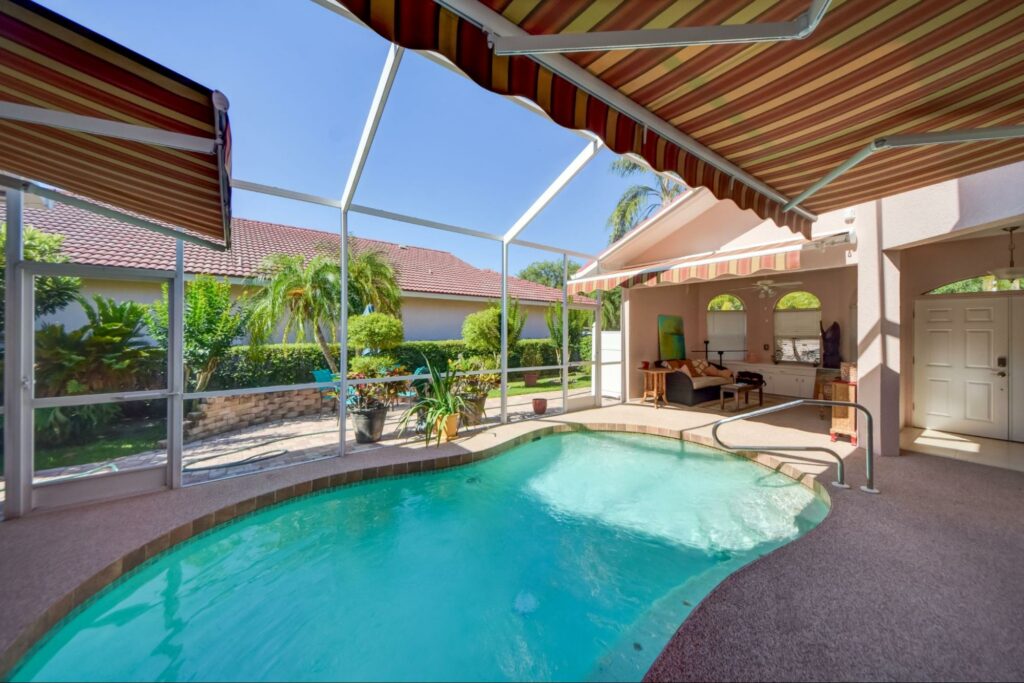 Prevalent Issues for Motorized Retractable Awnings in Tampa
The weather in Tampa can be hot, humid, and sunny one moment, then quickly turn into a heavy rainstorm. The extreme heat and moisture can eventually wear and tear on your outdoor equipment if you don't take preventative measures to maintain your motorized awning.
Mold & Mildew
Mildew can begin to show up due to moisture in the air, and if you don't stay on top of cleaning your awning, mold can ruin your fabric.
Dirt & Debris
Suppose you have trees and shrubbery surrounding your patio space. In that case, you will undoubtedly have to pay attention to small and even large branches collecting on the roof of your retractable awning. Dirt and pollen will accumulate, and you will need to remove them promptly to prevent stains.
Frames Rusting
Rust begins to form when heat and moisture are present, two common factors in the Tampa area. The retractable awning frame is prone to rust, so it's essential to inspect your frame periodically.
Rips
Branches, twigs, and even animals can cause your retractable awning to rip. Once there's a rip in the fabric, the protection you desire under the motorized awning becomes compromised. Carefully remove sticks to prevent tears and rips.
How to Clean Your Motorized Retractable Awning
To keep your motorized awning looking new, you should take the time to clean it about four times a year. Here are some tips to help you keep your retractable roof in clean, working condition.
Use A Mild Soap
A mild soap like Dawn or Ajax will work to clean the fabric. Avoid using harsh chemicals such as bleach. Those detergents will destroy the integrity of the material.
Use a Soft-Bristled Brush
Use a soft-bristled brush to clean the stains and dirt. The fine bristles will gently remove unwanted debris. You may have to wash hard-to-remove spots a few times.
Do Not Use a Power Washer
We do not recommend using a power washer as the force of the water is too strong for the awning fabric and can cause damage.
Use a Garden Hose or Bucket
When you are ready to rinse the soap and dirt from the awning roof, a garden hose or bucket of water will do the job just fine.
Use a Broom to Sweep Gently
Use a soft sweeper to gently push the debris off the motorized canvas to remove dirt, leaves, and small twigs.
Use a Ladder for Hard-to-Reach Areas
To ensure safety, use a ladder for the hard-to-reach areas when sweeping, cleaning, and rinsing off the retractable awning.
Other Retractable Motorized Awning Issues that May Occur
There are concerns other than dirt and debris that you will need to maintain periodically. Keep an eye out for stains like grease from your grill and oils from your sunscreen spray.
How to clean stains from the fabric of your awning
To clean stubborn stains from grease, leaves, fruit from trees, and mildew, you can use an organic stain remover. Allow the stain remover to sit for 30 minutes, gently clean the area, and rinse with clean water. The longer you allow the stain to sit, the harder it will be to remove.
How to remove rust from the awning frame
Use a steel bristle brush or sandpaper to remove rust as soon as you spot it. If you don't take care of rust right away, it can eat at the frame of your awning. If there are any concerns with your awning frame, please don't hesitate to get in touch with us.
How to get rid of bird droppings
Bird droppings usually have berries within the mix. First, remove the bird dropping with a plastic spoon, then you are ready to take on the stain. Use a mild soap and soft cloth to blot the stain, then blot with a dry cloth. Continue this process until the stain is gone.
Tips to Keeping Your Awning in Working Condition
You can increase the longevity of your awning and decrease expensive repairs by following a few essential tips in caring for your motorized awning.
Retract your motorized awning during inclement weather
To decrease the possibility of mold and mildew setting in the canvas, retract your awning before it gets wet from the rain.
Do not use harsh chemicals on your awning fabric
Using chemicals like bleach will break down the fabric more quickly than if you use a mild soap. Protect your awning canvas longer by using the appropriate cleaning products.
Check the frame for rust
As you are cleaning your retractable awning roof, check the frame for signs of rust. Rust can eat away at the frame creating more expense in time.
Keep your landscape trimmed
Trim large shrubbery and trees that are within proximity of your motorized awning. When you keep the landscape pruned, it will decrease the amount on your fabric roof.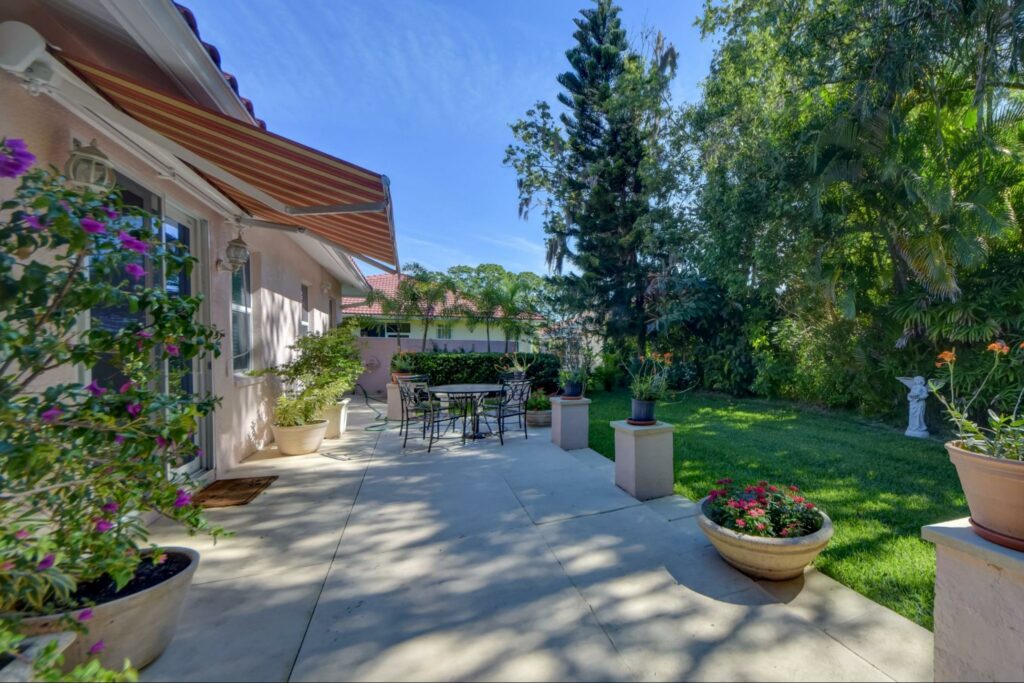 Commonly Asked Questions about your Tampa Retractable Awning
What happens if I hear a loud noise when my awning retracts?
We manufacture the motor on your retractable awning to last a long time, but you are not supposed to hear any loud noises. If this should happen, please reach out to us, and we will have one of our technicians take a look.
Do you only service the Tampa Bay area?
We are happy to serve many different areas in the sunshine state like Miami-Dade, St. Petersburg, West Palm Beach, Sarasota, Clearwater, and many
more
.
What if I need to replace my motorized awning fabric?
If you require a new retractable awning canvas, please
contact us
to get more information.