Retractable Garage Door Bug Screens
Many homeowners utilize their garage for more than just parking their vehicles at night. Most times, the family car does not make it inside. More recently, this underused spot in the house is turning into a home gym, a place to tinker with lawn equipment, or a spot to spend time on a hobby. However you utilize this area in your home, we understand the need to be protected from the hot sun and pesky mosquitoes.
Enjoy a beautiful breezy day without nosy neighbors or people driving by. Watch the game without sun glare getting in the way. Contact us today, and we will help you transform your garage into a more functional and usable space you can enjoy comfortably.
What are Retractable Motorized Garage Screens?
An automatic retractable garage screen comprises mesh fabric affixed to the exterior of your home above your existing garage door; a quiet motor causes the mechanized shade screen to roll down and retract at the push of a button. These retracting screens provide blockage from the sun, protect against light rain, keep mosquitoes away, and prevent annoying sun glare.
Benefits of a Motorized Insect Screen
There are many benefits to adding a retractable garage bug screen to your home. By adding this motorized screen, you create another usable space in your home to enjoy.
With a retracting bug screen on your existing garage, insects stay out so you can enjoy the room. Our rolling screens come with retention zippers to ensure a tight seal.
You can work out, hang out with your friends, or tinker on your favorite hobby without others seeing inside. A motorized garage door screen gives you instant privacy at the press of a button.
During certain times of the day, the hot sun can cause annoying glare and make your garage hot. Our electric retractable garage solar screen blocks 97% of the sun's ultraviolet rays, keeping you cool and comfortable.
You can still enjoy your garage when light rain is falling. The motorized garage door screen provides blockage from moisture and keeps you and your belongings dry.
Adding an electric retractable mosquito garage screen to your home will give your property value an instant boost. Future potential homebuyers will appreciate the added perk of the rolling mesh screen.
Retracting Mosquito Roll Screen Features
SPF Screens & Awnings is one of the leading motorized garage door screen providers in the sunshine state, and we have designed our retracting shade and insect blocking products with your comfort in mind.
Our remote control technology allows you to retract and roll down the motorized screen from the comfort of your seat. Allow the mechanized insect screen to do all the work for you.
We use Somfy motors to power all our retractable shade products because of the heavy-duty and quality parts incorporated. A Somfy engine is ultra-quiet yet has enough ability to roll down and retract motorized screens with ease.
For a fully enclosed room that keeps out the bugs, we equip our retractable motorized screens with retention zippers that close easily.
SPF proudly partners with Sunbrella fabrics to offer you over 100 fabric color and pattern choices. We are confident that you will find the best match that complements your home.
When the motorized garage door screen is not in use, it will retract into a beautifully encased hood and housing. The aluminum housing comes in colors that will blend beautifully with the exterior of your home.
We have designed our motorized retracting screens to be user-friendly and hassle-free. SPF has thought through all the details so you can relax comfortably.
Process for Purchasing a Motorized Garage Insect Screen
Please get in touch with us when you are ready to choose a retracting bug screen for your garage. We have streamlined the steps for a straightforward shopping experience.
We offer complimentary quotes customized to your specific needs and space. Our qualified sales team will come to you, measure, and give you all the information.
Choosing the fabric might be the fun part of the process for you, and if you need assistance, our talented designers will help you select the right color and pattern that best suits your home.
SPF is a locally operated business, and the same goes for our team of installers. We will never send a contractor to do our job, and our highly trained installation team will treat you and your home with the utmost respect.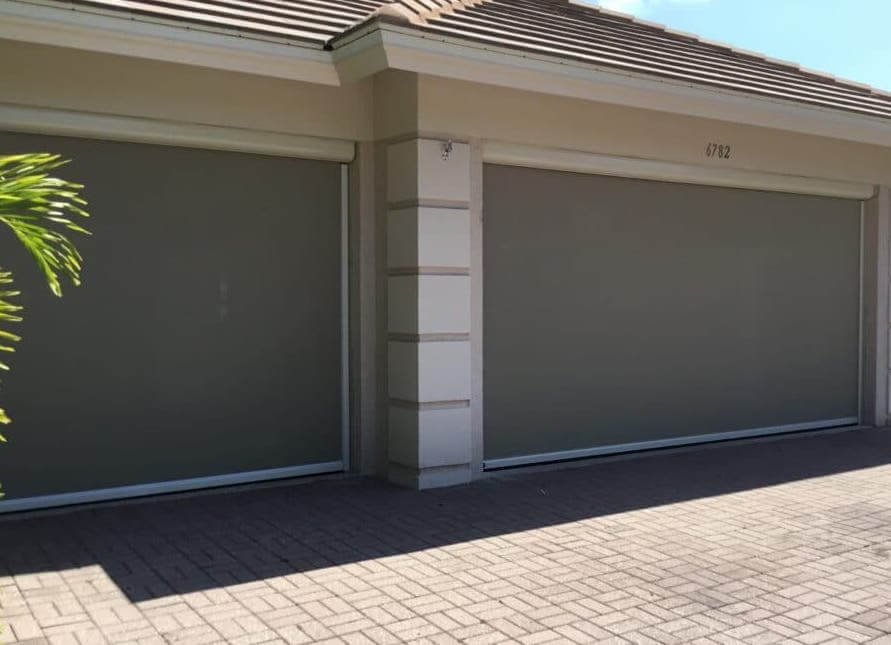 Things to Consider When Purchasing a Rolling Bug Screen
Before you finalize your purchase, you should think through a few points to ensure complete satisfaction with your motorized insect screen.
Your Weather

Do you live in a place where it can go from sunny to stormy without a moment's notice? You might have extra moisture and wind if you live along the water. Knowing what your environment entails will enable you to select the best rolling screen for your home.

Other SPF Products

At SPF Screens & Awnings, we have more than just retractable insect and solar screens, and we also have automated motorized awnings for your patio or deck. Consider pairing multiple products to give your home the maximum protection against the hot sun and elements.

Color of Home

You may want to consider matching the rolling insect screen to match the exterior of your home, so the mesh fabric blends nicely with the color for a consistent look. See some of our work here.
SPF Screens & Awnings Apples-to-Apples Price Match & Warranty
SPF is a family-owned local business, and we will guarantee apples to apples price matching to our competitors. We stand behind our products but understand that things will happen from time to time. And because of that, we offer a 5-year warranty on the mechanics and a 10-year warranty on the fabrics.
Frequently Asked Questions About Retractable Garage Bug Screens