Commonly Asked Questions About Lakeland Solar Screens
Are you in the market to add motorized privacy patio screens to your Lakeland home? Before you begin the shopping process, consider some of these frequently asked questions we have received from the many Florida clients we have had the pleasure of serving.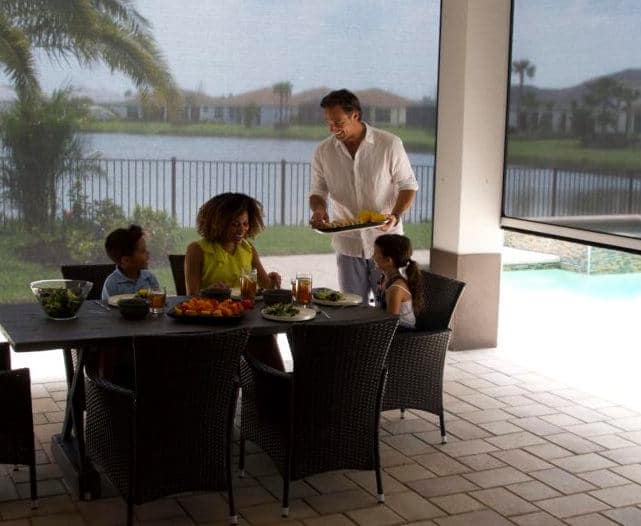 What are the Benefits of a Motorized Retractable Shade Screen?
There are many great reasons to add an electric retracting privacy screen to your home, primarily if you reside in the hot and humid southern state of Florida.
Blocks Harmful UV Rays
Our solar mesh shades block 97% of the sun's ultraviolet rays, protecting you, your family, and pets from too much exposure to the hot sun.
Keeps Mosquitos Out
A rolling insect screen allows you to relax and enjoy your balcony without pesky mosquitoes constantly biting at your skin.
Protects Patio Furniture
Keep your fabrics and furnishings looking new with a motorized porch screen. This screen will block against fading and weather damage.
Keeps Balcony Dry
Even when it's lightly raining, you can still enjoy your patio or lanai with a retractable lanai shade screen keeping you dry and comfortable.
Provides Privacy
You will see out with a motorized privacy screen for your pool or patio, but others cannot see you. At the push of a button, you can have the right amount of seclusion you desire.
Blocks Sun Glare
At certain times of the day, sun glare can disrupt the tasks you need to complete. A retracting interior window shade offers the perfect solution to this problem so you can go about your day without blinding light interfering.
Reduces Window Dirt
Your balcony door can get dirty quickly from pollen, dust, and dirt circling through the air. With an electric balcony screen, you will see less dirt and debris collecting on your surfaces.
Adds Style and Value
Your home will receive an instant boost in curb appeal with the installation of a retracting privacy shade screen. The added style will be on point with many colors and patterns available.
How Do I Clean my Remote-Controlled Privacy Shade Screen?
It is essential to maintain and take care of an investment such as a retractable garage door screen. The steps to do so are not overwhelming, and you will only need to clean the mesh screen a few times a year.
Sweep with a Soft Broom
There will be times that dead bugs, cobwebs, and debris will need removing from the screen. Gently sweep the mesh screen with a soft-bristled broom.
Clean with Mild Soap
Use a wet microfiber cloth with a mild soap like Dawn or Ajax to clean dirt and pollen collected on the rolling screen.
Rinse with a Garden Hose
You can rinse the soapy screen with a garden hose or a bucket of clean water. Do not use a power washer as it can cause damage to the material.
Removing Stubborn Stains
If there are hard-to-clean stains such as bird droppings, you can use an organic stain remover and blot the blemish with a damp cloth. Repeat the process until the stain is gone.
What are Some Unique Features of an SPF Retracting Balcony Shade?
Sun Protection of Florida stands out as a premier leader in providing sun-blocking products for the sunshine state. Our state-of-the-art production facility uses only USA-made components, and we ensure quality craftsmanship. Here are a few factors that go into each motorized shade screen.
Quiet Motor
We provide you with an ultra-quiet yet heavy-duty motor that will effortlessly roll down and retract your mechanized solar screen.
Remote Controlled
Control your motorized balcony screen from the comfort of your seat with remote-controlled technology. At the press of a button, you will have comfort and protection.
Encased Hood
When the retractable privacy screen is not in use, it stays housed in an attractive aluminum hood that is available in colors that will blend nicely with the exterior of your home.
Wind Sensors
There will be occasions when you are not home, and the weather turns sunny to stormy. Our wind sensing technology will automatically retract the recessed retractable screen into its protective housing if the winds become too high.
Fade Resistant
Our beautiful mesh fabrics are tough against the hot sun and resist fading from the sun, so your investment lasts.
What Should I Consider When Shopping for a Retractable Solar Shade?
Location
Take the time to walk around your home and identify areas where you desire less light to come through and protection from light rain. Our sales team would be happy to assist you with this process.
Florida Weather
If you have lived in Lakeland long enough, you know that one moment the sun can be shining, and then minutes later, a storm comes rolling through. If you're prepared for the quick-changing weather, you won't run indoors due to inclement weather.
Pairing Multiple Products
Not only do we offer motorized retracting shade and privacy screens, but we also have retractable awnings. Consider pairing multiple screens, shades, and canopies to give your home the ultimate protection.
Most Common Questions About Solar Screens
How Much Do Solar Screens Cost?
Your cost will depend on your location, the number of screens you choose, and many other factors that someone from our talented sales team will help determine. We offer free estimates!
Do Solar Screens Work for French Doors?
At SPF, all motorized privacy screens are made to order for your specific measurements and needs. We are happy to offer a complimentary curbside appointment to see if one of our retractable screens will fit and work with your existing french doors.
Solar Screens vs Window Tinting
Window tinting does not effectively block the sun as a motorized solar screen, and window tint filters the sun's infrared rays and traps them on the surface of the window, making the window's glass hotter and heating your home instead of cooling.
SPF manufactures interior retracting window shades that block 97% of the sun's heat so your home stays cooler and your furnishings are protected from fading.
Do You Offer Motorized Solar Screens for Commercial Buildings?
We have partnered with many businesses in Lakeland to provide shade and protection for their clients and customers. Check out some of our commercial jobs here.
Can Air Come Through the Electric Retracting Garage Bug Screen?
The mesh fabric allows the breeze to come through your patio but keeps out the hot sun, creating a comfortable and cool place to relax and entertain.
Can a Retracting Lanai Solar Screen Keep the Interior of the House Cooler?
Paragraph (blocks 97% of the heat, keeps energy costs lower) pair with interior window shades for ultimate protection) the screen will pay for itself in the end due to energy costs going down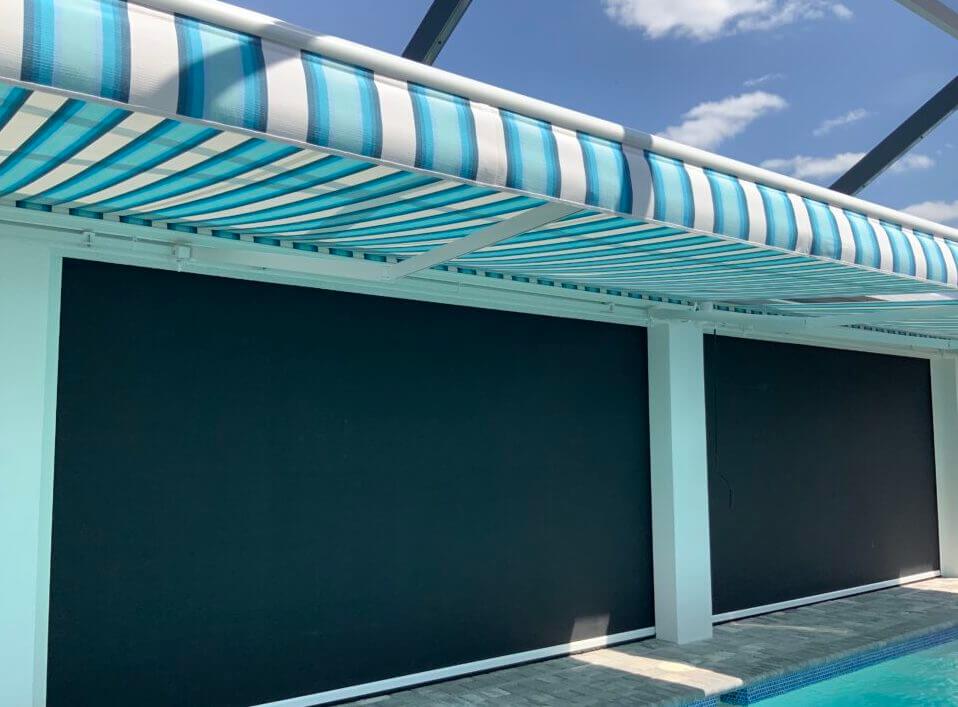 Why Should I use Sun Protection of Florida for my Motorized Roller Shades?
Warranty
SPF stands behind the products we deliver to you, and we offer a 5-year warranty on the mechanical components of the motorized privacy screen and a 10-year warranty on the fabric.
Locally Operated
You can count on our local team of sales representatives, designers, manufacturers, and installers to treat you with respect and deliver top-quality products.
Family-Owned
SPF is a family-owned business, and because of this, we pride ourselves on fast installation and low prices.
Price Match
We are a locally-operated and family-owned business, offering line for line price matching against our competitors.
Sunbrella Fabrics
We have partnered with Sunbrella fabrics for all our motorized retracting products to offer you a selection of over 100 different colors and patterns.
Customer Satisfaction
Our clients are the heart of our business and we thrive because of the five-star customer rating they have given SPF. Check out what some of our valued customers say about their experience.
What Types of Motorized Patio Screens do You Offer?
SPF has multiple kinds of retracting privacy screens, and we suggest pairing different types to give your home and lanai ultimate protection from the hot sun and elements. Contact us today to help you determine the best options for your home.
Privacy Screens
Balcony Shades
Interior Window Shades
When I am Ready to Purchase a Lakeland Motorized Recessed Screen, What is the Process?
Contact us for a free consultation and estimate.
Work with our design team to choose color and style.
Our in-house installers will get your motorized screen set up and ready for use.
Enjoy one of your best investments of the year!