You take pride in your pool and yard and want to do everything possible to protect it from the elements. A motorized pool screen can protect you from bugs, debris, and UV radiation. In this post, we'll discuss the benefits of having a retractable pool screen and provide tips on choosing the right one.
What Are Motorized Pool Screens and What Do They Do?
With a motorized screen for your pool, you can transform any outdoor space into your summer relaxation spot. A retracting pool screen protects from the hot sun and offers instant privacy.
Simply press one button and enjoy beautiful screens that can roll down at various heights for maximum comfort.
Why Pool Screens Are Beneficial
Like most homeowners, you probably haven't thought about all the positives of a retractable screen for your pool. There are many benefits beyond the sun being blocked and bugs staying out. Believe it or not, a motorized pool screen has many features you may not have considered. Keep reading to learn more!
When you desire seclusion from the outside world, a retractable screen for the pool gives you the privacy you crave. Enjoying your private oasis is a luxury that can be yours with this beautiful addition to your pool area. A retractable screen can make it happen whether you want to lounge in peace, or entertain close friends.
Motorized pool screens are a great way to keep your lanai cooler in the hot sun. They block 97% of the sun's heat, making it more comfortable to enjoy your outdoor space.
The sun's harmful UV rays will quickly fade your patio furniture and decor. A simple way to protect them from the damage is by using a rolling shade pool screen that blocks out all those damaging ultraviolet waves, giving you plenty more years of use!
Not all homes have cages around their pools. For poolside patios or lanais open to the elements and nature, insects can cause a nuisance. A motorized pool screen will help protect against annoying bugs and pests so you can enjoy the outdoors comfortably.
With the addition of a motorized retractable screen for your backyard oasis, your home will stand out from the rest on the market. The beautiful, sleek design and functionality give your backyard instant curb appeal.
Value-Added Features Included with My Motorized Pool Screen Purchase
A retracting screen for your pool will provide you with additional living space to relax and entertain with family and friends. Customizable options give your patio a finished and stylish upgrade with features you will surely appreciate.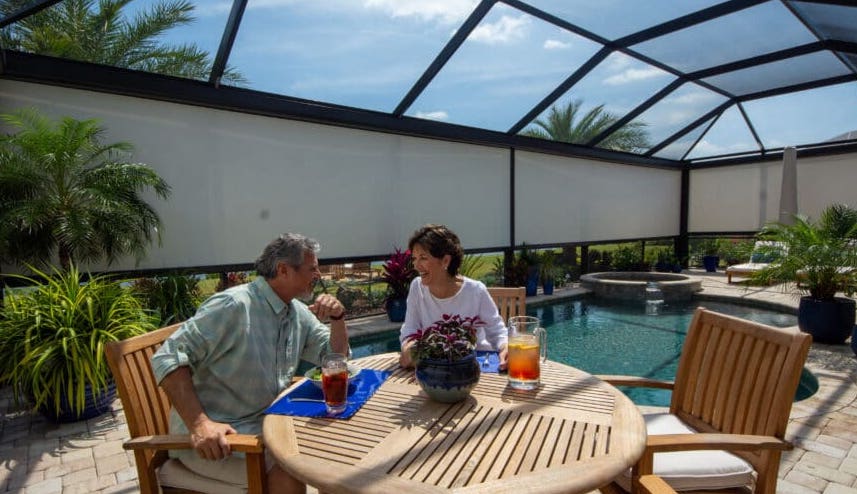 When you're ready for some protection and privacy, press a button, and the remote-controlled retractable screen will release from the protective housing. No need to get up from your seat because the quiet yet powerful motor does all the work.
You can find various mesh options that will allow you to create the perfect design to complement your style and blend beautifully with the exterior color of your home. Choose the opacity (openness of the screen) depending on what's best suited to how much privacy you desire.
The aluminum hood houses the mesh pool screen when it's not in use and matches the color of your exterior wall, so you can enjoy an out-of-the-way look without sacrificing style.
Consider These Points Before Finalizing Your Purchase of a
Retractable Pool Privacy Screen
Aside from the obvious points, we encourage you to consider these additional points to ensure complete satisfaction with your final purchase.
The weather can go back and forth from sunny to rainy, sometimes multiple times a day. When you are prepared for the elements to change, you can still enjoy your pool and scenic views.
Motorized screens and shades can be installed in many areas of your home. Consider places where sun glare makes it challenging to watch tv or work on the computer.
You will likely want to use more than one retractable screen for your poolside patio. Multiple motorized screens will offer maximum protection for you and your family.
Manual Pool Screen vs Retracting Motorized Pool Shade
When deciding between a manual pool screen and a motorized retracting shade for your pool, it is essential to remember that it all comes down to personal preference. However, we encourage you to consider an electric option as it will provide shade and comfort in a matter of minutes from the comfort of your seat with the remote-controlled operation. A manual screen requires you to stand up and physically move the shade up or down; typically, these screens will not last as long as a motorized option.
How To Clean the Motorized Retractable Screen for My Pool
Cleaning and maintaining your retracting pool screen is simple, and to keep your investment looking new, we recommend going through the below steps a few times a year.
Use a soft-bristled broom, such as a kitchen one, to remove loose dirt, debris, and dead bugs collected on the rolling mesh screen.
Fill a bucket with warm water and mild soap and use a soft cloth to remove any stuck dirt and dust gently.
For hard-to-remove blemishes, try an organic stain remover. Wet the spot, spray, and blot with a damp cloth.
Use a garden hose to rinse the soapy screen. We do not recommend using a power washer because the pressure can cause damage to the material.
What Makes SPF Stand Out from Other Screen Companies?
SPF Screens & Awnings is the leading manufacturer of motorized mechanical shade protection products. We use heavy-duty parts made in the USA, and each retractable product is custom to your specifications and assembled locally. We are proud of the five-star rating our customers have graciously given us. See what they have to say about their experience.
I'm Ready to Shop; What's Next?
Are you ready to start the shopping process? SPF has simplified steps to make this an easy and stress-free experience. Our team of consultants and designers is ready to work with you. Contact us today for more information!
Contact Us for a Free Estimate
Our team of qualified consultants will come to your home to evaluate, measure, and make recommendations to improve your patio. Ultimately, they will present a free customized quote based on your needs and wants.
Work With Our Design Team
The fabric options for motorized pool screens are endless with the airflow you want and the colors available. SPF has an in-house design team ready to assist you with selecting the best retractable shade screen for your patio.
Contact Us for a Free Estimate
We are a one-stop shop and take care of you throughout the entire shopping process, including installation. Our team of installers will treat you and your home with respect. We never hire contractors, so you can rest assured one of our team members will complete the job.
Enjoy Your Pool with Privacy and Comfort
Finally, you can have a private retreat in your backyard with your new motorized retractable pool screen. Relax in comfort and seclusion while protected from the hot sun, light rain, and pesky mosquitoes.
Commonly Asked Questions About Retractable Pool Screens