How to Add a Retractable Privacy Screen to Your Outdoor Space
Adding a motorized privacy screen to your outdoor space can provide an extra sense of security and privacy. It would be best if you kept in mind a few things when deciding to add a privacy screen to your property:
Check out the different available options. There are a variety of materials, heights, and styles to choose from.
Decide where you want the privacy screen to be installed. It is essential to consider how much sun and wind exposure the area gets.
Ensure that the privacy screen will not block any safety exits or fire escapes.
By taking these factors into account, you can choose the best retractable privacy screen for your needs.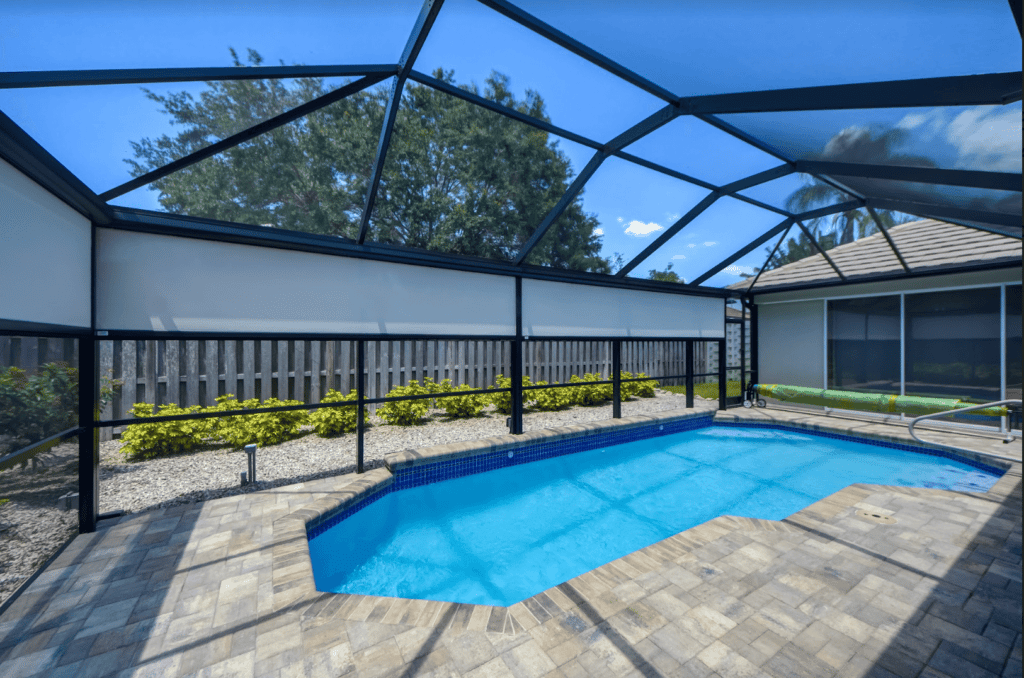 What is a Retracting Privacy Screen?
Motorized screens is a mesh fabric attached to a structure and can be retracted or extended with the push of a button. They are typically used to give privacy or keep you dry but can block sun, wind, or dust. Retractable privacy screens can be custom-made to fit any space, and the mesh can be made from various materials. The most common type of motorized screen is aluminum, which is durable and easy to clean.
What Factors Should You Consider When Choosing a Motorized Retractable Shade Screen?
A motorized lanai screen might be the perfect solution if you're looking for a way to add privacy to your backyard without sacrificing views. These rolling screens can retract when not in use, so you can enjoy your natural surroundings while still having privacy. But before you buy one, there are a few factors to consider.
Weather
The weather can change quickly. One minute it can be sunny and hot, and the next minute it can be windy and rainy. It is vital to be prepared for sudden changes in the forecast, as they can occur without notice.
Size
Size is an important consideration when choosing a motorized privacy screen for your patio, lanai, or porch. If you have a large terrace, you may want to consider purchasing multiple screens to create a more intimate space. On the other hand, if your porch is on the smaller side, a single screen may be all you need.
Style
There are a few things to consider when selecting the best-motorized screen for your home. One crucial factor is the mesh opacity. If you want maximum privacy, look for a screen with a very dense mesh. However, if you're looking for a screen that will allow you to enjoy a view while still providing some protection from insects, a less opaque mesh may be a better choice.
Another thing to consider is color. If you want your screen to blend in with your surroundings, choose a neutral color like black or brown. However, opt for a brighter hue if you want your screen to make more of a statement. No matter your preferences, there's sure to be a style of retractable privacy screen that's perfect for your home.
Operation
Privacy screens come in both manual and motorized versions, and each has its advantages. Manual screens are typically less expensive than motorized screens, and they are easy to operate. However, they can be challenging to raise and lower, and they may not provide as much privacy as a motorized screen.
Motorized screens are more expensive than manual screens, but they are also more convenient. Remote-controlled screens operate with the push of a button, and they offer a high level of privacy. When choosing a privacy screen, consider your budget and needs to find the perfect option for your space.
Location
There are a few things to think through when selecting the location for a motorized privacy screen. First, it's essential to think about which area of the home or yard will be most used and would benefit from privacy and protection from the sun.
For example, a pool-side screen can create a private oasis for sunbathing or swimming, while a patio screen can protect from the harsh afternoon sun. Enjoying the outdoors without worrying about prying eyes is also key, so placing screens on porches, balconies, and lanais can also be helpful. Once the desired location is selected, make sure that there is enough space for the screen to be installed.
The Different Types of Retractable Privacy Solar Shades
A motorized privacy screen is a great way to add instant style and function to your home. It blocks the hot sun and keeps bugs out, as well as protects your patio furniture from weather damage. And when you're not using it, the screen can be retracted out of sight.
Whether you're looking for a simple way to create a private oasis in your backyard or you want to add some extra shade to your deck, a retractable privacy screen is a great solution.
Garage Door Insect Screen
What's not to love about the garage? It can be your haven, but it becomes challenging if mosquitoes are present. Luckily there is an easy way around this problem by using SPF motorized bug screens that allow airflow so you'll always see outside. In contrast, others cannot view inside, giving ultimate privacy!
Lanai Screen
The retractable lanai screen is a must-have for any home with an outdoor space. These motorized shades protect you from the sun's glare and heat, so it'll be more accessible to enjoy your beautiful backyard while sitting in the shade!
Interior Window Shades
Retracting window screens are perfect if you want to enjoy an evening with your family without worrying about the bright lights from outside glaring into what's happening on screen! These interior shades dampen outside sources such as sunlight or street lamps so that there is no glare when watching shows. You can also use them in situations that would otherwise be difficult for people to reach, such as foyer windows.
Balcony Screens
A retractable balcony screen helps you enjoy your outdoor space without sacrificing comfort or style. The rolling design is ideal for use in hot weather when it may otherwise be too uncomfortable to stay outside; plus, and perfect if inclement conditions arrive unexpectedly.
Privacy Shades
The perfect way to relax without worrying about being seen! This motorized outdoor privacy screen will provide ultimate concealment in seconds. The push of a button is all that's needed for complete coverage, from prying eyes nearby or passing traffic on busy roads outside your property line.
Recessed Retractable Screens
The motorized recessed screen is housed vertically in an encased aluminum hood. Custom finishes for a customized look allow it to blend beautifully with your home's exterior and come equipped with heavy-duty motors that release the mesh screens at the height you desire, all without any effort!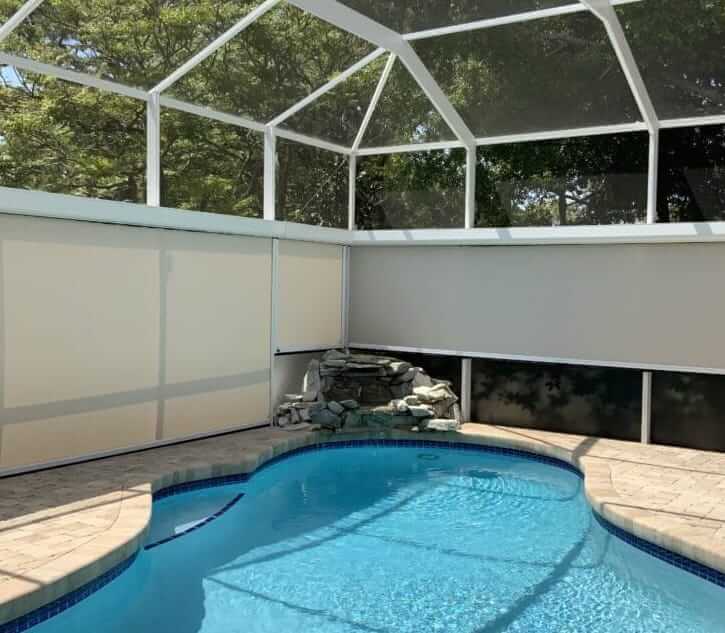 What Are Some of the Benefits of Using a Motorized Recessed Privacy Screen?
There are many benefits to installing a motorized privacy screen in your home. Perhaps the most obvious benefit is that you can enjoy the outdoors more. Whether you want to enjoy a cup of coffee in the morning or relax with a good book in the evening, a motorized privacy screen can give you the perfect private oasis.
In addition to increasing your enjoyment of the outdoors, a retractable recessed screen can also add style and boost curb appeal. Modern screens are available in various colors and styles, so it's easy to find one that complements your home's existing décor. And because they're motorized, they're also effortless to use. With just the push of a button, you can have total privacy whenever you want it.
Keeps Bugs Out
The retracting insect screen will ensure you can enjoy outdoor activities without worrying about being bitten by mosquitoes. With longer days and warm weather, this becomes increasingly important as the number of these bugs increases!
Protects Against Elements
The retractable balcony shade screen is a great way to stay cool and comfortable during the hot summer months. The automatic closure will keep furniture or decor from getting wet while you're on your lanai, so there is no need to put away cushions and pillows during a light rain.
Provides Privacy
Motorized privacy screens give you the concealment and comfort of an indoor environment with protection from prying eyes. A motorized retractable solar shade helps to protect your patio or deck so that no one can see in- even when they're walking right next door!
Reduced Energy Costs
The automated adjustable design of a rolling screen blocks harmful UV rays and reduces sun glare. The privacy screen can be opened or closed as needed. It's perfect for homeowners who want to save money on their energy bills without sacrificing outdoor living space!
Easy to Use
It does not get any easier than pressing a button, and the quiet yet powerful motor will release the retractable mesh screen from its housing. The remote control conveniently allows you to roll the screen up and down from the comfort of your seat.
Tips for Using and Caring for Your Motorized Privacy Screen
A retractable privacy screen can be an excellent investment for your home. It provides you with privacy when you need it, allowing you to enjoy your outdoor space without feeling hemmed in. However, a retractable privacy screen requires some care and maintenance like any investment. Here are a few tips to help you get the most out of your screen:
Clean the Mesh Fabric
Clean the screen a few times a year. Use a mild soap and water solution and rinse thoroughly.
Removing Stubborn Stains
For hard-to-remove blemishes, use an organic stain remover and a soft cloth.
Check for Wear & Tear
If you see any fraying or damage, replace the mesh fabric as soon as possible.
Retract Into Protective Housing
Be sure to retract the rolling screen during wet and cold months and when you're not using the motorized privacy screen. This will help prevent damage and prolong its life.