When the sunlight is bright and the Florida heat is strong, outdoor awnings can help you enjoy your outdoor space in comfort and shade. At Sun Protection of Florida, we offer a wide selection of outdoor awnings that will provide protection from the elements while also adding a stylish touch to your home or business.
With retractable outdoor awnings from Sun Protection of Florida, you can enjoy the Florida summer more fully with protection from harsh UV rays, heat, and glare.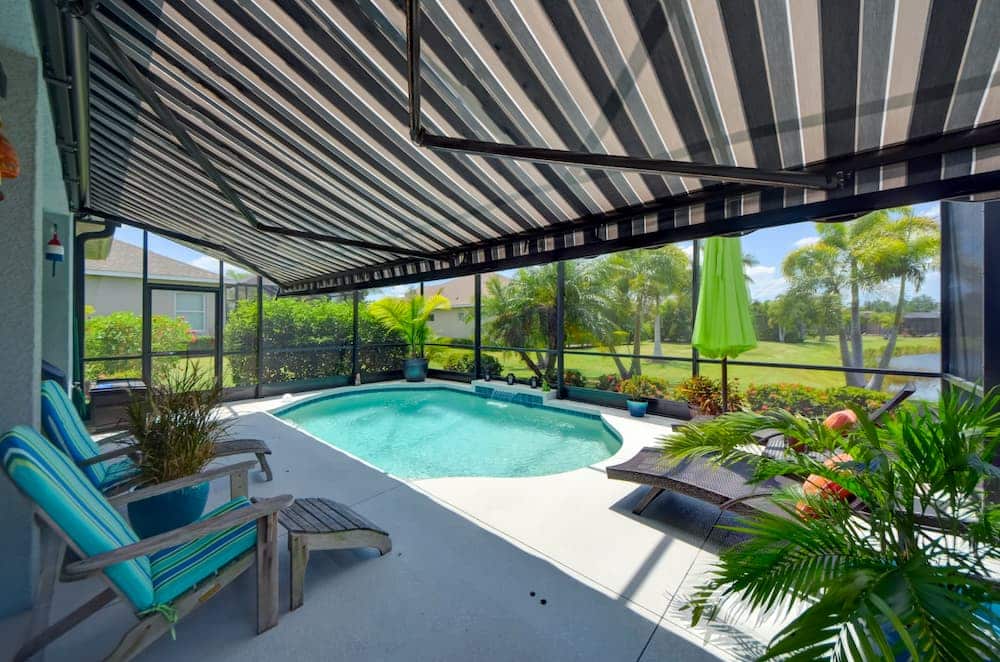 What Are Outdoor Awnings?
Outdoor awnings are used to protect outdoor areas from the sun's harsh rays, reducing heat and glare while providing shade. With an outdoor awning, you can enjoy outdoor spaces like porches, patios, lanais, and more in comfort, even during light rain showers or hot summer days.
Commercial Outdoor Awnings Vs Residential Outdoor Awnings
Whether they're used for a home or business, outdoor awnings will provide the same basic benefits of sun protection. However, if you're interested in outdoor awnings, it's important to clarify where you want to install them, as the dimensions and quantity of awnings you'll need may vary.
If you own a business, adding commercial outdoor awnings to your properties will help reduce heat and glare in outdoor seating areas, allowing customers and employees to enjoy a comfortable atmosphere. This is an especially popular option for restaurants with outdoor seating; protecting your customers from UV light and heat will make their experience more pleasant and encourage them to come back!
Residential outdoor awnings offer similar UV protection as commercial options, but with the added benefit of creating an inviting atmosphere around your home. Installing residential outdoor awnings over patios and decks will give you more usable outdoor space year round, no matter the weather.
The addition of an outdoor awning can also add to the value of your home, as it provides an attractive and comfortable space for potential buyers.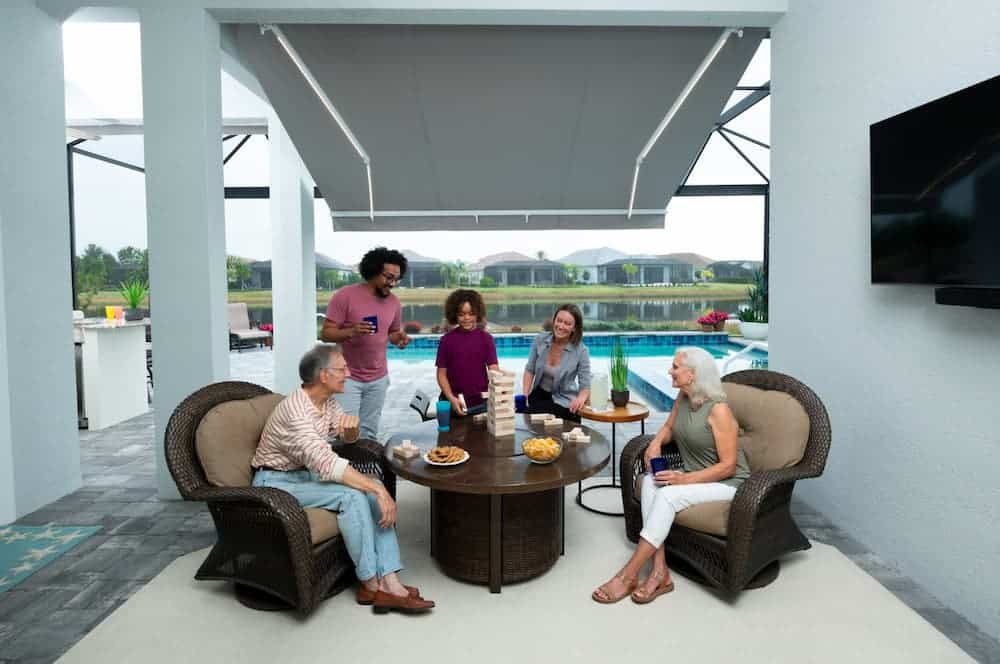 Benefits of Installing an Outdoor Awning for Your Home or Business
No matter what you're looking for in outdoor awnings, Sun Protection of Florida provides high-quality and custom options that provide reliable sun protection. Our selection of residential and commercial outdoor awnings come with many benefits including:
Outdoor awnings are a great option if you want a shaded place to rest and relax. Some awnings (like ours!) even offer enhanced protection from UV light, keeping you cool and protected from harmful rays.
If you want a more private outdoor space, an awning can help! Outdoor awnings can provide added privacy and block some of the view from any passersby while still allowing natural light and air in.
Increased Usable Outdoor Space
Extend your usable outdoor space by installing an awning! Whether you're sensitive to sunlight or the heat, or you simply don't want to spend too much time in direct sunlight, an outdoor awning can help you enjoy your outdoor space in comfort.
Advantages of Installing Outdoor Awnings from Sun Protection of Florida
When you choose Sun Protection of Florida for all your outdoor awning needs, you can expect nothing but the best. We offer the best awnings available that come with the following advantages:
High-Quality Materials and Construction

We take great pride in our work and have designed our retractable outdoor awnings with the highest quality materials and construction in mind. Our awnings are designed to last, providing you with reliable sun protection for years to come!

Simple Operation

Our awnings are easy to operate and maintain, with simple controls that allow you to quickly adjust the shade and coverage of your outdoor space. Plus, with a built-in wind sensor on each awning, you can rest assured that your awning will be safe even in the event of sudden severe winds.

Limited 10-Year Warranty On All Products

When you purchase an awning from Sun Protection of Florida, you get the peace of mind of knowing that your investment is backed by our 10-year limited warranty. So if you have any questions or find something wrong, contact us so we can help.

99% UV Protection

Our outdoor awnings don't just provide comfortable shade; the Sunbrella fabric we use, approved by the Skin Cancer Foundation, provides up to 99% UV protection, so you can enjoy your time spent outdoors without having to worry about damaging your skin.

Locally-Owned and Manufactured

We are a locally-owned and operated company, so you can trust that we use the best materials and practices in our manufacturing process. Our awnings are designed and manufactured right here in Florida, ensuring they meet the highest possible standards of quality.