Pasco Motorized Retractable Screens
The hot sun and pesky insects may make it difficult to enjoy your outdoor space, but you can stay on your patio or balcony longer with a retractable motorized solar screen. These retracting screens block mosquitoes while protecting from elements like rain or the hot sun! The motors used in these devices are designed for easy operation, so they will quickly retract to a protective housing when not needed - which helps keep the canvas roof out of sight too! Reach out to us today for a free customized quote!

Benefits of a Pasco Retractable Solar Screen
If you are looking for a simple way to improve the comfort and style of your outdoor living area, motorized patio screens will do just that. These retractable privacy shades block sunlight while keeping out light rain. Add a touch of sophistication and style to your backyard oasis with the addition of a retracting patio screen.
A retracting lanai screen offers you the concealment and comfort of an indoor environment with protection from the elements. A motorized retractable solar panel may help conceal your patio or deck from prying eyes if your neighbors are close. You can enjoy your porch or deck without feeling on display.
Enjoy your lanai or balcony even during bad weather with a retractable balcony shade screen. The automatic closure will keep furniture and decor dry. The motorized privacy screen for your deck is a great way to keep it cool and comfortable during the hot summer months. It also blocks harmful UV rays and reduces sun glare with its adjustable design that can be opened up or closed as needed while lowering energy costs.
Many Pasco homeowners are looking for ways to increase the value of their property. One way is by adding features that improve curb appeal and functionality, such as an electric rolling solar screen that provides instant shade on hot days and looks great on the outside! The best part about these cool motorized privacy shades? They're versatile enough to use in any room while boosting your home's transformation potential.
With longer days and warm weather, you will notice an increase in mosquitoes, making outdoor activities less enjoyable if you're constantly worried about being bitten. A retracting insect screen will keep these pesky bugs out so you can relax in comfort.
Features of a Retractable Motorized Lanai Screen Pasco
When you're looking for a durable outdoor privacy screen that can withstand harsh conditions and protect your property from the elements, there's no better option than SPF. We've created our retractable products with these needs in mind so they will keep water out and provide reliable protection against sunburns or other pesky bugs.
Protect your home and patio from harmful UV rays with our remote-controlled solar screens. With just the press of a button, you can lower these energy-saving devices to keep things cool in hot weather.
Create the perfect customized motorized shade screen for your home with our in-house designers. Choose from various colors and designs so that it's seamlessly integrated into both inside spaces and outside ones!
We have worked hard to construct safe, durable, and efficient pieces of equipment to last for generations. SPF uses heavy-duty, USA-made parts to ensure quality craftsmanship.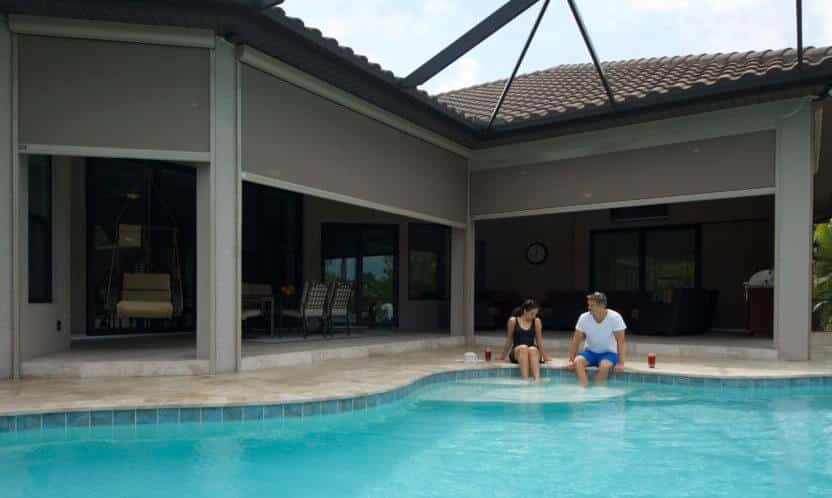 Why Choose SPF Pasco for Your Motorized Privacy Screen
Locally Operated
At Sun Protection of Florida, we are proud to serve the sunshine state and stand behind our construction; we keep production here to maintain low prices and provide quality services.
Family Owned
Our family takes pride in the challenge of meeting and exceeding customer expectations. Our five-star rating speaks volumes about our commitment to excellence, which has given us a unique place among businesses that share your values!
Peace of Mind
SPF values our customers, and our desire is for complete satisfaction. We offer a ten-year warranty on the fabric and a five-year warranty on the mechanical parts of our retractable screens.
Get Started As Easy As 1-2-3
SPF is committed to helping you create a safe space for your family and friends. We are here to serve Pasco with protection from harmful UV rays with our wide selection of motorized retractable patio screens that will fit any budget!
We encourage everyone to get a free customized quote. Our sales team will come to check out and measure the space and give you a detailed estimate based on your needs and wants.
There are various options to add instant style to your patio or balcony. Our talented design team will assist you with this fun part of your shopping experience!
SPF's qualified team of installers will come on installation day and get your new motorized solar screen set up and ready for use. We never hire contractors to do the job, so you can sit back and allow our guys to get the job done.
Things to Consider for a Pasco Retractable Motorized Patio Screen
It would be best to consider a few other factors when shopping for a motorized retractable lanai screen in Pasco. Most importantly, size and style! Our sales team looks forward to chatting through each of these details.
Weather

In Pasco, outdoor weather can change quickly, so invest in a durable and high-quality retractable motorized solar screen. SPF retracting screens provide instant coverage for your patio when you need it most with their ability to withstand the hot sun or light rain without compromising on comfort!

Location

Consider additional areas around your home where you desire protection against harmful UV rays or annoying glare from the sun. Your lanai might be large enough for two or three motorized privacy screens to offer ultimate concealment.

Combining Products

SPF is also happy to offer our customers motorized retractable canvas awnings paired with our electric rolling screens. When you pair our products together, you can see increased energy savings.

Maintenance

Maintaining a retractable garage door insect screen is easy! You will want to clean the mesh fabric a few times a year with a soft-bristled brush and mild soap.
Commonly Asked Questions About Pasco Motorized Retractable Privacy Screens