The Benefits of Miami Insect Screens
The Benefits of Miami Insect Screens
If you live anywhere that has bugs, which is everywhere, then you know how pesky tiny insects can ruin a peaceful afternoon spent on your patio or brunch on the balcony. Those who live in Miami understand the need for protection against mosquitos and other annoying critters who like to make their way onto lanais, porches, decks, garages, and patios. We look forward to helping you create a relaxing environment that allows you the opportunity to enjoy the outdoors.
Below are some perks to adding retractable bug screens for your patio.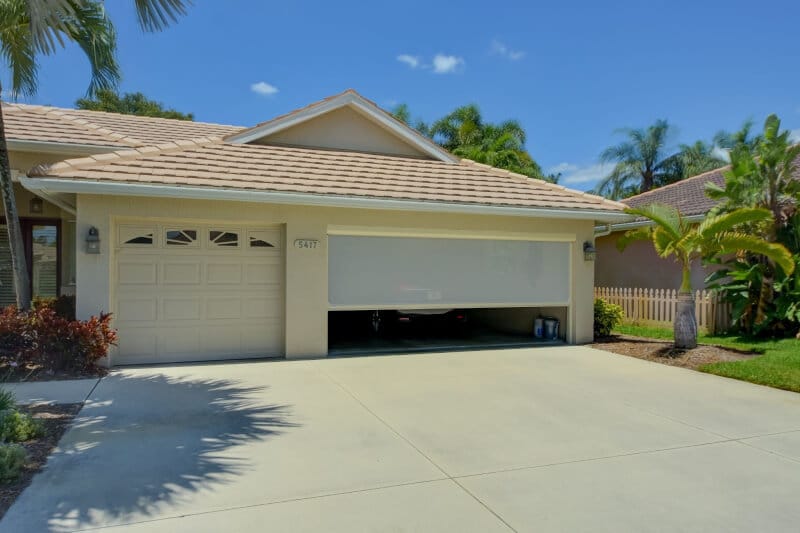 Let in Natural Light
Motorized retractable insect screens for your lanai are a fantastic way to introduce natural light into your living space without letting in bugs and insects. Glass doors allow in some light. Still, mosquito screens run from almost ceiling to floor, allowing much more natural light and possibly saving on lighting costs.
Maintain Scenic Views
Block out the harmful sun and annoying insects but enjoy the beautiful view your backyard offers. You can choose the fabric's opacity that allows you to see out, but others will not have the ability to see inside.
Effective Use of Space
The recessed motorized bug screen is housed in a beautiful encased hood that is customized to match the exterior color of your home. When the mechanical retractable screen is not in use, you will hardly notice it since the housing matches the exterior of your home.
Easy to Use
The motorized mosquito screen will retract from its protective housing and quietly release at the push of a button. We have partnered with Somfy motors to provide you with a heavy-duty yet ultra-quiet motor. There is no need to get up from your seat to move the screen up or down manually as you would with a manual screen.
Maintain the Integrity of Your Miami Home's Design
There are many styles of homes in Florida, specifically in the Miami area. Our team will consider the design and color of your home, so the retracting insect screen showcases your house and is an attractive addition.
Connect the Indoor to the Outdoor
Miami retractable insect screens create an invisible barrier between indoors and outdoors, while motorized screens link different spaces. The home inside feels more prominent and spacious because more light is filtering in. A motorized bug screen offers a seamless transition between the indoors and outdoors.
Enhance Ventilation and Save Energy
By installing a motorized insect screen on your Miami home, you can allow fresh air into your house, reduce ventilation costs, and boost health and quality of life in your household. These retracting solar screens block the hot sun, keeping the inside of the home cooler. Your home will be more energy-efficient and save you money on your heating and cooling expenses.
Pest Control
The motorized retractable insect screens keep insects, flies, and mosquitos out of your house and away from your patio, allowing you to enjoy fresh air without dealing with bugs. This feature is essential during the warmer months when you want to enjoy your outdoor areas more.
Added Privacy
If you seek privacy for your Miami patio, pool area, or porch, a motorized retracting insect screen will deliver. During the shopping process, you will work with our talented design team to select the mesh fabric that will give you the right amount of privacy you are looking for.
Boost in Curbside Appeal
Future potential home buyers will appreciate the time and effort you took to install a motorized retractable mosquito screen. Your house will benefit from this instant curb appeal that allows you to enjoy the outdoors without heat and glare from the sun.
Components of a Retractable Mosquito Screen Miami
Quiet Motors
SPF Screens & Awnings has partnered with Somfy motors to power our motorized retractable bug screens. This engine is heavy-duty yet ultra-quiet.
Quiet Motors
SPF proudly uses heavy-duty, USA-made quality parts to construct our retractable insect screens. Our manufacturing team stands behind their work, and your satisfaction is their number one priority.
Fabric Options
You will have the opportunity to choose from various mesh screen colors and opacity (openness). Our design team will assist you with this part of the shopping process, making it a stress-free experience.
Retention Zippers
We design our retention zippers to block the annoying mosquitos and bugs completely. These zippers provide a seal to deliver a bug-free and comfortable area to relax and entertain.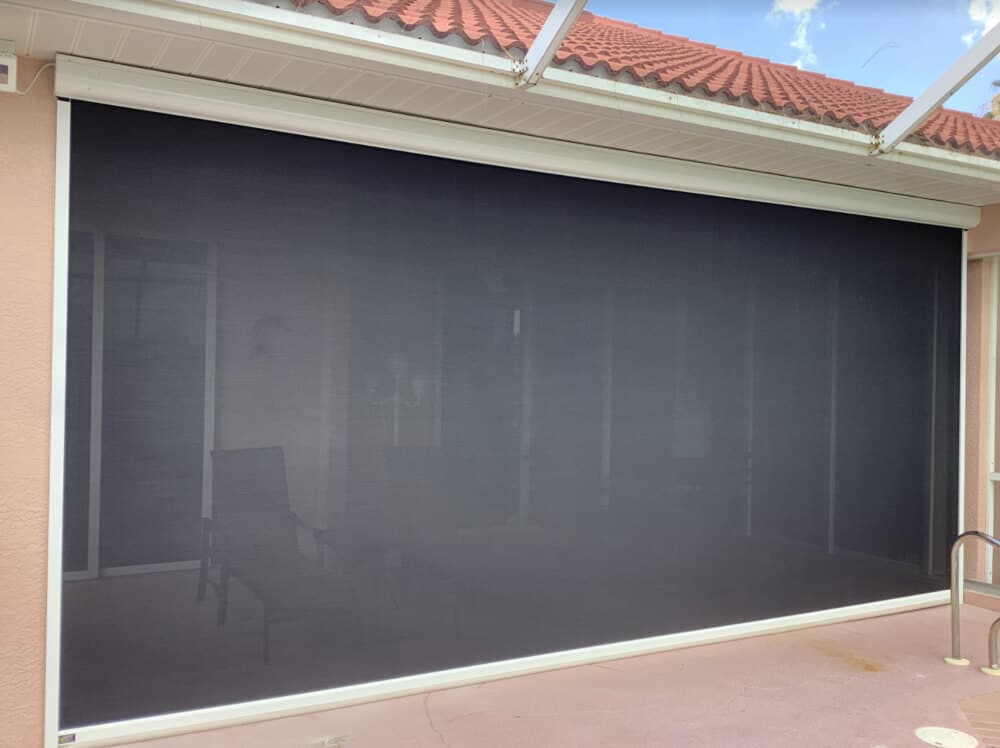 How to Maintain Your Miami Motorized Insect Screen
A few times a year, you will want to take the time to clean your retracting bug screen to keep it looking new and working well. The steps to cleaning are not complicated and should not take much of your time.
Clean Loose Debris
Use a soft-bristled broom and gently brush away loose dirt, debris, and bugs. Don't be alarmed if you find some dead bugs when the motorized screen rolls down; this is normal.
Rinse with Hose
When you are ready to rinse the soap, use a garden hose or a bucket of clean water. We do not recommend using a power washer because the pressure of water can cause damage to the mesh screen.
Rinse with Hose
Use Soap and Water
Using a bucket of water and mild soap such as Dawn or Ajax along with a soft brush, gently clean the motorized insect screen. Try using an organic stain remover for stubborn stains and repeat the process until the stain is gone.
Peace of Mind Purchasing
SPF Screens & Awnings is a family-owned and business. We proudly offer competitive pricing and will happily price match line-for-line. Our manufacturing team stands behind their work. We can proudly present our clients with peace of mind purchasing with our five-year warranty on the mechanics and a ten-year warranty on the fabrics of our motorized product line.
Ready to Purchase a Miami Insect Screen?
When you are ready to begin the shopping process for a recessed retractable mechanical screen, follow these simple steps that we have created to make your shopping experience fun and stress-free. See what our valued customers have to say about their experience with SPF.
When you are ready to begin the shopping process for a recessed retractable mechanical screen, follow these simple steps that we have created to make your shopping experience fun and stress-free. See what our valued customers have to say about their experience with SPF.
Schedule a Free Consultation