How Awnings Add Value to Your Florida Home
How Awnings Add Value to Your Florida Home
Outdoor living spaces have been trending for a few years, and we do not see this coming to an end anytime soon. For those who live in warmer climates such as Florida, the need for shade and protection is essential to enjoying the outdoors. Within minutes, your deck, patio, lanai, or porch can become a shaded oasis. A Florida motorized awning for your home is your shade solution. Contact us today for a free estimate!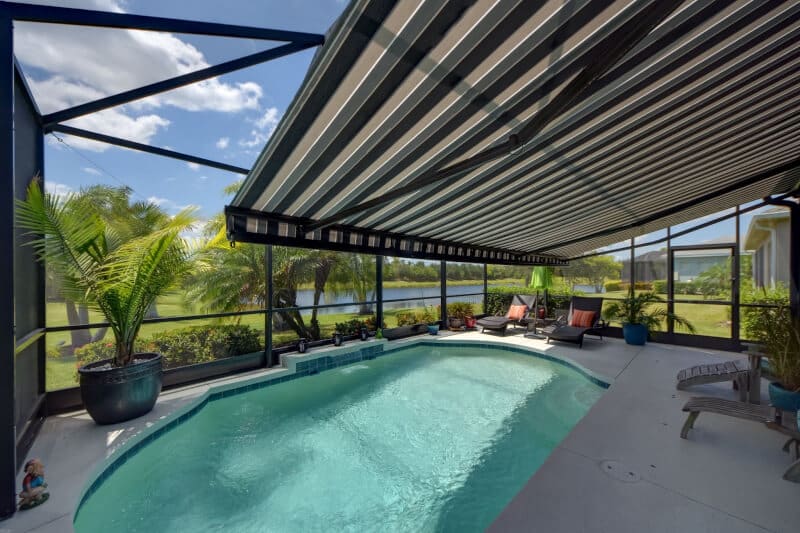 Perks of a Florida Motorized Retractable Awning
Motorized awnings are a pretty simple addition to your Florida home when you think about it. They provide shade and shelter from the rain, but what else do they do for you? Awnings offer many benefits that you may not have considered before. If you're thinking about adding an awning to your Florida home, read on for some benefits that you can expect!
Additional Living Space
There's no doubt about it – motorized awnings provide additional living space. Not only do they keep the sun and rain off of you while you're relaxing on your porch or patio, but they can also extend your outdoor living area by providing some much-needed shade. In Florida, where the weather is warm year-round, awnings can be a lifesaver.
Increased Florida Property Value
Summers in the south can be brutally hot, and the winters can be chilly. Wouldn't it be nice to have some relief from the sun and rain? Retractable motorized awnings are a great way to add value to your home without investing a fortune.
Easy to Maintain
No matter how busy your schedule is, caring for your retractable awning is essential to keeping it looking new. We recommend a thorough cleaning a few times a year and promptly removing sticks and debris as they fall to reduce the possibility of damaging your canvas roof.
Reduced Energy Costs
Retractable awnings are an often-overlooked solution when it comes to reducing energy costs. Since we have partnered with Sunbrella fabrics, our motorized retractable awnings block 97% of the sun's harmful ultraviolet rays. This blockage will keep the inside of your home cooler, which keeps your energy costs lower.
Protects Against Harsh Florida Elements
If you live in Florida, you know that the weather can be unpredictable. One day it might be sunny and hot, and the next day it might be raining or windy. That's why adding an awning to your home can be such a great idea – it will protect you from the elements no matter what the weather is like outside!
Instant Curb Appeal
If you're like most homeowners, you're always looking for ways to improve the value of your home. Installing motorized awnings on your Florida home is one way to add instant curb appeal! Retractable awnings provide many benefits that can enhance your home's appearance.
Enjoy the Outdoors
We all love to relax and enjoy a scenic view whenever possible. The Florida sun can be brutal at times, so shade is necessary. A motorized awning offers shade at the push of a button for your porch, patio, or deck.
Unique Features of an SPF Motorized Retractable Awning
Sun Protection of Florida has designed motorized deck awnings with your Florida home in mind and features unique perks you won't find anywhere else. We use only the highest quality parts to provide the best protection available. Our remote-controlled motorized awnings make it simple to retract the rolling roof from the comfort of your seat.
Quiet Motors
We have partnered with Somfy to provide a heavy-duty yet ultra-quiet motor to power all our retractable awnings. The sound of the motorized awning rolling out will not interfere with your conversation.
Wind Sensors
When a pop-up storm comes rolling through, there is no need to be concerned if you forgot to retract your motorized awning. Our automatic wind sensors will retract the canvas roof at the right moment.
Quality Fabric
SPF uses Sunbrella fabrics that are fade-resistant and will compliment your style. Sunbrella integrates fabric characteristics into the manufacturing process rather than an applied finish that would come off after time.
Encased Housing
When your retractable awning is not needed, push one button, and it will roll in a beautiful casing that hangs vertically and out of view. We offer colors that will blend beautifully with the exterior color of your home.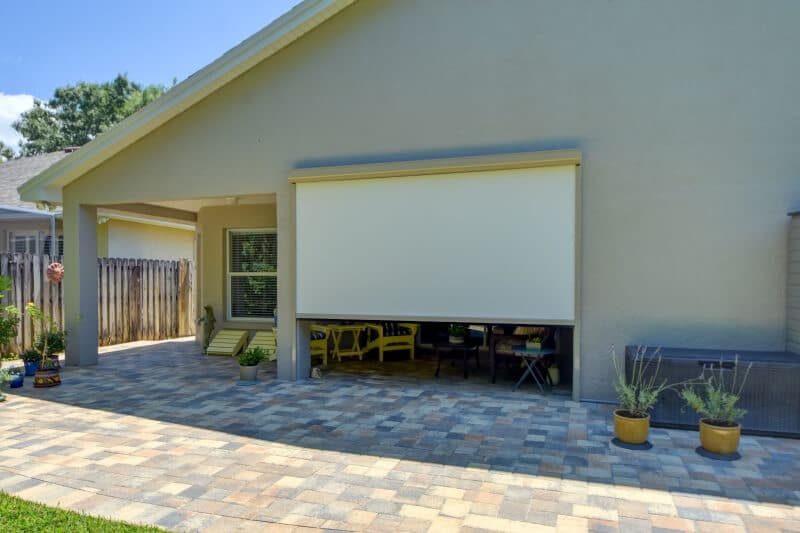 Points to Consider Before Purchasing a Florida Retracting Awning
The warmer months mean spending as much time outdoors as possible for many of us. Whether entertaining on the deck or just enjoying some quality time with the family in the backyard, retractable awnings can provide shade and protection from the sun's harmful UV rays. But before you purchase a retractable awning for your home, there are a few points you should consider. Here are three things to keep in mind before buying a retractable roof.
Weather
Florida weather can turn quite quickly and sometimes without a moment's notice. With an SPF motorized awning, you can promptly retract the canvas roof system out to protect against the glaring sun or light rain. There is no need for your dinner party to move indoors; just press a button, and you will have instant shade!
Combining Products
Every home presents us the opportunity to combine a motorized awning with some of our other shade protection products. We are pleased to offer garage bug door screens, rolling privacy screens, balcony shade screens, and more! The more products you pair at your Florida home, the more protection you receive from the hot sun and annoying insects.
Size & Style
Take a peek at our work here to give you an idea of the sizes and styles we have to offer. We can customize your retractable awning to showcase your home and taste uniquely.
Ready to Purchase a Motorized Awning for Your Florida Home?
After reading through all the features and benefits, you might be interested in learning how you can get a retractable awning for your home. Sun Protection of Florida has simplified the shopping process for you, and our goal is to make the experience a positive one. We cannot wait to partner with you in getting your home ready for relaxation!
Get a Quote
Reach out to us to schedule a time for one of our qualified sales team members to look at the area you would like to add a motorized awning. They will take measurements and offer a complimentary customized quote. 
Design It
Choosing the design and color might be the fun part of the process. Our talented design staff will work with you in selecting from the various Sunbrella fabric colors and styles available.
Let Us Install
On the day of your scheduled installation, our qualified team of installers will set up and show you how the retractable awning works. We never use a contractor, so you can rest assured that someone from our local team is doing the job.
Relax in the Shade
Enjoy your patio, deck, or porch under the comfort of your new motorized retracting awning! Get ready for hours of enjoyment with friends and family without the hot sun or light rain chasing you inside.
Why You Should Choose Sun Protection of Florida for All Your Shade Needs
We are committed to each individual we have the pleasure of working with. Our number one goal is customer satisfaction and providing quality motorized retractable products. We would love for you to check out some of our work and what our clients have to say. Here are some of the reasons our valued customers have decided to partner with us.
Family-Owned: Our family is invested in the business and here to serve you.   
Locally-Operated: Manufactured right here in the sunshine state.  
Price Match: We will gladly match any competitor pricing, line-for-line.  
Purchase Protection: Ten-year warranty on the mechanics and five-year on the fabric.  
Satisfaction Guaranteed: Check out what some satisfied customers have to say.
How Do I Clean and Maintain My Florida Retractable Awning?
We recommend cleaning your motorized awning a few times a year. You've invested in a beautiful addition to your home, and we know that you want to enjoy your purchase for many years to come. Here are a few simple steps to keeping your retractable deck awning looking new.
Sweep debris and dirt with a soft-bristled broom. 
Use mild soap and water to wash stuck-on dirt. 
Rinse with a garden hose  
Do not use a power washer; it can damage the canvas fabric.