Advantages of Commercial Retractable Screens for Miami Businesses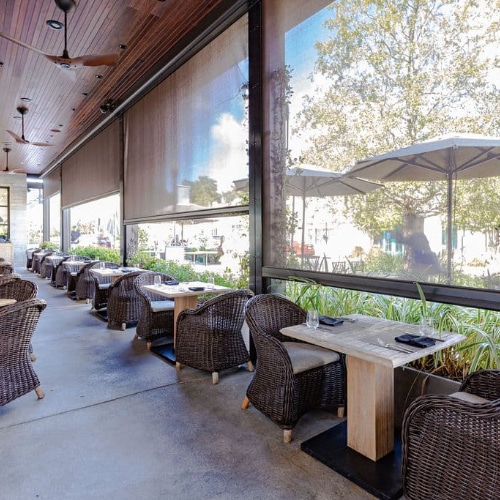 Business owners understand the need to keep customers, clients, and employees happy to thrive. The hot sun and wet weather make it hard to enjoy outdoor dining and sun glare on computer screens is not easy on the eyes and can cause frustration. Most days, the sunshine can send positive vibes, but there might be specific periods of the day when you want to shield the harmful UV rays.
SPF Screens & Awnings has many options that will offer your business a beautiful way to block the sun and wet weather so your customers can go about their day uninterrupted. Check out some businesses SPF has the privilege of partnering with to provide retractable shade screens.
How Do Miami Businesses Benefit from Commercial Retractable Screens?
Protects Against the Sun
The Florida sun can be pretty unbearable at certain times of the day. Our motorized retractable solar screen allows you to provide shade for your customers when the sun becomes too much on your outdoor dining area.
Keeps Your Customers Dry
One moment the sun can be shining and the day is beautiful, then a storm can be rolling in minutes later. Florida is known for having the weather go back and forth, and with a retracting patio screen, you can instantly provide cover for your patrons, so their dining plans go uninterrupted.
Blocks Insects & Debris
SPF's retracting mosquito screens are essential to keeping clients and visitors happy. No one enjoys insects biting and annoying bugs intruding. Our outdoor dining rolling screens will also help keep your patio and deck clean from debris.
Temperature Control
Keep the cost of cooling and heating your business lower with our motorized retractable solar screens. The rolling screens will block out the hot sun in the summer, keeping your outdoor space cooler. The inside of your building will remain cooler as well, thanks to the motorized shades blocking 97% of the sun's harmful rays. In the winter months, you will utilize your outdoor dining with our solar screens rolled down and keeping out the cool air.
Increases Longevity of Furnishings
Extend the use of your patio seating and furniture while increasing your profits and adding comfort. The sun and weather can shorten the lifespan of your patio furniture and decor and sun rays coming through your windows can fade your business furnishings inside. Interior and exterior retractable sun shades will block the sun from fading and damaging your furniture both inside and out.
Keeps You Clients Happy
Your clients will want to return to your business and spread the word if they are satisfied with the level of comfort and service you offer them. Keeping patrons dry, cool, and bug-free ensures a positive experience for everyone who walks through your doors.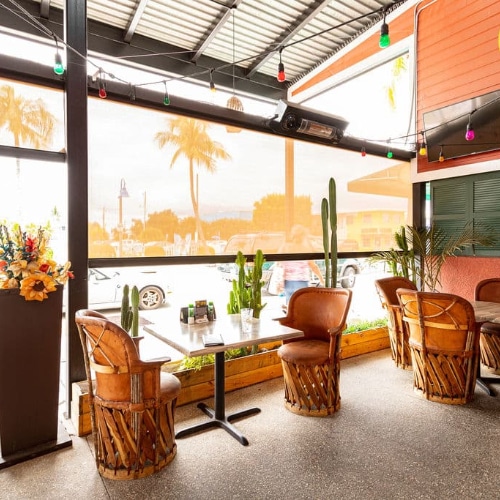 Miami Businesses That Benefit From Commercial Screens
Take the opportunity to partner with SPF Screens & Awnings and encourage your customers to remain outdoors, extending your patio dining by offering retractable shade and bug protection screens. One of the best features of a motorized solar screen is it rolls into the protective casing. On those gorgeous days, enjoy the fresh air and breeze coming through your patio.
Restaurants & Bars
A beautiful outdoor dining area can set your business apart from the competition. A positive feature of a retractable solar screen for your deck is protection for customers from the hot sun, rain, and bugs. During the summer, your patio will be cooler, and in the winter, it will keep your patrons warm. Decks get underused because of the hot sun and variable weather conditions.
Offices
Most people who work in an office environment will experience sun glare at certain times of the day. Depending on how you arrange your office furniture, working efficiently with the sun glaring on computer screens, tablets, and projector screens can be challenging. Meetings can be excruciating if the sun is beating through the window. SPF offers interior motorized shade screens that can retract at just the right moment to shade a room for staff meetings, client meetings, or anywhere your office building needs to block the sun.
Retail Stores
Creating a comfortable shopping experience for your customers is essential to growth. Large windows are great for natural light to showcase your products, but too much sun can deter patrons from thoroughly enjoying their time in your store. SPF has the solution that allows the amount of sunlight you prefer to filter through our retractable mesh solar shade.
Commercial Motorized Solar Screens Miami
SPF Screens & Awnings is confident in our available commercial options for your business. We are a family-owned business with service areas all over the sunshine state, and since we are a local company, we can keep prices competitive. We look forward to meeting you and getting to know your business needs for protection against the sun, weather, and bugs.
Patio Solar Screens and Shades
Our motorized solar screens for your patio, deck, or sidewalk cafe are custom made to fit your needs and desire for protection. These retractable shade screens come in a variety of colors and mesh openness to compliment the exterior of your building. When the retracting solar screen is not used, it is discreetly housed in a beautiful casing. These casings come in four colors to match the exterior color of your business.
Interior Retractable Screens
SPF offers motorized retractable shade screens for the interior windows of your business. You can pair these rolling screens with any of our other commercial retractable products to provide more protection from sun glare. Our design team is ready to help you find the perfect color shade and style for your office or retail space.
Tips for Cleaning Your Miami Commercial Retractable Screen
As a business owner, you want to care for things you have invested in properly. Motorized retractable screens for your patio are simple to manage and you can enjoy them for many years thanks to the warranty we offer. You will want to give your interior retracting shade an excellent clean a few times a year to keep it looking new. The upkeep might take a bit more for those who own a restaurant or cafe with motorized solar screens since the location is outside.
Dust Screen with a Damp Cloth or Broom
Whether you have an interior or exterior retractable shade screen, you will want to use a broom with softer bristles to sweep off dust and dirt. Another option for cleaning is a damp cloth or feather duster.
Use a Mild Soap with Warm Water
Using a mild soap such as Dawn or Ajax will clean dirt and stains nicely. Add some soap into a bucket of warm water and use a soft-bristled brush and gently wipe.
Rinse With a Garden Hose
When you are ready to rinse the soap and dirt away, a garden hose or bucket of clean water will work. You might think a power washer would be a great option, but we do not recommend this. The power washer is too powerful for the screen and can cause damage.
Common Issues Miami Businesses Face with Retractable Shade Screens
A commercial rolling patio screen will get used daily, and due to weather conditions, insects, and debris, the retractable solar shade may experience some wear and tear. Below are some common issues that businesses can expect to encounter.
Bugs & Debris Stuck in Motorized Screen
While the shade screen is retracting, bugs might get stuck and die inside the rolled-up screen. To prevent this, check the mosquito screen for bugs and insects and gently remove them with a broom before you retract the screen into the casing.
Mesh Fabric Stained with Bird Droppings
You will undoubtedly experience bird droppings on your motorized patio screen, and if not taken care of properly, these droppings can leave unwanted blemishes on the mesh. First, remove the droppings with a plastic spoon and dispose of them. Then you may use a mild detergent or organic stain remover and gently blot at the stains until they are gone.
Frequently Asked Questions about Commercial Roll Screens
How do I remove mildew from my restaurant patio screen?
Mildew can become a bigger problem if you don't remove it immediately. To remove mold from a rolling shade screen, use a mixture of white vinegar and water. Use a spray bottle that contains a ratio of 50/50 white vinegar and water. Spray the mixture on the screen and scrub with a soft-bristled brush. Repeat this process if necessary.
What if I need to repair the retractable solar shade?
If your motorized rolling screen has come off the tracks or you think the motor needs to be serviced, it will be best to contact us and have one of our skilled technicians take a look.
Do you offer commercial products outside of the Miami area?
SPF is proud to service many communities outside of Miami, such as Tampa Bay, Clearwater, Cape Coral, Venice, Fort Meyers, and many more.