Benefits of Motorized Retractable Awnings Orlando
The need for shade and protection from the hot Florida sun is no surprise to those in the sunshine state. The sun provides many benefits including, vitamin D, lower stress levels, and better sleep.
However, too much exposure to the sun can cause severe damage to your health. A retractable motorized awning will provide you comfort from the hot sun rays with just a push of the button. Relax and enjoy your patio without the unbearable heat getting in the way. Contact us today for more information and a free quote!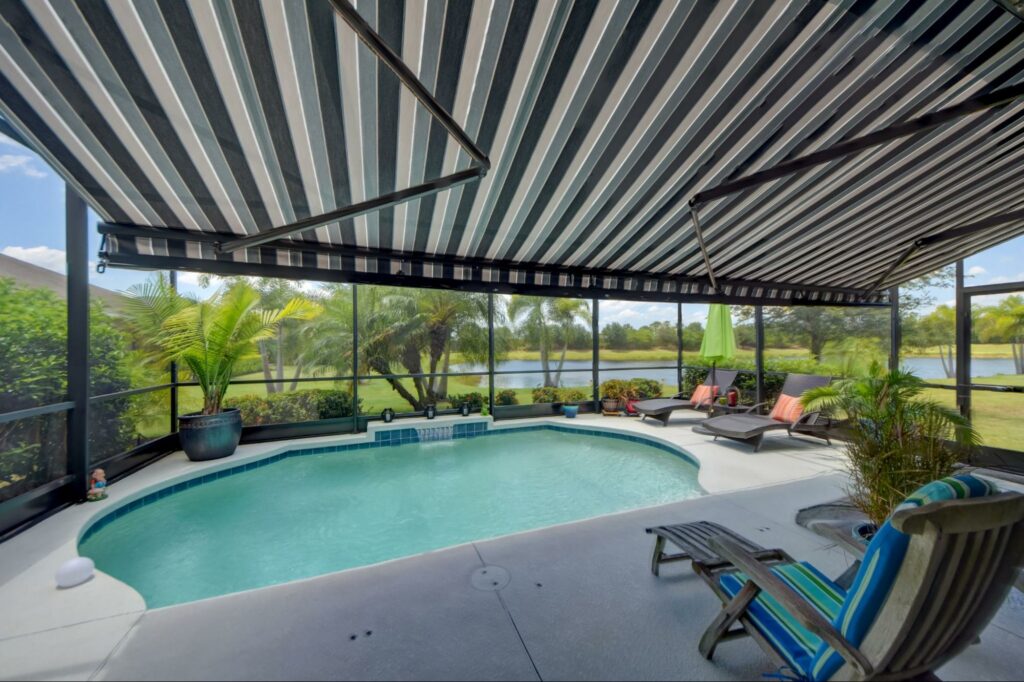 Block Harmful UV Rays
Shielding you and your family from harmful UV rays is possible with a motorized deck awning. Put a stylish barrier between your patio and the sun with an SPF motorized awning. The fabric we use will block 97% of damaging sun rays.
Improve Patio Furniture Longevity
You've invested in beautiful outdoor furniture. Now protect that investment with a retracting roof. The colors in the fabric will last longer, and no more worrying about bird droppings or debris falling onto your cushions.
Offer Protection from the Elements
If you have lived in Florida for any time, you know that the weather can turn on a dime. One moment the sun is shining, and the next, rain comes rolling through. Enjoy your patio under the roof of your rolling awning, even with the rain coming down.
Increase Your Orlando Home Value
With the installation of your retractable motorized awning, your home will have instant curb appeal, and your home value will increase. Future potential buyers will appreciate your investment in the motorized roof and view it as a bonus to the property.
Temperature Control
You may notice that the inside of your home is cooler thanks to the motorized awning blocking the sun from shining in your windows.
How Orlando Motorized Retractable Awnings Work
An electric patio awning is a durable frame with arms that extend the rolled canvas when you are ready for protection. A quiet motor will retract the fabric into an encased housing when you are prepared to roll in the covered roof. This housing discreetly hides your retractable awning and is designed to complement the exterior of your home.
Motorized Awning vs Manual Awning in Orlando
A motorized retractable awning has far more benefits than a manual awning. With an SPF retractable awning, you can retract or roll out your canvas roof in minutes and from the comfort of your seat. With a manual roof, you will need to stand up to roll it out, and it takes more physical labor to accomplish this task.
Orlando Retractable Awning Features
SPF Screens & Awnings has designed their motorized deck awnings with your Orlando, Florida home in mind and has added features you won't find anywhere else. We use only the highest quality parts to provide the best protection available.
Wind Sensors
Our automatic wind sensors will retract your motorized awning when the winds become too powerful. There's no need to worry if you are not home and have forgotten to roll in your canvas roof.
Quiet Motor
SPF uses cutting edge motors in all our motorized products. This ultra-quiet and powerful engine is capable of lasting for many years.
Easy to Use
It does not get any easier than simply pressing a button, and your motorized retractable awning will ease out of its protective casing to provide you shade and protection.
Encased Housing
When your retractable awning is not needed, push one button, and it will roll in a beautiful casing that does not obstruct your vision. We offer a wide selection of colors that will blend beautifully with the color of your home.
Quality Canvas Fabric
SPF has partnered with Sunbrella fabrics to provide you with a vast selection of colors, patterns, and styles. This fabric will stand against the hot sun, resist fading, and keep the rain off your lanai. Subrella integrates characteristics of the fabric into the manufacturing process rather than an applied finish that would come off after time.
Locally Owned Company
You can have confidence in our family-owned and locally-based company. Rest assured that SPF always has the best interest of our customers in mind. We live and work in Sunny Florida, so we know exactly what you need!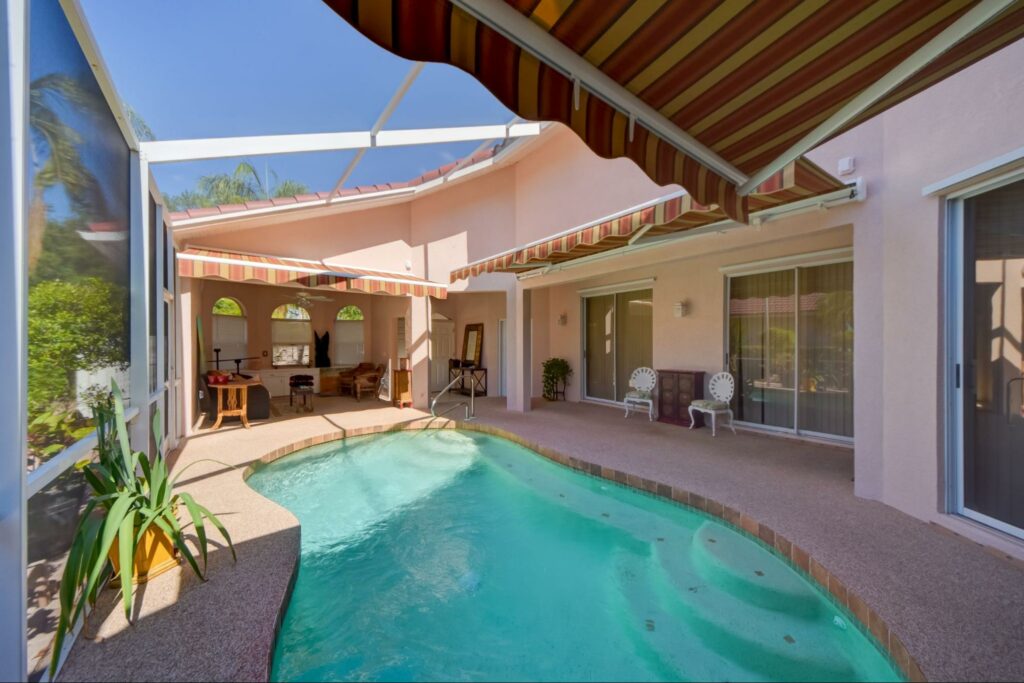 SPF Screens & Awnings Price Match & Warranty
Because we are a locally owned and operated business, we can offer competitive prices, and we are happy to price match line for line. We are proud to offer a five-year warranty on the mechanical parts of the awning and a ten-year warranty on the fabric. At SPF Screens & Awnings we truly value our customers, and our five-star customer rating speaks for itself.
Points to Consider When Shopping for a Retractable Motorized Awning in Orlando
When choosing a motorized awning for your Orlando home, there are some key factors to consider. At SPF, we are ready to walk with you through each of these components as you determine the type of awning that will best fit your needs.
Location
As you think about the layout of your home and where you desire more shade and protection, consider adding additional coverage to areas such as your porch, poolside, deck, and more. Some of our valued customers have chosen to purchase multiple retractable awnings for one space for maximum shade.
Weather
Heat, humidity, moisture, and pop-up storms are just a few of the elements that Orlando residents can experience. Protecting your patio furniture and staying cool under an awning will provide you with more time in the outdoor space you love.
Style
Our design team is ready to work alongside you to find the perfect style and color that complements your home, landscape, and decor. With the ample choices we offer, we are confident you will find the ideal fabric.
Screens
SPF has other protection products available that will give added sun protection to your home and family. Motorized Garage Bug Screens, Retractable Interior Window Shades, Rolling Privacy Shade Screens, and more. Pairing multiple sun-blocking screens and retracting awnings will add beautiful curb appeal to your home.
Caring for Your Orlando Retractable Awning is Simple
You've invested in a beautiful motorized awning, and you will want to care for and maintain this investment so you can enjoy it for years to come. You can keep your retracting canvas looking new with a few basic steps-first, clean loose dirt, and debris from the roof of your awning with a kitchen broom. Carefully remove larger sticks to keep the fabric from ripping. To clean stains and blemishes, use a bucket of warm soapy water and a mild soap such as Dawn or Ajax. Gently scrub with a soft-bristled brush. Finally, rinse with a garden hose or a bucket of clean water. Do not use a power washer. It's too powerful and can cause damage to the motorized retractable awning.