How to Choose the Right Fabric for Your Retractable Awning Miami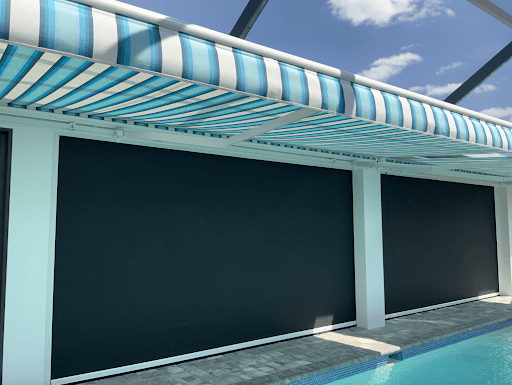 Retractable awnings are one of the best options if you're looking for solutions that provide ample shade while still adding to the attractiveness of your outdoor space. A flexible solution, motorized retractable awnings can be customized as needed to fit your outdoor space and offer ample protection against sun and rain. In addition, retractable awnings are a functional addition to an outdoor space and are easy to use.
Components of Our Retractable Awnings
SPF retractable awnings consist of a few different parts that come together to create this solution, using the best materials possible to create a durable solution for outdoor spaces.
Retractable Awning Frame
One of the main components of a retractable awning is the frame. The frame needs to be made with the right material to ensure durability and ease of use to get the most out of the solution. Some materials that retractable awning frames are made of are wood and aluminum, but aluminum tends to be the most popular choice.
Retractable Awning Fabric
The other component used in retractable awnings is fabric, which is what provides shade and protection from the elements. Some fabrics used for retractable awnings include acrylic and acrylic coated synthetic fabric and cotton, vinyl, and canvas.
What Kinds of Fabrics are Used for Miami Retractable Awnings?
When it comes to fabric choices for Miami retractable awnings, there are several options available. Each one protects against sun and rain and can be customized to fit outdoor spaces as needed. Fabrics are an integral component of retractable awnings, and understanding the different types of fabric available can help you decide which one to use.
Canvas
Canvas is generally one of the most popular fabrics used for retractable awning, although it is starting to lose some of its popularity. While cotton-based canvas provides good protection against the elements, it can wear more easily and may need to be replaced more frequently than other fabrics.
Cotton
Cotton is another option for retractable awning, as it is less coarse and provides good coverage. In addition, it can be coated to ensure that it is resistant to UV rays, fire, water, and other damage. However, cotton is not used as often as other materials due to the fact that even with coating, it can still be susceptible to mildew, rain, and other damage more easily.
Polyester
Polyester is made from woven polyester material and is then coated with PVC for use with retractable awnings. Waterproof and durable, polyester does not leak, making it suitable for areas that experience heavy rain. However, one of the drawbacks of this type of fabric is that it can fade easily compared to other options.
Acrylic
Acrylic fabric is one of the more popular options for retractable awnings as it is both lightweight and durable. However, acrylic fabrics are used for this purpose as they are resistant to rust and mold and last longer compared to other fabric options.
Sunbrella Fabric
Sunbrella fabric is one of the leaders in retractable awning materials, and it is easy to see why. The fabric is tough and durable yet lightweight. It is UV-coated to protect against intense sun rays and resistant to mold and rust. At SPF, we Sunbrella fabric for its superior performance and excellent qualities that make it the perfect choice for retractable awnings.
The Importance of Choosing the Right Fabric for Your Miami Retractable Awning
The fabric used for a retractable awning can make all the difference. Ideally, you're looking for a solution that can provide protection and durability but still have the right look and feel to match your outdoor space. Trying to blend function and design can often be a challenge, but if you pick the right fabric for your retractable awning, you can have both.
UV Protection
Protection against sunlight is one of the most important aspects of retractable awnings, which is why you should pick a fabric that offers UV protection, as that can also help protect the fabric from fading.
Water Resistance
Water resistance is a particularly crucial feature for areas with heavy rainfall, as heavy rain can quickly cause damage to the retractable awning. In addition, fabrics with water resistant qualities will be more durable and ensure your outdoor space remains dry.
Color and Style
It's also incredibly vital to pick a fabric that has the right color and style to match your outdoor space. While some fabrics may not have that variety, there are plenty of fabrics available that have a whole range of colors and styles that can suit any outdoor space.

If you have any questions about what you need to consider when choosing an awning, feel free to contact us.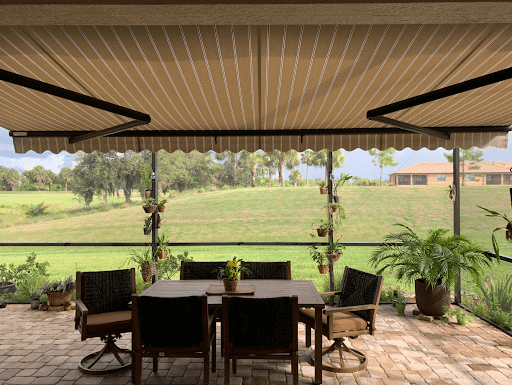 What to Consider When Choosing Your Miami Retractable Awning Fabric
When choosing a fabric for your retractable awning, there are several aspects that you must consider. Choosing a fabric that can withstand the area's weather and climate is key, as is choosing an option that requires minimal upkeep while still matching the style of your home.
The Weather in Miami
While weather will always be somewhat unpredictable, you can still select fabrics that can withstand the general Miami weather. From heat to intense sun and rain, think about the weather in your specific area before selecting a fabric.
Sun
Intense heat can be incredibly uncomfortable to sit in an outdoor space, leading to other issues. Fabrics that are UV-resistant offer the best chance of protection against sunlight and heat while still retaining durability.
Wind
Heavy winds can often occur, which is why the fabric chosen for retractable awnings needs to be able to withstand the effects of wind. Fabrics must be able to stay steady in the face of heavy wind and breathable enough to create a comfortable space.
Rain
Water resistance is particularly important in fabrics, particularly for areas that experience heavy rainfall. When selecting fabrics for retractable awnings, consider its performance during rain, and whether it will be able to stay standing even during rough weather.
Humidity
Humidity and moisture can often lead to damage, fading, rust, and mold. The right fabric for retractable awnings should be mold and rust-resistant and should be less likely to fade over time so that it can retain its look and style over time.
Your Home's Exterior
Retractable awnings can help add more value to your home, which is why it's so vital to pick fabrics that match the color and style of your home's exterior. With the right fabric, you can add a functional yet stylish structure to your outdoor space that looks good.
Maintenance and Upkeep
Over time, retractable awnings will need some level of maintenance and upkeep. However, with some fabrics, there is less maintenance and upkeep needed compared to other options. When evaluating fabrics, consider how often it will need to be replaced, how likely it is to get damaged, and other factors to ensure you choose the best option possible.
Frequently Asked Questions About Retractable Awning Fabric in Miami
How do I clean my retractable awning?
When cleaning your retractable awning, use water and a mild detergent like dish soap. Use a brush or cloth to scrub it, but don't use a power washer. This can severely damage the fabric.
How do I replace the fabric on my Miami retractable awning?
If anything happens to the fabric on your retractable awning, please contact us. We can work with you to set up a time for us to come replace the fabric.