Why So Many People Choose a Florida Awning
Beautiful sunny days, mild weather, and year-round outdoor activities have brought many to the sunshine state. Being outside and getting vitamin D is essential for better sleep and lower stress levels.
Research shows that too much exposure to the sun can also cause serious health issues down the road. Many who live in Florida have opted to get a motorized retractable awning for their outdoor patio or lanai. A motorized roof will give you instant access to shade and protection from the hot sun. Reach out to us today to get your free estimate!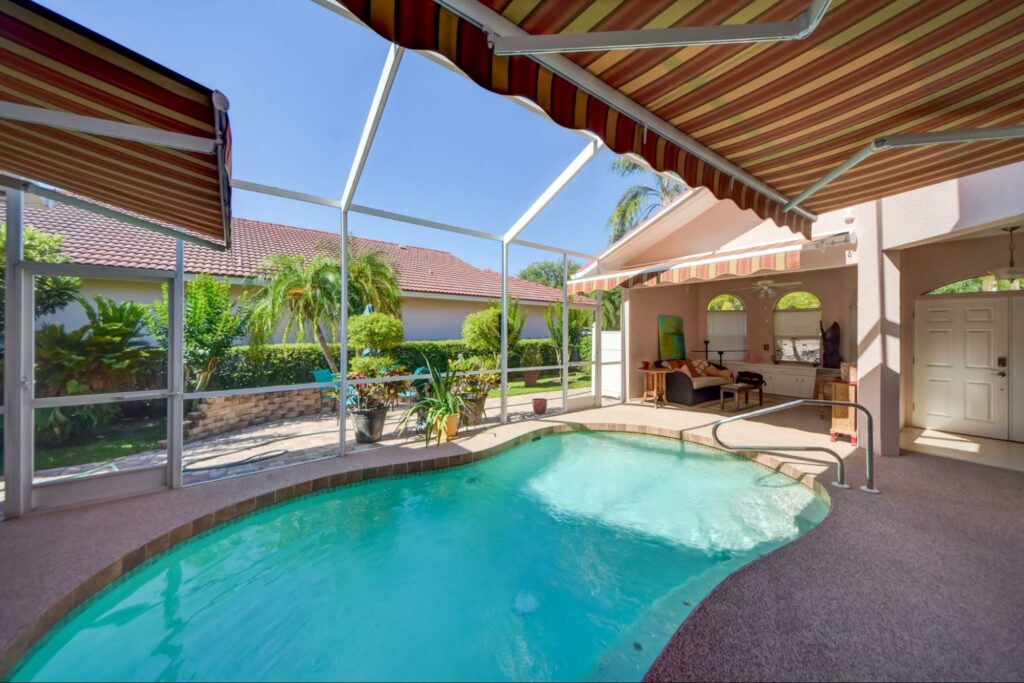 Protection from the Sun
One of the most prominent and popular reasons people choose to install a retracting solar roof is it offers a barrier between you and harmful UV rays. The canvas awning blocks 97% of the sun's rays, keeping you, your family, pets, and guests out of the hot sun.
Additional Useable Space
When you live in Florida, you want to enjoy the gorgeous weather any chance you have. By adding a motorized retractable awning to your home, you will gain another space usable for relaxing and entertaining.
Save on Energy Costs
Since the retracting awning blocks out the sun, certain parts of your home will benefit from the shade. A motorized shade roof will lower your energy costs, saving you money.
Increased Property Value
Your curb appeal will instantly improve, and future potential homeowners will appreciate the addition of an outdoor space that is used pretty much year-round. Essentially, with a retractable awning, you will add another room to your Florida home that buyers will love.
Patio Furniture is Protected
A motorized retracting roof will keep your patio furniture, cushions, and decor from fading. The sun can cause premature fading of curtains, carpet, and other furnishings if preventative care to protect these items is not taken.
Simple to Operate
When you are ready for your patio or deck to have shade, all you need to do is push a button, and the fabric roof will roll out from its beautiful casing, giving you instant shade from the hot sun and protection from the elements.
Prevent Water Damage
A motorized retractable awning provides a barrier from rain. You will have dry furniture to sit on, will see less water damage to your deck, and anything metal will be protected from rust.
Comfortable Space to Relax
Relax and enjoy the beautiful Florida weather under the comfort of a retractable motorized awning. These motorized fabric roofs will provide you hours of entertainment without the annoying sun or wet weather ruining your time and chasing your indoors.
Easy to Maintain
The fabric of the retractable awning is quite simple to clean and maintain. Follow these easy steps to keep your material looking new and free from holes. Gently remove any debris or sticks collected on top of the structure. Use a mild soap like Dawn or Ajax to clean dirt and stains. Finally, use a garden hose or a bucket of clean water to rinse. Never use a power washer as it could cause damage.
More Family Time
We can all agree that more time with family is beneficial. Why not enjoy your pool or lanai under the shade of a retractable motorized awning? Your outdoor space will be more inviting while blocking the sun and rain.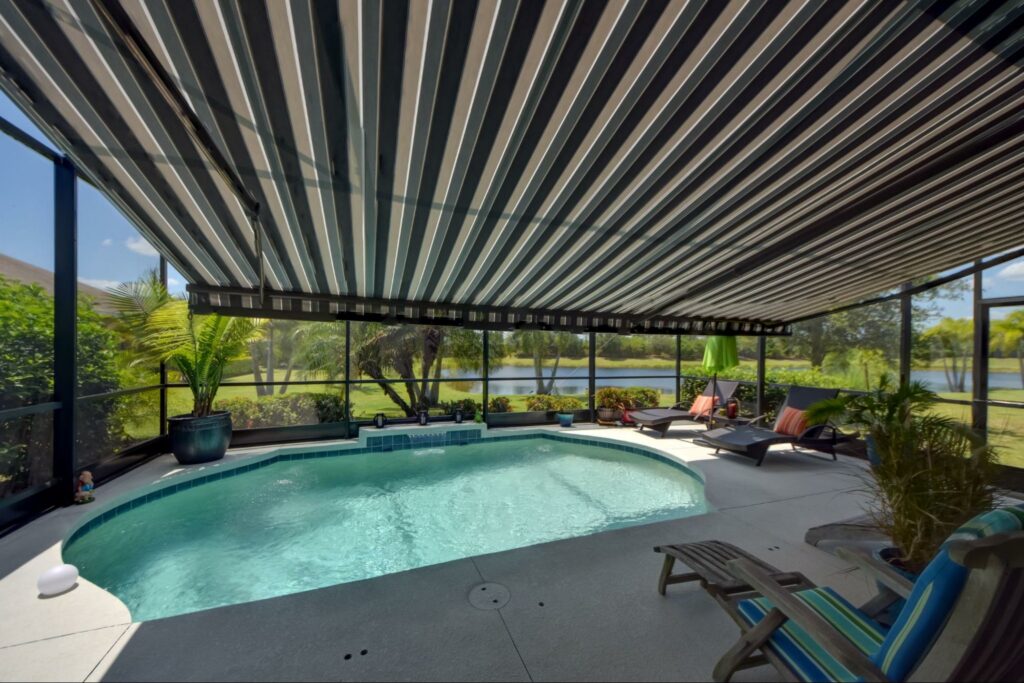 Motorized Retractable Awning Features
SPF Screens & Awnings understands the need for shade and protection from the blazing sun. We have designed our motorized awnings with you and your home in mind and are proud to use only top-notch parts manufactured in the USA. Check out what some of our satisfied customers have to say about their experience with SPF.
Adjustable Pitch
There will be certain times of the day when the sun is hitting your patio at an angle that requires you to change the pitch of the canvas roof. Our EZ Adjustable Pitch feature allows you to raise and lower the pitch of the awning from 0 to 40 degrees. Customizable comfort at its best!
Quality Fabric
We have partnered with Sunbrella to provide you with quality fabric choices. Many colors and designs are available that will resist fading and add instant style to your home.
Encased Housing
When your retractable awning is not needed, push one button, and it will roll in a beautiful casing that does not obstruct your vision. We offer colors that will blend beautifully with the exterior of your home.
Locally Operated
We are proud of our family-owned and locally-operated business that serves many communities in the state of Florida. Because of this, we can offer competitive pricing and line-for-line price matching. Our team of installers works directly with SPF, and we never use a contractor to do the job. We love referrals! Check out our referral program here.
Points to Consider When Shopping for a Florida Retractable Awning
When choosing a motorized awning for your Florida home, there are some key factors to consider. At SPF Screens & Awnings, we are ready to walk with you through each of these components as you determine the type of motorized awning that will best fit your needs.
Weather
Protecting your patio furniture and staying cool under an awning will provide you with more time in the outdoor space you love. A retractable motorized patio awning will protect you from the heat, harmful UV rays, and rain.
Style
Our in-house design team is ready to help you choose the right style for your patio that compliments your home. With various options available to choose from, we are confident you will be satisfied.
Screens
SPF has other protection products available that will give added sun protection to your home and family. Motorized Garage Bug Screens, Retractable Interior Window Shades, Rolling Privacy Shade Screens, and more. When you pair multiple sun-blocking screens with retracting awnings, your curb appeal receives an instant boost.
Location
Consider the layout of your home and where you desire more shade and protection, think about adding coverage to areas such as your porch, poolside, deck, and more. Some of our valued customers have chosen to purchase multiple retractable awnings for one space for maximum shade and protection.
How to Get a Retractable Florida Awning
SPF Screens & Awnings has simplified the shopping process for you, and we are ready to help you with a few simple steps. From the moment you reach out to us until the day your motorized awning is installed, we are here to assist you with whatever you need.
Get a Free Estimate
We are happy to offer a free customized quote to anyone interested in learning more about SPF and what we offer. Our sales team is ready to get you all the details and pricing information according to your needs and wants for your patio.
Choose Your Fabric
Selecting the fabric and style might be your favorite part of the process, and we have an in-house design team who love getting to know what your style is and how one of our retractable Florida awnings will add instant class to your home.
We Install Your Florida Motorized Awning
Our installation team will take care of all the details on installation day. We never hire contractors to do our work, so rest assured that we have friendly and knowledgeable staff who will treat your property with care and respect.