Sun Protection Options That Block The Most UV Rays, Ranked
We all love to enjoy the great outdoors, but we also need to be mindful of the potential harm the sun's ultraviolet (UV) rays can cause. Prolonged exposure to UV radiation can lead to skin damage, premature aging, and even skin cancer. This is why homeowners are increasingly considering sun protection measures to reduce their risk of sun damage.
If you're looking for shade and protection from the sun, you want more than just a list of options! When it comes to choosing the right shade for you and your family, the stakes are high, and you want a solution that provides maximum coverage.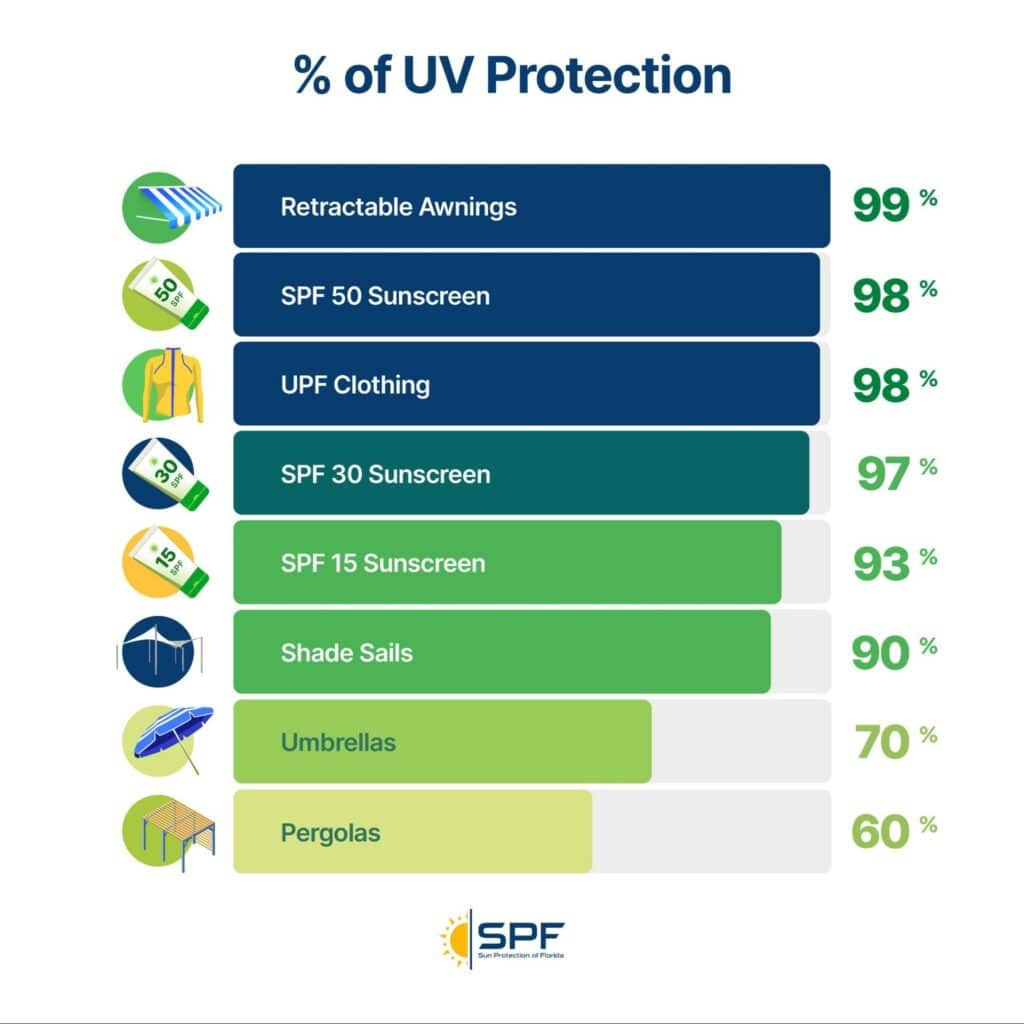 What's the Right Shade Option for You?
From pergolas, umbrellas, and shade sails to sunscreen, clothing, and awnings, there are several options available to provide UV protection. But which is the most effective at sheltering you from the sun's rays?
Pergolas
A pergola is a popular outdoor structure that provides both shade and style to a backyard or outdoor space. Pergolas are typically made of wood or metal and have an open design that allows for partial sunlight to pass through. While pergolas are not completely enclosed, they still provide for some UV protection. Most pergolas can block 60% of the sun's rays, depending on the design and materials used.
Umbrellas
If you've ever been to the beach, chances are you've seen umbrellas in action! These colorful summer staples are a popular and portable option for providing shade from the sun. Whether it's a small patio table umbrella or a larger freestanding model, everyday umbrellas can shelter you from 70% of UV rays. Larger, thicker types of umbrellas may offer more protection from UV rays, as well.
Shade Sails
Shade sails are a modern and stylish way to provide shade and UV protection in outdoor spaces from your backyard to your pool. These sails are made from durable, UV-resistant fabric and are designed to be suspended from poles, trees, or other structures.
They can usually block at least 90% of the sun's UV rays, helping homeowners create a safer and more comfortable outdoor environment.
SPF 15 Sunscreen
While it might seem difficult to remember to slather on sunscreen every time you go outside, sunscreen is highly effective. SPF 15 is one of the most popular types, and you can find it pretty much anywhere!
When used correctly, SPF 15 sunscreen can block 93% of UVB radiation, making consistent application an accessible option for reducing your risk of exposure to the sun.
SPF 30 Sunscreen
Sunscreen comes in a wide range of SPF ratings, which measure how many ultraviolet rays it absorbs or reflects away from your skin. SPF 30 is another popular choice, which blocks 97% of UVB rays compared to SPF 15.
Make sure you're applying enough, and remember to reapply every two hours since sunscreen can wear off, especially if it rubs off on something or you're sweating.
UPF Clothing
UPF (Ultraviolet Protection Factor) clothing is a type of clothing that is specifically designed to protect the wearer from harmful UV radiation. This type of clothing is made from special fabrics that have a high UPF rating, which indicates the amount of UV radiation that the fabric can block.
For effective UV protection, clothing with a UPF of 30 or more is recommended. To get the most protection, look for UPF 50 clothing, which can block up to 98% of the sun's rays, making it an incredibly effective way to protect against sun damage.
SPF 50 Sunscreen
SPF 50 or higher sunscreens offer the highest level of protection currently available in a sunscreen product, blocking between 98% and 99% of UVB radiation. No sunscreen (or other product) can block 100% of UV light, and sunscreens with an SPF higher than 50 will not provide a significant increase in UVA or UVB protection.
Remember that in order for it to be effective, you need to regularly reapply and make sure you're using the correct amount recommended.
Retractable Awnings
Retractable awnings from Sun Protection of Florida are an excellent option for homeowners who want to provide UV protection to their outdoor spaces. These awnings are made from Sunbrella fibers, which are saturated with highly UV stable pigments.
The Sunbrella fabric used in these awnings has been approved by the Skin Cancer Foundation for 99% UV protection, making them one of the most effective ways to reduce the risk of sun damage.
What's the Most Effective Way to Block UV Rays?
The best way to block UV rays is to combine multiple measures like wearing sunscreen and spending your time outside under a structure like an awning.
Remember, it's important to note that no measure can offer complete, 100% protection from UV radiation. Because of this, it's important to follow recommendations from the Skin Cancer Foundation and utilize all measures, like wearing sunglasses and hats, wherever possible.
What's the Best Outdoor Structure to Block UV Rays?
An awning with Sunbrella Fabric blocks 99% of UV rays. Because of this, it is the best way to protect yourself and your loved ones from the sun.
Remember to use sunscreen, consider UPF clothing, and stay hydrated whenever you're exposed to the sun, even if you'll be spending time under an awning.