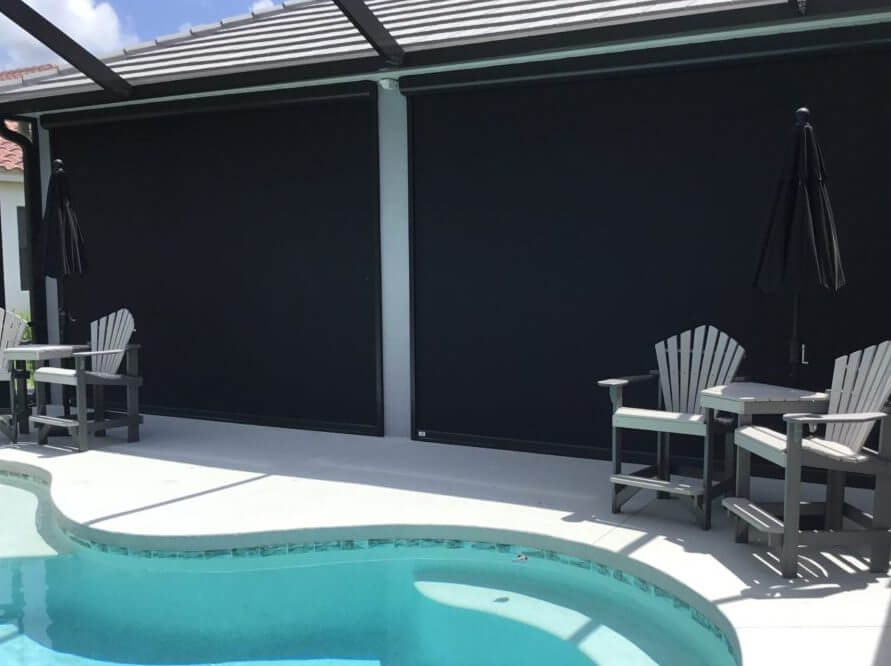 What Are Retractable Solar Screens and What Do They Do?
Retracting solar screens are motorized mesh screens that can be installed on a home's exterior. They are designed to block the sun and harmful UV rays and keep insects out. Solar patio screens are available in various colors and styles and can be custom-fit to any opening. Motorized solar screens are an efficient way to reduce energy costs, and they provide significant protection from the sun's damaging rays.
Easy to UseBlocks Hot Sun
Hot sunny weather can make you feel uncomfortable in your home and patio. Electric retractable solar screens block 97% of the sun's UV rays so that you are cool and comfortable all day long!
Insects are pesky creatures, but now you can keep them out of your outdoor living space with the help of our retracting bug screens. Our rolling doors come equipped with retention zippers that ensure a tight seal, and they're great for rooms where pesky mosquitoes might be present!
A motorized solar screen can go a long way in protecting your outdoor furniture and prolonging its life. Your furnishings will stay dry, resist fading and other damage by blocking harmful UV rays. In addition, your lanai or patio will be protected from the sun, making it more comfortable to enjoy the outdoors.
Solar screens are a great way to add privacy to your home. Whether you're entertaining guests or just relaxing, seclusion is essential. And with retractable shade screens, you can have the best of both worlds. With the touch of a button, you can enjoy the nice weather while still feeling safe and secure from nosy neighbors or car traffic. So if you're looking for a way to add privacy to your home, motorized solar screens are a great option.
Features of a Retracting Solar Shade Screen
Are you looking for a way to keep your lanai or balcony cooler during the summer while also protecting your furniture from the sun's harmful UV rays? Then solar screens are the perfect solution! Motorized solar screens are simple to operate, made with heavy-duty parts, and can instantly add value to your home. They'll help you save money on your energy bills by keeping the heat out.
Retracting solar screens are easy to operate, and provide a wide range of benefits for your home. You can open or close the mesh screens to let in as much or as little light. The remote control makes it easy to adjust from anywhere in the room. Thanks to the quiet but powerful motor, the shade screens can be opened or closed with little effort. So whether you're looking for a way to reduce glare on your TV screen or save on energy costs, SPF solar screens are worth considering.
Retracting solar screens are available in various fabric choices, so you can find a style that fits your home's color scheme and architecture. In addition, these motorized screens can be custom-made to fit any space, ensuring a perfect fit for your home.
Sun Protection of Florida solar screens are locally manufactured, and we use high-quality parts and assemble all screens locally. This supports the local economy, but it also ensures that you're getting a product built to last. When you purchase with us, you can feel good knowing that you're supporting your community.
Adding retractable solar screens to your patio or porch can do more than reduce energy costs - it can also add instant curb appeal. As a result, they can make your home more comfortable and help it look its best. So if you're looking for a way to improve your home's appearance and save money on energy costs, motorized solar screens are a great option to consider.
The motorized solar screen will seamlessly blend into your home's exterior when it is not in use, retracting to a beautifully encased hood and housing. This sleek design works well with many different styles homes have today!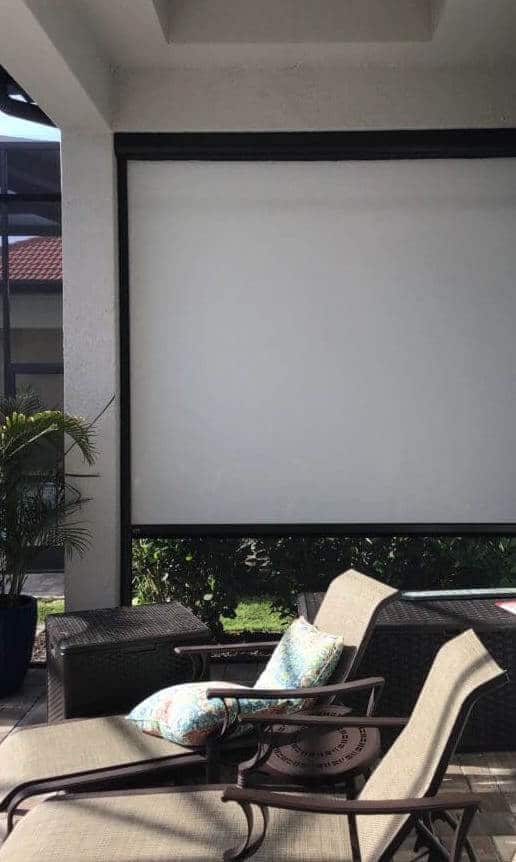 How to Use and Maintain Retractable Solar Screens
You can keep your motorized commercial screen looking new with a few simple steps. Use a broom to brush away any loose dirt and debris on the mesh. Sometimes bugs will get stuck and die in the screen while rolling into the casing. You can use a broom to brush those off as well. Use a soft brush with soapy water to remove stains. Rinse with a garden hose or a bucket of clean water. Try using an organic stain remover on a damp cloth for stubborn stains.
Operating Your Motorized Solar Privacy Screen
SPF solar screens can be operated remotely, so you don't have to get up to adjust them. When you are ready for protection against the elements, simply push a button, and the mesh screen will retract from its protective housing.
Caring for a Retracting Solar Screen
Like any piece of patio furniture, a motorized solar screen requires care and maintenance to keep it looking its best. Luckily, they are easy to care for - a few simple steps a few times a year is all it takes.
Using a soft broom, sweep away loose dirt, debris, bugs, and cobwebs.
Use mild soap and hot water with a cloth to wipe clean the mesh fabric
Using a garden hose or a bucket of clean water, rinse the solar screen.
Use an organic stain remover and blot with a damp cloth for stubborn stains. Repeat the process until the blemish is gone.
Commonly Asked Questions about Motorized Solar Screens