Relax in the comfort of your backyard without worrying about bugs or the hot sun. Retractable motorized screens give you the seclusion and privacy you desire. Whether you're looking to spend time with family or entertain guests, these screens are a great way to enjoy the outdoors without being bothered by the elements. They are easily operated, and they're sure to give you many years of enjoyment. Reach out to us today to get started!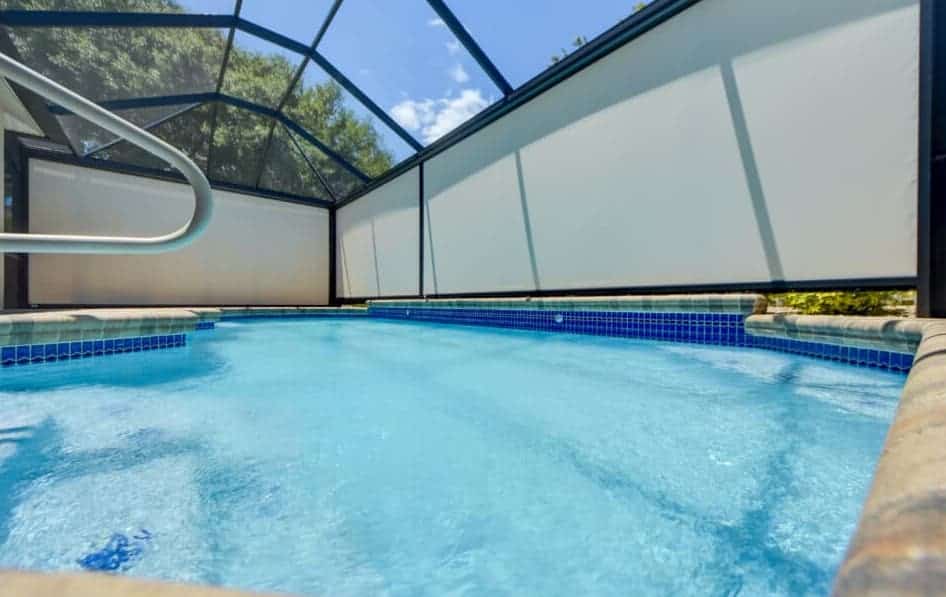 Perks of Adding a Motorized Solar Screen to Your Wesley Chapel Home
Scenic views are one of the best parts of the outdoors, but sometimes the sun can be too harsh. Motorized privacy screens can provide the perfect solution. With the push of a button, you can enjoy the view without the sun or insects chasing you inside. Recessed retractable screens can also help to reduce energy costs by blocking out sunlight that would otherwise heat your home. And for an added touch of style, motorized solar screens come in various colors to suit any taste. A retracting shade screen for your porch is an excellent option whether you're looking to enjoy the scenery in the shade or save on energy costs.
Retractable shade screens are a great way to enjoy some seclusion in your backyard. Whether you want to enjoy a book in peace or entertain family and friends, these screens can give you the privacy you need.
Motorized solar shades is a perfect solution to keep your patio or deck area cool and comfortable. They block out the harsh sun and keep out unwanted insects, making it more pleasant to spend time outdoors.
Many homeowners are choosing to upgrade their homes with recessed retractable screens. These screens add instant curb appeal, and they're also an affordable and stylish way to attract more buyers.
Motorized privacy shades are designed to blend in with the surrounding trim, making them virtually invisible when not in use. With the option to customize the mesh screen's openness (how see-through it is), color, and style, your backyard oasis will compliment your home and landscape design.
Wesley Chapel Privacy Screen Features You're Sure to Love
Retractable motorized privacy screens are made with quality construction lasting many years. This longevity can help you save money in the long run since you won't have to replace them often. Motorized screens can help you reduce your energy bills by keeping your patio cooler in the summer. So if you're looking for a way to relax outdoors more often, consider these additional features.
The remote-controlled operation of this retractable privacy shade will allow you to roll down and retract it from your seat easily, without getting up.
The discreet housing holds the mesh screen when retracted and is made from solid aluminum that comes in colors chosen to match the exterior of your home. We selected these colors to make the device as aesthetically pleasing as possible while still being functional.
We take your input every step, from the initial design concepts to the finished product. That way, you can be confident that your retracting solar screen will meet all of your needs and expectations.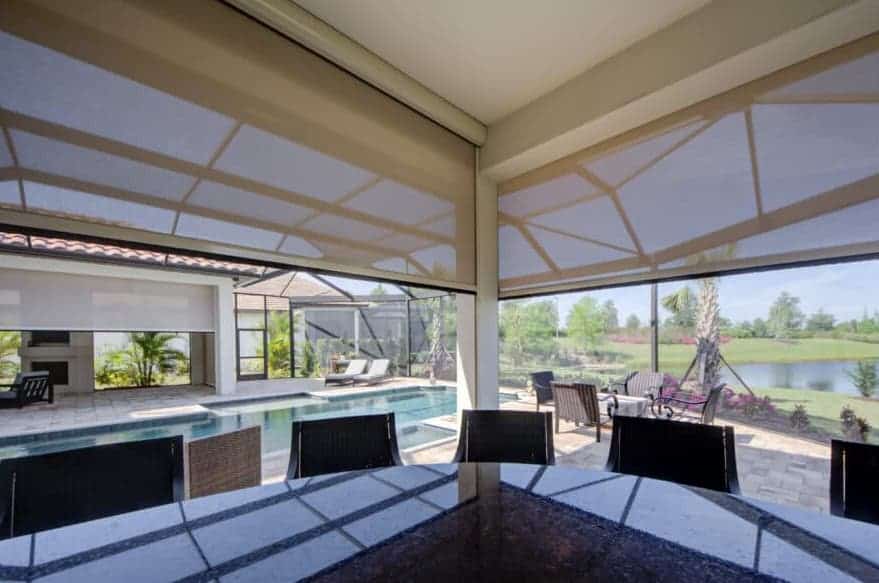 Points to Consider When Purchasing a Wesley Chapel Recessed Screen
If you are planning to purchase a motorized privacy screen, we strongly recommend considering all the factors before making your final decision. Our sales team will be more than happy to help you with any questions or concerns you may have. We desire customer satisfaction, and we want to ensure that you are confident and comfortable with your purchase. See what some of our valued costumes have to say about their experience here.
Multiple Sun Protection Products
Depending on the shade needs around your home, pairing a few different SPF products, such as retractable motorized awnings and interior window shades, in addition to your retractable patio screen purchase, could be beneficial.
Florida weather can go back and forth between sunny and cloudy. When prepared for the elements, you can enjoy your patio, porch, or balcony longer.
Wesley Chapel Screen Types
We offer a variety of motorized retractable screens to suit your needs, whether you want privacy, block out the sun, or keep insects away. Our team will work with you and install it correctly so that we can help create a unique outdoor living space!
Recessed Retractable Screens
Keep you, and your guests protected from the elements and create a relaxing environment with a motorized recessed screen.
Finally, you have a solution to the harsh sun glare on your tv, computer, or floors. Interior window shades offer refuge from the hot sun when trying to relax, work, or even sleep.
SPF's lightweight and breathable vinyl-coated polyester fabric is a much better option than traditional screens. Our motorized patio screen will effectively block the hot sun, insects, and light rain.
At the push of a button, you can have complete seclusion from the outside world with a motorized pool screen. Pair multiple retracting privacy screens for optimum solitude for your family and friends.
In recent years, homeowners have converted their garages into home gyms, storage, or a place to work on hobbies. One way to let the breeze in and keep the bugs out is with a retractable garage door bug screen. You can customize how see-through the mesh fabric is for ultimate privacy. Retention zippers create a tight seal to keep out pesky mosquitoes.
Retractable Balcony Shades
If your condominium features a balcony, you most likely enjoy spending time on it getting fresh air and taking in the scenic views. The sun and bugs are also most likely to chase you indoors. With a motorized balcony screen, you can stay outdoors longer without the hassle of annoying insects.
Customer satisfaction is always our top priority here at SPF. We understand that streamlining the shopping process is essential to our customers' busy lives. That's why we've made it easy to shop for all your shade needs in one place. Outdoor living is important to us, and we want to ensure you have everything you need to enjoy your time on the patio, porch, or deck. If you're unsure what you need, our friendly and knowledgeable staff is always happy to help. Come see us today and let us help you take your outdoor living to the next level.
Quote

Our sales team will come to your house, talk through what you would like to have done, offer advice on products, measure, and give you a free customized estimate.

Design

The talented designers at SPF are ready to help you select the color and style that will suit your needs.

Install

SPF has an installation team who will get your new motorized lanai screen set up and running. We do not hire contractors to do our work, so rest assured that someone from our team will be there on install day.

Enjoy

The fun part now comes! Sit back, relax, and enjoy your balcony, patio, or deck in comfort and style.
Questions SPF Hears the Most