Recessed Retractable Screens
Living in the south means warm weather for most of the year. Warmer weather brings heat, pesky bugs, and annoying sun glare. A motorized recessed retractable screen for your patio, deck, lanai, or garage will help provide protection against the elements and create a relaxing environment to enjoy and entertain your friends and family. SPF Screens & Awnings has the solution for your home, and we are ready to assist you throughout the entire process. Contact us today to get started!
Features of a Motorized Retractable Screen
We understand the need for people to have a shaded outdoor environment that offers a barrier between the sun's harmful UV rays and your patio, porch, deck, or lanai. At SPF, we have designed our recessed retractable screens to give your outdoor living space a protected and stylish environment you can enjoy for years to come.
It does not get any easier than simply pushing a button, and the recessed mesh screen will release from the housing. You can choose how far down the retractable motorized screen will go for a customized look.
SPF has a range of mesh options to choose from, you can select how open the screen fabric will be, and the color suits your home and style the best.
Every one of our retracting recessed solar screens is customized to your specific needs and space. Our talented manufacturing team ensures exact measurements and specifications are met.
Your fully customized retractable patio screen is made with only the best materials, and we have partnered with Somfy motors to provide a heavy-duty yet ultra-quiet motor that is guaranteed to last. We pride ourselves on using quality materials that are made in the USA.
Benefits of a Retracting Recessed Screen
The first time you experience the perks of a retractable recessed screen, you will wonder why you waited so long to get one. Your home and patio will benefit from instant curb appeal and boost in value future potential buyers will appreciate.
Depending on the location of your home, you may have frequent pedestrian and vehicle traffic. Thanks to the instant seclusion a motorized recessed privacy screen offers, retreat to your porch or patio more often.
A retracting solar screen blocks 97% of the sun's UV rays, further protecting you and your family from the harmful effects of prolonged sun exposure. Sun glare can be pretty bothersome as it reflects off shiny objects making it challenging to see correctly. The hot sun and annoying glare are significantly reduced with a motorized recessed mesh screen.
Don't let a light rain ruin your relaxing afternoon on the deck! Simply retract the motorized recessed screen to provide a barrier between you and the elements. There will be no need to worry about the patio furniture and decor; the retracting screen will keep those dry as well.
Pesky mosquitos and annoying insects will chase you inside and ruin your relaxing time on the patio or lanai. Allow SPF to solve this issue with a retractable recessed screen to keep out the insects.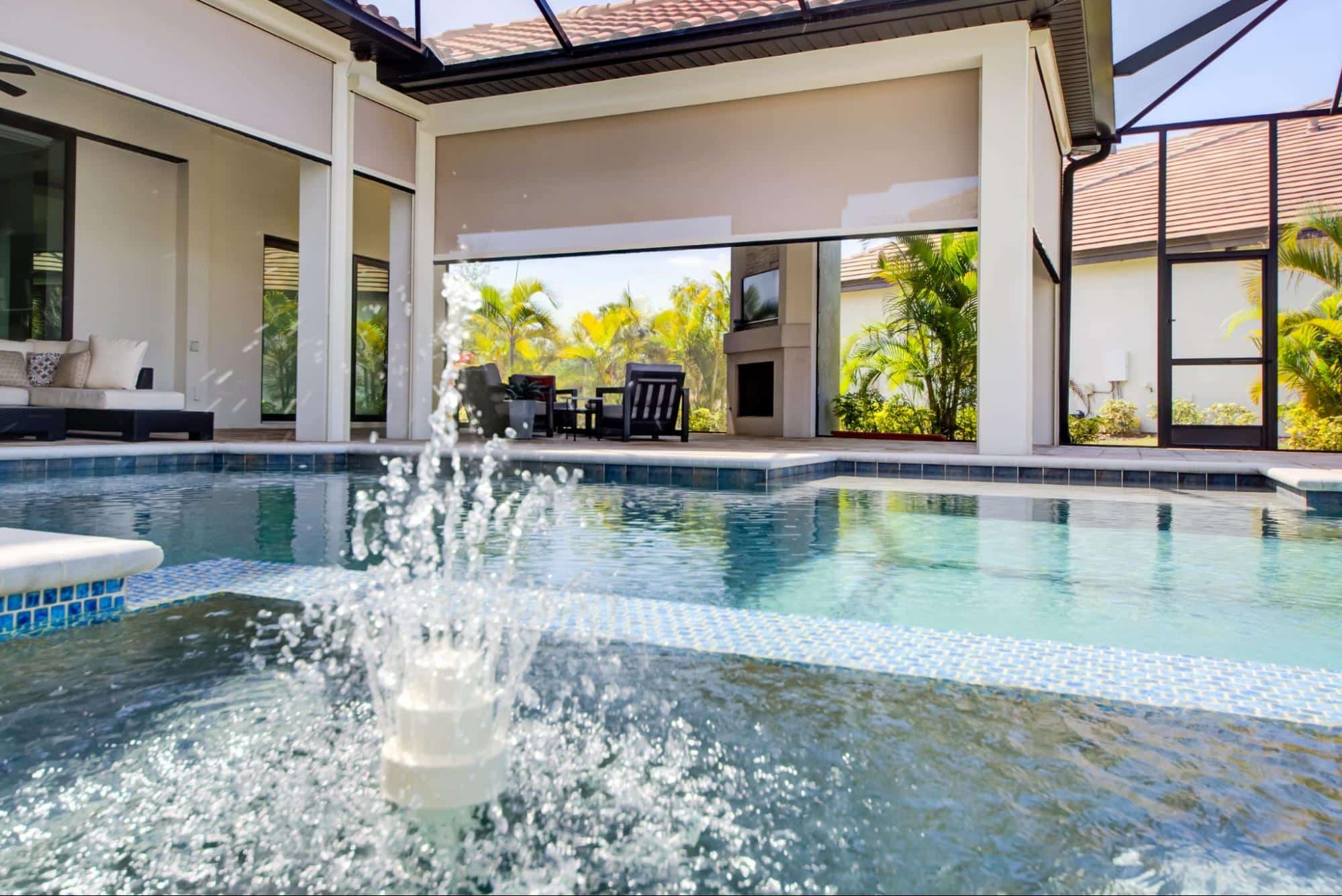 What Is a Motorized Retractable Recessed Screen?
When you choose to partner with SPF and purchase a retracting recessed patio screen, you are bringing your living room to the outdoors. Our motorized recessed screens add style and functionality to your home while at the same time blocking the hot sun and annoying insects. Enjoy these features while still maintaining your scenic view.
How Does a Retractable Recessed Screen Work?
A motorized recessed screen is housed vertically in an encased housing that blends beautifully with the exterior of your home. The aluminum hood and housing comes in a variety of finishes for a custom look. A quiet yet heavy-duty motor will release the mesh screen and lower it to the exact length you desire at the push of a button. See some of our work here.
How to Purchase an SPF Motorized Recessed Screen
We are thrilled to provide you with all your sun protection and insect blocking needs and look forward to working with you to achieve the look you desire. We have a talented team of professionals dedicated to your complete satisfaction. SPF looks forward to showing you our screen and shade systems.
Contact us today to schedule your free consultation. Our sales team will come to your home, see where you need protection from the sun, and give you a complimentary customized quote.
Bring life to your outdoor living space and add instant style to your home. Our proficient designers will partner with you to create the look and feel you have envisioned for your deck, garage, or patio.
Professional Installation
On installation day, our skilled team of installers will do all the work to get your new motorized recessed screen set up. We never use contractors, so you can rest assured that one of our team is there to do the job and treat you and your home with the utmost respect.
Apples-to-Apples Price Match and Peace of Mind Purchasing
SPF Screens & Awnings is a family-owned and locally-manufactured business. We pride ourselves on who we chose to partner with to deliver you a quality product that will last you for many years. Because we are a family company, we can keep our pricing competitive and gladly offer an apples to apples price match guarantee. Your investment is protected with a manufacturer's guarantee. We stand behind our work but understand that there may be times things don't always work correctly. SPF offers a ten-year warranty on the fabric and a five-year warranty on the mechanics. We are confident that you will experience complete satisfaction, and we feel our five-star customer rating backs that up. See what our valued customers have to say about their experience here.
Things to Consider During the Shopping Process
At SPF, our proficient team of professionals is here to assist you from the beginning to the end. Part of our process is helping you to consider some points that may not cross your mind, and here are some factors to consider.
Location of Recessed Screen

You may have a prominent spot at your home where you desire shade and protection from the elements. Have you considered other locations such as your garage, porch, or balcony? The more blockage you have against the hot sun means, the inside of your home will be cooler, resulting in lower energy costs.

The Weather

You know how quickly the weather can go from hot and sunny to all of a sudden, clouds and rain are rolling through. When you're prepared for these quick weather changes, your plans to relax on the patio will go uninterrupted.

Paring Other Products

SPF has a variety of sun-blocking products that you can pair with your motorized recessed screen for even more protection from annoying mosquitos and bugs. Try one of our retractable patio awnings, motorized garage door screens, retracting privacy shades, and more.
Common Questions About Motorized Recessed Retractable Screens