Spending time outside in your pool area should be a relaxing and enjoyable experience. Unfortunately harsh sunlight and extreme heat can make it uncomfortable and even unusable. Pool shades like retractable screens and awnings are the perfect solution. Imagine being able to spend more time outside with family and guests, even during the hot summer months.
It's time to add more comfort and convenience to your outdoor oasis with Sun Protection of Florida's pool shade solutions! Get in touch today for a free consultation and quote.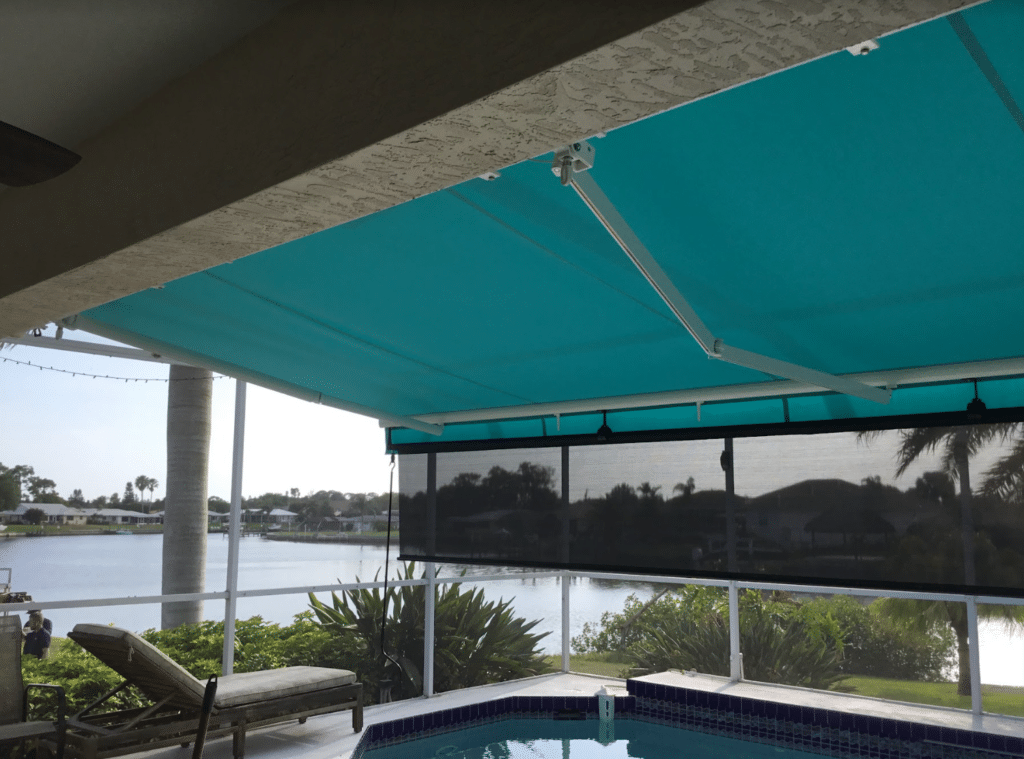 Why Choose Retractable Screens for Your Pool Shade Needs?
Retractable screens offer several benefits for your pool shade needs. They provide flexibility and convenience, as you can easily retract or extend them according to the weather.
One of the greatest advantages our motorized retractable screens have over other solutions is that they're incredibly easy to use! Anyone can move the screen up or down: all it takes is the click of a button. You don't have to worry about maintenance or chains, cables, and cranks that quickly become frustrating. Retractable screens shade your pool in style, and everyone in the family can use them.
If pesky insects prevent you from enjoying your pool or relaxing near it in lounge chairs, then retractable screens could be the perfect solution. They keep out all kinds of bugs and pests, creating a comfortable outdoor oasis where you can rest and relax without worrying about getting bitten or having your peace disturbed.
While installing an entire new shade structure like a pergola can be expensive, retractable screens are a much more cost-effective alternative. They provide the same kind of protection and privacy, but without all the hassle and expense.
Retractable screens offer up to 90% protection from the sun's ultraviolet rays. This is an enormous benefit for pool-goers, making it much safer and more enjoyable to spend time outside. Retractable screens work by creating a barrier between your skin and the sun's harmful UV rays, meaning that you can spend more time outdoors.
If you not only want your pool shaded, but also need more privacy, our motorized roll screens are a great option. They provide total privacy, as the screen can be retracted when you want to enjoy views of your backyard and garden and open up again when you need more seclusion.
What Sets Sun Protection of Florida Apart
Sun Protection of Florida is the leading provider of pool shades throughout the state of Florida. We specialize in retractable screens, awnings and other sun protection solutions that help make your backyard oasis even more enjoyable.
Highest Quality Materials
When you purchase sun shades, you want a stylish solution that lasts; not just any material will do. All our products are made with top-of-the-line materials, including water resistant fabrics and strong aluminum frames, for maximum durability and longevity.
Every home is different, so we'll work with you to help you create the best setup for your pool. You can choose the coloring of the mesh fabric and the frames to match your home or decor, as well as custom shapes and sizes.
We take great pride in offering amazing customer service for our clients. Our experienced team will help you choose the best option for your pool shade needs, and answer any questions or concerns you may have about installation and maintenance. From your initial outreach to your backyard shade installation, we'll be there to support you every step of the way.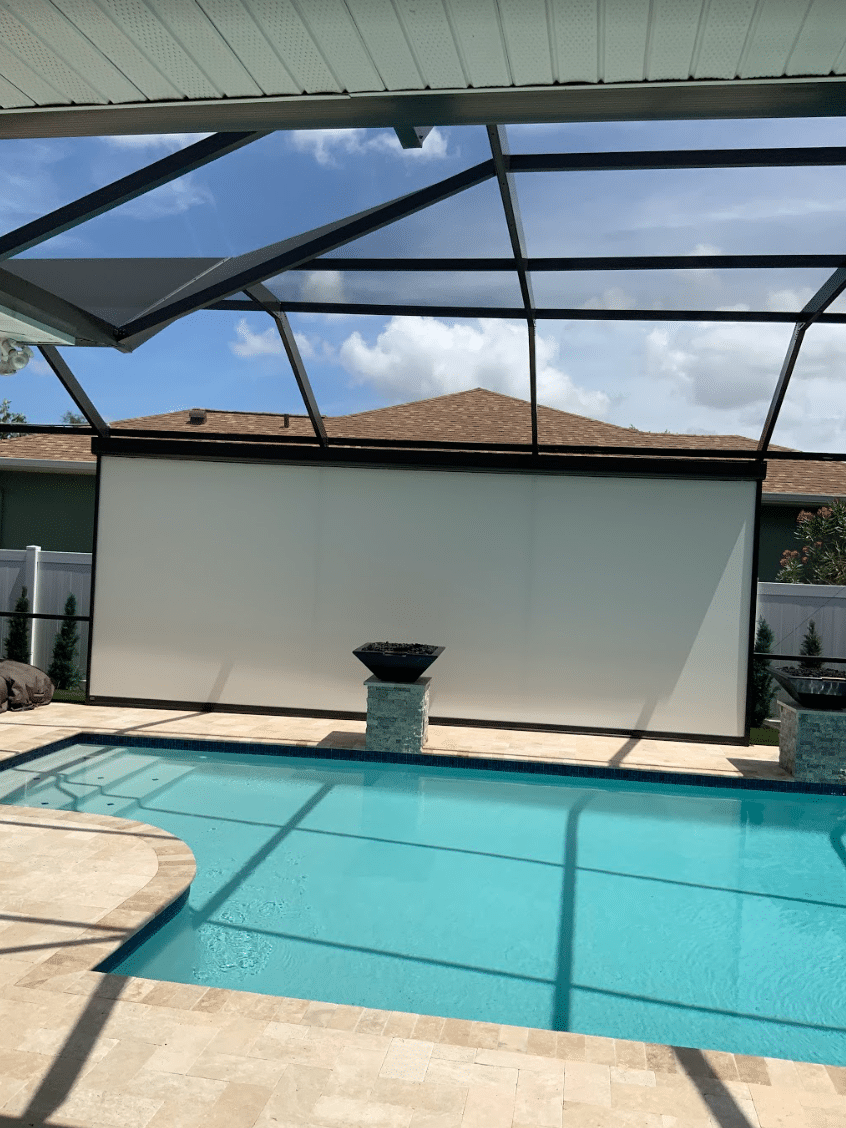 Our Process for Swimming Pool Shades
If you're inspired by our pool shade ideas and ready to move forward with a solution that makes sense for you, we can help! Sun Protection is your pool shade company of choice, and here are the steps to get your shades installed:
Contact Us for a Free Quote
The first thing you'll need to do is reach out to us for a free quote, either by phone or on our website. This will give us an idea of what you're looking for, and we can begin to work with you on the best solution.
Pick out Your Pool Shades
Once we have your measurements and more information about the spaces your pool shades will cover, we'll help you choose the perfect option. Whether you want an elegant design or a sleek, modern look, we'll work with you to find the right fit.
We Handle Installation for You
We're all about relaxation: you don't need to worry about figuring out how to properly install your pool shades. We'll take care of the entire process for you, from setup and installation to final testing and completion, so all you have to do is enjoy your new sun protection!
How Do Screens Compare to Other Popular Shade Structures?
While retractable screens and awnings aren't your only pool shade choice, they do offer some advantages over other popular shade solutions.
If you have a pool cage for your patio area, we can work with you to install motorized screens that are compatible with your pool cage for maximum convenience. Our screens make it easy to keep your pool protected from the sun and offer more privacy than a regular pool cage.
Unlike umbrellas, motorized screens don't need to be manually set up each time you use them, and unlike curtains or screens that are permanently affixed to your deck, you can easily extend and retract them as needed.
A shade sail is another popular option, but it doesn't offer the same kind of protection that a motorized screen does. Shade sails remain fixed over pools and offer less coverage than retractable screens.
A retractable pool shade canopy is another great option, but they're not as adjustable or convenient as motorized pool shades. Canopies can only be fully opened or closed, whereas retractable screens offer a variety of levels and shading options.
Another option for pool shade is the pergola. Pergolas are beautiful, but they are not as adjustable or convenient as retractable screens. Plus, they can be an expensive and time-consuming endeavor to install.
If you're ready to get your pool shade project off the ground, we're here to make your dream a reality. Our team will customize a solution that works best for your space, and we'll handle the installation process so you don't have to worry about anything except getting ready to enjoy a cool breeze while relaxing in the beauty of your pool.