Clay County Motorized Retractable Screens
If you're looking for a solution to the scorching sun of Clay County, FL, look no further than SPF Screens & Awnings and our selection of motorized retractable screens. All of our custom-made screens provide superior sun protection for your outdoor patio, porch, or balcony, creating a comfortable area you and your family can enjoy all year round. Through our offering of various motorized retractable screen systems, our goal is to find the perfect solution for your specific needs. We are confident that our team of professionals can help you find the best solution for your outdoor living space.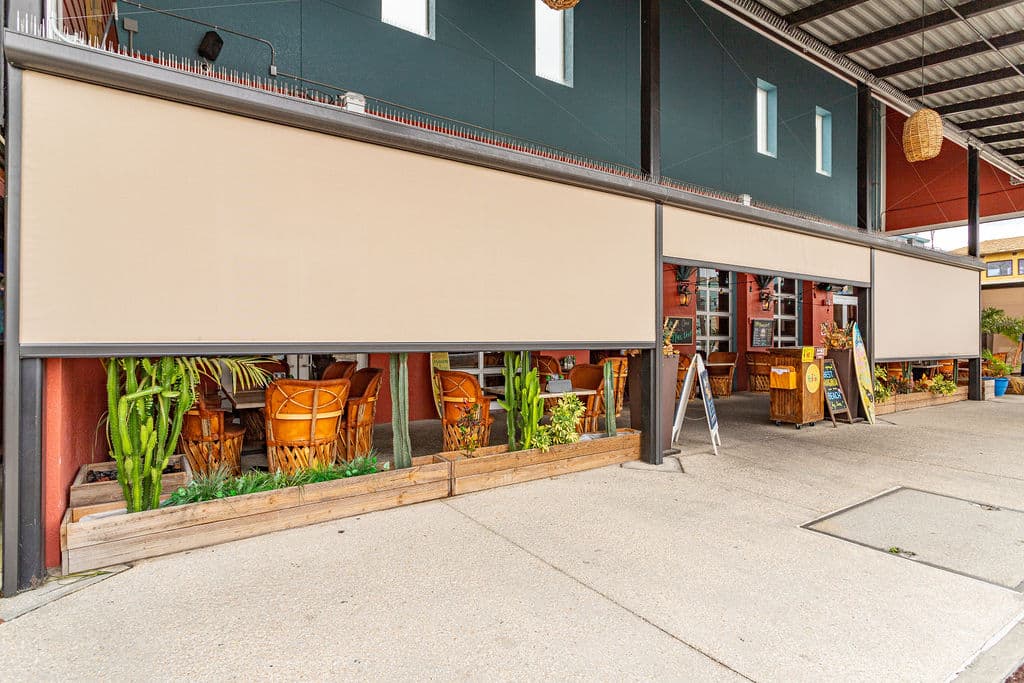 Our Lineup of Retractable Patio, Porch, Pool, and Home Screens in Clay County, FL
Our selection of motorized retractable screens is offered in various styles and sizes, allowing you to customize them to your specific needs. Whether you need to turn your outdoor space into a private oasis, protect your patio from insects and pests, or add security to your home, our screens can do the job. All our products are produced in the USA and made with top-of-the-line materials.
Lanai screens utilize a complete basket-weave vinyl-coated polyester fabric, ideal for transforming your outdoor patio into a comfortable, inviting space. Our material is also resistant to mildew, fading, and tearing, making these screens the perfect solution for Clay County, FL's hot and humid conditions.
If you're looking to bring more comfort and privacy to your balcony, we offer a variety of balcony shades that can be adjusted and customized to your needs. No need to worry about going inside to avoid the Florida weather, all of our balcony shades are made with durable mesh fabrics that provide superior ventilation while protecting against the sun's harsh rays.
Our selection of window and door solar screens provides a secure barrier while allowing natural light into your home. These screens are designed to protect the inside of your home from insects and sunlight while still allowing ventilation for a comfortable environment for you and your family.
Keep your valuables protected from the outdoor elements and transform your garage into an additional living space with our motorized retractable garage solar screens. Contact us today to learn more about our solutions and how we can renovate your garage into a comfortable, secure space.
Privacy Screens for the Pool and Home
Ensure your pool and outdoor areas are kept private while allowing light to come through with our custom-made motorized privacy screens. These screens are designed to create a protective shield around your pool and outdoor areas, keeping away prying eyes and external elements.
Benefits of Installing a Retractable Shade on Your Clay County Home
Installing an SPF retractable solar screen for patios on your Clay County home offers a variety of benefits. Compared to competitors' offerings, we provide superior sun protection and ventilation that will help reduce your utility bills. We are confident that you will be satisfied with your investment results.
By adding a retractable screen to your home, you can rest assured knowing that you have an extra layer of protection from the outside world. Feel confident about your daily activities, knowing you have the privacy and security you need.
The sun of Clay County, FL, can be terrible during peak season, but with our outdoor retractable sunscreens, you will enjoy the comfort of your outdoor space without worrying about the intense heat and UV rays.
SPF sunscreens for patios and other openings of sunlight protect your outdoor furniture, decks, and patios from the hot sun that could fade their color. Investing in sunscreens will save you from purchasing replacements and help you maintain your outdoor space for years.
Our high-quality retractable sunscreens can add value to your Clay County, FL home, making it an excellent option for those looking to sell in the future. Whether you're looking for lanai screens, balcony shades, window, and door solar screens, or privacy screens for the pool and home - all options are attractive to buyers in the housing market, and we have you covered!
Where We Work in Clay County, Florida
SPF has been trusted since 2008, and we guarantee to install the best retractable patio screens throughout Florida and beyond.
If you're located outside the Clay County area, check out our other service areas!
How to Choose the Right Rolling Screen
With so many options for retractable screen systems for patios and outdoor areas in Clay County, choosing the right one can seem overwhelming. At SPF, we ensure that our clients have the most accurate information and product knowledge to make an informed decision. We look forward to helping you protect your outdoor space with the best retractable sunscreens in Clay County, FL.
Contact us for a free quote today!
Determine Where the Screen Will Go

The first step in selecting the right motorized screen for your Clay County, FL, home is to determine where our trained technicians will install it. This will help you decide what type of retractable sunscreens are best for your needs.

It is crucial to understand which type of screen best suits your home at this step, so our team of trained experts is on standby to answer any questions you may have.

Consider Weather Elements

Once you've decided on the sizing and styling of your retractable patio screen, you will need to think about the weather that your screens will be facing. Depending on your needs and the direction in which your home faces the sun, you may need a stronger material for better sun protection or an insect screen for mosquitoes and other bugs. At this time, you will work closely with our design team to determine the ideal protection strength.

Pair Your Screen with an Awning

When putting together the perfect patio experience, it is essential to consider adding a motorized retractable awning for extra shading. Awnings help further protect your outdoor area from the sun and can be perfectly matched with our retractable screens for a complete look.

For further information regarding the best retractable awnings in Clay County, FL, feel free to contact our team, and we will be more than happy to assist in finding the ideal sun protection for your home.
How to Get Your Motorized Retractable Screen
At SPF, we are dedicated to providing the best sun protection for our Clay County customers. Contact us today if you're ready to start living in maximum comfort and convenience with one of our motorized retractable screens! Our team will happily guide you through the entire process, from selection to installation.
Contact Us for Your Free Quote

Get a free, personalized quote for your motorized sun protection product today! Our dedicated experts are always available to assist you with any questions you may have.

With our incredible selection, unbeatable customer service, and competitive pricing, SPF provides the ultimate sun protection experience in Clay County!

Choose Your Roll Screen

Once you've determined the best location for your solar screen, it is time to choose the right product. By providing a full range of sizes and styles to suit any property or project, SPF makes it easy to find the perfect retractable screen for your home. 

Learn more about the different types of sun protection we offer below, or reach out today!

Schedule Your Installation

The last step towards investing in the best sunscreens for patios or any outdoor area is to schedule your installation with one of our experienced SPF team members. Our professional and reliable technicians will work quickly and efficiently to ensure that your retractable screen is installed correctly and safely. Once installed, they can provide further guidance on making the most of your new motorized screen and answer any questions you may have.

Enjoy Your Retractable Screen

Finally, you can enjoy the sun protection and convenience that you deserve with your new motorized retractable solar screens! With SPF, you can always rely on high-quality materials and expert installation for the best sun protection in Clay County.

Contact us today to get started on finding the perfect patio screen or retractable shades for your home!
Get Your Free Estimate Today!
Ready to invest in the best motorized retractable screens for patios and outdoor areas in Clay County, FL? Contact us now for your free estimate, and let us help you find the perfect sun protection solution!
Our knowledgeable team will work with you every step of the way to ensure that your new screen is professionally installed and exceeds expectations.
Get your free quote today!
Frequently Asked Questions About Motorized Roll Screens