Protecting Your Retractable Awning from Weather Damage in Sarasota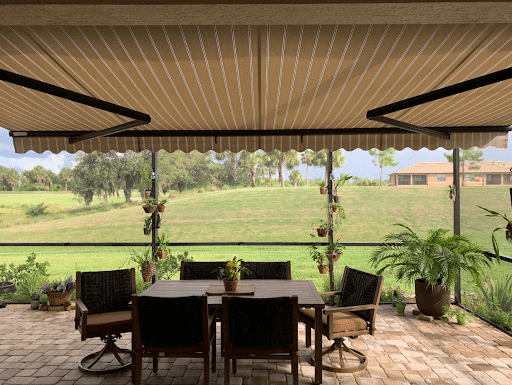 What Type of Awning Should I Use in Sarasota?
The Importance of Choosing a Motorized Retractable Awning
Weather damage from wind, rain, and more can harm retractable awnings. While awnings are designed to be durable and sturdy, they can come in harm's way during inclement weather and damage awning fabric. Motorized retractable awnings offer more protection since the fabric is stowed away when not in use, making it a more effective solution.
Avoid Using a Flimsy Awning or Temporary Canopy
Flimsy awnings and temporary canopies tend to do more harm than good. Wind damage can easily lead to damage, particularly with lighter fabric that can rip easily. The materials are not wind resistant and are therefore much more likely to rip apart. Although perhaps cheaper, flimsy awning and temporary canopy are much more susceptible to damage and will cost more in the long run versus using wind-resistant fabrics.
Weather Factors to Consider
Sarasota weather can be unpredictable, and heavy rainfall and wind are common occurrences. Because the weather can become rough quickly and without much warning, it is extremely important to choose awnings based on weather factors, as they are designed to be durable and provide protection against the elements. Otherwise, it is too easy for awnings to fall apart in heavy rain or wind, ultimately causing more damage.
Wind
Strong winds can damage awnings very easily unless the right materials are chosen. The heavy wind can rip apart the awning's fabric, if it is a flimsy material, and it can cause damage to the structure. Also, if it is not a motorized retractable awning, it is too exposed to the wind and can lead to damage.
Rain
Heavy rainfall can cause a major impact on the awning, particularly to the fabric. Strong winds usually accompany heavy rain, and that can cause damage to the structure and fabric of the awning. In addition, if the material used is not water-resistant, the fabric is more likely to be exposed to the elements which can lead to mold and mildew later on.
How Do I Prevent Damage to My Sarasota Retractable Awning?
Consider Quality When Buying Your Awning
The main aspect to consider when choosing a retractable awning is its quality. Look at the fabric being used, the materials it is constructed from, and what type of resistance they offer to wind and rain. High-quality awnings will be made from UV-resistant fabrics and should also be wind-resistant and water-resistant, depending on the coatings used.
Perform Necessary Upkeep
Retractable awnings do require some maintenance in order to prevent damage in the future. Upkeep for retractable awnings can include cleaning it with a hose and mild detergent. Doing so can help prevent stains and soiling, and awnings should be washed after heavy rainfall to avoid mildew and mold forming.
How Do I Maintain My Retractable Awning in Sarasota?
Clean Your Retractable Awning Regularly
Regularly cleaning your retractable awning Sarasota can go a long way in maintaining it for maximum use. Cleaning your awning should include water and mild detergent, particularly after inclement weather to ensure there is no lasting damage. A regular maintenance schedule can help prevent further damage later on.
Brush Off Leaves and Dirt
Leaves and dirt have a tendency to collect, especially after heavy storms and strong winds. Brushing off leaves and dirt can help protect the fabric from stains and soiling while also ensuring no remnants are left on the awning fabric.
Wipe It Down with Water and Dish Soap
Wiping down your awning with water and mild dish soap can do wonders in removing stains and soiling. Doing so will also give it a nice and clean look. To protect the structure and fabric, it's best to use mild cleaning solutions rather than bleach.
Never Use a Power Washer
Power washers can cause damage to awnings and their fabric and will not do much in terms of maintenance. The best way to clean retractable awnings is by using a hose and mild soap instead of more powerful water sources that could lead to issues down the line.
Take Good Care of the Frame
The frame is one of the most integral components of the retractable awning, which is why it needs to be taken care of. Cleaning the frame is key using water and dish soap and tighten up any loose hardware or screws as needed.
Make Sure Your Awning is Anchored Correctly
An incorrectly anchored awning can lead to a lot of trouble, particularly in times of rough weather. It is crucial to ensure that your awning is anchored correctly and properly secured, and supported in the ground. SPF Screens & Awnings installation takes care of correct anchoring by using wind poles and other measures for maximum protection.
Consider Using Awning Accessories
Awning accessories such as wind sensors can provide further value and help with making sure that you can proactively protect your awning and outdoor space from strong winds and other weather damage. Wind sensors are designed to detect motion and will automatically retreat the awning for you to protect your structure.