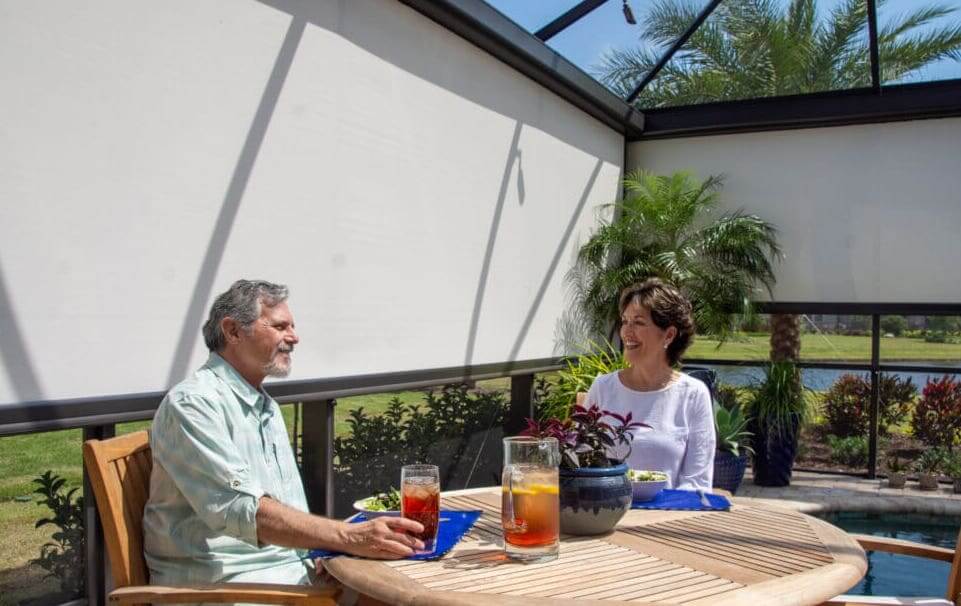 Components of a Port Charlotte Retractable Motorized Lanai Screen
When you're looking for a durable outdoor privacy screen that can withstand harsh conditions and protect your property from the elements, there's no better option than SPF. We've created our retractable products with these needs in mind so they will keep water out and provide reliable protection against sunburns or other pesky bugs.
Protect your home from the sun's harmful UV rays with a remote-controlled solar screen. With just one press of the button, you can lower these energy-saving devices and keep your patio cool in hot weather!
Our sun-blocking products are made with the best materials and built to last. We use heavy-duty parts manufactured in America, ensuring a reliable product for you!
You can create customized motorized shades to fit any space with our in-house designers. Choose from various colors and designs that will seamlessly integrate into both inside areas as well outside ones!
Benefits of a Port Charlotte Retractable Solar Screen
Motorized patio screens can transform any outdoor living area into a comfortable oasis. They allow you to enjoy your backyard without distractions from unwanted light or rain while also transforming it with added style and sophistication!
Get a retractable privacy screen to enjoy your lanai or balcony, even during bad weather. The automatic closure will keep furniture and decor dry, while the motorized design can cool down rooms significantly on hot summer days while blocking harmful UV rays.
With longer days comes an increase in mosquitoes. If you're constantly worried about being bitten while outside enjoying your day or evening activities, then it's time for some retracting insect screens! The motorized screen will keep these pesky bugs out so you can enjoy outdoor spaces without worrying about being bitten.
With the Port Charlotte weather being so hot and muggy most year-round, it is hard to find ways to make your home more comfortable. One way you could do this would be by adding features such as an electric rolling solar screen that provides instant shade when needed and looks great on the outside! The best part about these cool motorized privacy shades? They're versatile enough for use in any outdoor space while boosting curb appeal.
The retractable lanai screen offers you convenience and comfort with protection from the elements. A motorized solar panel helps conceal your patio or deck if neighbors are close by, allowing for privacy when lounging outside on summer nights!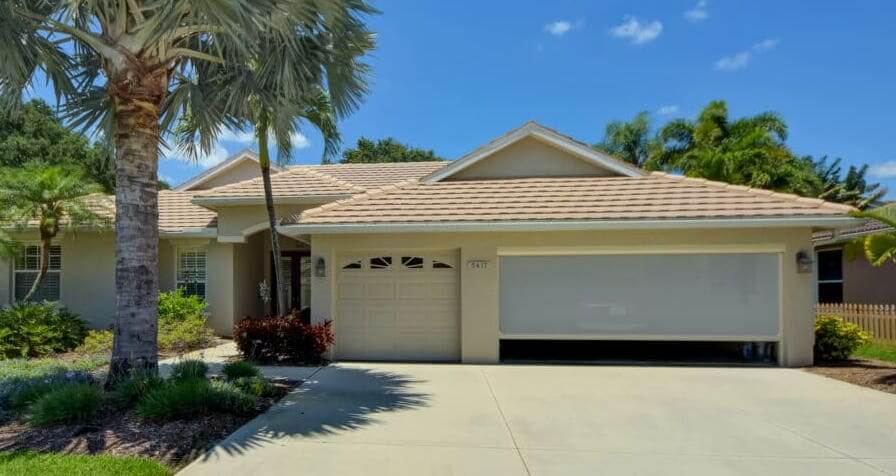 Sun Protection Port Charlotte for Your Motorized Privacy Screen
Sun Protection of Florida is committed to providing you with various options for sun protection. We want your family and friends to be able to enjoy the outdoors and stay safe from harmful rays, so we'll help you get started right away!
We are committed to the satisfaction of our customers. Our ten-year warranty on fabric and five-year mechanical part warranties ensure that SPF will care for you if anything goes wrong with your screen purchase!
We're proud that our dedicated staff has earned five-star ratings from customers. This speaks volumes about how committed we are to providing excellent service, which is why you can trust us with any job - big or small!
With a commitment to quality and low prices, we at Sun Protection of Florida strive for excellence in all that we do. Our headquarters remain in Florida, so you can always count on our local operations.
Outdoor Motorized Privacy Screens
This motorized outdoor privacy screen provides ultimate concealment, the ideal solution for when you need to relax and entertain guests without worrying about being seen by neighbors. The push of a button is all it takes!
The retractable lanai shield protects against sun glare and heat, making it the ideal addition to any Port Charlotte backyard. These motorized shades blend in seamlessly without obstructing views - so you can enjoy its stylish design while still getting all of these benefits!
Retractable Balcony Solar Screens
Why not make the outdoor space at your condo perfect for all seasons? Retractable balcony screens will shade and protect pets from climbing high fences, so they stay safe while outdoors on their porch, and you stay relaxed and comfortable.
Garage Door Insect Screens
The garage is a great place to store things and work on various hobbies. From working out to car restoration, this space is essentially another room in your house; however, pesky little mosquitoes make it challenging because they're everywhere! You can enjoy your garage with an SPF motorized bug screen that allows airflow, privacy, and bug protection.
Rolling Interior Window Shades
Movies are a great way to enjoy time with friends and family, but if you have an open living space that's brightly lit throughout the day, it can be hard for viewers. Thankfully there is now interior window screening like retractable shades or motorized panels which close off rooms during movie-time!
Get Started As Easy As 1-2-3
SPF is committed to providing you with a comfortable space for your family and friends. We have the perfect solution in our wide selection of motorized retractable patio screens, which are sure to fit any budget!
We know that you want to get the best price for your home improvements. We encourage everyone to request a free estimate from us, no matter how big or small their project might be! Our sales team will come out and measure everything to find a customized plan just right for YOU - so don't hesitate any longer...call today.
There are many ways to add instant style and elegance to your patio or balcony. Our talented design team will help you find the perfect option for whatever space needs some upgrading!
When you need a new motorized solar screen, SPF has got your back. We never hire contractors to do the job, which means our installers are experts at getting things done right! They'll come on-site with all of their knowledge, and they know exactly what needs to be done from start-to-finish.
Things to Consider for a Port Charlotte Retractable Motorized Patio Screen
When shopping for a motorized retractable lanai screen in Port Charlotte, don't just focus on the size and style. Make sure you also consider other important factors! Our team looks forward to chatting with you about your needs. Contact us today!
Consider installing motorized screens on your porch, deck, lanai, or patio if you want the ultimate in privacy and peace. These will shield against harmful UV rays and pesky glare from sunshine.
Whether you're hosting an intimate dinner for two or entertaining guests at your expansive backyard barbeque, there is nothing more important than providing adequate protection from the sun. Take care of yourself by investing in quality retractable screens that will stick with you throughout all seasons!
In Port Charlotte, we know how quickly outdoor weather changes, so come prepared - check out your options now.
Your retractable garage door insect screen will last for years with a little bit of care. To maintain its quality and cleanliness, you can use simple techniques that are easy to do yourself!
When you pair our products together, Sun Protection can offer customers maximum protection against the hot sun and rain without having any physical labor or energy. This saves time and money while also creating a relaxing environment for your friends and family. See some of our work here and customers who have both motorized screens and retractable awnings.
Frequently Asked Questions About Port Charlotte Motorized Privacy Screens