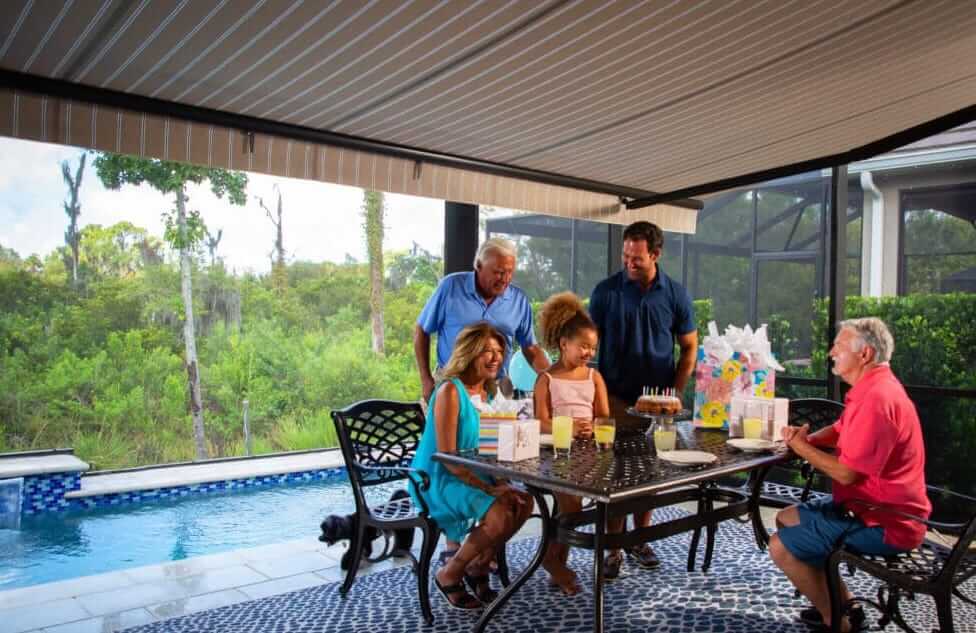 Benefits of a Motorized Retractable Awning in Port Charlotte
A motorized retractable awning is an excellent way to provide shade and protection for your home. It's also great during pop-up rainstorms, making this the perfect addition if you're looking into improving comfort! Many benefits come with installing one of these gorgeous devices.
The retractable canvas roof adds color and contrast to your home's exterior, making it more appealing from the street. A well-chosen retractable awning will give you that polished look everyone is going for these days!
Protects Outdoor Furniture
Motorized awnings provide the best protection for your patio furniture because you can operate them remotely with just one click. These retracting roof systems also help extend life by preventing fading of fabrics.
Retracting awnings are an excellent way to keep your deck, patio, or lanai dry. This is especially true in areas with lots of rain and frequent thunderstorms because it will help prevent water from pooling on the surface.
The wind sensors on our electric motorized awnings are designed to retract the canvas roof system when it senses high winds. This gives you peace of mind no matter what weather comes through!
Retractable awnings are an excellent way to provide optimal shading and reduce the temperature in any area. They can make it much more comfortable for people who want to enjoy the outdoors, especially during the hot summer months!
Features of a Charlotte Retracting Motorized Awning
A motorized retractable awning provides you with many benefits. The convenience and added value it will bring to your home are undeniable, whether you are looking for more outdoor living space or simply extending the use of an existing area like a patio or deck!
Thanks to a retractable shade, the energy savings you could see are worth all of the benefits that a motorized awning provides. Your home's interior temperature will be cooler during those hot days of summer, which is a benefit for your energy costs.
The quality of our products speaks for itself. We only use high-grade materials made in the USA to ensure your awning will last you a long time.
The motorized awning is an innovative, high-quality product that easily retracts and unfolds. When you're ready to enjoy your outdoor space, push the button on this sleek device for smooth operation!
With so many fabric colors and styles to choose from, it is easy when the time comes for you to purchase a custom-fit motorized retractable sunshade. We proudly use Sunbrella fabrics known for their top-quality materials that stand up against fading or damage.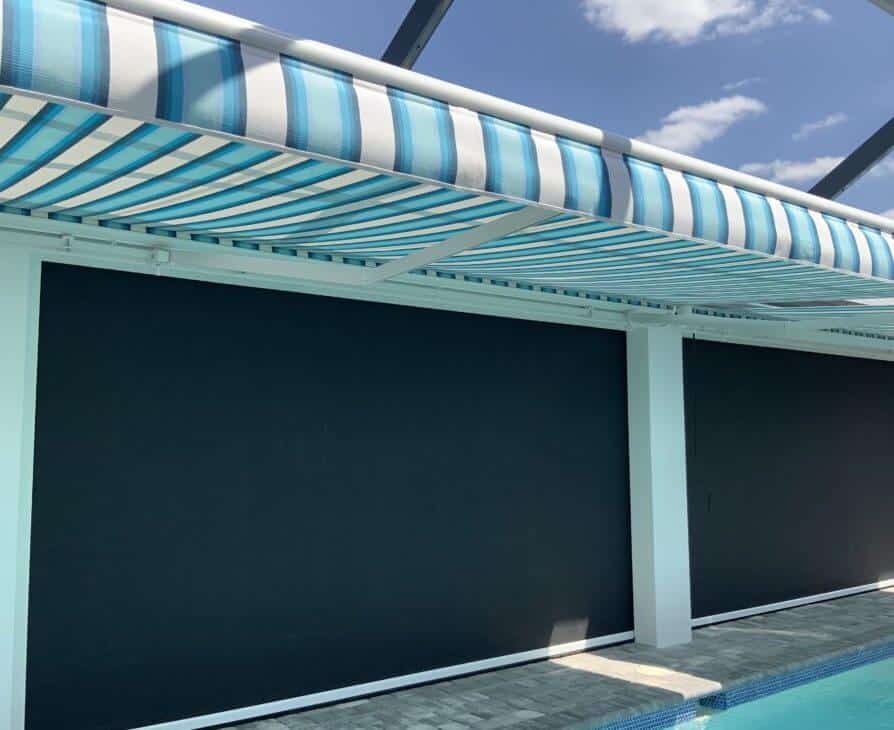 Get Started in Three Easy Steps
We're committed to providing you with an exceptional experience. Our customers have given us five-star ratings, and we work hard at maintaining the best customer service possible! Check out what some of them have to say here.
Why wait? Reach out to us today and schedule an appointment with one of our sales team members. They will measure your home and get you a free customized quote tailored just for what YOU want- all without any obligations or commitments!
We're happy to work with you on creating a custom look for your outdoor space. Whether it's an elegant patio or bustling deck, our talented design team can help bring life and color to your home! We offer various fabrics in timeless styles that will last season after season without wear-and-tear.
Let Us Install Your Awning for You
Relax and enjoy your new motorized awning after our professional installation team completes the job. We never hire contractors, so we guarantee that our team will be there on time with all equipment necessary to complete the job.
Factors to Consider for a Port Charlotte Retractable Awning
Have you been considering the purchase of a retracting motorized patio cover? If so, these factors will help narrow down your options and allow for an easy decision on which awning is best suited to provide shade in any environment.
Protecting your patio from the elements is essential, but it doesn't stop there. Consider a retractable awning for when you need extra shade over that porch door while loading groceries or helping children get inside out of the rain!
The care and maintenance of your retractable awning should be effortless. We recommend cleaning the components every few months.
The weather in Port Charlotte can be unpredictable, which means you never know when a pop-up storm will arrive. A motorized retractable awning will keep your lanai dry and cool at just the push of a button.
Sun Protection of Florida has the perfect solution for you and your family's needs. Our sales team would love to share additional products, such as retractable solar or garage door screens, with you, which can help provide maximum coverage against harmful UV rays!
Frequently Asked Questions About Motorized Awnings in Port Charlotte