North Naples Motorized Retractable Screens
Make your outdoor living space more enjoyable with motorized retractable screens! These screens can protect against the sun, wind, and bugs, making it more comfortable to spend time outside. With the push of a button, you can reduce the amount of sun or wind entering your space or keep bugs out while still enjoying the fresh air. Whether you have a patio, deck, pool area, or other outdoor living oases, motorized retractable screens are a great way to make it more enjoyable.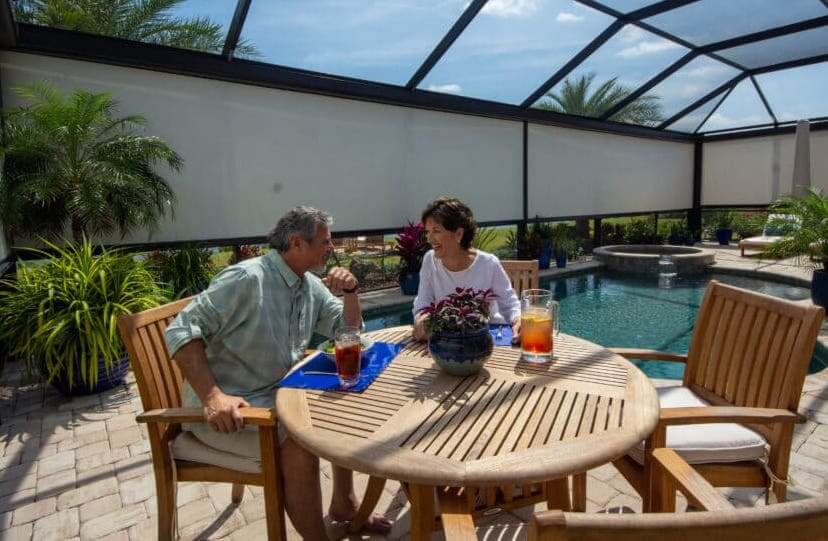 Benefits of a North Naples Retractable Solar Screen
Motorized retractable screens offer numerous benefits. They can keep out pests, reduce glare, and keep your home cooler in the summer. Retractable screens also provide privacy and can be used to divide large spaces.
Adding a retractable privacy screen to your home can increase its value in several ways. First, it can add to the aesthetic appeal of your home, making it more attractive to potential buyers. Second, it can help to increase your home's energy efficiency by keeping out unwanted heat and cold. Both these factors can lead to a higher selling price for your home, so adding a motorized patio screen is worth considering if you're looking to boost your home's value.
Retracting solar lanai screens is a practical way to control the access of light and heat into your home. Our mesh screens block out 97% of the sun's harmful ultraviolet rays, further protecting you and your family.
Retractable insect screens are the perfect way to keep mosquitoes out. They're easy to use and provide unbeatable protection against pesky insects. Plus, they give you the ability to enjoy the outdoors without worrying about getting bitten. So if you're looking for a way to enjoy your backyard or patio without being troubled by mosquitoes, invest in a motorized insect screen today.
Motorized retractable privacy screens give you the privacy you need when you want it. They're perfect for keeping your patio or deck private from nosy neighbors or prying eyes. And, they're easy to use, too! Just push a button, and they roll down, giving you instant privacy.
Retractable recessed deck screens can help protect your patio furniture from the elements. These screens can provide a barrier from wind, rain, and sun, keeping your furniture in good condition. If you have expensive or delicate furniture, it's worth considering a motorized patio screen system.
North Naples Motorized Shade Screen Features
Retractable privacy shade screens have many features you will appreciate. If you seek to create an extended outdoor living oasis or enjoy your deck or patio more, a motorized solar screen is worth considering. Contact us today to schedule your free consultation!
Our retractable insect screens come equipped with a Somfy motor. This motor is durable, whisper-quiet, and made from quality materials that will last for years. Roll down and retract the electric shade screen from the comfort of your seat at just the push of a button.
We are a family-owned business and pride ourselves on our local manufacturing team. Because of these two factors, SPF can keep our pricing competitive and will gladly price match.
When you purchase with SPF Screens & Awnings, you can do so with confidence and peace of mind. We stand behind our products and our team who customize your retractable motorized privacy screens. With that said, there might come a time when you will need to take advantage of our warranties. We confidently offer a ten-year warranty on the fabric and a five-year warranty on the mechanics.
When the retractable patio screen is not in use, it is housed in an aluminum casing that matches your home's exterior. The rolling mesh solar screen remains out of sight until you need it again.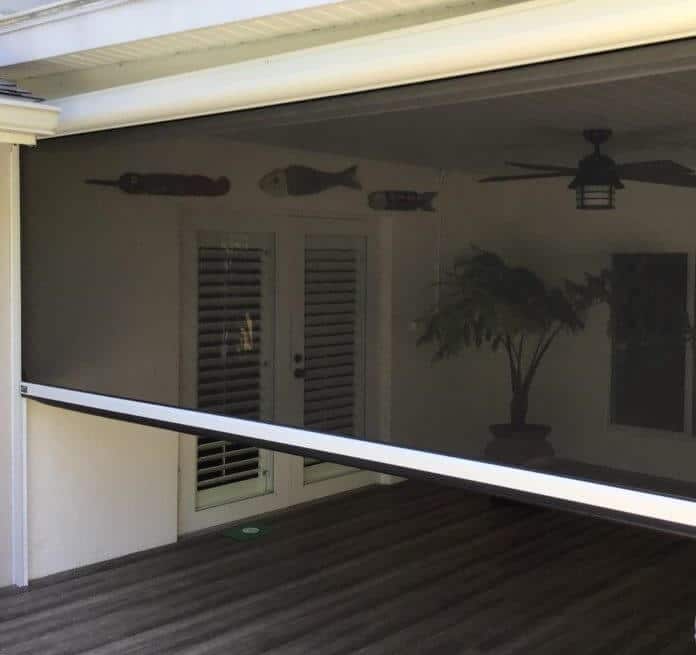 Types of North Naples Motorized Retractable Screens
SPF specializes in customized retractable shade screens, and we are optimistic you will find the best option for your home. Our capable team is happy to help you think through each kind we offer and answer any questions you may have.
Often, homeowners utilize their garages for more than parking cars. They have become a home gym, storage, a place to tinker on hobbies, and more. Garage bug screens are a great addition because the mesh fabric will keep the bugs out and still allow the light to filter through.
An excellent addition to your apartment or condo is a motorized balcony screen. These retracting solar screens allow you to enjoy the outdoors without the hot sun or rain keeping you indoors.
The best way to protect your privacy is with a motorized privacy rolling screen. They're easy to use, and you can choose the height you want to retract. At the push of a button, you will have seclusion to relax and enjoy your patio, pool, or porch.
A retractable lanai shade screen gives you the best outdoor living without the elements keeping you from enjoying the fresh air. Create divided outdoor rooms for more intimate conversation or entertainment.
SPF's motorized interior window screens are a great way to block out the hot mid-day sun glare from your kitchen, office, bedroom, or media room. These retracting screens will cool the interior of your home, which can reduce your energy costs.
North Naples Recessed Screens
A great way to keep out unwanted insects and the annoying sun off your patio is with an outdoor recessed retractable screen. Enjoy your scenic view and fresh air from the comfort of your deck.
Get Started with a North Naples Motorized Screen in a Few Simple Steps
Please don't hesitate to reach out to us when you are ready to purchase retracting solar screens for your deck, patio, porch, or lanai. We are committed to your satisfaction and would love the opportunity to give your home an instant boost in curb appeal and value. Schedule a free consultation here.
Our qualified sales team will help you choose the best locations if multiple screens are recommended for your home. We offer a free quote to anyone interested to see if SPF is the right fit for you.
Part of the consultation process is that our team will walk around your home to help identify critical areas of concern for blocking the sun and rain. SPF is more than just motorized solar and shade screens; we also offer retractable canvas awnings that provide additional coverage on the top portion of your patio, deck, or lanai.
We have a talented team of designers who are eager to work alongside you in selecting the color and style that will compliment your home. Choosing the fabric is often the fun part of the process as we offer a wide selection.
When the day comes for your motorized rolling privacy screen to be installed, our experienced installation technicians will take care of getting your solar shades installed and show you how to operate. You can count on them to treat you and your home with respect and integrity.
Sit back, unwind, and savor your patio or lanai in the shade and without pesky mosquitoes bothering you. Control your retracting privacy screen from the comfort of your chair with our remote-controlled technology.
Why Choose SPF for Your North Naples Shade Protection Needs
We value our clients and look forward to serving you. We are eager to help in any way possible, whether with retractable screen-related questions or just general support issues. Our valued customers have given us a five-star rating we are committed to standing behind. Below are just some reasons our clients love SPF Screens & Awnings. Check out some of our work here.
Frequently Asked Questions about Retractable Screens in North Naples