Importance of UV Resistant Awnings in Miami FL
Those who reside in Miami are well aware of harmful UV rays and the damage they can cause if you don't take preventative measures. Aside from adverse effects on your health and skin, the sun's harmful rays can fade your patio furniture and furnishings within your house. A home with a motorized retractable UV awning for the lanai allows the occupants to enjoy their outdoor space more, entertain longer, and protect themselves from the heat.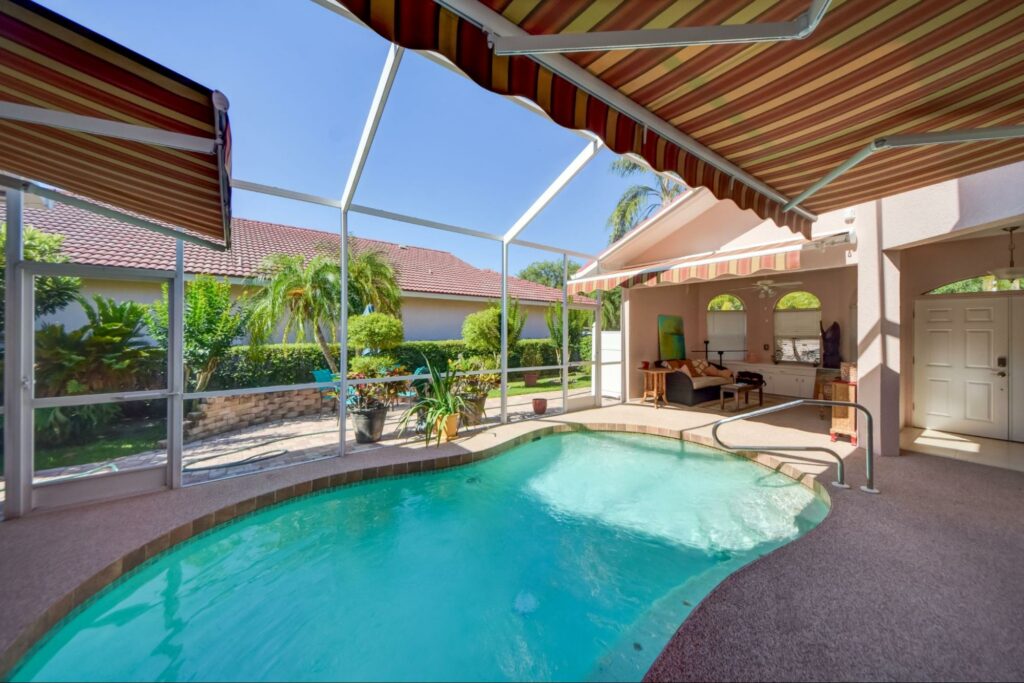 Too Much Sun Can Have a Negative Effect
Without proper protection from harmful UV rays, you are putting yourself at risk for many complications. On the opposite side of the spectrum, vitamin D that the sun provides will boost your mood, improve sleep, and strengthen your bones. As with most things, limiting the amount of time spent in the sun is essential to your health.
Health
Overexposure to the sun's UV rays can result in your immune system weakening. The skin is a line of defense against things like cancer and infections. Too much sun reduces the skin's natural defense ability.
Sunburn
Sunburn is the most commonly known bad effect of too much time in the sun. Typically you will not see the burn until 4-5 hours after exposure.
Damage to Eyes
Unprotected eyes for any length of time can lead to damage to your retina. UV light is also one factor that leads to cataracts.
Heat Exhaustion
Anyone who spends a lot of time outdoors in the hot sun is at risk for heat exhaustion. Heat exhaustion occurs when the body has an excessive loss of water and salt, usually through sweating. Those over 50 are at more risk, but younger people have the possibility of heat rash.
Furniture Damage
Too much direct sunlight on your porch furniture will cause the fabric and structure to fade over time. Darker fabrics will fade quicker than lighter options. Depending on how your home faces the sun, your inside furnishings, draperies, and artwork can be exposed to the harmful rays, and you may see damage occur.
Sun Reflection on Surfaces
Sun glare on surfaces can cause damage to your eyes and make it difficult to enjoy a space depending on the time of day. Those who relax by the pool or lanai are susceptible to the effects of sun glare.
How to Minimize Sun Damage
There are measures you can take to protect yourself from the sun's harmful rays. We encourage you to prepare your outdoor living space by adding a UV-resistant awning to your Miami home to defend against sun damage. At SPF, we offer more than just retractable awnings for your home and outdoor leisure areas. Our sun protection products will give your patio a beautiful yet functional entertaining space.
Retractable Awnings
Adding a
motorized UV retractable awning
to your deck or patio will give you instant protection from the elements. The motorized awning offers a protective barrier from the sun and allows you to enjoy your patio longer and more often.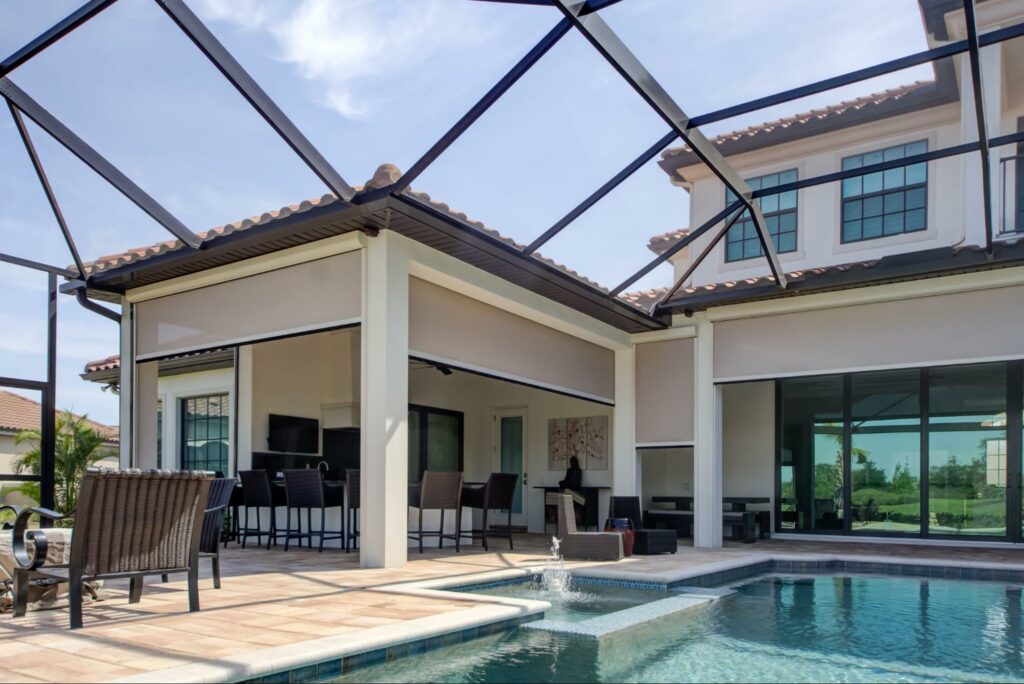 Solar Screens
Motorized
retractable sun screens
will give your home additional coverage from harmful UV rays. You can add motorized screens to your lanai, pool area, and even to large
windows
in your home.
Privacy Screens
If you have a pool at your Miami home, you most likely desire to have privacy from those around you. These roll down
retractable privacy screens
will give you instant cooling and
How to Clean Your UV Resistant Retractable Awning in Miami
A few times a year, you will want to clean and maintain your retractable motorized UV- resistant awning. A few
simple steps
and your Miami UV-resistant motorized awning will look like new.
When you take the time to care for your investment, you will enjoy it for many years to come.
Remove Sticks and Leaves
Before you can wash off any dirt or residue stains on your fabric, you will need to remove twigs and leaves that have collected on the awning roof. Gently remove the debris with your hands or use a kitchen broom to get the hard-to-reach areas.
Use Mild Soap & Soft-Bristled Brush
A gentle soap such as Dawn or Ajax will get most of the dirt and residue removed from the UV-resistant fabric. Avoid using harsh chemicals like bleach, as it will break down the fibers in the canvas that protect against the sun, mold, and moisture.
Bucket of Water or Garden Hose
Once you are ready to rinse the soap and dirt away, use a garden hose or a bucket of water. Use a ladder for the hard-to-reach places, but make sure you have proper safety measures in place. Do not use a power washer as the force can cause damage to the motorized awning fabric.
Removing Stubborn Stains
For hard-to-remove stains such as bird droppings or grease, you can first try using a mild soap and blot the stain with s damp cloth. If the mild soap does not work, use an organic stain remover. Spray the blemish and allow it to sit for about 30 minutes. Blot with a clean, damp cloth.
Common Questions Asked About Retractable UV Awnings
Do You Offer Commercial UV Resistant Products?
We offer motorized awnings and solar shades to businesses in the Miami area as a solution to protect from bugs, wind, rain, and the sun. Restaurants, stores, hotels, and bars utilize our product line to shelter their clients and customers from the elements.
Do You Offer a Warranty on Your Products?
We offer a 5-year warranty on our motorized retractable awnings and screens. If you have a concern about an SPF product, don't hesitate to contact us.
Do You Service Other Areas Outside of Miami?
We are happy to serve many communities in the sunshine state, such as Ft. Lauderdale, Clearwater, St. Petersburg, Cape Coral, Venice, and many
more areas
.
How Do I Replace the Fabric on the Awning?
Over time, you will see the fabric on your motorized awning will begin to show wear and tear. When it's time to have the material replaced, please
reach out
to our team, and we will be happy to help.