How to Prepare for Your Awning Installation
Retractable awnings are great for extending your living space and protecting patios from harsh weather elements and sun damage. They also help keep patios cleaner by keeping out dirt that would otherwise pile up. However, if you want this type of coverage in the future, there's some preparation work needed first! Here we'll look at what needs doing before installing one at home – it may not seem like much, but all these details can make a difference.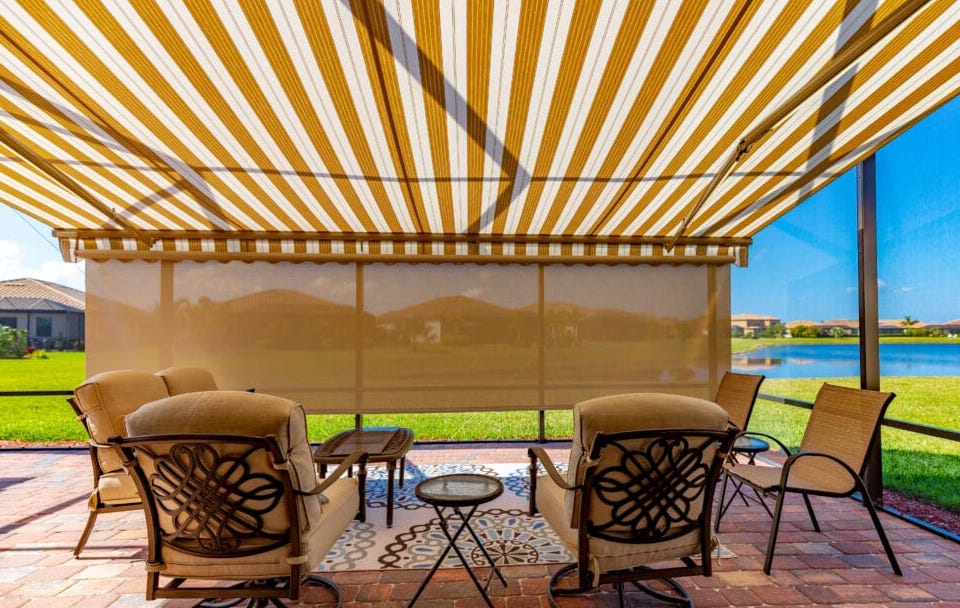 Choosing the Right Location
A motorized retractable awning is a great way to add shade and protection from the elements to your outdoor living space. But before you buy a motorized roof system, it's essential to choose the right location. Awnings are perfect for patios, decks, lanais, and anywhere else you want to create a shady oasis. When selecting a location, consider both the sun and wind patterns in your area. You'll also want to ensure enough clearance for the awning to extend without hitting any obstacles. Once you've found the perfect spot, all that's left is to enjoy the cool comfort of your new retractable awning.
Getting the Correct Size
When shopping for a motorized deck awning, it's crucial to consider both coverage and size. A smaller installation will provide inadequate protection, so make sure the fit is perfect before purchasing! A home consultation can help ensure that everything about your new patio looks great, particularly that you have a size that suits your outdoor entertaining needs.
Selecting a Color That Complements Your Home
Awnings are a great way to add style and function to your home. When choosing an awning, it's essential to consider both the color and the style. The right color can complement your home and landscape, while the wrong color can stick out like a sore thumb. Fortunately, there is a wide range of colors available, so you're sure to find one that's perfect for your home. In addition to color, you'll also need to choose a style. Classic and modern styles are both available, so you can choose the one that best fits your personal preferences. No matter what color or style you choose, a retractable awning will add value and curb appeal to your home.
Before the Retractable Awning Installation
Before the contractors arrive to install your awning, make sure they can easily navigate through all aspects of the yard. Also, ensure no one is in their way while transporting equipment; Clear out any obstacles like furniture or branches that might get stuck during the installation process (pets and children should stay far away too)!
Landscape: Low hanging branches over patios are often a problem. A worst-case scenario is that the tree will shed its leaves and debris onto your canopy, which requires more maintenance from you to keep it clean. You might consider trimming back branches or shrubbery to make room for your new retractable awning.
Arrange Parking: The installers will likely need access to their vehicle during the entire installation process. Be sure to give them plenty of space and arrange to park your vehicle elsewhere if needed.
During the Installation of Your Motorized Awning
Installing a retractable awning is not a complex process, but there are some things that you should take into consideration before the technicians make it a permanent fixture of your home. Double-check where the company will be putting the equipment and tools, and keep that area clear. Also, before they officially install, make sure they attach the motorized awning in the correct space. It would be good to stay out of the way until the retractable roof is in place.
After the Motorized Retractable Awning Installation
Your new retractable awning will make your deck or patio more than functional; it'll be perfect for entertaining guests! The first step is to ask the technician how to operate your new motorized awning. This would be a good time to ask any questions while the installers are there.
Arrange Your Furniture: Now is an excellent time to put your patio furniture and decor under your new retracting deck awning. Make the space cozy and inviting with an outdoor area rug, some tables, and comfortable seating.
Plan a Party: You've invested in your outdoor space to make it more inviting. Now, why not invite some guests to enjoy your patio?
Maintenance Tips to Keep Your Motorized Awning Looking New
Cleaning and maintaining your new retractable awning is simple and can be done in a few easy steps.
Remove loose debris and sticks.
Use mild soap and a soft brush to clean dirt.
Rinse with a garden hose or bucket of clean water
Please do NOT use a power washer. It can damage the fabric.
Now that you know how simple the installation process is, reach out to SPF today to get a free customized quote and get your backyard oasis ready for relaxation and entertainment.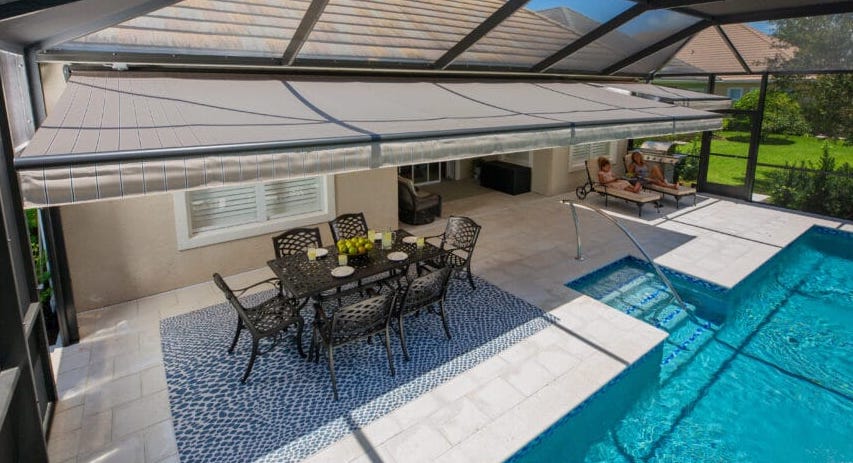 Commonly Asked Questions About Retractable Motorized Awnings
Should I Have My House Power Washed Before Installation?
Cleaning the exterior of your home is not a requirement before the motorized awning is installed. However, if you feel like it would look better, go ahead!
Do I Need to Get a Permit Before I Have the Retractable Awning Installed?
We recommend reaching out to your local city or town hall to find out the rules for installing a motorized awning. Ask if there are any size restrictions or certain types prohibited. Please do not rely on a verbal agreement. Ask for the person you spoke with to put it in writing. In some cases, you will need to pay for a permit, but again, check on the rules in the town you reside.
Will Strong Winds and Rain Ruin the Fabric Awning?
Our retractable awnings are durable and made to withstand the elements. SPF has the option of adding wind sensors, and these sensors will automatically retract the motorized awning if the wind becomes too high.