How to Choose a Retractable Patio Screen in Tampa
Retractable roll screens are a fabulous way to add style, function, and sun protection to your outdoor patio. An adjustable sunshade can be customized to fit your space and offer plenty of sun and weather protection. Retractable solar screens will give your home privacy so you can enjoy your outdoor space anytime. Our motorized screens are so easy to use you will wonder why you waited so long to get one.
Factors to Consider When Choosing Motorized Retractable Patio Screens
SPF Screens & Awnings has many options when it comes to retractable patio screens for your home. We can customize your motorized insect screen to best suit your needs, and our design team is ready to walk you through each step of the easy process.
Where Do You Want Your Tampa Retractable Screen?
The first step is to think about where you want sun and insect protection. Where would you like to spend more time if you could? We can help you customize multiple areas of your home, so don't limit yourself to just one spot.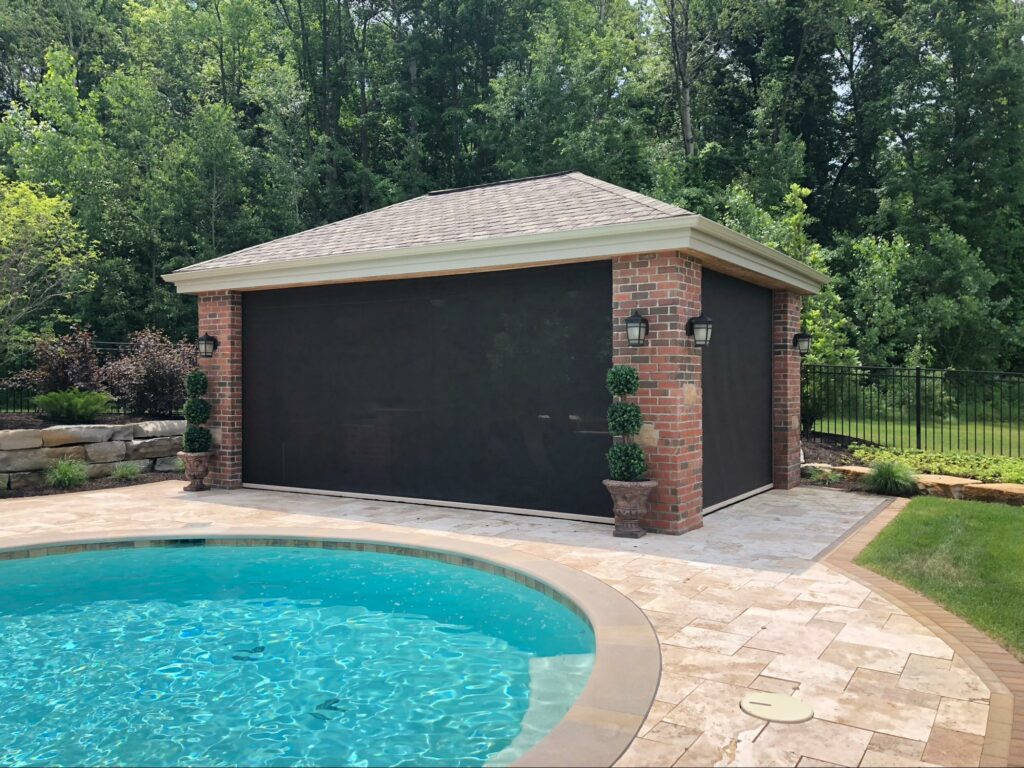 The Size of Home, Patio, Pool Area, or Yard
After you have identified where you would like the motorized solar shade to go, consider the size of your home and yard. We will tailor-make your roll screen specifically for you. You do not want the automatic sunscreen to overpower your space, and at the same time, it should not be too small. Our in-house design team will be of great help to you as you determine these factors.
Primary Use of Motorized Patio Screen Tampa, FL
Retractable lanai screens are a multi-functional addition to your home that you will benefit from in many ways. Motorized porch screens will allow you to use a space in your home that you may have thought was off-limits because of harmful UV rays, insects, or rain.
Blocking UV Rays
Harmful UV rays can cause damage to your patio furniture and make it hard to enjoy your outdoor space. Glare from the sun makes it difficult to entertain guests. Our motorized patio sun shade will block those harmful rays and protect your area.
Insect Protection
Biting insects can make your lanai unbearable. With our retractable bug screens, you can keep the bugs out and appreciate your pool area.
How to Use Retractable Motorized Patio Screens Tampa
Our retractable roll-down screens are so easy to use. At just the push of a button, you can have sun and insect protection. The controller will quietly release or retract the motorized porch screen to the desired length. Outdoor privacy has never been more accessible with SPF's patio enclosures.
Types of Retractable Patio Screens Tampa
At SPF Screens & Awnings, we are proud to offer many different options for motorized roll sunscreens. Each option is fully customizable from the fabric to the size. We are confident that we have the solution to your outdoor space needs.
Lanai Screens
SPF motorized sunscreens are more lightweight than other screens on the market. The rolling screen will give your daytime privacy and keep the glaring sun away. When the retractable patio screens are not in use, they roll up into either white, bronze, beige, white, or ivory casings that blend seamlessly with your lanai.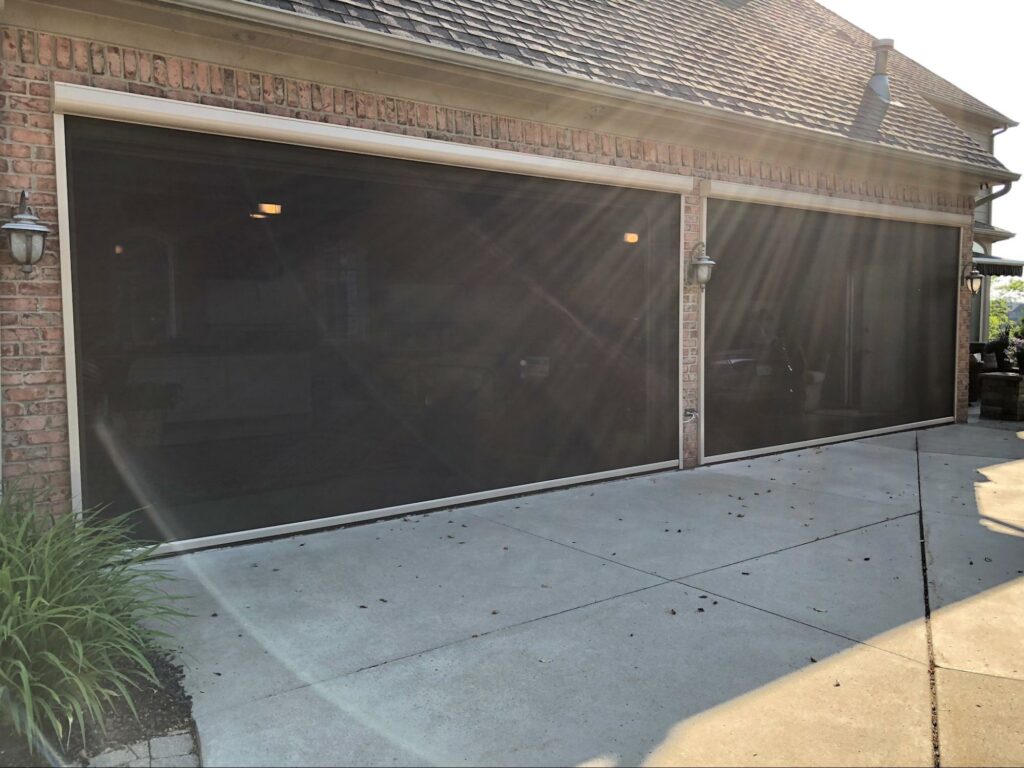 Motorized Bug Screens
Retractable mosquito screens are available in any color and level of transparency you choose. At the push of a button, the motorized screen will lower and retract to your desired length. The insect screen has 50-60% airflow, and when your lights are off, you can see out the screen, but people cannot see inside.
Recessed Retractable Screens
Our motorized recessed retractable screens will give your patio, deck, lanai, or garage the privacy you are desiring. Use the rolling screens only when you need them. When the motorized patio screen is not required, it retracts in a casing that blends in with the space.
Privacy Pool Screens
You, your family, and your guests can enjoy your patio space in private without prying eyes. Our motorized pool screens will protect your furniture from sun damage due to harmful UV rays. These retractable solar shades will cool down your lanai and take the edge off from sun glare.
The Advantages of Motorized Retractable Patio Screens FL
Shade, privacy, and protection from insects are just a few of the benefits of having a retractable solar screen installed at your home. You will add value to your home by creating another living space.
Blocks Dangerous UV Rays
The sun has harmful UV rays that can fade your furniture. With a motorized solar screen, you can protect your furnishings during the hottest part of the day.
Keeps Bugs Out
No one wants to sit outside when pesky bugs are constantly biting and buzzing around. At the push of a button, our rolling mosquito shades will release, and your patio will become a pleasant place to spend time or entertain.
Improves Value of Your Home
Buyers love to see multiple areas of living space.When you install one of our automatic retractable porch screens, you will have an instant increase in your home's value. With a rolling solar screen, you are creating another room for many uses.
Show Your Unique Style
We offer endless possibilities for the fabric, color, and style of retractable solar screens. Based on your design decisions, you are in control of how your motorized lanai or retractactable deck screen will look.
Motorized Retractable Patio Screens vs Manual Retractable Screens
What could be easier than relaxing on your patio and pushing a button to get instant shade and sun protection? A manual retractable awning requires you to stand up and reach high to bring your screen down. Cords and cables can become a tangled mess.
Easy to Use
Just push a button to release or retract your screen, so simple! No need to stand up, stay seated and let the motor do the work.
No Cables or Wires
Our motorized solar screens provide quiet and smooth technology thanks to our efficient, high-tech screen retraction.
Anyone Can Retract and Roll Down Screens
Because our motorized retractable roll-down screen is so easy to use, virtually anyone can operate the screen with no difficulty. Our team will show you how easy our sunscreens are to release and retract at the time of installation
Frequently Asked Questions About Motorized Roll Screens Tampa
What is the cost of motorized retractable screens?
At SPF, we are proud to say that we are family and locally owned and operated. We have an in-house team of installers and designers ready to assist you with five-star service. With all that, we are happy to provide you with competitive pricing. Please reach out to receive your free customized quote.
How do I install my lanai screen Tampa Fl?
We have an installation team trained and ready to install your rolling privacy screen. Our team will be on time, professional, and mindful of your property.
How do I choose a commercial motorized bug screen?
Since Tampa, FL, weather can be unpredictable. We offer many motorized screen options for your restaurant, shop, bar, or cafe. Retractable patio screens or shades come in many color and fabric choices that add style, functionality, and sun protection to your business. Our commercial design team is ready to assist you.
How do I care for my retractable sunscreens Tampa?
You've invested in a retractable patio screen, and you should give the solar screen time and attention to protect its longevity. To clean the motorized insect screen:
Use a mild detergent such as dawn and a soft-bristled brush to remove any debris.
Rinse the soap with a garden house. Never use a power washer as it's too powerful for the solar screen.
If your motor is making a loud noise, please don't hesitate to contact us to access the retractable rolling screen.