How to Choose a Motorized Retractable Screen for Your Tampa Home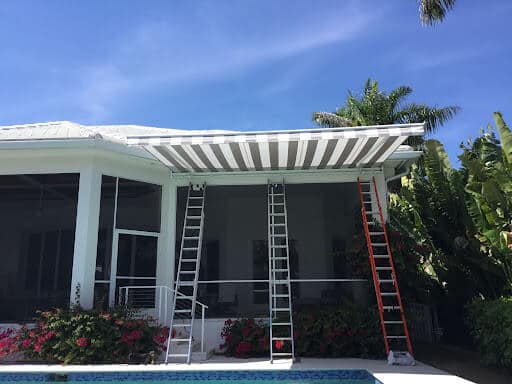 One of the first questions our consultants will ask during your free in-home consultation is "What problem are you trying to solve?" If you are looking for sun protection then one of our motorized retractable sun shades might be the answer for you. You can also protect your home from insects with one of our retractable bug screens or enjoy some privacy with our motorized retractable privacy screen. We have a variety of mesh fabrics to choose from which will determine the best fit for your home.
Deciding Where You Want Your Retractable Screen
Our motorized retractable screens can be installed on your lanai, patio, garage, or pool cage. Our screens easily retract into an encased housing when not in use.
Our experienced consultants will come out and discuss the project with you. They will look at the installation site and take measurements for a seamless installation!
SPF Screens & Awnings is ready to help you find the lanai screen that is perfect for your needs!
Picking Out the Style of Your Motorized Retractable Screen
At SPF Screens & Awnings we custom make your motorized retractable screen. With multiple colors of fabric and hardware to choose from, you will have the ability to match your decor. Our consultants will come prepared to show you all of your options for the best selection to fit your needs.
Considering the Quality of the Screen
Retractable screens from SPF are made of thick, durable mesh and feature industry-leading track technology.  We use a full basket-weave vinyl coated polyester fabric that is thinner and lighter weight than traditional screen fabrics and your choice of top of the line motors like Dooya and Somfy will operate your screen all at the touch of a button
Motorized vs Manual Retractable Screens
While manual retractable screens do exist and are an option for some, SPF concentrates on selling the highest quality motorized retractable screens. With the touch of a button you can operate your screens with ease, no need to pull them down yourself!
Installation of Your New Motorized Retractable Screens for Your Tampa Home
Once you have decided to protect your home from the sun, bugs, rain, or surround your home with some privacy screens our experienced installers will arrive to provide you with five star service.  Our installers are employees and an essential part of the SPF Family.  They complete the circle of your buying experience with us.
Contact Us for a Free Quote
Our customers living in the Tampa Bay Region can receive a free in-home estimate. Contact us online or call our friendly office staff. And if you have friends or family in other parts of Florida, well, we can probably help them too!