How Much Wind Can a Retractable Awning Withstand?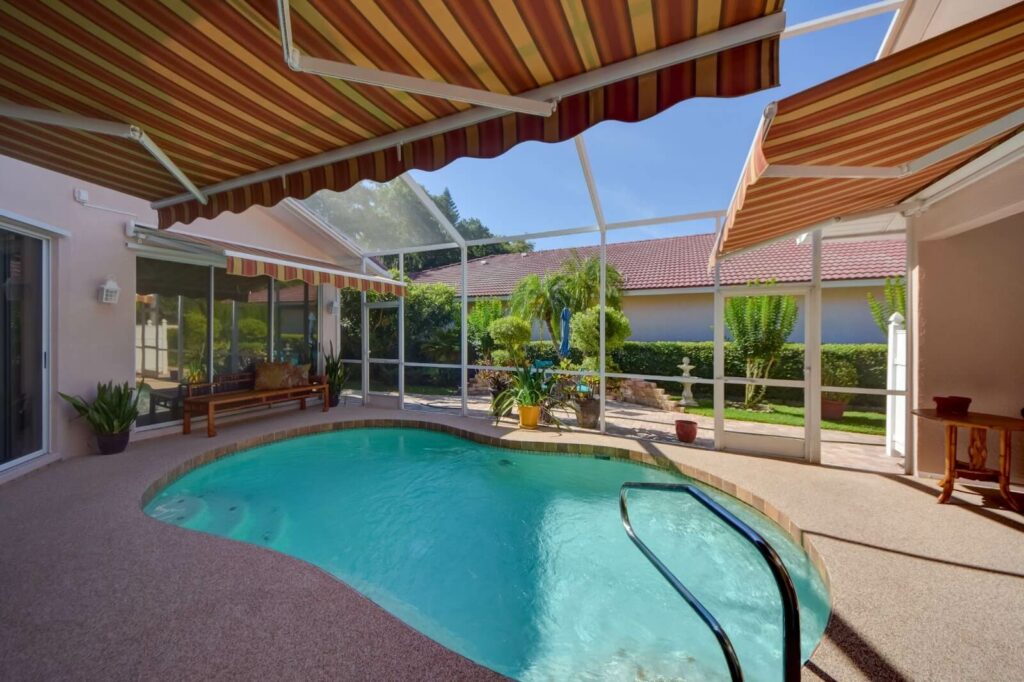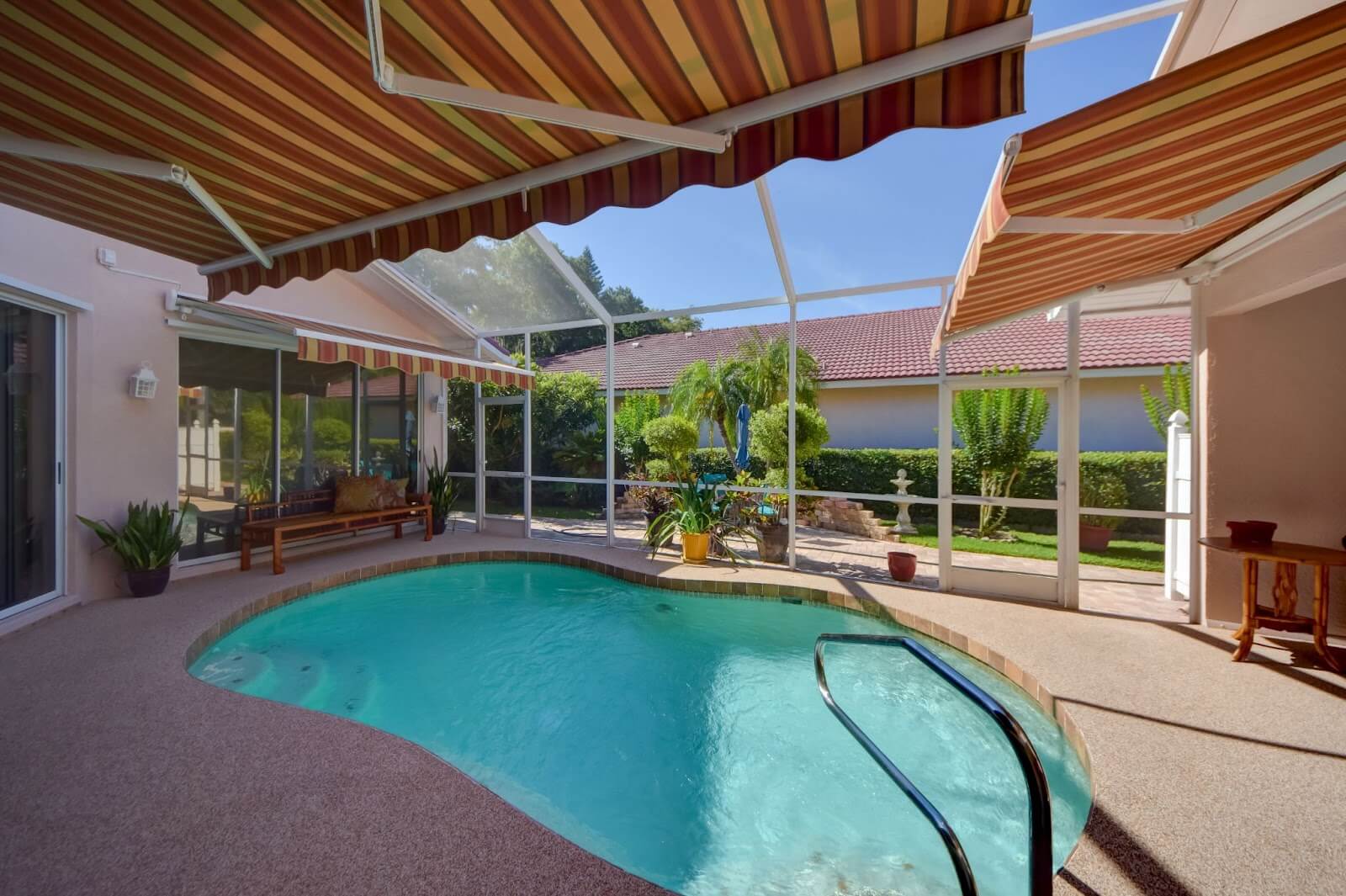 Retractable awnings are designed to endure extended sun exposure and rainy weather, but high winds can be a problem. In some cases, wind can damage or break awnings, so it's important to understand the limits that retractable awnings have, as well as how you can prevent damage.
With that in mind, if you're like many homeowners our team talks to, you may be wondering, "How much wind can a retractable awning withstand?"
High-quality awnings can withstand gusts of wind that exceed 50 miles per hour, according to wind-tunnel tests. While you should always try to retract your awnings on windy days, your awning can usually endure wind levels experienced during mild thunderstorms.
However, retractable awnings should not be exposed to sustained wind speeds higher than 25 miles per hour to avoid irreparable damage. Awning owners should still take precautions and retract their awning if they see high winds in the forecast or winds picking up outside.
Fortunately, retractable patio awning wind damage is usually preventable. There are some easy steps you can take to ensure your awning lasts a long time.
How to Protect Your Retractable Awning From the Wind
Our retractable awnings are built to last, but you should take steps to protect an awning in wind conditions that could be damaging. Here's what you can do.
Retract Your Awning When It's Windy
The most effective way to protect your retractable awning from the wind is to retract it before the wind starts. Compared to a standard canopy, a retractable awning will give you an advantage when it comes to preventing wind damage; by simply retracting your awning, you can keep it secure against your house, limiting its exposure to high winds.
Our retractable awnings are remote-controlled so you can safely, quickly, and conveniently retract your awning without exposing yourself to the elements.
Plant a Windbreak
If you live in an area that is particularly prone to high winds or you are worried that you won't always be able to retract your awning in time, you could protect your home and your awning by planting an awning wind break.
A windbreak simply entails a row of trees or bushes that act as a wind barrier. When the wind hits the windbreak, the full force of the wind will not impact your awning, preventing damage.
In some cases, other features such as garden sheds or high fences can serve a similar function.
Install a Wind Sensor
No matter how much you check the weather, wind can still surprise you. An awning wind sensor can detect real-time motion and wind activity to inform you of the risk of wind damage. In some cases, you can even equip a wind sensor directly to your retractable awning and program it to automatically retract if there is any danger of high speed winds.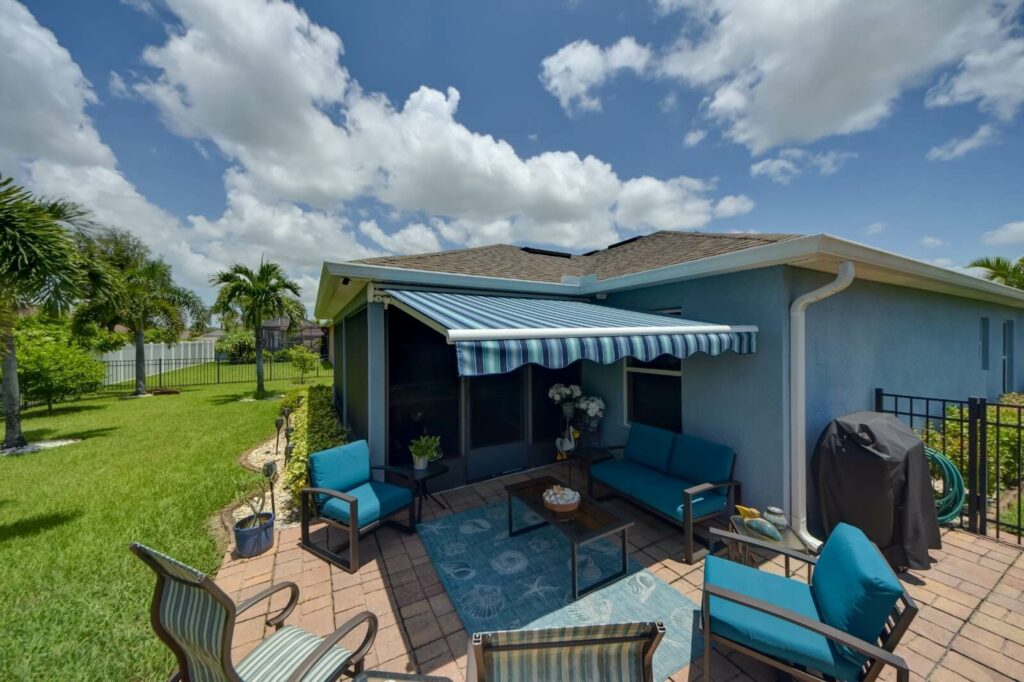 Signs that Wind Conditions Could Damage Your Awning
You may find it difficult to determine if the wind outside poses a threat to your awning. It is often best to simply retract your awning in advance of inclement weather, but you can also look out for the following signs to determine if you need to retract your awning.
Tears and Holes
If you see new holes or tears in the fabric of your awning when it is windy, the wind is definitely too much for the awning to withstand. It is important to be aware of this moving forward, as well, so you can be proactive and retract your awning in advance.
Flapping and Squeaking
Most winds will cause the fabric of your awning to flap, but if the flapping is loud and continuous, that could be a sign that the wind is too intense. Similarly, high winds can cause the structure of the awning to shift and squeak, which can be a sign that you should retract it before it gets damaged.
Your Wind Tolerance
While this can be subjective, if you are uncomfortable sitting outside in the current wind conditions, chances are that your awning should be retracted. Since you won't be sitting outside under it anyway, retracting your awning at this point is always a good move.
Ready to Get A Retractable Awning of Your Own?
Use our self-scheduler to schedule a free consultation today.
Make an appointment