Your Guide to Picking an Awning Color in Miami
Adding a motorized retractable awning to your home is a great way to add function and style to your patio or deck space. With a retractable roof attached to your home, you add another area for entertaining and spending time with your family.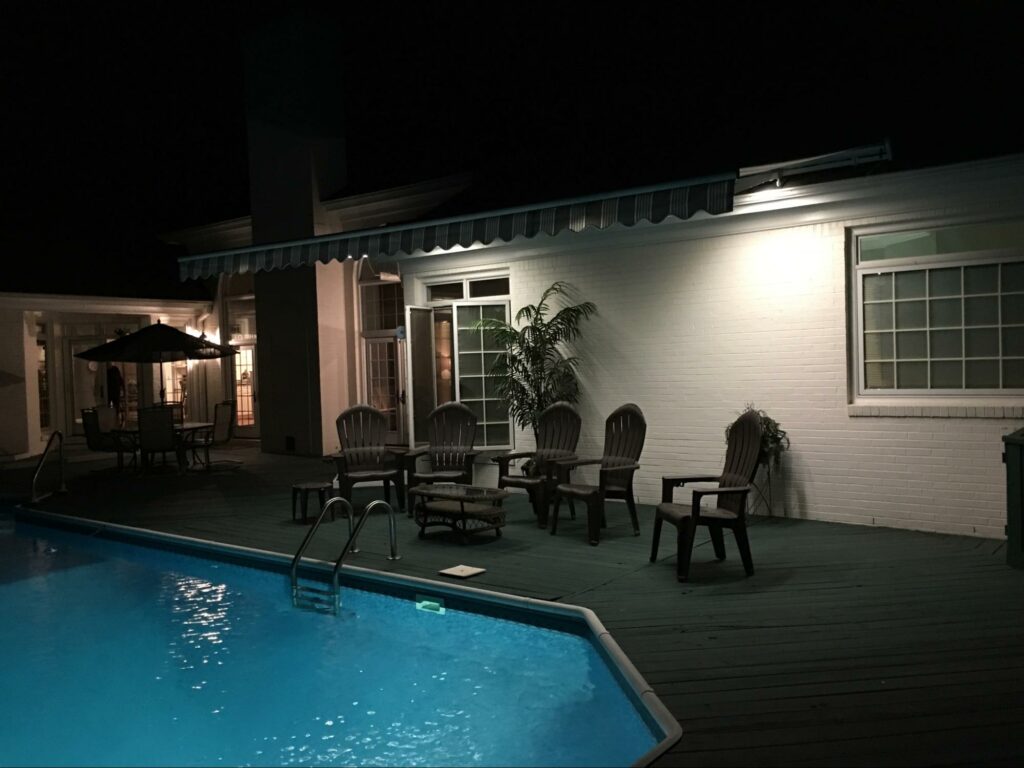 How to Choose the Right Fabric for Your Exterior Retractable Awning Miami
You will want to consider multiple components before you decide on the fabric and style of your awning. We are excited to offer the expertise of our design team to help guide you through this step.
Color and Style of Your Home
Is your home traditional or modern? The color of your home will be the main factor when choosing the fabric type and color. You will have a variety of fabric choices that best suit your house.
Garden, Yard, Pool, and Patio
Take a look around the landscape of your home. Do you have a pool? Do you want complete shade protection for your entire patio? Do you have large trees or bushes in the area you wish to put the awning? You will want to consider anything that could get in the way of the shelter and cause damage down the road.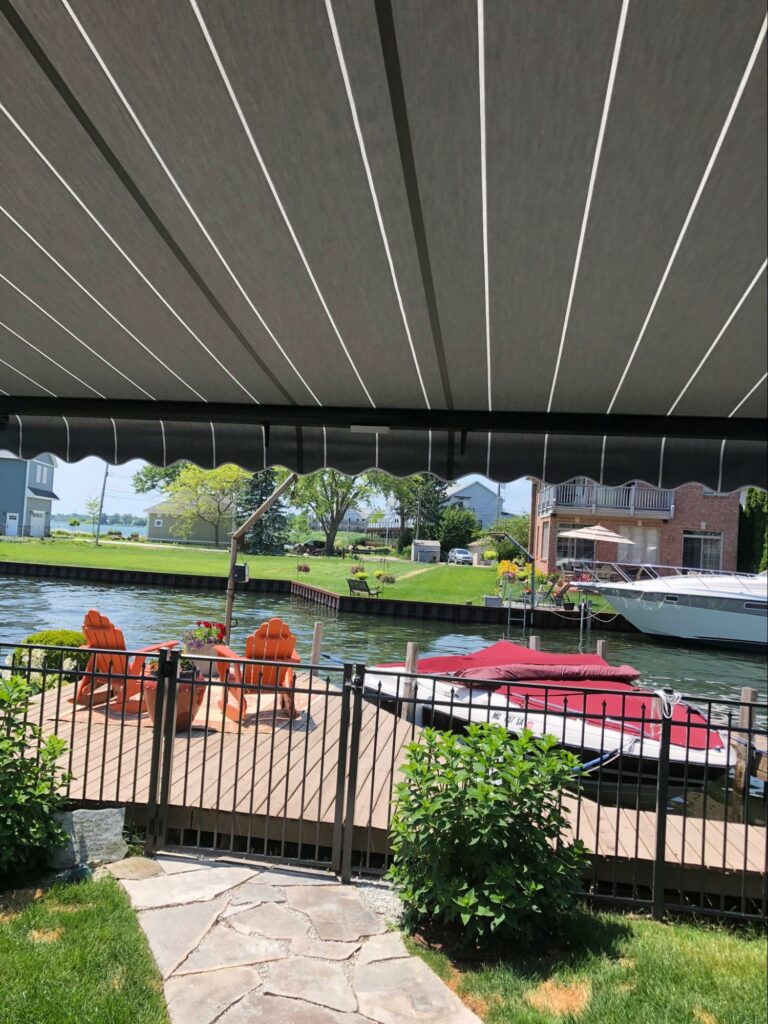 The Weather in Miami, FL
The weather in Florida can change quickly. Do you live by a body of water? Are you prone to heavy winds? Certain fabrics will hold up longer depending on the weather.
What Kind of Fabrics are Available for Your Retractable Roll Awning
There are multiple fabric options that you can choose from when it comes to styling your motorized retractable awning. Each of these options will provide you with sun coverage, protection from rain, and style to your patio space.
Canvas
A canvas awning is one of the most popular fabric choices for retractable roll awnings. Canvas does offer plenty of protection against the elements but will not hold up as long as other fabrics. The one disadvantage to canvas is that it often needs to be replaced more frequently.
Cotton
Cotton is another option that has a special coating that is resistant against fire, water, UV rays, and other kinds of damage. Cotton is not used as much as the others for retractable roofs because even with the special coating, it is still vulnerable to moisture and mustiness.
Acrylic
Acrylic fabric is lightweight, durable, resistant to mold and rust. Because of these factors, acrylic is more favorable for motorized retractable awnings over many other materials.
Polyester
If you are in an area that is prone to receiving a lot of rain, polyester might be a good choice for your motorized awning. It is waterproof, does not leak, coated in PVC, and is durable. The one downside of polyester is that it fades quicker than other fabrics.
Sunbrella Fabric
Sunbrella Fabric
is one of the favored fabric choices for retractable awnings. Sunbrella puts a UV coating on the fabric to protect against excessive sun damage. The coating is also a safeguard against mold and rust. At SPF Screens & Awnings, we highly recommend Sunbrella Fabric to all our customers for its superior performance and durability for our motorized retractable awnings.
Benefits of Motorized Awnings for Your Lanai FL
Adding a
retractable roll awning
to your home will deliver many advantages. You are gaining an additional space to enjoy the outdoors, protecting your patio furniture, and adding value to your home.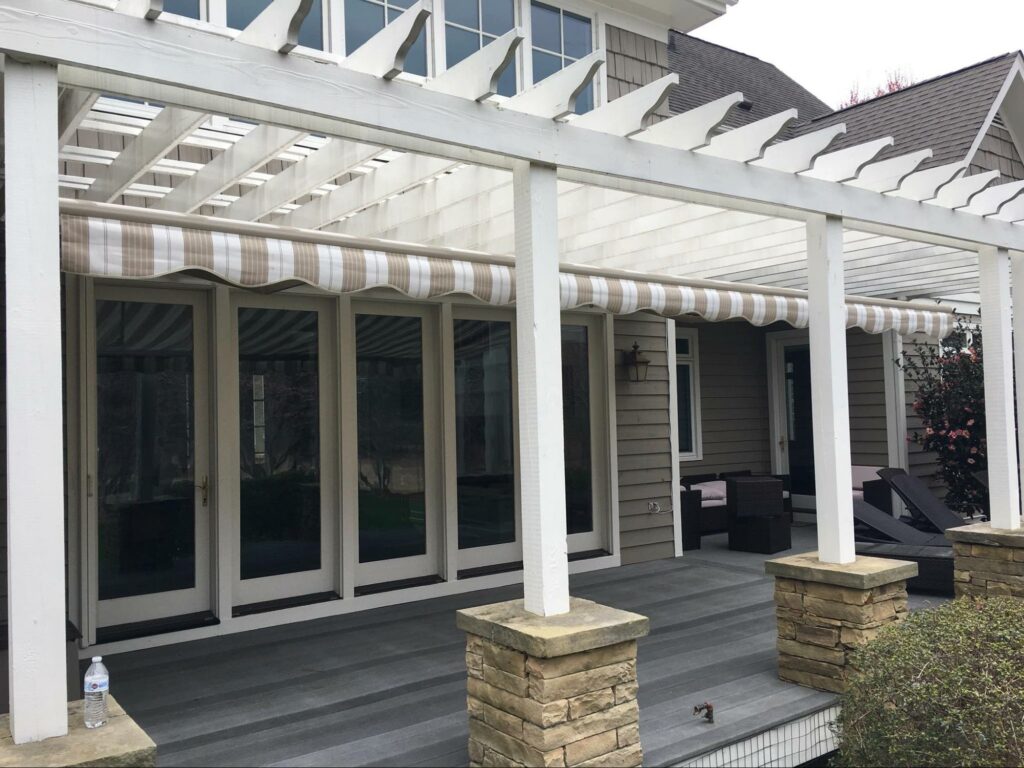 More Enjoyment of Outdoor Space
The hot sun often makes it difficult to enjoy your patio, and you don't get to appreciate your deck as much as you'd like. With a motorized patio awning, you will have shade from the sun and protection from the rain. There will be no need to move the party inside if a pop-up rainstorm arrives as it often does in Florida.
Blocks Harmful UV Rays
We all know that sitting in direct sunlight can cause damage to your skin. You can still enjoy your outdoor space under a motorized awning without the unhealthy damage of UV rays beating down on you. The Skin Cancer Foundation approves each of our roofs for 99% UV protection.
Protects Deck Furniture
The sun's UV rays can damage your patio or deck furniture, causing it to fade. A motorized roll awning will protect your furnishings from the harmful sun.
Adds Style and Function to Your Home
With the retractable awning attached to your home, you're adding a functioning room to your home for entertaining or relaxing. With many fabric choices available, you can add instant style to your house.
How to Maintain a Motorized Retractable Canopy System Miami, FL
Depending on the fabric you have chosen for your retractable roll awning will determine the amount and type of care needed to maintain your awning fabric. Consider the maintenance required as you decide.
Mild Soap and Soft-Bristled Brush
When it's time to clean the fabric roof of your retractable awning, use a mild soap such as Dawn or Ajax along with a soft-bristled brush to wipe the dirt away gently. Rinse the soapy water off with a garden hose. Do not use a power washer. A power washer is too powerful for the fabric and can cause damage.
Retract When Not in Use
When you are not using the motorized awning, it's a good idea to retract it into the casing. Retracting your awning will keep debris and animals off the roof.
Keep Debris Off the Fabric Roof
You can expect to find debris on your fabric awning roof, especially if you have tall trees nearby. Take a soft-bristled broom to remove sticks and leaves as they accumulate gently. It would be best if you did this regularly to protect your motorized roll awning.
Inspect Your Retractable Awning Fabric
If you inspect your retractable awning more often than not, you can stay ahead of costly repairs down the road. Look for tears or holes and reach out to us for advice on how to fix those.
Frequently Asked Questions About Retractable Patio Awnings Miami
How Do I Replace the Fabric on my Awning?
If anything should happen to the fabric of your retractable deck awning,
please get in touch
with us to give you options for fabric replacement.
Can I Use a Power Washer to Clean the Fabric Canopy?
You should not use a power washer to clean the awning fabric. It's too powerful and can cause damage. A garden hose has just the right of pressure needed to rinse the awning appropriately.
Can Animals Damage the Canvas on My Motorized Retractable Awning?
Animals can wreak havoc on your retractable patio roof. Squirrels and birds are the most common culprits.
Can Heavy Winds Rip the Textile Deck Canopy from the Frame?
It's best to retract your awning during windy days to reduce the risk of damage to your awning.