Caring for Your Retractable Awning in Tampa
The Importance of Caring for Your Retractable Awning Tampa
Taking care of your retractable awning is critical if you want to keep your investment around for the long term. When you take the time to inspect and care for your motorized awning, you will save yourself time and money. Just as you would care for your outdoor furniture, your motorized retractable awning will need the same level of care.
Common Problems for Tampa Motorized Awnings
The heat, humidity, and wet weather conditions that Tampa experiences can cause some damage to your retractable awning if you don't take the time to inspect and clean it. The weather can be unpredictable. One moment it can be hot and humid, then the next minute, a pop-up thunderstorm rolls in.
Dirt and Debris
Over time, sticks, dirt, leaves, and bird droppings can collect on your awning roof. If these items are not removed, the fabric will become damaged.
Mildew
At any moment, a thunderstorm can appear in Tampa. If you're not cautious about allowing your awning time to dry before retracting, mildew can become an issue on the fabric.
Tears
Large sticks, branches, or even animals can cause tears or holes in the retractable awning Tampa. Promptly removing the sticks and branches can prevent the fabric from tearing.
Rusty Frames
Your frame is an essential part of your awning structure. If it becomes rusted, you are at risk for further damage. Rust shows up when moisture and humidity are present, which are very common in Tampa.
How to Clean Your Motorized Retractable Awning Tampa
About once a season you should clean your retractable awning on your residential home. If you have a commercial awning, you'll want to wash it more often. Here are some recommendations on how to properly clean your motorized awning.
Cleaning the Topside of Your Awning
The top part of your motorized awning can see the most wear and tear as it is exposed to the elements more. It's also easy to ignore because the dirt and debris are mostly unseen.
Gently Sweep Off the Awning
With a soft-bristled broom, sweep the loose dirt and small sticks off the top part of the awning fabric. Using a ladder, safely access the part of the fabric you cannot reach with just the broom.
Use a Mild Soap
Using harsh soaps and cleaners will cause more harm than good when it comes to cleaning the fabric. Use a mild soap such as Dawn or Ajax for cleaning dirt that will not come off with a broom. Use a soft-bristled brush with mild soap to remove stains.
Use a Hose or Bucket of Water to Rinse
A garden hose or bucket is all that is needed to rinse the soap and dirt from the awning. Keep your safety in mind if you use a bucket and ladder. Make sure that you have someone helping you at the bottom of the ladder.
Do Not Use a Power Washer
A power washer is not a shortcut to cleaning your motorized awning. The pressure and speed of water that comes out of a pressure washer is too forceful for the fabric and could cause damage to your awning frame as well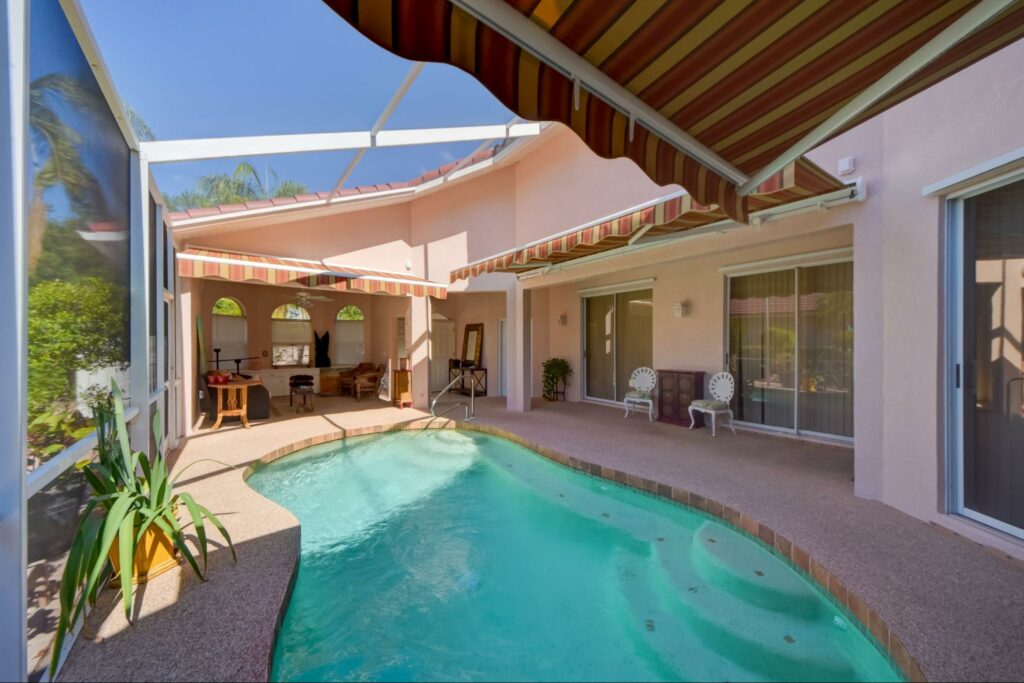 Cleaning the Underside of Your Awning
You will see more of the underside of your awning, so that cleaning stains will be easier. You are more apt to see blotches from grease or sprays, bugs, or dirt here.
Clean the Underside in the Same Way
You clean under the fabric the same way you tend to the topside. Use a soft broom to remove loose debris, clean stains with mild soap and brush, and rinse with a garden hose or bucket.
Pay Close Attention to Grease or Sprays
Sunscreen oil, bug sprays, and cooking sprays can collect on the underside of the retractable awning. The mild soap and water mixture should easily remove these blemishes.
Other Common Retractable Awning Issues
Dirt and debris are common items that need cleaning from motorized awnings. There will be times when your canopy has other elements that you may need to remove.
How to Remove Stains from Your Retractable Awning
Fruit from trees, algae, mildew, and leaves can leave lasting blemishes on your fabric if you don't take care to remove and clean right away. For these stains, you can use an organic stain remover on the stain. Allow the stain remover to sit for 30 minutes, then gently clean the area and rinse thoroughly.
How to Remove Bird Droppings from Your Retractable Awning
Bird droppings will usually have a berry stain mixed in. You will want to remove the bird dropping first, then tackle the berry stain. Use a plastic spoon to scrape off the bird waste. Next, use a mild soap and water mixture and use a soft cloth to blot the stain. Blot with a dry cloth and repeat this process until the stain is gone.
How to Get Rid of Rust on Awning Frame
If rust is not taken care of immediately, it can eat away at your awning frame over time. You can use a steel bristle brush or sandpaper to remove it, but it will likely damage the paint. Contact us if rust is a concern on your awning frame.
Routine Care for Tampa Motorized Retractable Awnings
When you follow a few essential care tips for your retractable awning, you will increase the longevity of your awning and avoid expensive repairs.
Spot Clean on a Regular Basis
One way to stay on top of your awning cleaning is to wipe up messes as they happen. If you see a stain, cleaning it sooner rather than later is essential for the spot not to leave a lasting blemish.
Remember to Retract Your Awning During Inclement Weather
When your area is forecasting rain or inclement weather, it's best to retract your motorized awning. Ensuring the fabric stays dry will help eliminate the possibility of mold or mildew.
Avoid Using Chemicals When Cleaning
A mild soap such as Dawn is all you need to clean the fabric of your motorized awning. Over time harsh chemicals will cause damage.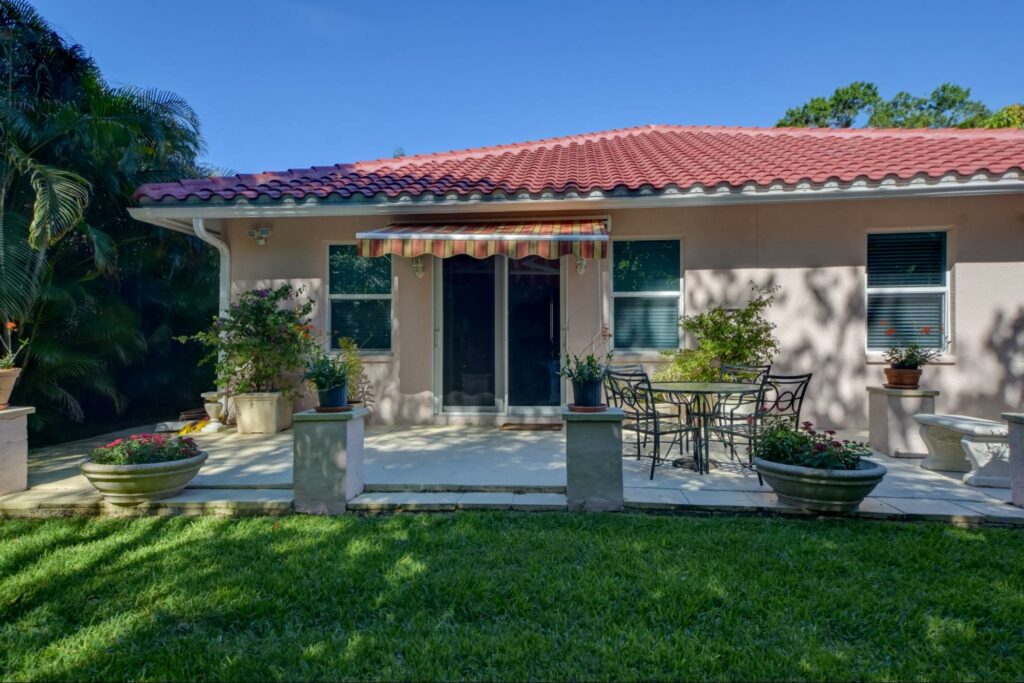 Trim Any Nearby Bushes or Trees
Keep shrubbery or trees surrounding your retractable motorized awning trimmed and maintained so branches do not hang over your awning. When you prune the landscape, you can help prevent limbs from collecting on the top side of the awning.