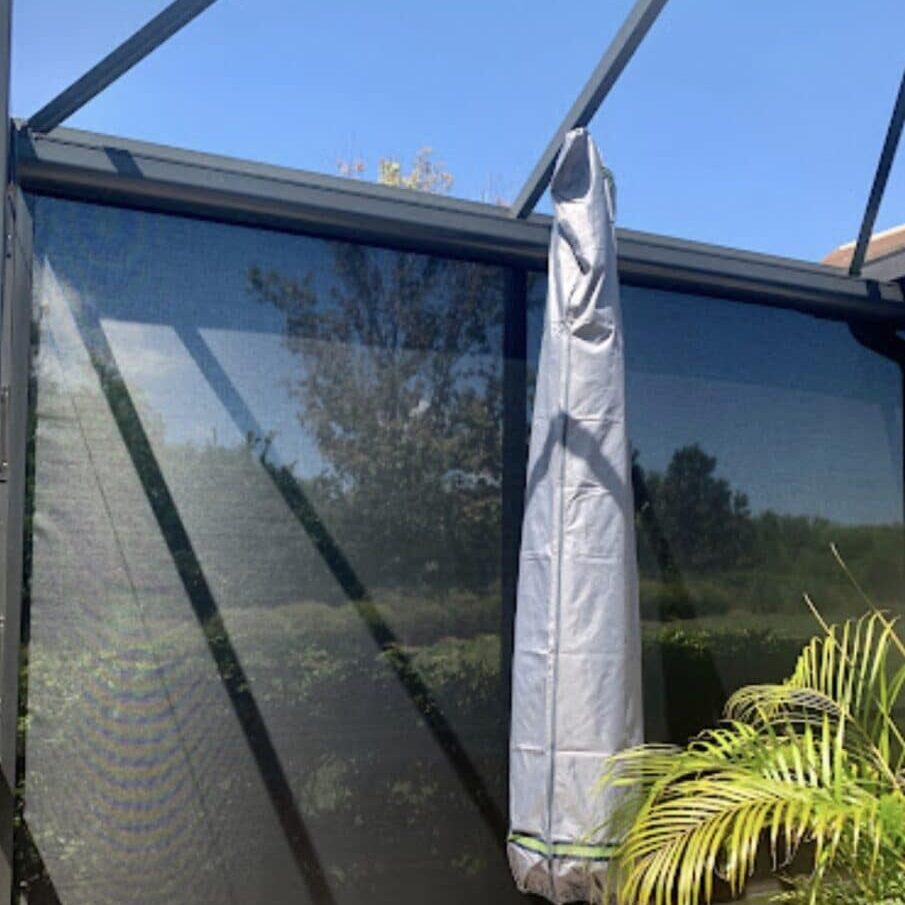 Mark provide exemplary customer service and is an asset to SPF. Highly recommend Mark and SPF!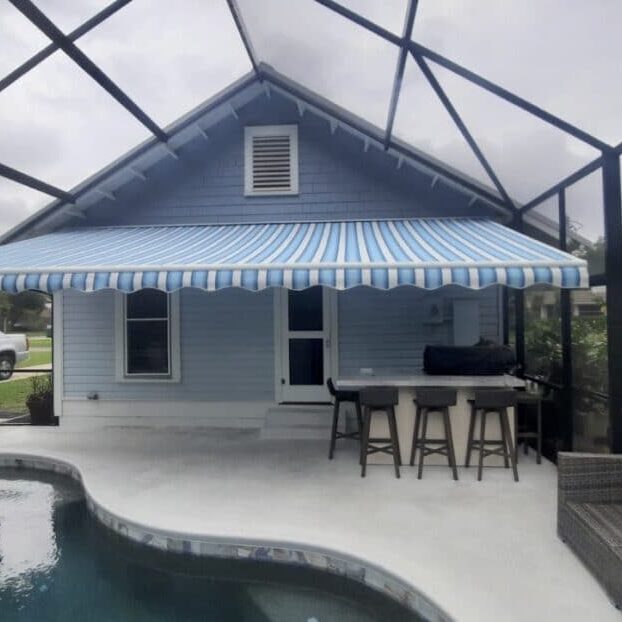 Thank you SPF! I love my new awning! From the color to the ability to adjust the angle as well as the LED lights, everything is perfect! A special "shout out" to truck #7, Chris D. and Dinner (yes, that is his name.) They were fabulous in the installation, taking their time, and being professional. Well done SPF!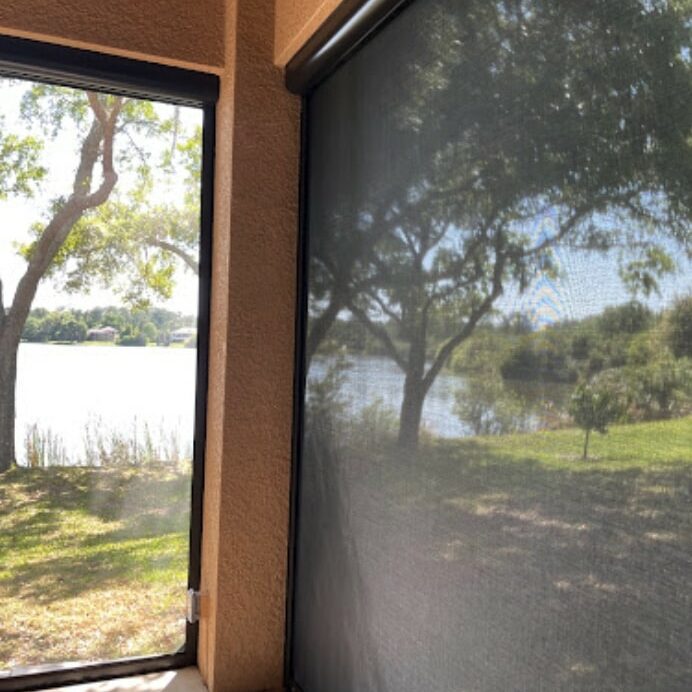 I called SPF and Mark followed up a couple of days later. He not only took care of the problem, he explained to me how to lower the screen during high wind and also gave me some maintenance tips. I am very happy with SPF and would strongly recommend them to others.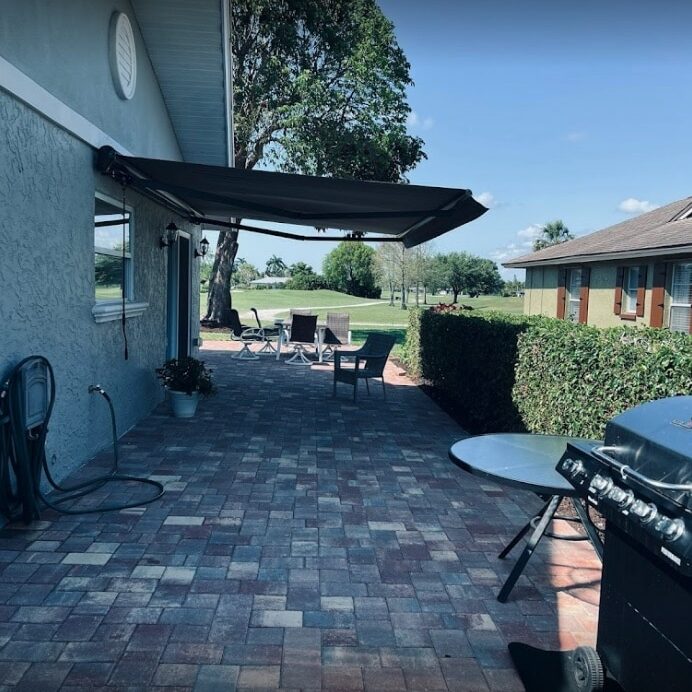 Very large awning -16x10- they were challenged by the structure of the house but only wanted to do it the correct and safe way - awesome team headed by a young man named Chris - totally worth every penny!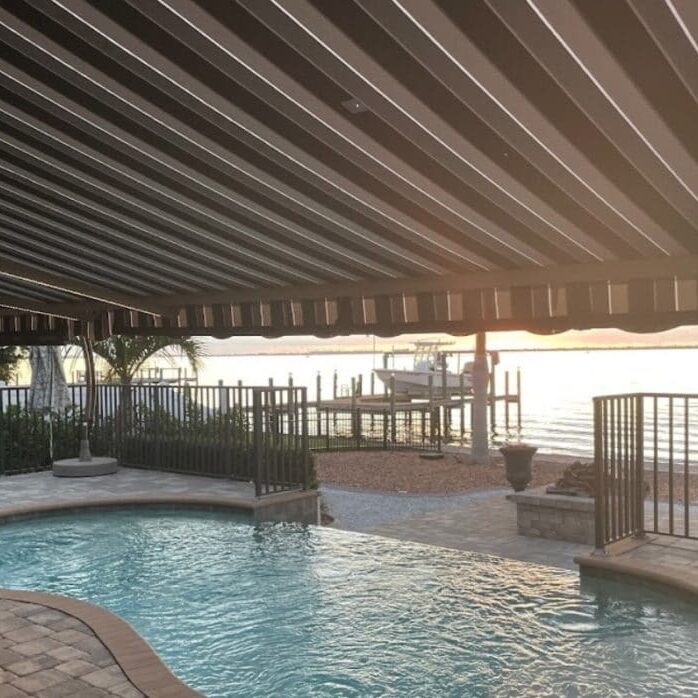 I just bought my second electric awning from SPF they custom-made me a 40 foot long five arm awesome electric awning with lights. Mark Heisig did a awesome insulation!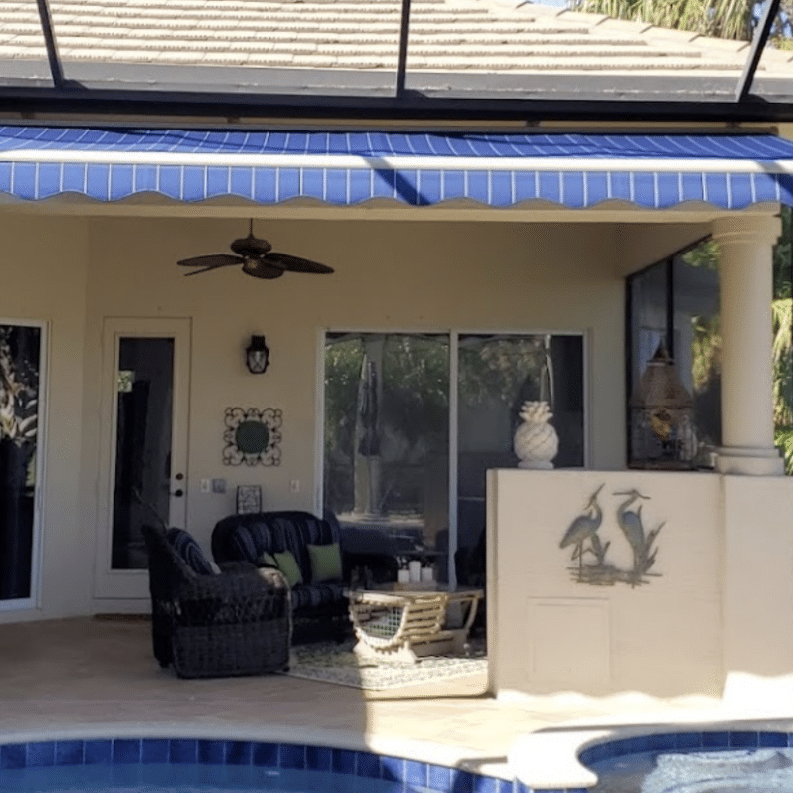 Great experience from the first consultation through installation! It even came in about a week earlier than estimated. The installers weren't able to use our fascia to mount the unit because it's a false wall, so they ended up mounting it from the top. They were very creative and professional. It looks and works great. Allows us to sit on the lanai all morning. We thought the price was very reasonable, and with a 10 year warranty on everything, we highly recommend Sun Protection of Florida!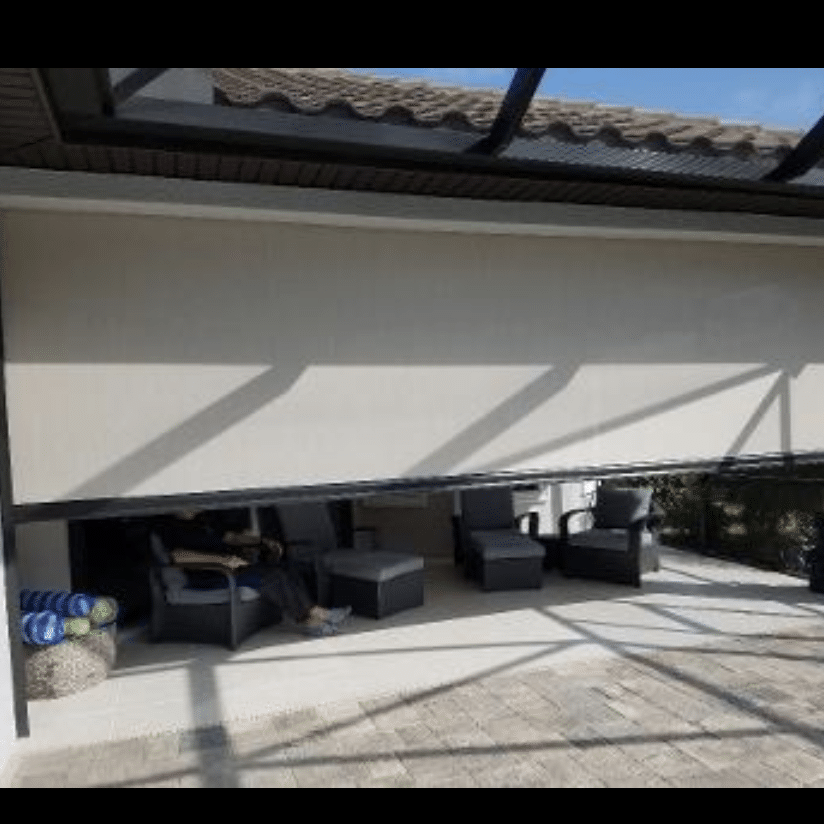 Deborah R. | Ft. Myers, FL
We couldn't be more pleased with our new motorized lanai screen from Sun Protection of Florida. Our lanai faces due west, and this motorized screen is a game-changer; we can finally sit out there in the later afternoon and not get broiled or blinded by the sun. Everything about the process was professional and top-notch. Our sales representative, Annie, explained the available options and answered all our questions. A week later, our installers (Garrett, Little Jon and Mike) arrived and completed the work more quickly than we expected. They demonstrated the screen's operation, warranty and gave us good information about care/cleaning and how to avoid problems. We felt the price was excellent and only wish we'd done this sooner. We won't hesitate to recommend Sun Protection of Florida to our friends and neighbors.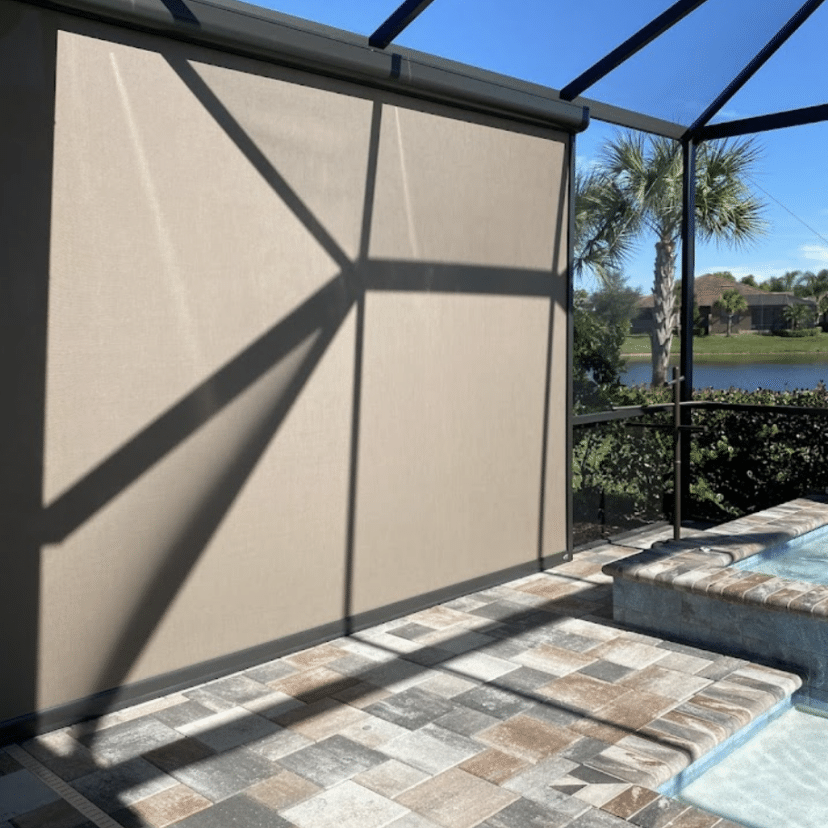 Would have given 6 stars if I could! We highly recommend this company - high quality product that looks absolutely awesome. Love it! The people we worked with: Megan Miller (sales), and Matt, Austin, & Stefano (installation) were knowledgeable, polite and helpful. This was, overall, a great experience from sales to instillation. The pic doesn't do it justice because you're seeing the sun's shadow reflecting from the lanai ceiling framing. This roll-down is a solid shade of beige that offers perfect privacy so if you're thinking about doing this - go for it!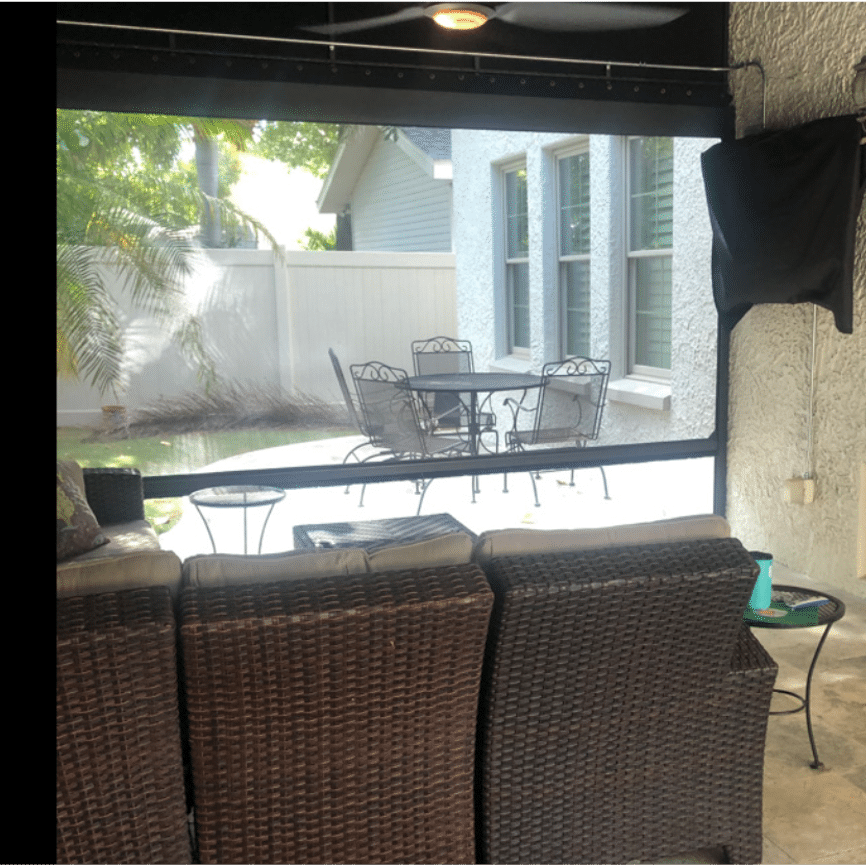 I LOVE my screens. We have already sat outside at night with the screens down and watched TV without having to run inside due to the mosquitos. I couldn't be happier. The team that came out to install were extremely professional, cleaned up after themselves, and were helpful at answering questions I had. Actually the entire process from inquiry to install was great - especially given the unique nature of my job (closing in an awning on 3 sides). I highly recommend.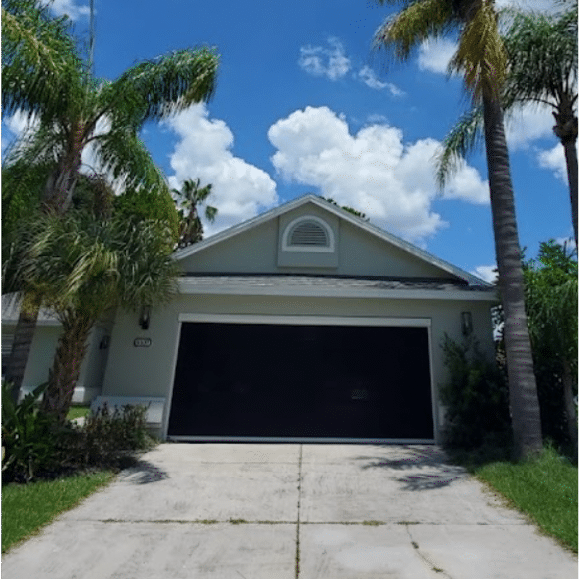 Really happy with our newly-installed garage screen. It's sooo elegant and very high quality. The installation team did a great job, very quick, effective, and professional. Many thanks too to sales representative Dylan who explained the process and showed us samples. Order-to-installation time was less than two weeks.