St Augustine Retractable Screens
Most of us enjoy spending time outdoors, but sometimes the weather can be less than ideal. If it's too hot or there are too many bugs around, it can ruin the experience. That's where motorized retractable screens come in. These solar screens can keep out annoying bugs and block the hot sun so that you can enjoy your backyard. They're also great for providing privacy when you want to relax.
Recessed retractable screens can help make your outdoor space more enjoyable whether you're entertaining guests or just enjoying some alone time.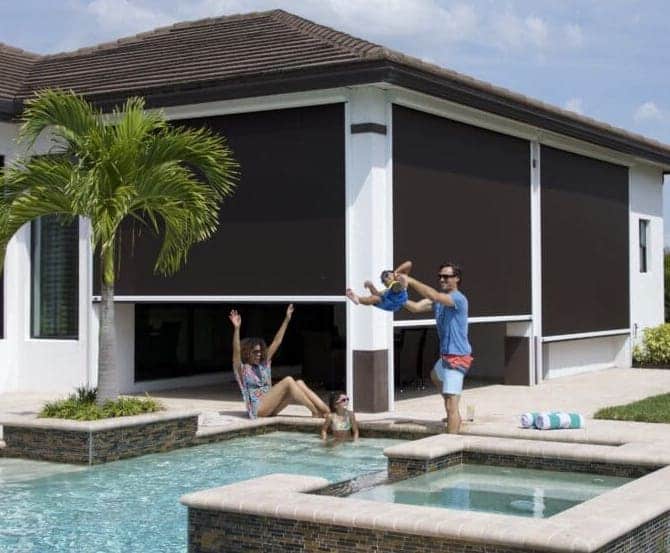 How Do Motorized Screens Work?
A retractable motorized privacy screen retracts from a protective housing to release a mesh or fabric shade. Manual patio screens are available on the market, but they require you to stand up and roll it down versus pushing a button with an electric one.
Benefits of St Augustine Retracting Solar Screens
Retractable screens are a great way to enjoy scenic views while relaxing in comfort and being protected from the elements. They block the sun, wind, and rain while also allowing you to see the beauty of nature. In addition, retractable screens can help keep your home cool in the summer by blocking the harsh summer sun. They are also a great way to keep insects and other pests out of your home. Whether looking for a way to improve your view or save on energy costs, motorized screens for the patio are a great option.
The sun can be scorching during the summer months in the south. One way to help manage the heat is to block harmful UV rays with a retractable shade or solar screen.
Keep unwanted insects out of your patio area with retractable bug screens! This way, you can relax and enjoy your time outdoors without worrying about pests.
Keep your outdoor lounge furniture looking new with a motorized lanai screen. The retracting screen protects from sun damage and light rain.
Instantly boost the curb appeal of your home with the addition of a motorized privacy screen. Your home will stand out from the competition, and future potential buyers will appreciate the investment and functionality of an SPF retractable patio screen.
Consider motorized privacy screens for your next home improvement project. These screens can offer you and your guests seclusion from the outside world and create a more intimate setting.
St Augustine Motorized Patio Screen Features
Motorized solar screens are a common feature in many Florida homes. The retractable patio screens are designed to provide shade and reduce the heat that enters the house. These retracting privacy screens are made of a unique fabric that helps to reflect the sun's rays but still allows the breeze to come through.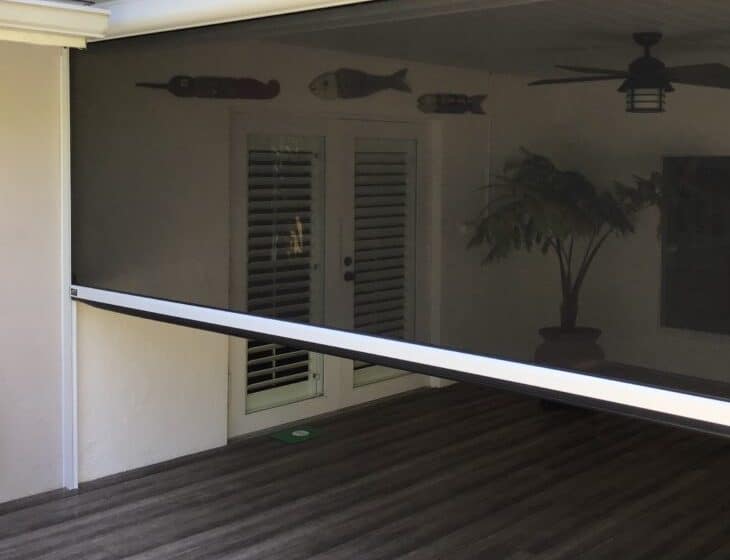 The garage has become an integral part of the home. Gone are the days when people parked their cars in the garage and called it a night, as now they utilize this area for storage, working out, or tinkering with lawn equipment. A motorized garage door screen allows you to use this area of the home without nasty mosquitoes bothering you or people seeing what's going on.
Recessed Retractable Screens
Living in the south means dealing with extreme heat, annoying insects, and sun glare. A recessed retractable screen is an easy solution to all these issues while giving your home added style and function.
St Augustine condominiums usually come with a balcony for residents to enjoy the scenic views. Depending on your building, the afternoon sun can make it difficult to enjoy the fresh air. A motorized retractable shade for the balcony allows you to relax comfortably and in style.
Motorized Privacy Screens
There may be times that you want to relax on your patio or in the pool in seclusion. Retracting privacy screens will give you all the privacy you desire at the press of a button! Enjoy dinner parties with friends or celebrations with family without neighbors seeing what's happening.
SPF uses a thinner, lighter-weight vinyl-coated polyester fabric than traditional screens. Our motorized screens for your patio or lanai effectively block the hot sun and annoying glare.
Do you have a media room that gets too much sun? How about a home office that causes glare on your computer screen? We have motorized interior window shades for every room in the house where you desire less sun and more privacy.
Get Started with Us in 3 Simple Steps
At SPF Screens & Awnings, we pride ourselves on being the go-to for motorized screens. Our dedicated team is ready to assist you in making your dreams a reality. Our retracting screens for your porch are easy to operate and can be tailored to fit any opening, making them an excellent option for new construction and retrofit projects. So if you're looking for a way to take your outdoor living to the next level, give us a call. We'll be happy to help you find the perfect solution for your needs.
Get an Estimate

Our sales team is ready to help you determine the best-motorized shade product according to your needs and wants. They will come to your home, measure, and give you a free customized quote.

Design Your Screen

This is the fun part of the process, selecting the style and color of your retracting patio screen. We have a talented team of designers who will work alongside you to create a stylish motorized solar shade that compliments your existing structure.

Our Team Installs You St Augustine Screen for You

When the day arrives for your new retracting recessed screen to get set up, our installation team will take care of everything for you. They will respect your time and make sure everything is perfect the first time around.
Frequently Asked Questions About St Augustine Retractable Shade Screens