The sun shining is a beautiful welcome to brighten our day. However, there are times when you would like to have it dark in your media room for a movie or block the sun glare as you prepare dinner in the kitchen, and even just extra privacy in your home. Whatever the case, SPF Screens & Awnings has the solution for you with our motorized retractable indoor window screens.
Contact us today to see how our team can help you select intelligent and stylish shade solutions that bring value and comfort to your home and provide solar heat control.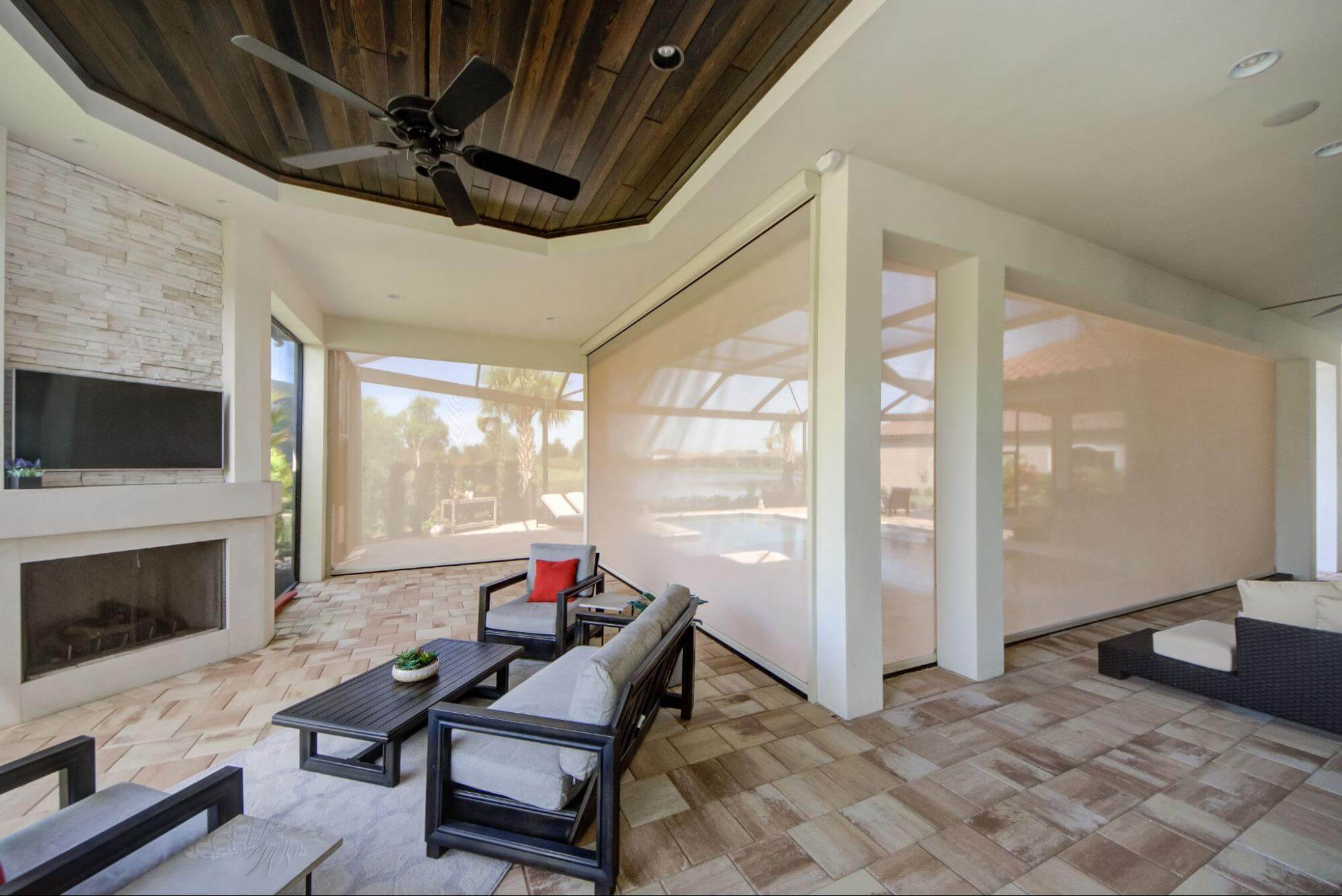 Benefits of a Motorized Interior Window Shade Screen
You cannot go wrong with retracting window shades for the interior of your home. Retractable window solar shades protect the investment of your home furnishing and decor and provide you and your family with maximum comfort and relaxation at the touch of a button.
Block harmful ultraviolet rays and save on your energy bills. Our motorized window shades block 97% of the sun's damaging rays, so the temperature inside your home is reduced.
Protect Furnishings and Decor
Fabric and decor can easily fade with the hot sun shining on them all day long. With retractable indoor window screens, your furnishings such as area rugs, window treatments, and other decor items will be protected again fading.
Sun glare can be bothersome and make it challenging to be in the room. Block annoying glare from the sun with a motorized interior window shade from SPF Screens & Awnings.
There might be rooms such as bedrooms or bathrooms that you would like to have added privacy. Electric window screens are the perfect solution that accommodates the need for concealment while adding beautiful style at the same time.
Features of Interior Retractable Window Shades
SPF Screens & Awnings has designed our motorized interior window shades with the comfort of our customers in mind. We are the premier leader of shade protection products in the sunshine state, and here are some of the top reasons our customers have given us a five-star customer rating.
See some of their reviews here.
How much easier does it get than simply pushing a button, and the motorized retractable window screen is released? You can retract and roll down the window shade from the comfort of your seat with our remote-controlled technology.
We have endless color and pattern options for you to choose from. Decide how dense you want the screen to be, from translucent to blackout. We are confident you will find a perfect match for your home.
We have partnered with Somfy motors, and the whisper-quiet motor powers the retractable window shade screen with ease. Our motors provide a top-quality mechanized engine built to last.
The value of your home will benefit from the addition of motorized solar shades for your windows. Future potential home buyers will appreciate the bonus of these retracting shades.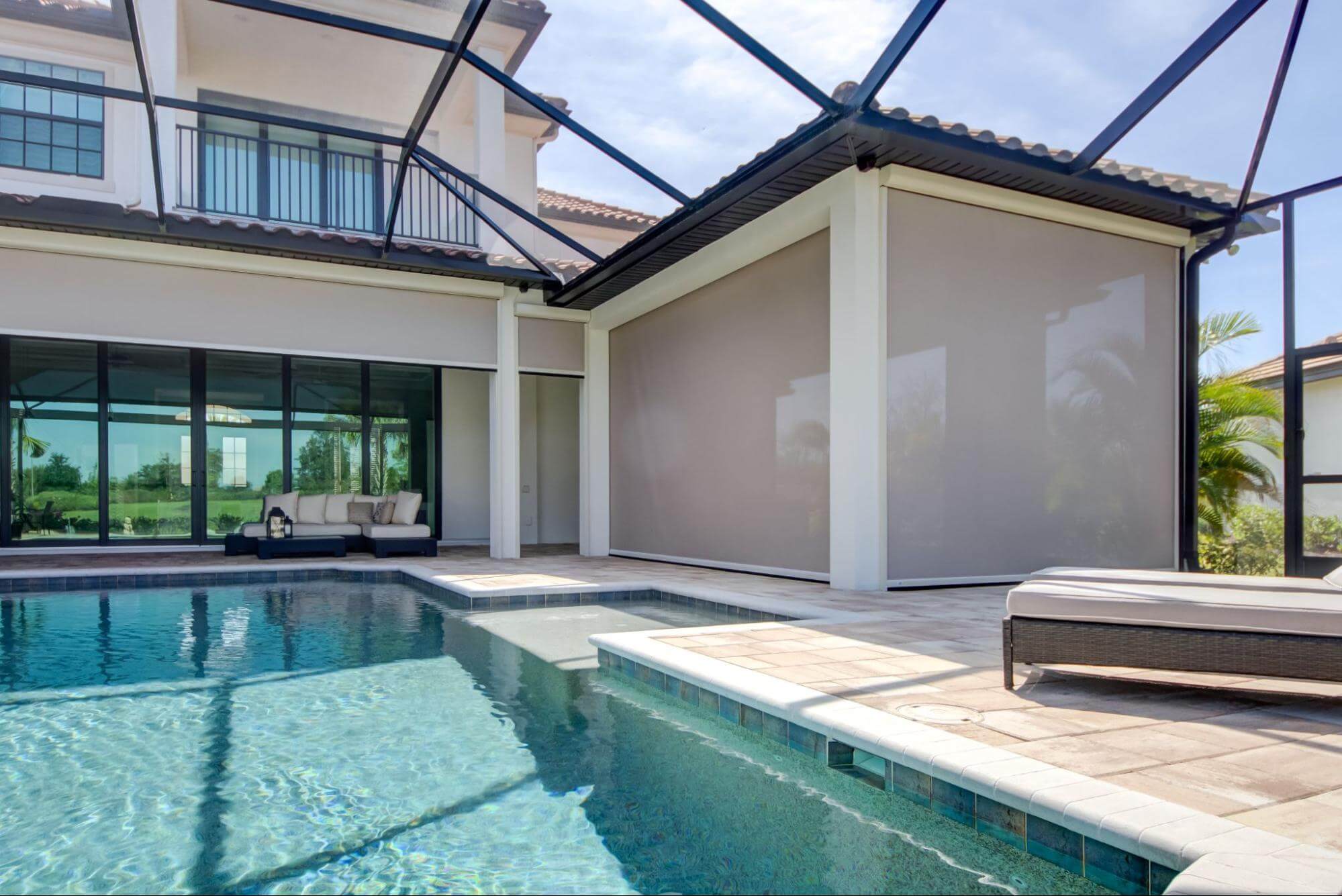 Why You Should Choose SPF Screens & Awnings
SPF Screens & Awnings is the leading provider of all your sun-blocking needs. We pride ourselves on our customer service, and our talented team is ready to assist you through each step of the purchasing process.
Apples-to-Apples Price Match
We understand that today buyers like to shop around for the best deal, and we hope you will consider SPF as you begin the buying process. We will gladly guarantee apples to apples price matching for our competitors and are confident that we offer the best pricing.
We stand behind our top-quality products and are confident that our interior window shades are built to last you for many years to come. Shop with ease of mind knowing that we provide a 10-year warranty on the fabric and 5-year protection on the mechanical parts.
All production takes place in the United States and we are proud to use only USA-made heavy-duty parts. Because we are locally owned, we can keep our pricing competitive.
SPF Screens & Awnings is a family-owned business, and we are ready to serve you with whatever your shade needs may be. We look forward to hearing from you!
Steps for Purchasing a Motorized Window Shade
We have made the shopping process simple for you to have a stress-free experience when you choose to work with SPF Screens & Awnings.
Contact Us for a Free Customized Quote

The first part of the shopping process is to have someone from our sales team come out to your home for a free consultation and custom quote. Reach out to us today to get started.

Consider Other Areas of Your Home

We are happy to help identify other areas of your home that could benefit from our other shade protection products during your consultation.

Work with Our Design Team

Choosing the color, pattern, and style of motorized retractable window shades might be the fun part of the shopping process. Our talented designers are here to help you select the best options for your home.

Our Installation Team Sets Up

Once your customized window shade screens are assembled and ready to be installed, our installation team will do all the work for you. We never send contractors to do the job, so you can rest assured that our qualified team will treat you and your home with respect.
Frequently Asked Questions Regarding Retractable Window Shades