Types of Motorized Solar Screens in Ocala
There are several different types of motorized solar screens that we offer to our Ocala customers, including:
These screens are perfect for shading your balcony or patio from the sun's harmful UV rays. They can also provide some privacy from your neighbors.
Keep the bugs out of your garage with our garage bug screens. These screens are great for garages that are used as workshop space or for storage. If you use your garage for anything beyond parking your car, a bug roll screen can help keep your space pest-free while still allowing some light in.
Outdoor retractable screens are an excellent way to make your patio more inviting and enjoyable. They blend in with your existing décor, and can be pulled out when needed to provide protection from bad weather or insects. Recessed screens are perfect for anyone who wants the option to protect their space from the elements without permanently altering the appearance of their home.
Our window shades are a great way to keep your home cool and reduce your energy costs. They can be used on their own or in conjunction with our other screens to provide the perfect amount of shade and privacy for your home.
No one likes the feeling of being watched, especially if you're simply existing in your own home. Privacy shades give you peace of mind by preventing any passersby from seeing inside! If you're looking for a way to add some privacy to your home, our privacy shades are the perfect solution.
Retractable Lanai Screens
Lanai screens are perfect for anyone who wants to enjoy their patio or deck without worrying about insects or bad weather. They can be quickly and easily retracted when not in use, giving you the flexibility to use your space however you want. Plus, our lanai screens can also help protect your furniture and flooring from fading in the sun.
One of the biggest benefits of installing a retractable screen in your Ocala home is that it will keep your space cool and comfortable during the hot Florida summers. Our screens can block the sun's harmful UV rays, making your home significantly cooler. Not to mention, our screens can also help reduce your energy costs by keeping your home from getting too hot.
If you're tired of dealing with mosquitoes, flies, and other pests, a retractable screen can provide some much-needed relief. Our screens can keep out most insects, making your home a more enjoyable place to be.
Protect Your Outdoor Furniture
It's important to protect your outdoor furniture from the sun's harmful UV rays. Our screens can help keep your furniture in good condition by shading it from the sun. This will help extend the life of your furniture and prevent it from fading or discoloring over time.
No matter where you live, it's important to have some privacy in your own home. Our screens can help you achieve that by making it more difficult for people to see inside. Whether you're trying to keep nosy neighbors out or just want some peace of mind, our screens can give you the privacy you need.
Increase Your Ocala Home's Value & Curb Appeal
Not only will a retractable screen increase the value of your home, but it will also make it more attractive to potential buyers. A screen is a great selling point for any home, and can even help you get a higher price for your home. The high-quality roll screens from SPF Screens & Awnings will also enhance the curb appeal of your home, making it more attractive from the street.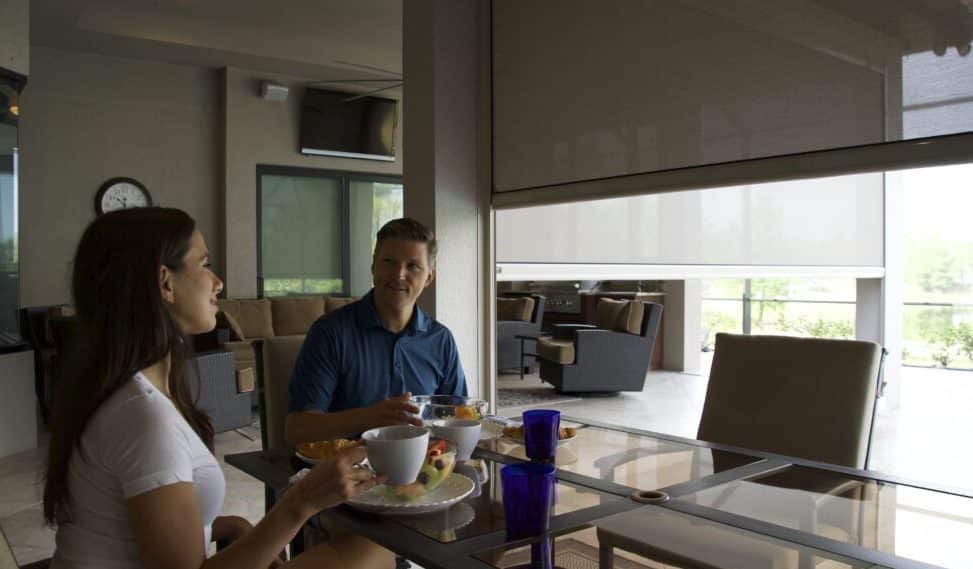 Best Features of Your Ocala Solar Screen
There are many features of your Ocala solar screen that make it an excellent investment for your home. Here are some of the best features of our screens:
Easy Installation & Smooth Operation
We offer retractable insect screens that come equipped with a Somfy motor. This motor is durable and whisper-quiet, made from quality materials that will last for years. With just the push of a button, you can roll down and retract the electric shade screen from the comfort of your seat. Because we handle the entire installation process, you don't have to lift a finger, making it easy for you to sit back and relax.
Purchase With Peace of Mind
When you purchase a retractable screen from SPF Screens & Awnings, you can do so with peace of mind knowing that your investment is backed by our warranty. We offer a 5-year limited warranty on all of our products, so you can rest assured that your screen will be in good working condition for years to come.
Support a Family-Owned Local Business
As a family-owned business, we take pride in our work and are dedicated to providing our customers with the best possible experience. SPF chooses to create each product in our local facility with only U.S.-made components that will endure for many years.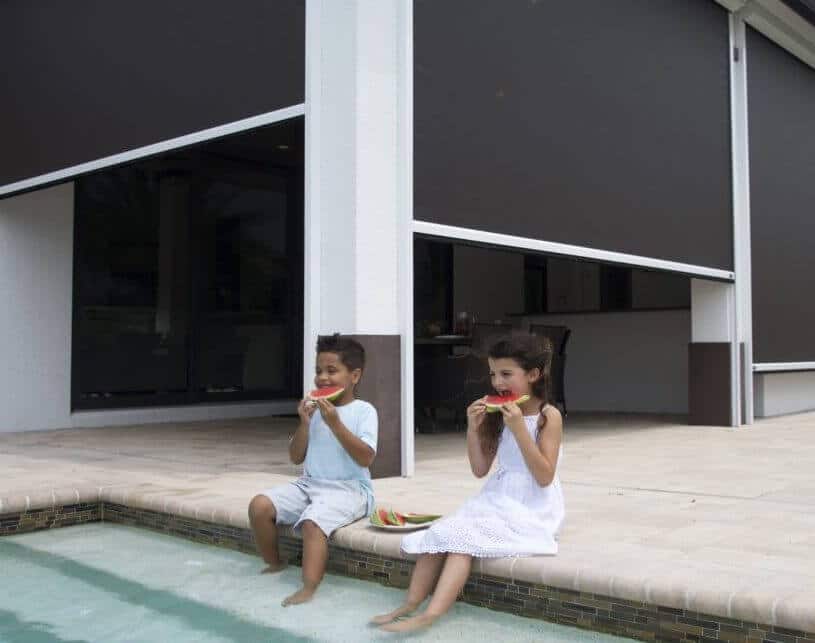 How to Get Started with SPF Ocala
If you're ready to enjoy all the benefits of a retractable screen, we're here to help. We make the process as easy as possible!
Get in Touch for a Free Quote
The first step is to call or email us for a free quote. We'll ask you a few questions about your home and what type of screen you're interested in. Our sales team will handle the process of measuring your space so that they can make informed recommendations.
Choose the Design You Want
After you've received your quote, it's time to choose the perfect screen for your needs. We offer a variety of design options to choose from, so you can find the perfect match for your home. We'll help you select the right style, color, and material for your screens.
Let Our Installation Team Handle the Hard Work
Once you've made your selection, our team of professional installers will take care of the rest. We'll handle everything from delivery to installation.
Sit Back, Relax, and Enjoy Your New Sun Screen!
After your screen has been installed, all that's left to do is sit back and enjoy the shade. With your new SPF solar screen, you'll be able to enjoy your outdoor space like never before.
Frequently Asked Questions About Ocala Retractable Screens